(edit)
Mock
bug
to local glacier .
Don't think this goes into BO contest. We chose to not sleep in the cold rain (shrug) - guess that means were are getting "old".
Played with commo, in a 'real'
bug
out
on foot would have a multiband hand held - no big battery!
Talked my wife into both a kitchen pass and into coming along for the hike - she agreed!
Started with a drive
out
of town to nearby glacier (eat your heart
out
)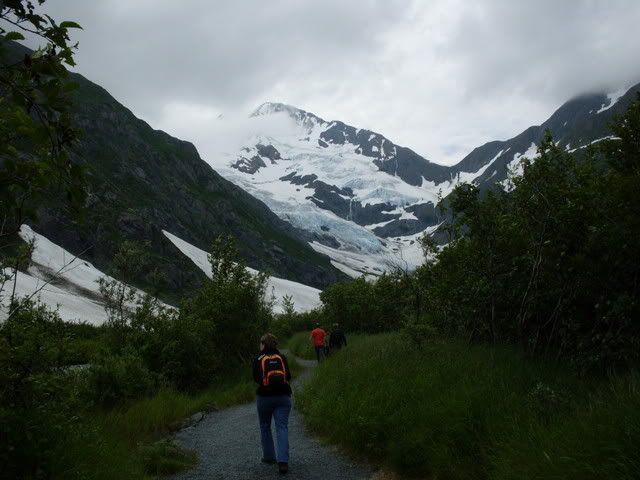 Glacier in background.
Wife is carrying *her* short-term
bug
out
ruck. Good for 3 days, if with me - I have the insulating mat. Has food, water, IFAK, water treatment, stove, cookset, summer sleeping gear. What it doesn't have is change of clothes. Does have one pr socks.
I'll post a separate breakout for it later.
Note the nice blue of the glacier.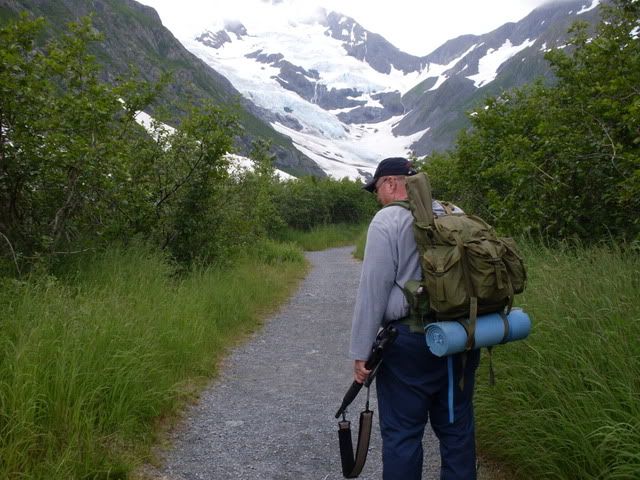 Commo ruck and gear.
Sleeping pad, additional food, shelter, water, FAK, and a (rolls eyes) a SLA lead-acid battery and commo box, now slightly modified. Yes, I checked, it does weight a metric crapton - ~nearly 35 pounds - lead batteries will do that to you
.
The 12GA shotgun is because the AO is a 'highway' for bears - Prince William Sound is just a few miles away, on the other side of a mountain range; salmon on one side, berries and tourists on the other. Bear food either way.
Ranger dude recommened the piece, we normally carry anyway.
Foot of the glacier.
We had *hoped* that a bad wx forecast would keep the body count down. Not so much, a bus load of tourists were leaving as we arrived.
Nice ice field.
Water isn't an issue in this AO.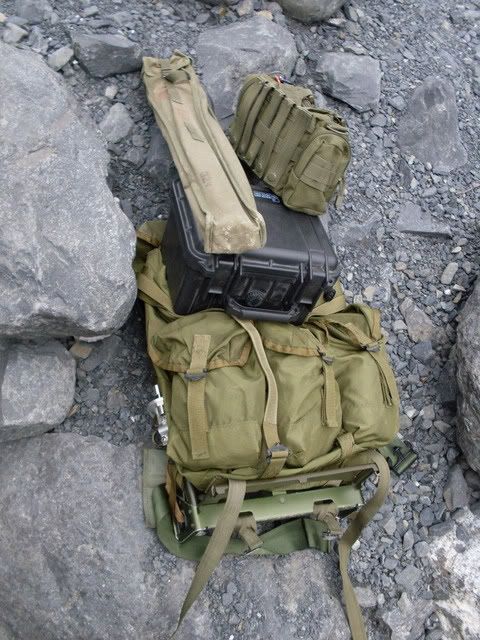 Commo in a box.
Antennas in long bag, battery in short bag, all this goes in ruck. Didn't need to rig the shelter part as wx was perfect!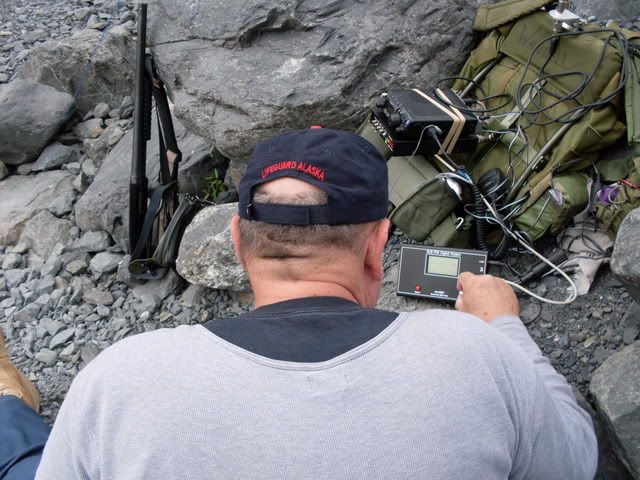 Commo not in box.
FT-817, tuner, NUE PSK, wires and all the crap to make it all work.
20M was blasting in! Tons of Brits, Italy, Norway - just a ton of stations. A guess a contest was running, the band was full end to end, CW, SSB, PSK, RTTY.
For fun let wife listen to 19 meter world band while I garfed down some eats - it was smoking hot, stations end to end. In checking the HAARP site, the MUF was over 20 MHZ. (Finally!)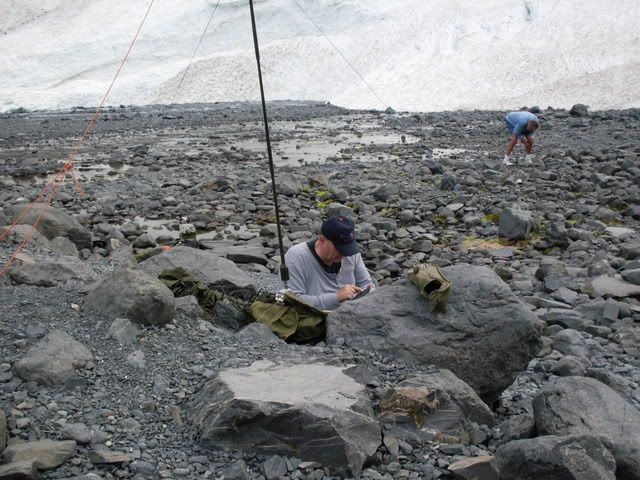 One handed PSK 31 - and I type like crap to begin with. You can preload all needed information for QSO in advance, then just load station in QSO. Pretty cool.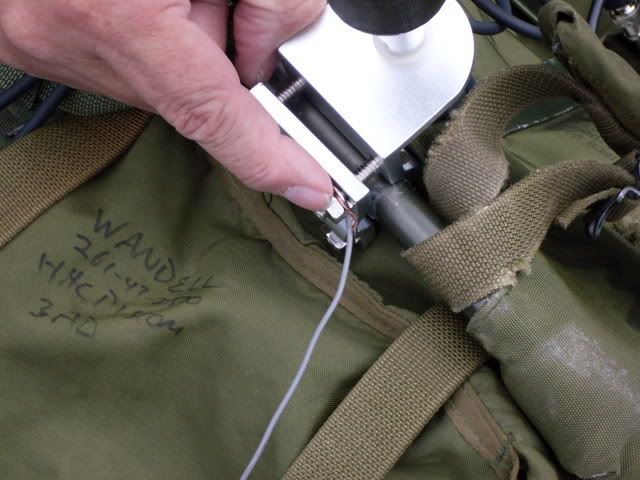 Counterpoise wire, how to attach to antenna, close up as requested earlier.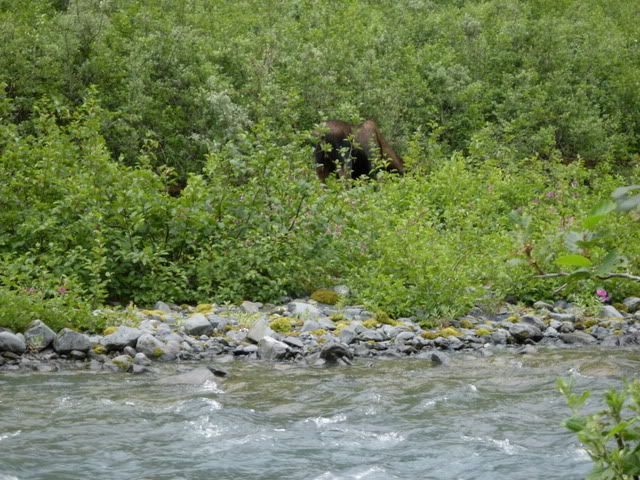 Ass-end of yearling moose, big enough to kill an adult human. We were booking at that point, hair of the shoulders was up - indicating it was a good time to haul ass. We did.
Lesson learned
Break in boots a bit more B4 hiking.
Wife was able to carry her beat feet kit no problem.
We plan to operate Ranger style, one sleeps, the other awake to watch for ... Well, bears, in this case.
So gear is kinda split, the insulation rolls fits better under my ALICE than her computer carry case bag.
Each has food, water, shelter (poncho). fire stuff, stove and IFAK min. to operate if separated.
Our BBBB (Big Bugout BOB Bags) are both ALICE rucks with sleeping bags, better gear and a change of clothes. Each with 4 to 6 days of food (In separate bag at upper right).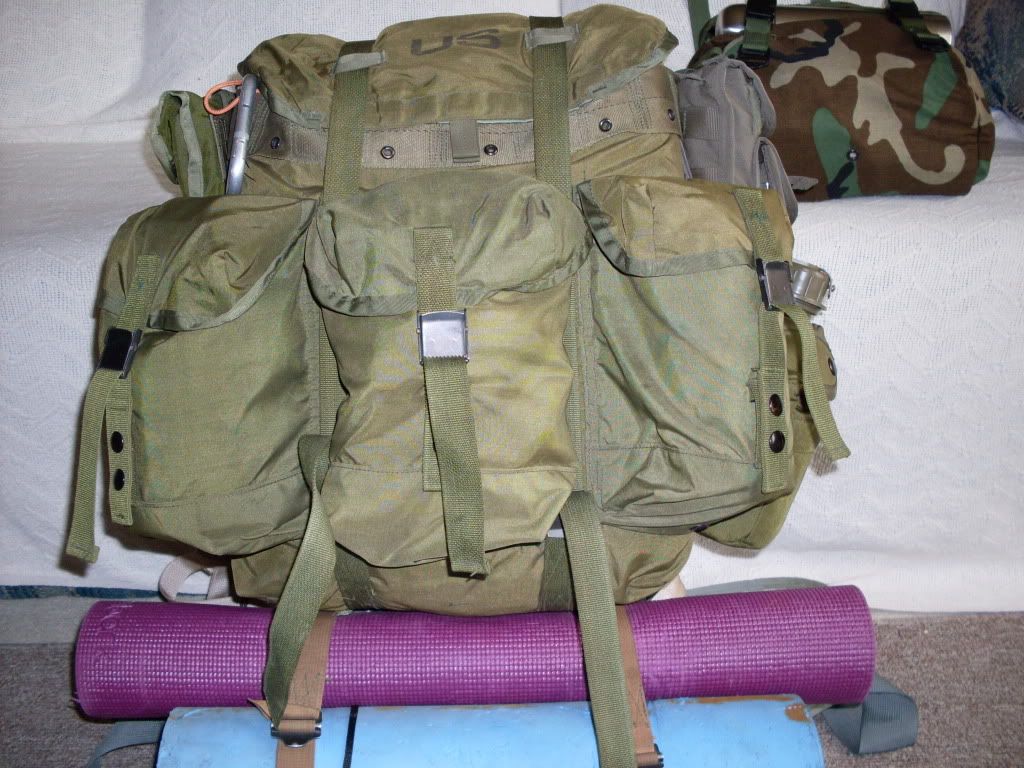 In
Alaska
, moose, like tourists, can be like cockroaches - there when you don't want them.
We had FUN - most important item.
Picnic time - she read a book, I played with commo. She got to hear the world while I chowed down. Except for the last bit, the drive was through world class beauty and the wx perfect. Enough wind to keep the skeeters at bay, but not bad enough to blow you over.
Funny world, we were
out
on the edge of no-where, well past the end of the road, and a extra-class ham from TX walks up to ask about setup. Wow.