Parts:
1:
Introduction and preparation.
2:
Getting started.
3:
The low down.
4:
Finishing and trouble shooting.
5:
Preserving, links and introduction to 'fancywork' and decorations.
Needlehitching a Mora #1 handle, tutorial. Part 1.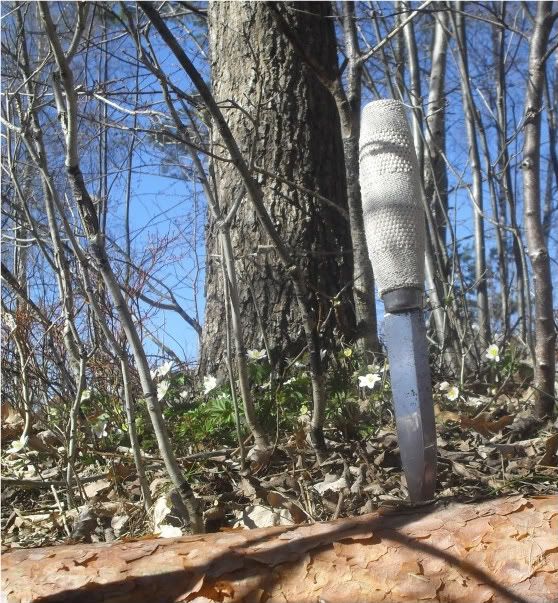 Needle hitching is an old part of practical seamanship. It is best described as grafting with a really fine line.
The best way to describe it is to show it in it's final form. The very essence of a ship is it's bellrope. Here is displayed the best knotwork the ship can bring forth. Sadly today this tradition is somewhat lacking, but for reference you can lay your eyes upon Mr. Brennan's work.
http://www.frayedknotarts.com/bellsales.html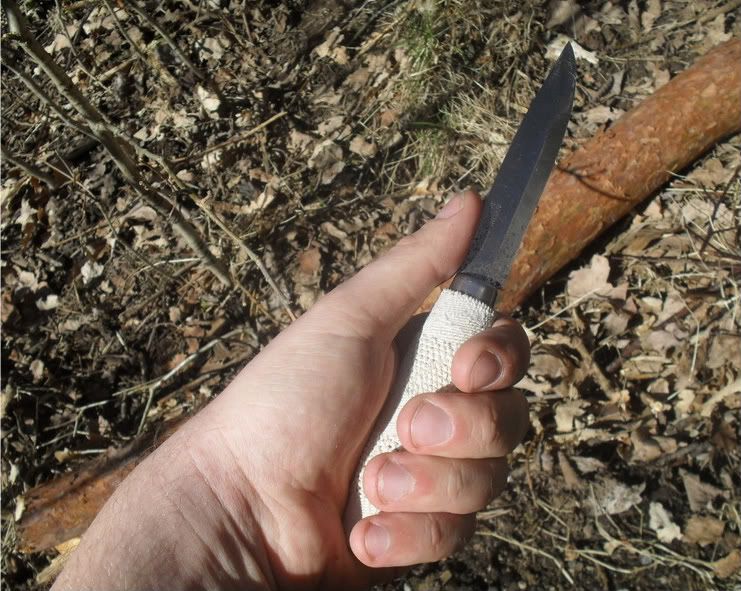 In this case I have chosen to cover a Mora #1 handle, a knife infamous for having a very sharp learning curve when it comes to keeping a hold of the grip. The object of the hitching being to add traction and also some bulk to the handle proper.
What is needed to hitch a handle?
- Line
, this is ideally hard laid cotton. I will post links if you want to get it. For the purpose of this tutorial I'm using household string. About 15yards or so. Not as durable but will still hold when varnished and hitching can be field repaired.
- Needle,
I'm using a sail makers needle, but a stopping needle (used for socks and such can also be used. Any needle big enough.
- Varnish,
many schools on this. Marine varnish is the old standard and has preserved items for nearly 200years so we can enjoy them today. Polyurethane, shellac and other kinds are also in use. (I'm a thinking about trying shellack for the first time here.)
- Patience and skin
, I will try to point out a few things I've done to show off common results of impatience and some things you will run into that can be baffling for beginners. When hitching larger items such as bottles you will really feel it in your hands and will no doubt get the needle point (Though the needle at that point is more like something taken from a frog jig.) but if you stick with it you'll be rewarded in the end.
- Tape,
saranwrap, nail clippers and other stuff you have at home making this far easier than in 1844.
At sea the small bag used for tools, needles and such is called a ditty bag. For this project I used a plastic shopping bag since my gear is not at this location. It's very convenient to have all the stuff in one place.
When you have this going you can pop the piece you are working on in your jacket pocket. Needle wrapped against the handle with the cord you are using. Makes waiting for the wife to finish her sacking of the nearest IKEA almost bearable. That and radio sports channel. Big thumbs up on those. And a thermos of coffee but now I'm getting ahead of myself...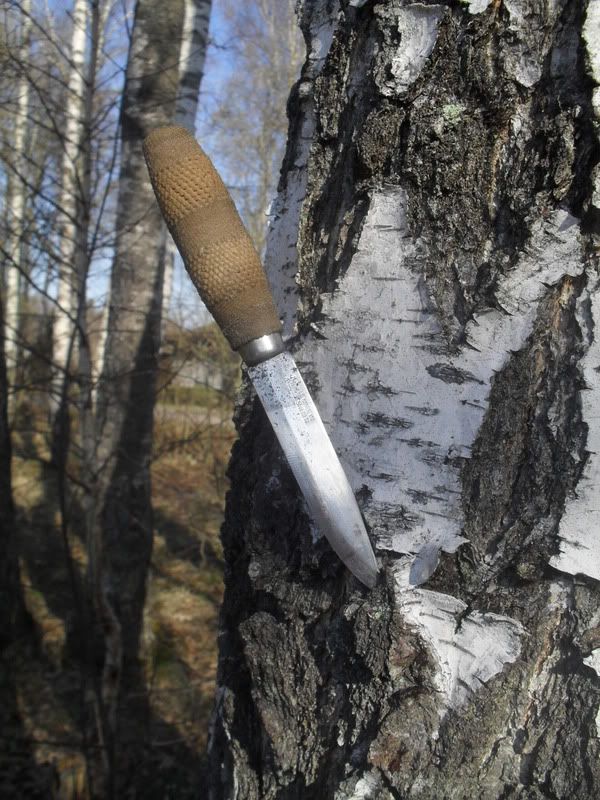 The finished product, stained and preserved with marine varnish.
Preparation:
You will want to wrap the blade up so it is easier to handle. Saranwrapping and then several layers of electrical tape is fast and easy. I didn't use any wrap here and had to clean gunk off of the blade afterwards.
You also want the surface being hitched to be clean and smooth. Not necessary but I find it more proper.
At the bottom of the handle near the metal you can score the wood slightly to allow for a good resting point for the last turn on the end towards the blade.
The stitches:
You will see me referring to "ABOK" and a number, this is the Ashley Book of Knots. One of the most most complete works on knots written. Every knot in it has a number and this makes them easy to refer as pages can differ between editions. There are several books that cover practical and marlin spike seamanship. I might annotate this in the concluding part if there is interest.
http://www.amazon.com/Ashley-Book-Knots ... 0385040253
I will only go over the two easiest stitches in this little jaunt. Maybe I will do another how to with some more advanced needlework down the line.
The round turn stitch
, (ABOK # 3542), is the simplest of the covering stitches. I have used it with a twist here and sewn it from the opposite side. Usually you go in with the needle from the unfinished part. You can also use way fewer stitches and this will give you spiraling "ribs" that are further apart, I'm doing this for durability also, you'll be hard pressed to even cut this off when it's been varnished. The pictures will show the correct way to do this stitch and it's very simple.
Depending on how you pull it taught, to the port or starboard, you get different looks of the weave. I have pulled it to the starboard side and hence I've gotten a tight spiral pattern twisting to that side. This is the bottom, top and middle portion of the handle.
The half-hitch
. (ABOK #5344 & #3546) This is the most common of the needle hitches and it is often referred to as simply hitching or needle hitching. I've used the #3546 variant where you loop the cord once around the object every time you begin a new pass. This adds fullness, takes less time and looks better IMHO. I use it for bottles all the time.
These are the two checkered parts of the handle. They are almost too grippy when compared to the round turn hitching.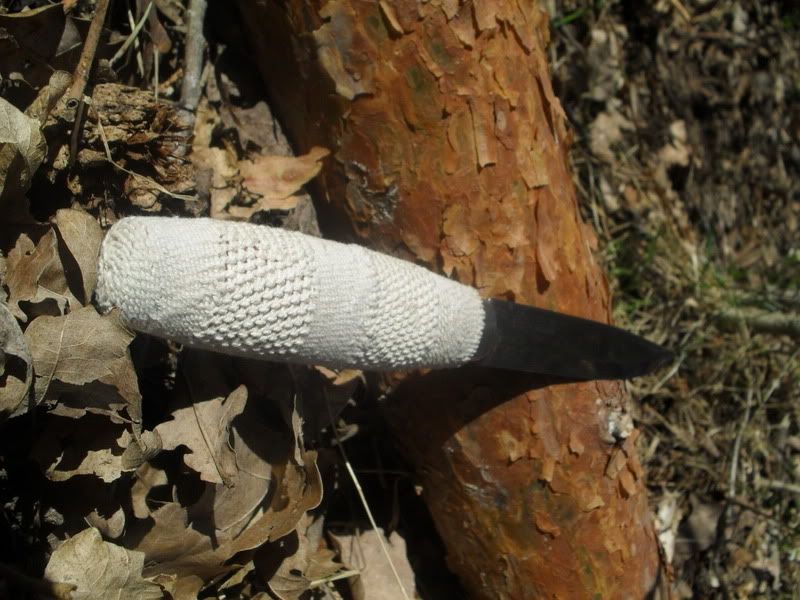 Next part, how to begin!