Moderator: ZS Global Moderators
http://gizmodo.com/a-portable-washing-m ... +%28Gizmod
o%29
Modern foot powered washing machine, looks very neat for situations where you don't have power.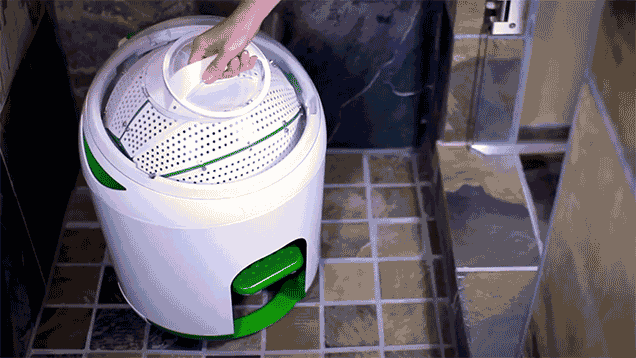 ---
ZS Lifetime Member

Posts: 12210
Joined: Mon Oct 26, 2009 3:06 pm
Favorite Zombie Movies: Evil Dead, Zombieland, 28 Days/Weeks Later
Great thread here:
viewtopic.php?f=39&t=95862
I've personally used a hand-pump well, washtub, and brush for several months at a time with good effect.
Opinions subject to change in light of new information.
http://i.imgur.com/wG6ZMjE.jpg
---
Save the money. Just use a washboard and a little bit of water. I keep mine handy!
---
* * * * *
Posts: 3605
Joined: Wed Oct 27, 2010 1:15 am
Favorite Zombie Movies: Undead, Dead Alive/Braindead, Shaun of the Dead, Zombieland, 28 days, 28 Weeks Later, I Am Legend, Resident Evil franchise, Serenity (I would call Revers pretty damn zombie), Versus, Black Sheep
Location: Pac Northwest, East of the Cascades
I like the foot power concept, it would allow you to also work on some other project with your hands while you do your wash.

Big thing I don't like is the plastic design, this means it is not built to last. It will likely break after a couple years of use, if not sooner. I would love to see one of these built with longer lasting parts. When I get my homestead land I could see myself buying one of these just to pull it apart and build a version with better quality parts. Or just using the concept to inspire building something like it.

*edit to add, something else to note. This is meant for delicates. So would likely not be very functional for heavier weight items like a pair of jeans.
"

Once a man has seen society's black underbelly, he can never turn his back on it. Never pretend, like you do, that it doesn't exist

"

"

None of you seem to understand. I'm not locked in here with you. You're locked in here with ME!

"
ZS Wiki
ZS Acronyms
Gun Self Defense Counter
---
ZS Global Moderator

Posts: 7393
Joined: Wed May 12, 2010 10:06 am
Favorite Zombie Movies: 28 Days Later, ZombieLand, Dawn of the Dead
Location: Maine
I imagine it would get heavier weight clothing 'clean' after a fashion. Just not 'automated washing machine' clean. One thing I've noticed camping in the back country, or traveling in the third world: one's personal definitions of concepts like 'clean', 'comfortable' and 'private' become remarkably flexible.
I agree with the concern over longevity however; this thing looks too plasticky. A good prototype for a heavier duty metal version however. In any case, this concept isn't new, even here at ZS.
http://www.off-grid.net/water/diy-washi ... undry-soap
viewtopic.php?f=39&t=95862
viewtopic.php?f=6&t=98207
The Restless Dead
http://zombiehunters.org/forum/viewtopi ... 13&t=80397
---
I almost want to like it, but looking at the website, I really can't see the advantage of using this over just washing your clothes in a sink or a bucket. The only real useful part of this is if you lack a decent sized clean sink, like at a car camping site, or with an RV, but that is about it.

I also wonder, like others have said, how it would work washing a few pair of adult men's jeans. I think the weight would make the pedaling suck or it could break.

On a side note the same rotating ball and foot pedal design, with a pedal powered fan and a small coil heater to dry your clothes. That might be better than just hanging wet stuff on a line and it would cut on wait time. That would be interesting....wait its my idea...PATENT PENDING!!
---