Hey fellow ZS'ers!
This is my first of what I hope is many contributions to the forum in appreciation for everyone's advice, information and suggestions through their posts.
Recent world events (especially the Japanese Earthquake) prompted our family to re-examine our 15 year old 72-hour kit and really sit down and put together a working Bug Out/In Plan.
The biggest challenge was winning the hearts and minds of my wife and daughter especially my teenage daughter who is a little skittish on the whole topic of emergency preparedness. So the question was raised, "How do I introduce the idea of prepping to her without filling her full of anxiety about the coming onslaught of brain eating zombies? Baby steps... baby steps.
The Idea
Our daughter attends school just 2 miles from our home – about an hour leisurely walk. So what I thought I would do was to put together something that would serve as her EDC for everyday emergencies but would be innocuous so it wouldn't be a glaring reminder that the next
Big One
is a foregone eventuality.
That's when I came up with my twist on the BOAT (Bug Out Altoids Tin) or survival tin. For lack of a better term, I called it the GHAT or "Get Home Altoids Tin". In the event of an emergency whether it be a minor cut, an allergy attack, lost wallet or an earthquake, the primary focus of her GHAT was to:
take care of her immediate needs,
get her home or a safe place,
provide some type of assurance that everything is going to be okay and
ease her into emergency preparedness.

The Contents *
(1) Set of house keys
(1) Streamlight Nano Flashlight
(1) Transit Card with $10 fare (taped to lid)
(1) Emergency Whistle
(1) Backup Battery (charged) for her Blackberry
(1) DIY cut down ballpoint pen
(1) ziplock "dump bag"
(1)
OTC Med Pack
*
(2) Advil
(2) Tylenol
(3) Benadryl
(3) Sudafed
(2) Gas-X
(2) Pepto Bismol Chewable
(3) Imodium
(1) Triple Antibiotic Packet, .9g
(2) Bandages
(3) Sheets of Paper
(1) Customized 10 page Mini Instructions**
"Stop, Think, Observe, Plan"
"Keep Calm" (reassurance)
"Family's Get Home Plan" (bullet points of our detailed plan)
"How to Use Cell Phones in Emergencies"
"Stay or Go" (preplanned alternate safety locations)
"On the Way Home" (how not to be a victim)
"Once You Get Home" (going through the family's post emergency checklist)
"Securing the House"
"Important Phone Numbers"
"Med Pack Descriptions/Dosage"
$20 (1 x $10, 2 x $5)
Family Photo
Starburst Candy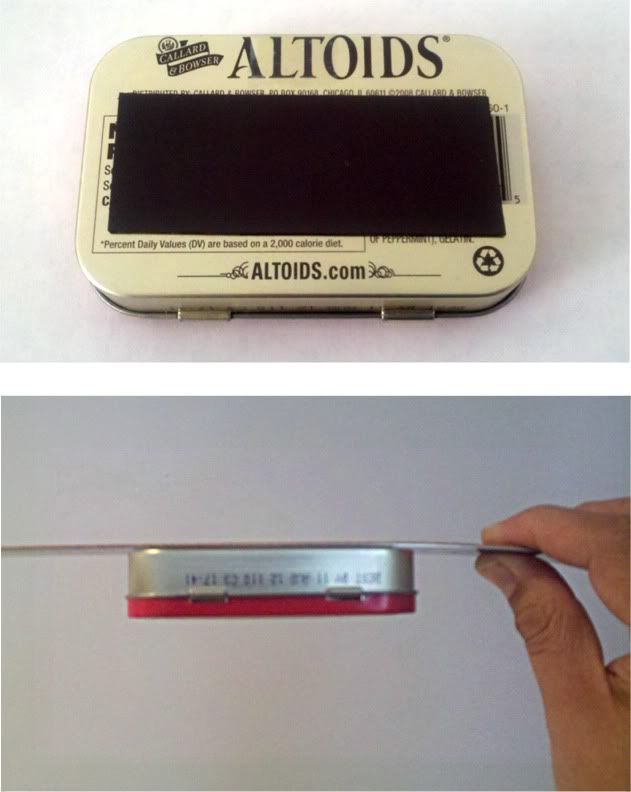 9.1.11
Added self adhesive magnetic tape to the bottom of the GHAT so that it could be stealthily mounted anywhere in my daughter's locker until its' needed.
10.20.11
Added a Streamlight Nano flashlight, chewable Pepto Bismol and a ziplock "dump bag" in the event she needs to get into the GHAT, she can dump what she doesn't need into the bag.
* OTC Meds remain in their individual sealed states which are compliant to our school district's rules.
** I did some research on the aftermaths of earthquakes and another natural disasters and took just bullet points and put them together in this insert.