Fenix LD10-R4 review.
Info from Fenix:
Fenix LD10 is an outdoor flashlight for multiple uses, it combines high brightness and long runtime with 4 lighting levels and 2 flashing outputs for constant brightness. Its portable, compact size and the water-proofing of the IPX-8 standard make the LD10 a dependable flashlight for your lighting applications plus emergency use.
• Cree XP-G LED (R4) with lifespan of 50,000 hours
• Two modes (6 types) of output, generation/turbo selected by turning the bezel (patented)
• General Mode: 9 lumens (34hrs) -> 50 lumens (6hrs) -> 105 lumens (2.2hrs) -> SOS
• Turbo Mode: 132 lumens (1.5hrs) -> Strobe
• Digitally regulated output - maintains constant brightness
• Uses one 1.5V AA ( Ni-MH, Alkaline ) batteries, inexpensive and widely available
• 100mm (Length) x 21.5mm (Diameter)
• Made of durable aircraft-grade aluminum
• Premium Type III hard-anodized anti-abrasive finish
• 54-gram weight (excluding batteries)
• Waterproof to IPX-8 Standard ◎ Toughened ultra-clear glass lens with anti-reflective coating
• Push-button tail cap switch
• Capable of standing up securely on a flat surface to serve as a candle
• Anti-roll, slip-resistant body design
• Included accessories: holster, lanyard, body clip, two spare o-rings, and a rubber switch boot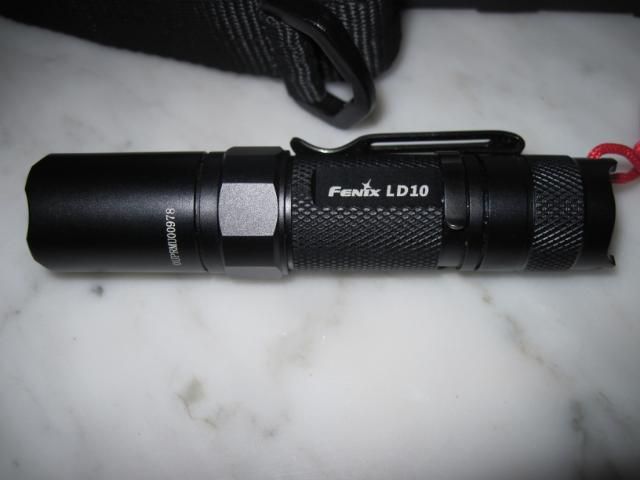 I like the new style holster though would mostly use this inside my pack to prevent the light from accidentally turning on. It can also be locked out by turning the tail cap a bit but nice to see the flap over the clicky.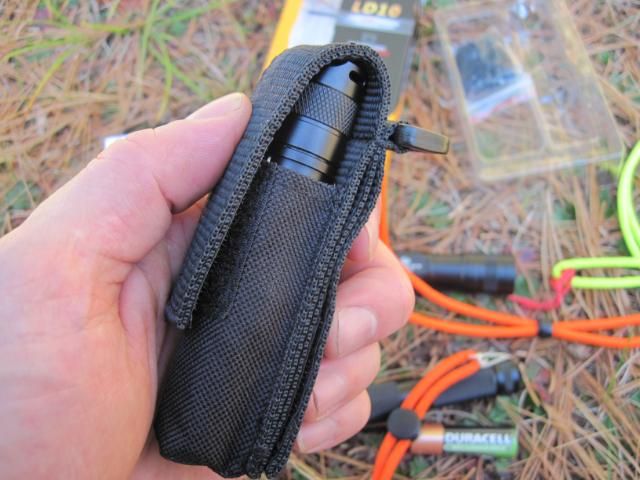 They changed the threads on the newer Fenix lights. These seem even smoother (if that's possible) and are claimed to be more durable. One down side being the head, tailcap and body are no longer interchangeable with older models. I can't put my L2D-Q5 tube on the LD10-R4 head etc.
Size comparison between my Olight T15 and Quark Mini both using 1XAA.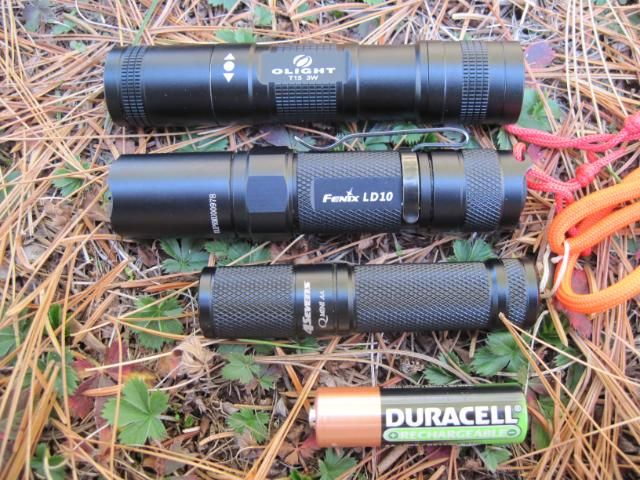 It's a bit smaller than the Olight but larger than the twisty Mini. The LD10-R4 is still small just the same.
As the name implies this model uses a R4 binned XP-G LED. I have read the emitter is larger and when combined with a smaller reflector produces a beam with greater flood than a XR-E or XP-E.
XP-G R4 LED.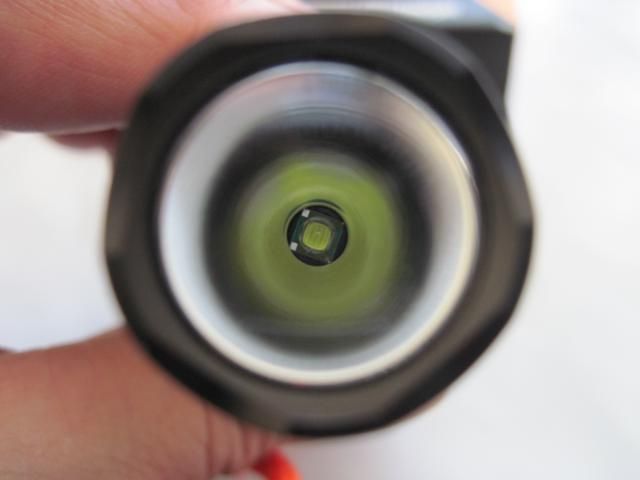 For comparison a XP-E Q3-5A neutral tint emitter from my Quark AA Mini.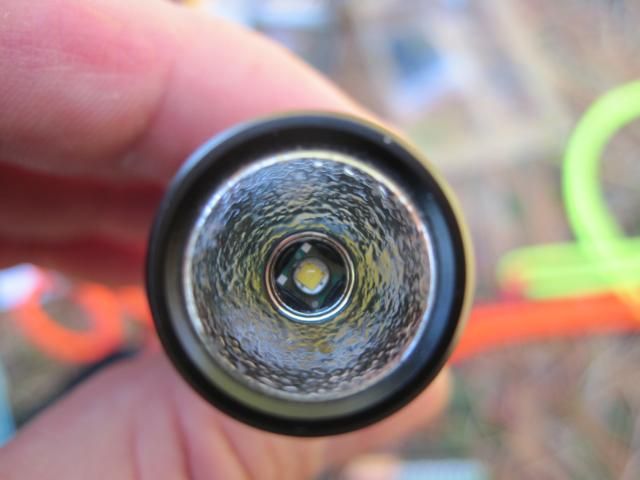 I guess the XP-G's inner part is larger though it's kinda hard for my eyes to see. In any case the LD10-R4 has a very nice beam that does offer a larger hot spot with more flood than my XR-E and XP-E lights. It also has some throw as well but thinking this comes from raw power and smooth reflector.
Wow this thing is bright! It seems almost brighter than some of my CR123 lights when first fired. How the heck did they pull that off using single LSD NiMH? My Fenix HL20 1XAA using an XP-E R2 is also bright but the LD10 beats it on all counts. The LD10-R4 runs for a long time on the lower modes as well. There is something more going on here with this newest offering than just a higher bin LED. Not only does this 1XAA light compare to some 1XCR123s but can also match my L2D-Q5 2XAA for all out power, granted for a shorter time. It seems to me that the 132 Turbo rating is underestimated. Come to think of it the rest of the levels look brighter than expected as well with good regulated runtimes. I first noticed this change with the HL20 1XAA headlamp. It just seemed brighter than expected for 1XAA even by Fenix standards but the LD10 is more surprising.
Pros:
1. Very very bright. Not sure if the turbo can be run this bright for more than a short time but this is all I need. The low is much like my L2D-Q5 which is ok as can actually hike using the low on known trails.
2. Great beam. The Fenix HL20 is a winner in that regard as well but the LD10-R4 has a larger hot spot. Somehow there is still enough throw as well for my needs. I think the smooth reflector helps with the throw.
3. Ok tint. I prefer warmer tints but will tolerate cooler ones. I just dislike a strong blue or squid piss green and there isn't any of that.
4. I like the anti roll bezel and new threads.
5. The clicky takes enough force to activate that maybe it won't turn on in my pack. I tend to lock lights out but sometimes forget.
6. I can see the turbo mode is brighter than the high. I couldn't tell the difference between my Olight T15's highest two modes. Well maybe for a few seconds with a LSD NiMH fresh off the charger but even then a blink of the eye and it was indistinguishable.
7. No PWM. The light uses CC on all levels.
8. Works very well with L91 (lithium primary), LSD NIMH and standard NiMH as well.
Cons:
1. I can hear a very very faint buzz on the high setting. The light must be very near my ear (almost inside) for me to hear it and there is no sounds whatsoever on the rest of the modes.
2. Higher low mode than some lights. I guess this is a pro or con depending on use.
3. I like the larger lanyard holes in the tall cap but find the cutout sections actually makes activation a bit harder than the L2D-Q5. Also it can't be as stable when tail standing though it will stand. Not sure why everyone seems to be making tail caps this way.
4. Between the new bezel front plus anti roll feature, tail cap, and clip I find the light less comfortable in my hands than the older/smoother Fenix lights. I may remove the clip.
5. The circuit doesn't support higher voltage rechargeable batteries (14500). I don't own any but reports indicate it will only run on the highest mode.
6. Alkaline batteries aren't the best for higher power lights though ran the low and medium modes well.
7. It cost me 54 bucks shipped.
Conclusion:
I think this could be one of the brightest and most efficient 1XAA lights on the market. If looking for a 1XAA Fenix spend the few extra dollars and get the R4 version over the older models.