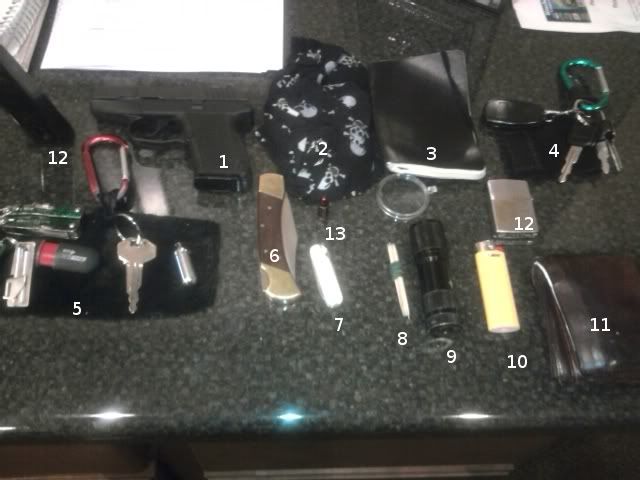 1. Kel-Tec P-11
2. GP bandanna with awesome skull & crossbones pattern. Mostly for my hair but has tons of other uses too.
3. Battered moleskine notebook. Isn't it a requirement for every writer?
4. Primary keyring. Car & Housekeys also an emergency handcuff key.
5. Secondary Keyring.
A. Cabelas cheap mini multitool. Wll be replaced with a leatherman when I can afford it.
B. Flash drive with important documents on it. P-51 can opener and a whistle that didn't make it in frame.
C. Extra house & car key.
D. Pill vial with basic pain killers in it. It's saved my ass more than once.
6. Cheap buck knife knockoff. Acting as a placeholder until I get a replacement sheath for my real buck. It was pops so don't want
to lose it.
7. Victorinox mini sak. Actually should be with my primary keyring.
8. Tactical toothpicks. Lost the one from my sak, can't find a replacement.
9. El cheapo 9 led flashlight. I let this one get beat up and keep my better light in my bag for when I really need it.
10. Good ol bic lighter
11. Wallet
12. My trusty zippo. and becaus I wasn't paying atention, 15 round mag for my kel-tec. May look goofy when it's in the gun but
if I have to pop it in, I don't care what it looks like at that point.
13. Snap cap for the kel-tec for when I get bored at work and want to practice drills.
14. (not labeled) magnifying lens. Good for starting fires and magnifying things. lol
I could also list what I carry in the backpack my gf lovingly calls my murse but this is the stuff I always keep at the ready.