I'm bored at work today (huh, bored at work in Iraq you say? Yep, that's right) so I decided to talk a little bit about my knife/tool collection. It's a multi-purpose collection, serving as available for bug outs, deployments, camping, and EDC. I'll start by going with the most common that I have on me and work my way up from there. I am throwing this in the "Other Gear" section instead of "Other Weapons" section because I am focusing on the utility/tool aspect of these items rather than combat related functions. Also, apologies in advance for any shitty pics, I'm using my deployment camera right now while the wife has the good one back home.
Swiss Tech Utili-key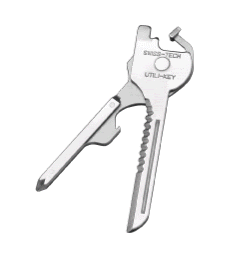 Source: Wife gave it to me as a gift in '07
Price: about $10
Material: Stainless steel (not sure formula)
I keep this thing on my key ring and take it with me everywhere. I do mean everywhere too, it has yet to be confiscated by TSA (YMMV though since I usually have a mil ID) and hasn't even really been noticed by anyone until I use it. It has a pretty dang sharp serrated/straight edge combo knife blade, Phillips screwdriver, bottle opener, and flathead screwdriver. I haven't used it yet to open any Guinness bottles (Craftsman capwrench = win) but it has the right shape to be effective. It doesn't have any real locking mechanism, which makes it a tad dangerous to use, but not really any more dangerous than any other knife, just be extremely careful if you try to drill with it. It's been the one blade tool that, whenever I've had a "crap I need a knife" moment, it's been there to save the day. It is my EDC tool that is truly EDC.
Gerber Multi-Tool
(forget what model but real similar to the "600" model)
Source: PX in '98
Price: about $60
Material: Stainless steel (not sure formula)
This sat on my belt for a long time but now more often sits in my EDC bag, which isn't truly EDC but is more like Every Day Close. It's been my one favorite multi-tool since I bought it way back when, and anytime I misplace it I start to freak out. 11 years, 5 deployments, and who knows how many countries now, it has gained some sentimental value in addition to utility. It has the following tools:
Knife blade
Serrated blade
File
Can opener
Bottle opener
Flathead screwdrivers
Phillips screwdriver
Lanyard hole
Two things that it doesn't have, but I wish it did, are a saw blade and serrated blade w/ gut hook. I like the blade with the gut hook found on the Leatherman Charge ALX, it looks useful for pull-cutting through stuff like clothing or hide, and a good addition to a utility/first responder tool. Does anyone else find a lanyard loop near a useless addition to a multi-tool? At any rate, I really like the design of the Gerber tools over the Leatherman tools for some reason. I like the one-handed flick of the wrist opening style and that all the blades/tools lock in place. I've used almost everything on the tool at one time or another, with the exception of the lanyard hole, and it's held up very well. I did fracture the tip of the smallest flathead screwdriver prying on some stuff I shouldn't have been prying on with a tip that fine. The most used parts are the pliers, knife blade, serrated blade, and file. Another "don't leave home without it" piece of kit if you're heading into the bush.
Snow & Nealley Hudson Bay Camp Axe 24" handle

Source: Wife gave it to me for Christmas '08, from
http://www.forestrysupplies.com
" onclick="window.open(this.href);return false;
Price: about $55
Material: Carbon steel with hickory handle
Very nice axe for the price, and now occupying a permanent slot on my BOB/INCH/Camping bag. I told my wife I wanted this a long time ago and she hooked me up with it. I decided that I wanted an axe with a wood handle because 1) wood is comfortable and 2) wood is still durable. The axe is a bit on the large size for a BOB but totally worth it for camping, I've gone out on a couple of overnighters and it was invaluable in obtaining firewood or doing other chopping related chores. I see a lot of people who get a large knife or machete then say "I can chop with it", and I think they aren't thinking of the usefulness of a real axe. If you haven't tried to chop a night's worth of wood with a knife, you should give it a shot. I decided to go with this over a Gerber/Fiskars hatchet because the length of this allows for great action and, well, it's sexier. I read several recommendations for this axe that came from people who work in and around the forestry/wildlife industries, some of whom have had theirs for many years. I figure if people who chop stuff every day for a living trust in it, then I can too. Plus the company has been in the axe business since 1864, far longer than I've been around even. I am by no means a lumberjack or forestry expert, but it has served me very well while camping. It weighs somewhere between 2-4 pounds, which isn't that much for how useful it is IMO.
Kershaw Whirlwind
folder
[Reference image under axe heading]
Source: Brother gave it to me, came from a scrap yard to him '02-ish
Price: Free, about $50-60 new
Material: Stainless steel (I suspect 440A) with plastic handle
I've had this folder for a long time but didn't use it a whole lot. I decided to leave it included in my BOB/INCH/Camping bag for now since it weighs very little, I could probably shave more weight by pooping than by dumping this knife. I've been using it a lot more lately for random cutting jobs since I don't like carrying around my Kabar. Mine has been ground down well beyond the original profile, when new it comes with a serrated part near the handle but mine has been ground down to a straight edge. It cuts ok but I think it's been taken beyond it's usefulness, it's hard to get really sharp as it is. I feel that's due more to the grind job than the blade itself, I compared it to a brand new one in a knife shop and there is a definite difference. It's made of a stainless steel with a plastic handle, I'm not sure exactly what kind of steel since Kershaw is using Sandvik steels now in their blades, I don't know what they used when this one was made. Good knife that I've recently been using to help preserve the knife on my multi-tool, I recently debated on getting a new one for a better edge. I compared this with a Benchmade Mini-Griptilian but felt that the blade on the Mini-Griptilian was too thin for what I wanted. I ended up going with a small fixed blade, which I should be able to comment on later.
USMC-style Kabar
(Stamped US Army to represent!)
[Reference image under axe heading]
Source: Online catalog, I think Ranger Joes, got it in Iraq in '06
Price: About $55
Material: 1095 Cro-Van steel with leather handle.
Classic military knife, it has a nice look and sleek lines that are very attractive IMO. A lot of people criticize it for the narrow tang but I haven't had any issues with mine. It came to me shaving sharp from the factory, and has an attractive leather sheath included. I've taken it to the field with me a few times, in addition to deployments, and it works pretty well as a bush knife. The one thing I didn't like about this was uncovered while I was trying to cut up a porterhouse steak on a camping trip: it's too big. Not that it had any problem physically slicing through the meat, it was just kinda hard to maneuver to get the good bits off the bone and in the end I resorted to caveman style feeding. For the price I feel it's a tough knife to beat, but I don't think it's really designed for bushcraft use. In the end it is a combat knife, and it is an excellent penetrating knife, able to push through sheet metal without too much fuss, so I see no problem stabbing deep into a cow or deer if you needed. My wife used hers to carve out several wooden spears, and I got great use out of mine, but it would be difficult to do some tasks if this were your only knife. Still it matches my M4 pretty well and looks sexy hanging from a belt. I debated on getting the newer plastic handle version with the nylon sheath, but in the end, just like with the axe, I decided to stick with the retro-style natural materials. In all honesty it's quite possible that this knife will live longer in the field than I will, so if you like the larger knives then go for it. I think even long after I pick up other knives I'll have a hard time letting this one sneak out of my field kit.
Other mentionable knives/tools:
SOG Paratool
(No Image)
Source: Some junkie at a truck stop, mid-90's
Price: About $10 (probably $60-ish new)
Material: Stainless steel (unsure formula)
This one I'm going off memory because I decided to relegate this thing to tool box use. I had this multi-tool for a little bit from SOG, I think it was called the "SOG Paratool" and I didn't like it. The pliers flipped open from the side, which was the only time I'd ever seen that in a multi-tool. The problem was that they didn't lock in place, nor did any of the other parts, which resulted in many curse words coming from my mouth. I thought that was the most retarded design ever, because using the pliers to torque on stuff would often result in the pliers folding back into my hand. The non-locking knife blades also cost me a lot of patience, in addition to blood. I've read reviews of recent SOG multi-tools which give them good reviews, but I haven't seen any of the new stuff in person and the experience with this tool led me to never want to. The slide-open pliers of the Gerber design is good, and the butterfly-knife style opening systems are good, but a flip-up-from-the-side pliers design is crap IMO. SOG may make some decent products but I felt this one was shit, and so have included it in this post for your consideration. If you have one and it works for you, cool. If you don't have one and are looking to get a multi-tool, my suggestion is to look at the more stable designs first. I think SOG has some that open butterfly-style and while they may be more expensive, they will save you miles of frustration if you use it with any frequency.
Generic buck-type folder
(No image)
Source: Forget, possibly flea market
Price: $10
Material: Stainless steel (Pakistan) with wood & brass handle.
I picked up a generic buck-looking folder many moons ago from someone I don't remember. The reason I am mentioning it is because it was made in Pakistan with stainless steel and it has influenced my knife-buying decision making. It has a flat design that is not very comfortable and has a back lock that doesn't really work. This knife caused my aversion to back locking knives because it has caused me to draw blood while trying to use it to drill holes in stuff. I don't like any knife that jeopardizes my fingers while I work, and this knife has resulted in me not buying or trusting any other back-lock folders. This one also sits in my tool box for random cutting jobs that I don't need a good knife for.
I have a couple of additions that should be coming sometime this week, I'll try to talk about those when they get here. This post is just a summary of my knife & tool experiences, at least what experiences stand out in my mind. My goal with this was to give some people who may not have had experiences with these items an idea of what they are and how useful they are/aren't. I notice some people pack a trowel/field shovel in their kits. While that may be fine for them, I chose not to because I figure if I need to I can probably carve a pretty decent plow-stick with the axe/knives. That's all for now, but more to follow once I get any packages.