A while back I was asking for suggestions on good underwear, you know, something better than the 3 pack for $7 type. I got tons of recommendations and tried a couple, and here are my thoughts on them. First, Under Armor: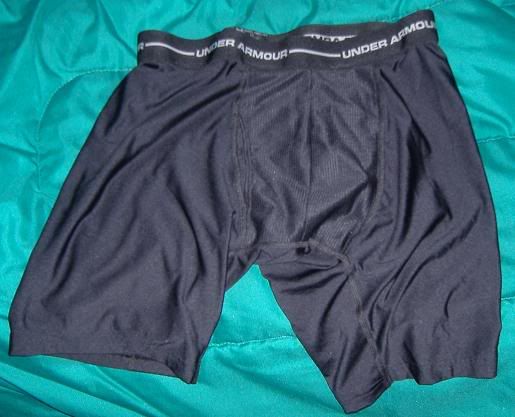 Under Armour 9" Boxerjock
Price: $20
Source: PX
Composition: 91% polyester, 9% elastane
Under Armor makes decent gear but a lot of people complain about the price. At $20 per pair for underwear, it is a tad expensive. My time with this underwear had me walking around a lot in 115+ degree heat and sweating profusely. I found that this pair fit a lot more like compression shorts than regular boxer-briefs, which in some ways I can see that being good but in others not so much. For one, it definitely feels more like an exercise underwear, like something that would be great for jogging or intense athletic activities. It's not quite as comfortable when lounging as I like my boys to have SOME movement, and don't like my legs feeling so restricted. For normal walking and even hiking/rucking, they're ok but feel a bit like they hug the skin too much. I would wear these for more intense activity like running or sports, but not hiking/camping. They don't take up much room in a pack at all and they are pretty light, so there's not really much good reason not to pack a few if this is what you have.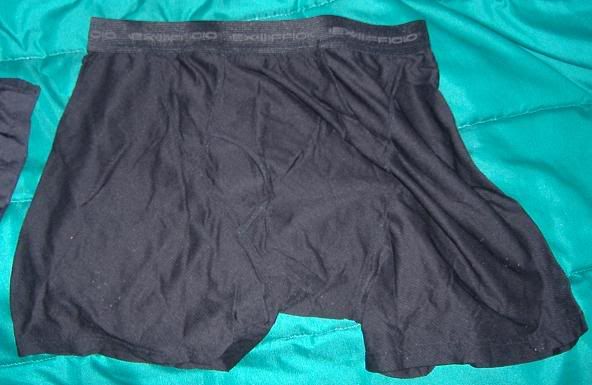 ExOfficio Give-N-Go boxer brief
Price: $25
Source: REI
Composition: 94% nylon, 6% Lycra spandex
In similar situations to the UA underwear, and I've been using these as my preferred undies for over a year now. They are pretty much awesome in that they're comfortable, breathe well, and provide support without feeling too restrictive. They don't sweat up like regular cotton undies and are great for daily life at camp or at home. They don't provide as much compression/support as the UA undies, but I don't think it'd be a problem getting into athletic activities while wearing these. They are pretty thin which makes them really light, but if you have a leaky tail pipe then just be aware of that (hey it happens to the best of us sometimes). At $25 per pair they are spendy, but my nads haven't been eating through them as fast as regular underwear, so they may be worth the investment if you can afford it.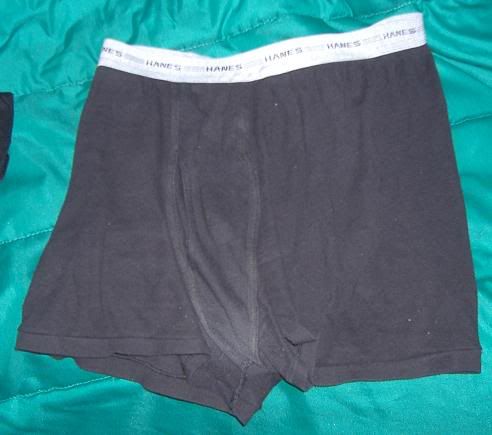 Hanes boxer briefs
Price: 3 for $10
Source: pretty much anywhere, Wal-Mart/Target/wherever
Composition: 100% cotton
Now I wore these kinds of underwear for years, even out in snow and rain and everything else, and the cotton never killed me (as evidenced by this post). I did get pretty irritated every time I would sweat or get wet and end up with that swamp crotch ball in between my legs, which is what started this whole thing. Decent underwear if you're on the cheap, but walking around in 115+ degree heat sweating buckets makes these pretty dang irritating to wear. I think I'd rather free ball it instead, but they are still comfortable for lounging around in the cold or nice air conditioned rooms. After doing much hiking and what not, in addition to combat ops, I think I'll leave these for those days when I don't have to go outside.
If you already have underwear you like, great. If you're currently wrapped up in newspaper and need something, then go cheap. If you can afford to pamper your scrot a little then I highly recommend the ExOfficio undies. Very comfortable and great for taking to the trails (on top of giving your package a nice sexy wrapper).
Almost forgot about the + in this post. I also picked up a
McNett Microfiber towel
from the PX for about $16. A little spendy for a towel, but it is very compact compared to regular cotton towels. It dries pretty well but differently than a regular towel, you kinda have to pat yourself dry as the microfiber doesn't lend itself well to rubbing against the skin. It's kinda hard to describe how it feels, but it definitely dries very well, both drying the person and also in drying itself off afterwards. I hang mine up in the room and within a couple hours it's bone dry and ready to use again. I found the large size to be great for showering and what not, plenty of surface area to dry off and still have room for more. Another sweet piece of travel gear if you're not staying in hotels and stuff along the way. Not too many places where you'll be in a situation where you have access to a shower but not to regular towels, but I'm sure the industrious among us can find more uses at a camp site for a towel.
That's it for now, I'm hoping to get some more gear in soon to do reviews on. Funds have been low lately but we'll see what happens.