Hello Zombie Squad, I am starting this thread to show how easy, inexpensive and fun working with Kydex is. The materials costed about seventy five cents. I purchased ten square feet of .060 Kydex for a mere 25 dollars, about eight zipties, and a tiny bit of cheap camo green and tan paint. For tools I used a toaster oven, blowtorch and a heat gun for heat for the Kydex. I cut it to raw size with a table saw. Shaping the edges was done with a bench grinder, and the Kydex was "sewn together" using zipties "stitches" and a drill. Pressing for molding and definition was accomplished with shop towels, a scrap piece of MDF and a kneepad. Holes for the belt to travel through were cut with a Dremel. I probably spent only an hour on my first attempt and think I can call it a success.
The Kydex was heated several times, the best setting ended up at 220 degrees Fahrenheit and was in for maybe three minutes. I basically just pushed on it to see how soft it was.
The front and rear after being initially pressed into shape. the main form was accomplished my setting two folded up shop towels on the floor, placing the inner layer on the towels, my iPhone face down on the inner layer, and then the outer layer on top of it. I used the smooth side on the insides of the holster where the phone would make contact. I placed a foam kneepad on top, and then a piece of MDF big enough to stand on. At this point I stood on the MDF, and kind of bounced on it, then I shifted my weight in all directions. This was scary, glass screen and all, and I WOULD NOT recommend doing this to an iPhone outside of a case. Although it is only in a bumper style case, this keeps the screen and back plate from direct contact from anything flat.
Outside panel. Ok definition on the bumper case and rear plate edge, but there isn't much of a gap either.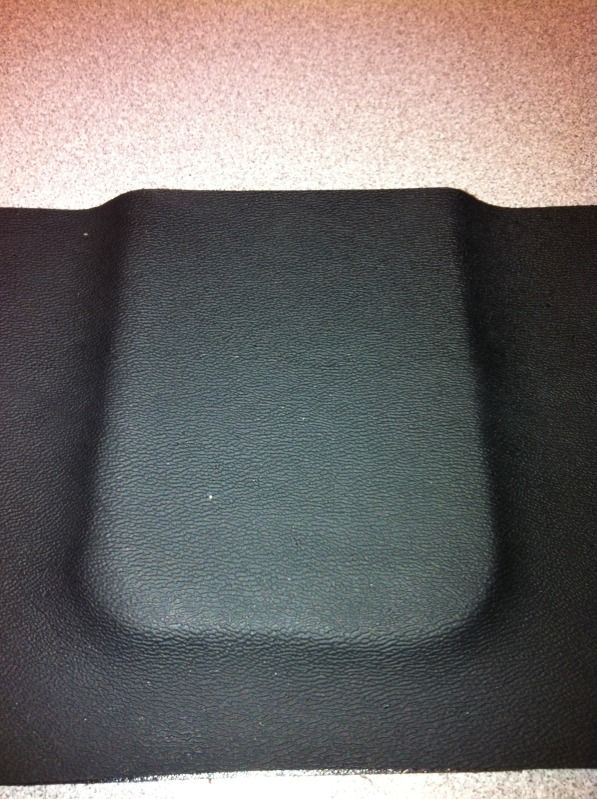 Inner panel. The definition on the edge between case and screen is well defined and evident. I occurs to me exactly as I'm writing this that I should have taken off my backplate cover to get more definition. First timer's mistake I guess.
It took about five reheats of the Kydex to get it pressed the way I like it. This view said it was finally good.
Ziptie "stitching" to hold the panels together. I haven't got my eyelets or a riveter yet, so it had to suffice. Inspired by a drift racer coworker of mine who "stitched" a big part of his side skirt back together and it holds great. I figure if it's enough for holding together 120mph sideways in a cloud of smoke, its good enough for my "Tactical iPhone" I was unsure of where to thread the zipties, so the holes on the lower end weren't very straight and the line shows it. There was one extra hole I decided not to use. I will definitely put more science to this next time.
Inside of the ziptie stitching, and view of the belt cuts. To bend the belt cuts inward, I ran over both sides closely and quickly with a small blowtorch, then pushed them where I wanted them. Using a Dremel, I filed out the cuts for my belt to go through. I utilized a bench grinder to take it from raw rectangular form to the shape it is now, and the softer wheel to smooth the edges as best as I could. I feel there could be some better refinement here.
Top view of the holster in this state. The pinch inward was a bit too tight for quickly holstering the phone, so I heated the center of the holster and pushed it outward at the top slightly, and ran my thumb around all the edges of where the phone sits to get a bit more definition. It worked well.
The first test fit. It wears well, and is quite comfortable. I figured by this point I would have no usable product at all, but my first practice rune with the Kydex treated me well. A little boring in black though.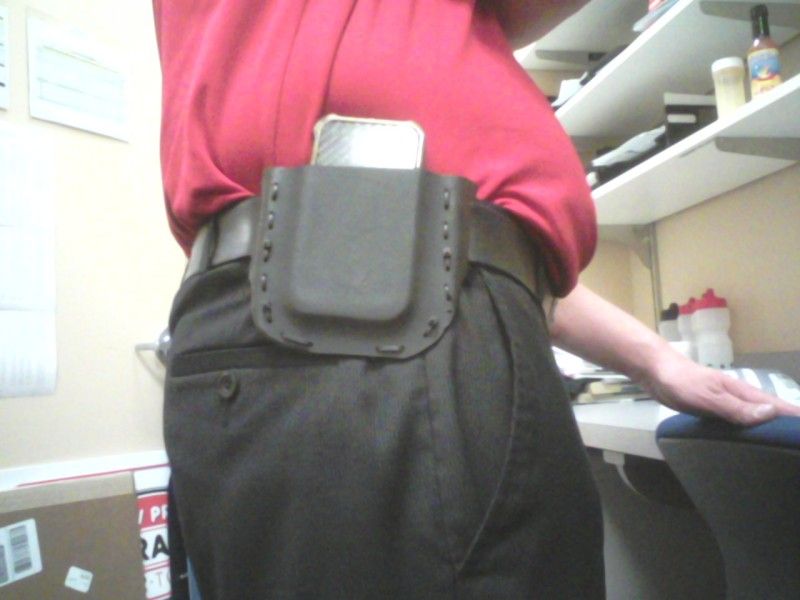 Got home, and decided it was time for some paint. I scored an Apple sticker from my brother, and cut the leaf off. The sticker is white printing on clear and one piece, so it wouldn't have looked right i'f I left it. I decided on a "tigerstripe" pattern for it, and used black vinyl tape for its random edges when torn by hand and the tendency for paint to "creep under" it, for a even more random edge.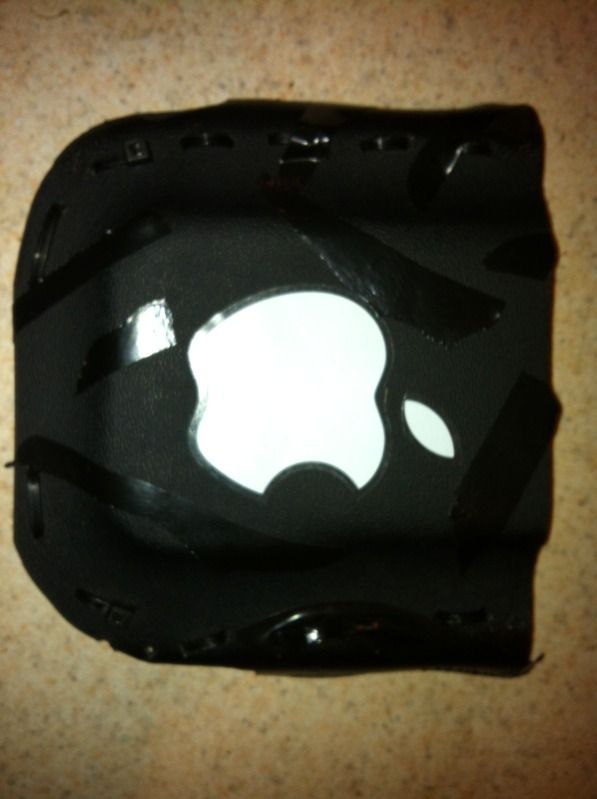 First layer of paint, kind of a foliage green.
I waited about twenty minutes, and masked out the green stripes.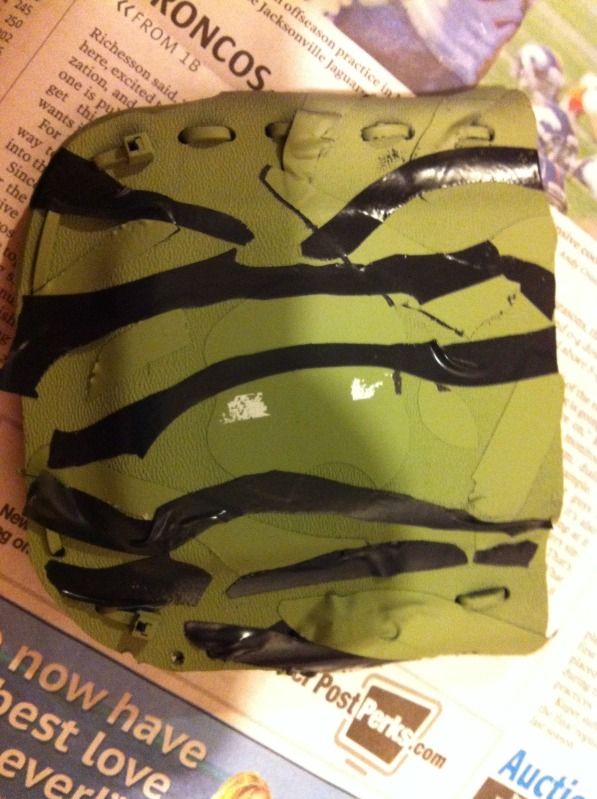 Second coat of paint is a desert tan type of color.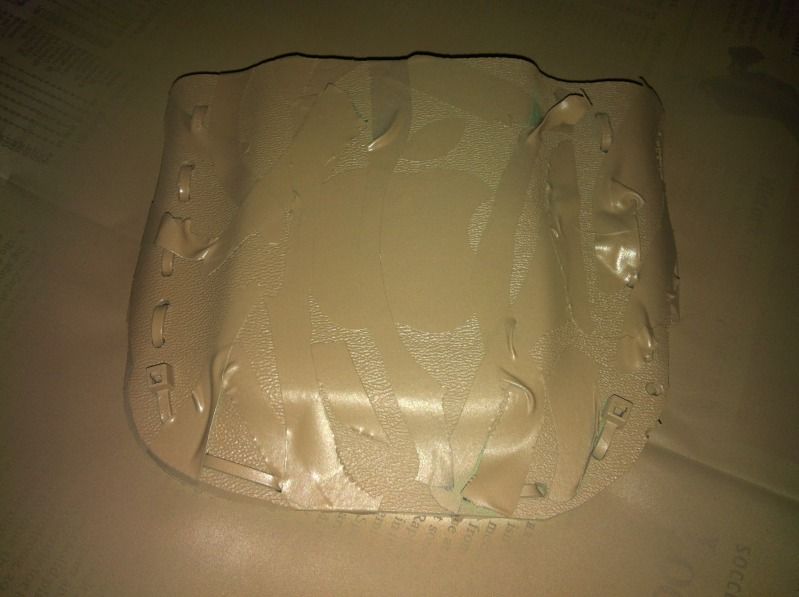 About thirty minutes later, I removed all the masking and the sticker. I am pretty satisfied of the end result. I do wish the paint would have crept under the tape better for less sharp edges, and the tape's edges weren't as random as I'd hoped. The Apple logo in the center turned out well, and I am quite pleased by that.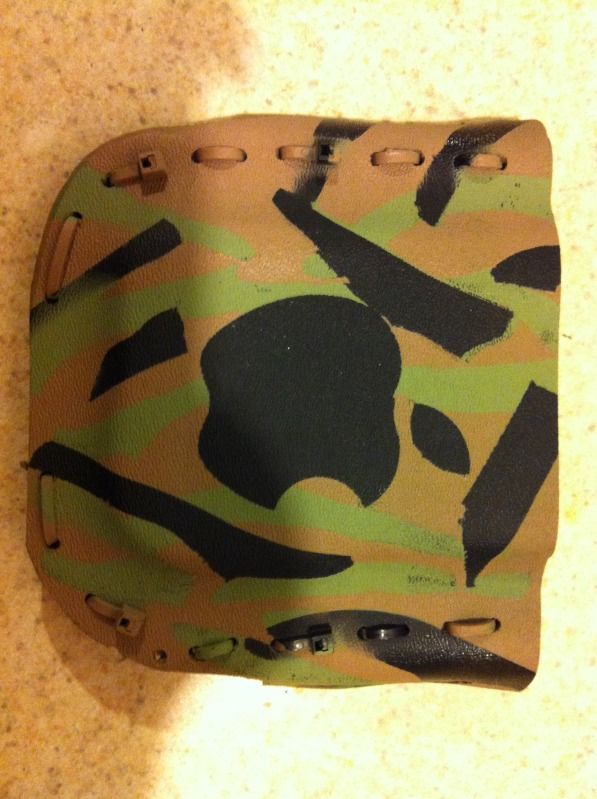 The things I found myself slightly dissatisfied with are the width of the case, I could have made it about half to three quarters of an inch narrower. The "stitching" could have been straighter, and could have had all the ziptie ends on the inside, but I was checking what I liked better on what direction they faced. The paint could have crept up a little better, and the stripes would have been cooler less defined.
Overall, I am pretty pleased with the end result. It retains my phone well, facilitates lightning quick draws, (I have to retrain my speedy mallninja Tactical iPhone draw now lol) and looks a hell of a lot cooler and more unique than a generic pleather pouch or the stupid clip for Otterboxes Defender cases than break frequently. As a cellphone and car audio salesperson with a love for firearms and prepping, it fits perfectly on my hip when I can't have what really belongs at the 2:30 position on my belt.
This project was just to familiarize myself with Kydex and to have a little fun in the process. I figure this would be much more difficult and would result in throwing away a third sheet of Kydex. I found myself pleasantly incorrect in this assumption. Next project will be a vehicle holster that mounts to the side of the driver's seat of my Previa for vehicle storage and some mag pouches for my belt when eyelets and chicago screws are in from Amazon.
Thanks for reading, stay tuned!