Hey everyone, I wanted to share a recent purchase of mine, the Field & Stream Infinity Field Knife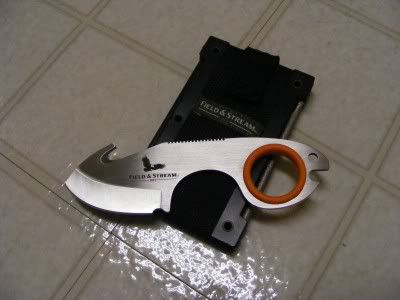 You can find this at your local Dick's Sporting Goods store for $14.99 and it comes with the following features:
440 Stainless steel w/ fine ground edge
Gut-hook w/ ridged back
Comfort grip silicone ring
Bottle Opener
Lanyard hole
Molded case w/ fire starter and honing file
You can see the fire starter on the side here, which is the same metal as your typical fire steel. After removing the finish a bit... the backside of the blade strikes sparks just as good as a fire steel does. On the reverse side is the honing file, while I probably wouldn't use it on the blade, it is great for sharpening up the gut-hook. The bottle opener on the rear of the knife works decently, but it wouldn't be my first choice for a bottle opener. The lanyard hole is just big enough to get a piece of paracord through.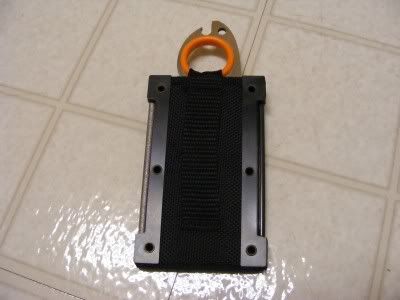 As you can see here the case is a little bulky, and the belt loop is the same piece of webbing used for the retention, which is just simple velcro. Sad thing is that the rivets are too small for paracord. My impressions so far is that it is a decent survival / hunting knife for price. In the upcoming weeks I should get a chance to field test it.