No, really, it doesn't. It's not awesome either. If you were looking for a review, there you have it.

Be warned: The rest of this post is about drilling two holes into a piece of wood and then painting it.
If that's not high-speed enough for you, it's going to bore you.
Now, on to the point I'm trying to make:
It needs a tiny bit of work. But not much. Then it becomes a decent tool and emergency defensive weapon. But little else. You don't have to do much to it, this mod is as basic at it gets, and anyone can do it.
Let me start by saying that I don't think too highly of Cold Steel. "World's Strongest Sharpest Knives", my ass. And their pseudo-knightly weaponry, all the supposedly historically accurate and functional arms... uggh, don't get me started.
So I got my hands on a Cold Steel Trail Hawk for cheap. I expected it to suck. It doesn't.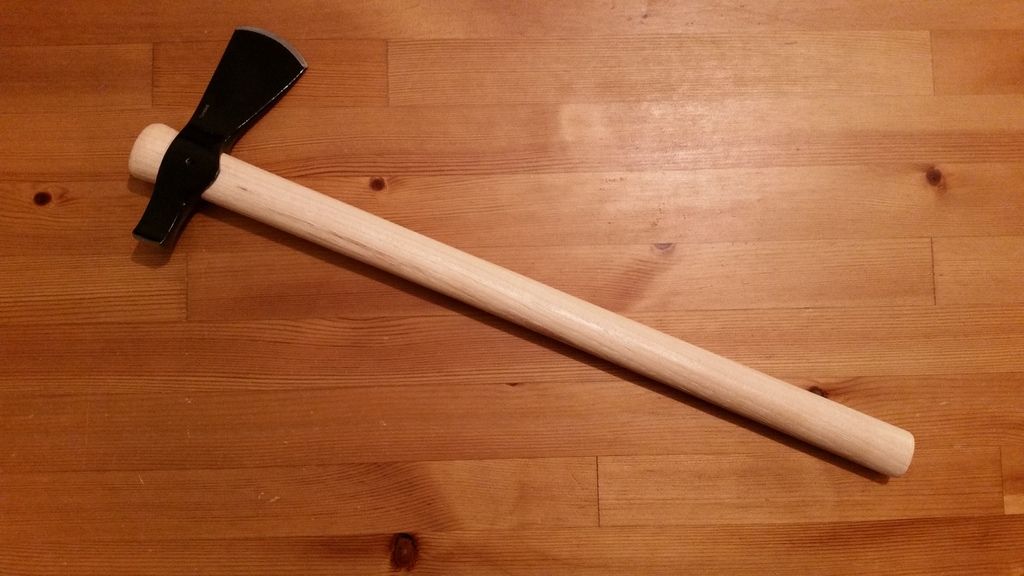 Built quality is far from stellar. The handle is rather rough, you can almost feel splinters. And even though this thing came new in the box, it was completely blunt.
So, first order of the day: Sharpen that sucker. Where's my whetstone? Oh, that's right, I left it at my parents' place and Mom uses it to sharpen her kitchen knives. What do I have? Ah, crap...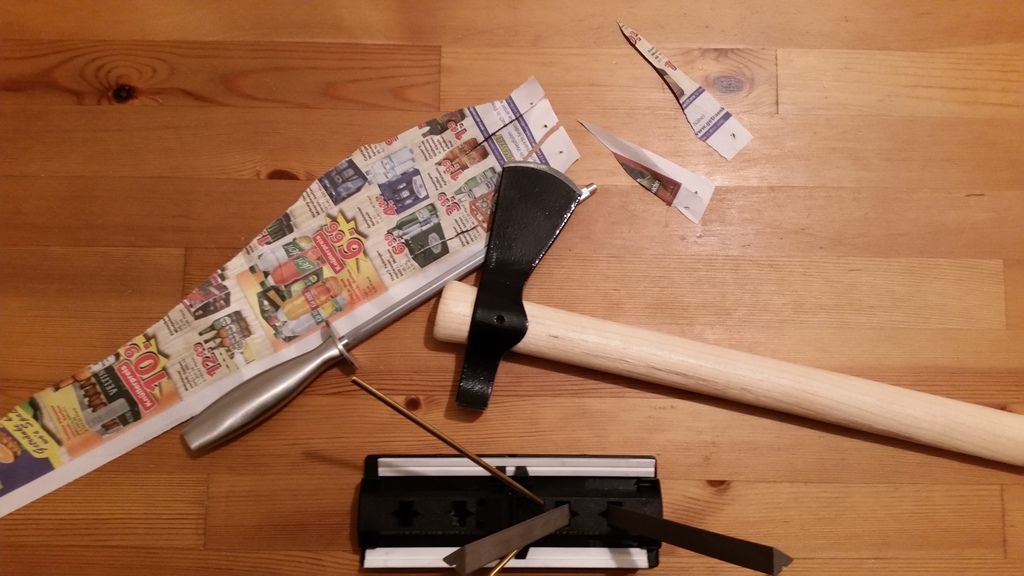 Ever tried sharpening a fucking hatchet on a Spyderco Sharpmaker? It's not made for that!
At least I got it reasonably sharp. Not razor-like, but good enough.
Next step:
Drill one hole in the bottom of the handle, in the spot the guys in the Taiwanese factory so kindly marked for you.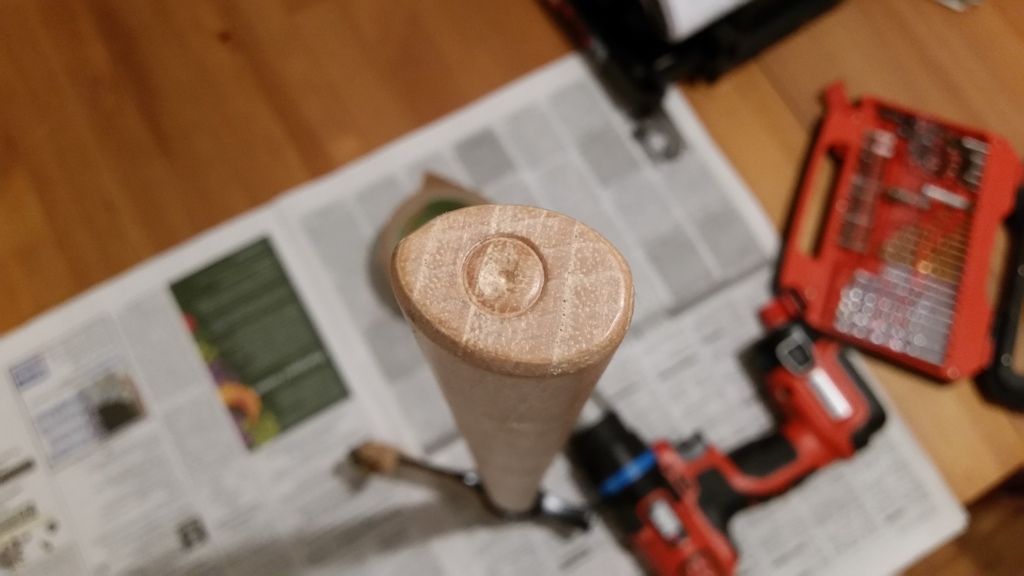 Smoothen and countersink the hole.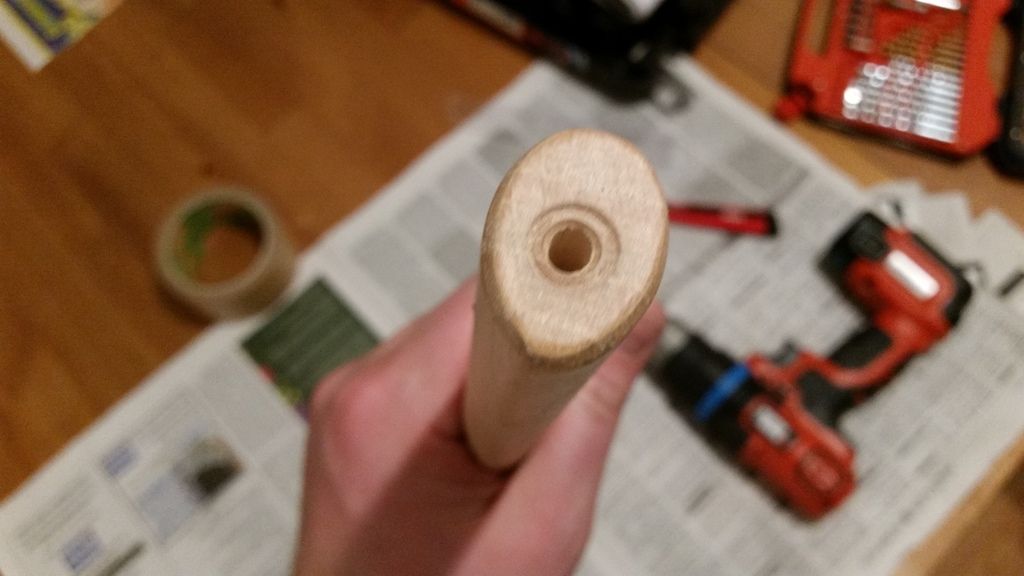 Then drill through the handle from the side, orthogonally to the first hole, making sure to hit it and form a T-like section. Smoothen and countersink that hole as well.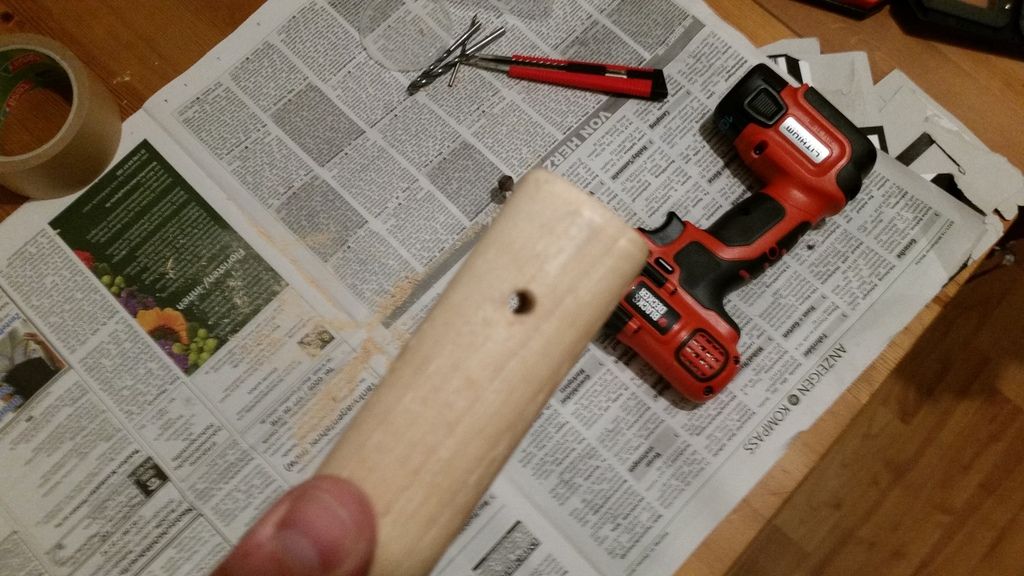 Give the handle a few passes of 100 grit sandpaper, untill you're absolutely sure there'll be no splinters. Not too much, you still want it a bit rough for traction.
Get you clear weatherproof varnish. Read all the interesting warning labels on the can, including "carcinogenic", "for outside use only", and "only apply in well-ventilated areas". Then do all the work on your kitchen table anyway, since you can't be bothered to step onto your balcony. Hey, it
cold
outside, okay?
So, the handle gets a nice thick layer of weatherproof clear coat. You might even dip the bottom of the handle in the can to soak the inside of the holes, because why not? Make sure to put some varnish where the head meets the handle, so capillary action will suck it in.
Let the whole thing dry for 24 hours.
Then think about all the fantastic paracord wraps you could do with that handle with the two holes in it.
In the end, decide not to bother, and simple pull some rubber shock cord through your handle. Form a loop to hang your hawk from somewhere. Wrap the better part of a meter of shockcord aroung the handle to form a kind of pommel area to prevent the hawk from slipping from your hand. Make sure is can be undone quickly, to form a big loop for use as a wristband, or whatever.
Join the loose ends with a centimeter of heat shrink tubing.
Last step:
Think about all the fantastic leather and kydex sheats made by people far better skilled than you. Then buy a generic € 5 nylon tomahawk sheath on amazon.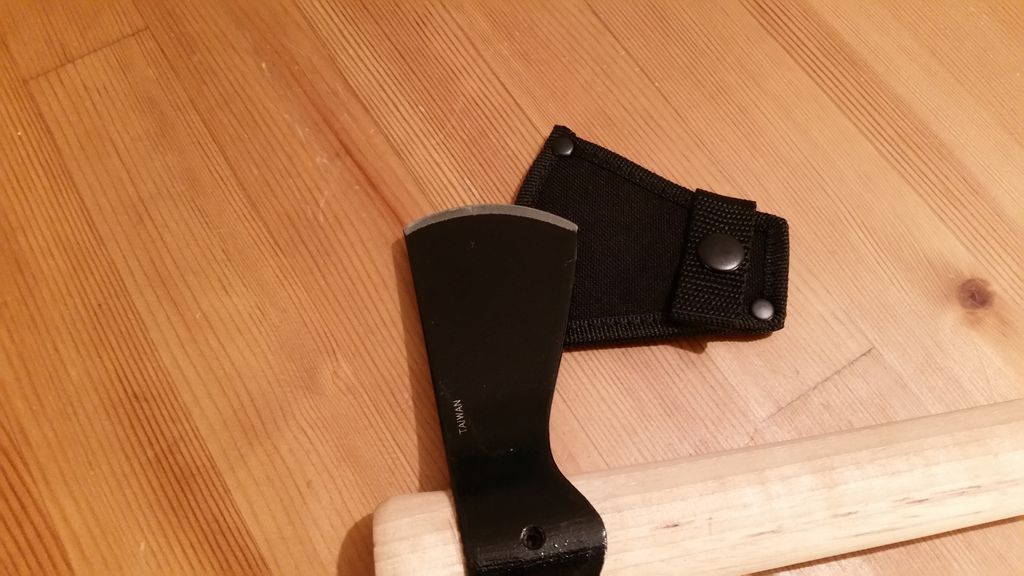 Put a few drops of oil on the edge and the hammer face.
Done.