It's no secret, I have a slight addiction to machetes and big choppers. And I am a huge fan of Cold Steel's machetes, and own more than I care to admit.
I find the steel (1055) to be a very good machete steel. The thickness is slightly beefier than a typical hardware store machete, but they aren't "thick" choppers, like a kukri, or one of Storm Crow's bush swords. They still retain enough flexibility and whippy-ness that classify them as machetes. I also enjoy their variety of blade shapes and designs, patterned after both traditional work knives and swords.
However, there is a big glaring issue that I have with Cold Steel machetes. The factory edges SUCK. And since Cold Steel markets themselves as the world's "strongest, sharpest knives.", it is a bit of a let down. But I get it. It's how they save money, to put out a good product for a cheap price tag.
This is how their machete's used to be sold from the factory. This is one of their older Barong machetes that I bought a few of, and I never got around to touching this one yet.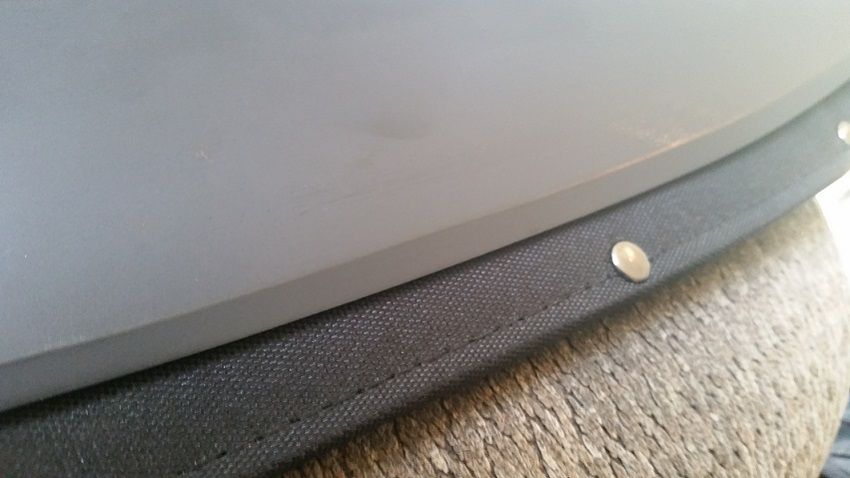 Note that the black coating they use goes all the way down to the edge. They used to call this a "utility" edge. I call it dull and unusable. The grind is right, but it is essentially and unfinished blade IMO.
Even though it looks very flat ground and slightly "scandi-ish", after taking a file to remove the coating, it is very apparent right away there is a slight concave, or "hollow ground" section to the edge. The very tip of the edge, and the shoulder of the angle would wear off first, and the middle section would remain untouched until a larger amount of material is removed. This concave is either from how it is pressed, or from the wheel they used to grind the angle out. I'm not exactly sure how they make them.
The last few machetes I've bought from them in the last year or so do not have the problem with the coating anymore. However, I do not know if this is because of the specific models and factory where my machete's were made, of if it is company wide.
Here is a pic of the latest machete I bought.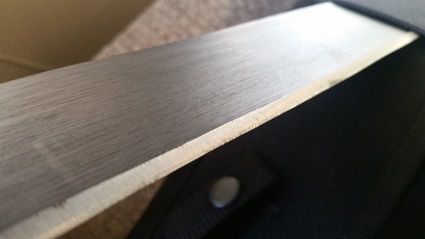 Note that the edge is now uncoated, and is roughly sharpened. After taking a file to it for a few seconds, this to also has a concave to it, and is not truly flat.
The edge itself is an improvement over the previous, but is still rough, and has a slight wire edge to it. I would say this is acceptable enough for some tasks, and a few minutes with a file or hard grit stone would get it good enough for a "utility" edge.
However, I put my blades to rough use. Not just clearing light stuff, but for chopping heavy stuff too. Edge retention and toughness is a big thing for me, as I've seen cheap machete's roll edges and crap out on me when I'm beating on them.
Once I learned about convex edges, I was intrigued. Once I properly reprofiled and used a convex edge machete, I was hooked.
For those of you not familiar, he is a little graphic.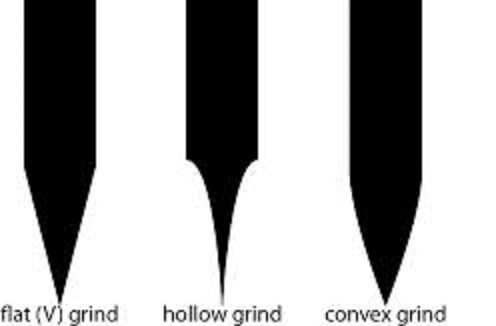 For the sake of this thread, and for the machete's I have done, when I am referring to a convex edge, I am talking about a single bevel convex blade. So similar to a scandi grind, in terms that there is no primary grind with a secondary bevel for the edge. Just one consistent grind that runs from shoulder to edge.
The curvature of a convex edge allows for a very tough, yet relatively thin edge. Even though you are shaving off some of the beefiness on the shoulder, the seemless transition from the relief edge to shoulder allows for more support where it matter most. It also helps reducing wedging of the blade in thick materiel, and reduces edge contact. Especially when batoning.
It may not have to same kind of godly bushcraft carving control as a scandi grind. And it may not seem as "hair splitting" as hollow or some flat ground edges... But with a good angle and with a good honing, it still passes all the usual tests. Shaving, fingernail, paper slice etc... It's a very tiny trade off, for a huge gain in edge retention. When it comes to choppers, I would much rather have a blade that stays as sharp as an 8/10 for an entire day, than a blade that can get to 10/10 sharpness, that dulls to a 5/10 in an hour of hard use.
It's really hard to capture just how pretty a nice convex edge is on camera, due to the curvature of the blade catching the light, so the pic really doesn't do it justice.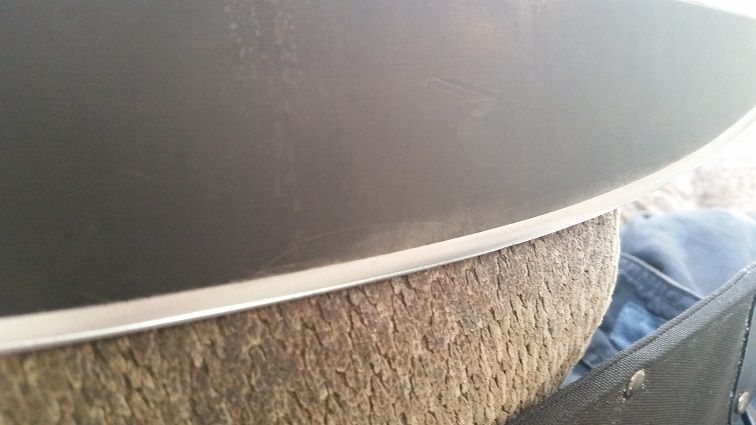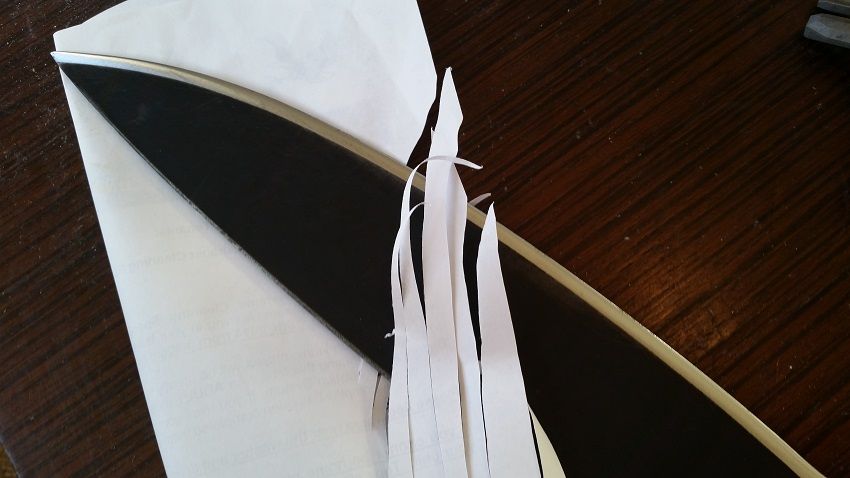 Many people like to use the sandpaper + mousepad trick to create a convex edge. But since these are big knives, with deep grinds, that I'm reprofiling... I aint got time for that. Most shops use a stationary slack belt sander to create a deep convex like what I try to obtain. But I live in an apartment, and heavy machinery is generally frowned upon.
Luckily, santa brought me a nifty present a few years ago that I've put to a lot of good use. The Worksharp Knife and Tool Sharpener.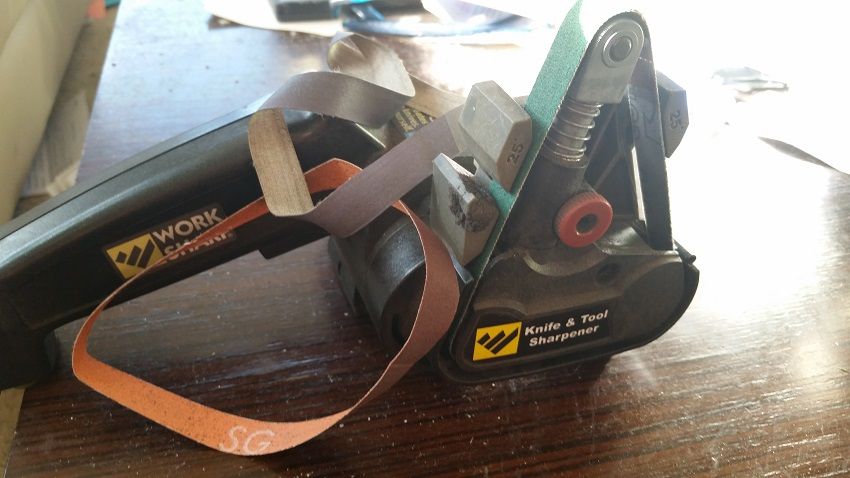 It comes with 3 grits of sand paper. 220 for general purpose sharpening, 6000 grit from honing, and 80 grit for heavy material removal. The belt has a nice amount of slack to it, due to the spring on one of the guide ends.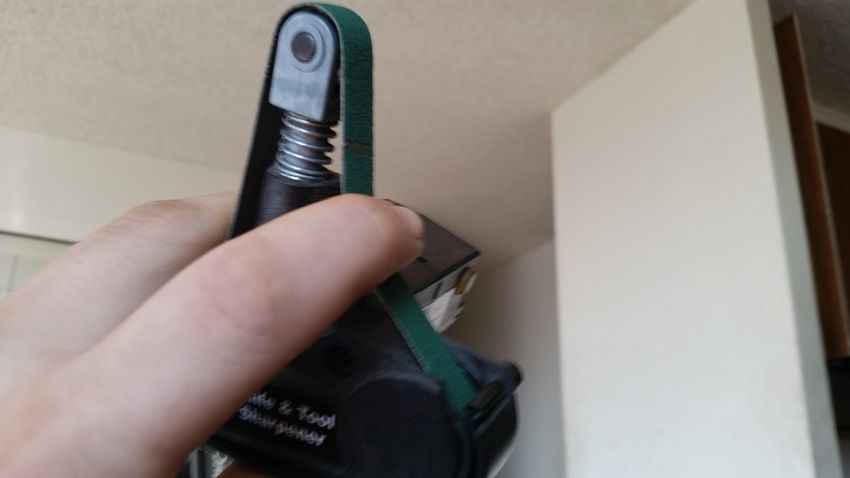 It comes with 2 different guides. One for outdoors blades, and one for kitchen blades. However, I really don't like using the guides very much. Especially for larger blades. That's why I'm glad you can remove the guide, and rotate the head.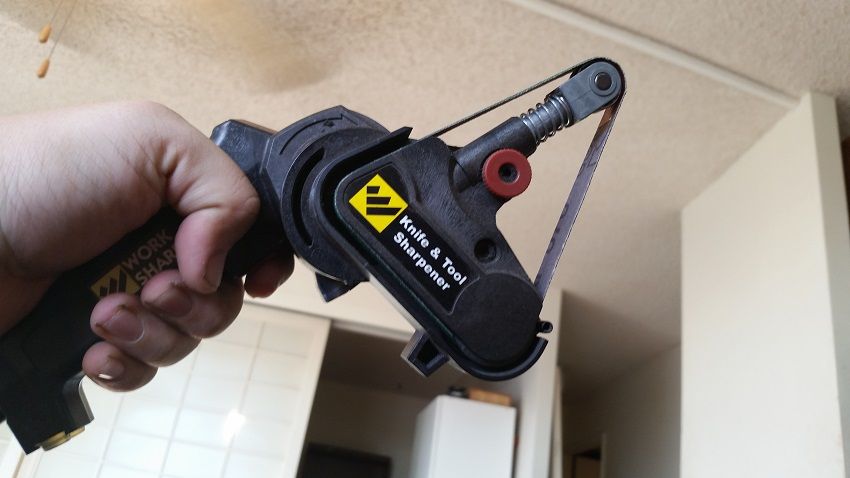 Now I can use it more like a hand sander, or an angle grinder. This makes it great to use on things like shovels, and axes. But more importantly, it gives me much more control in the angle and material I remove when reprofiling an edge.
As you can see from the picture, the belt conforms around the edge.
I don't have any pics or video of me actually using it, but that's because I do not have a camera man to snap a few off. So luckily for you guys, this is where the pictures come to an end.
Since I had to remove a good chunk of steel from both the edge and the shoulder to turn the factory grind into a convex, that means that one of the important things I must do is widen the relief edge up as much as possible, by backing where I want the shoulder to be as much as possible. If I don't, then by the time I've shaved enough material away for the convex, the geometry of the edge would be a bit too "short and fat" for my liking.
This is a bit tricky with the slack sander, but easily doable. I apply as little pressure as possible, so that minimal curving of the belt occurs. In the past I used to use a file or dremel tool, but I've gotten good enough with the Worksharp to not need it.
Once I back the grind up far enough to where I want it to begin, it's a piece of cake. I'll use the 80 grit to keep grinding away at the edge, until I can see the middle of the grid is being affected. Usually for the first few minutes, only the shoulder and edge are in actual contact with the sanding belt. I'll use a black marker to mark the edge between runs, to check for any spots that are not in contact with the belt.
I'd say that an average 18" machete takes between 15-20 minutes on the 80 grit before it finally is reprofiled to my liking. After that, it is a breeze. I do less than 5 minutes on the 220 grit, mostly to even out the trouble spots, and to remove the wire edge. And finally, a quicky buff with the 6000 grit.
This has been standard operating procedure for all of my big choppers, and a few of my fixed blades. Luckily, Cold Steel's machete's come with a primary grind suitable enough to make reprofiling it fairly simple. Not all blades are like this. If a blade's stock is just too thin, or the hollow grind on it is just too deep, it really isn't suited for full convex edge. In fact, I'd say any thinner than what they use and I probably wouldn't do it.
The edge retention is fantastic. I'm sure part of that is due to the decent 1055 carbon steel they use, but the new edge optimizes it. I can't remember the last time I actually needed to resharpen one of them during the day. I just touch them up once in awhile when I'm bored.
Do I wish Cold Steel sold their machetes with a convex edge from the factory? That'd be nice, but then they wouldn't be selling them for $20 or less anymore. And that's kind of the beauty of these big knives. Condor does convex edges on their big choppers nowadays, but their prices have also significantly risen since doing so.
Thanks for putting up with my long post, with incredibly unexciting pictures. I'm just an amateur knife lover that likes to dabble in making things fit my needs, so any input or advice from people out there is greatly appreciated.