This will be an area for discussion and information about the topic of the California drought.
To get a few things out of the way:
How is this a disaster?
More than 10% of the population of the entire United States lives in California. This means more than 10% of the entire US is going through a severe drought if that drought only impacts California (spoiler alert: it impacts much, much more than just California). California has mandatory water rationing with fines being issued (including $500 fines with proposals for $10,000 fines).
Aren't these droughts cyclical in nature? It'll rain more soon.
The community of scientists don't include many seers, though they do use predictive models. Scientists, looking at facts, do not see a high chance that in the coming decade that enough water will fall to bring us back to historically normal levels without also changing other factors. The drought has gone on for so long that the amount of water needed to get to a historically normal state is staggering!
The experts agree that the events are a building catastrophe. There is debate about some of the specifics, which are then interpreted wildly by the public at large.
How much water does California need to end the drought?
11 trillion gallons (10 cubic miles, or 33.7 million acre feet) of water is what the experts are saying. To help visualize that, it's the amount of water that flows over Niagara falls in 170 days if you capture every gallon of water from the falls for that entire time.
That's why when California gets some rain for a week the drought is still an issue after.
Also, keep in mind, that unless we collect those 11 trillion gallons, then continue to get a historically normal amount of water the state will just slide back into a drought.
Who cares about California anyway?
Well, California, as previously mentioned is 10% of the United States' population. Lots of people care about what happens to 1 in 10 US citizens. But, beyond just what is happening in California, we're dealing with a pattern of reduced rainfall across the whole midwest. The way California handles this disaster will likely be the foundation for the plan of other states in the future for how to handle a similar situation. If California's plan succeeds, then, as a country we learn about how to effectively deal with the situation. If California's plan is poor, then, as a country we learn about what not to do.
As reported by USA Today (April 2015), 37% of the US is in some form of a drought.
http://www.usatoday.com/story/news/nati ... /26559955/
Why doesn't California just use sea water? Duh!
San Diego has been building the largest desalination plant in this hemisphere. It's scheduled to go online in the Fall. That plant will deliver 7% of the water used by the people in San Diego (the county has a larger population than many States and, by itself, represents about 1% of the population of the whole US). The cost of that 7% will increase the water bills for people in San Diego by about 25%. That's more than a 300% increase on each gallon of water. Yes, it's better than not having any water at all, but, it's pretty clear that water from almost any other source would be less expensive.
Why do I hear about snowfall?
It does not rain 12 months a year in many places. We still need water during each of those 12 months. This means we need ways to store water when it isn't raining. Water reservoirs are very expensive (though plentiful throughout the state). Fortunately, there is a type of natural water reservoir, snow! When frozen water collects during the rainy season it will sit as snow for months until temperatures warm up and that snow melts. The melting snow will fill rivers and lakes even during months in which there is little to no rainfall. Snowmelt from the Sierra mountains provides water to 24 million people, and some of this snowmelt is transported hundreds and hundreds of miles.
If the snow melts sooner than anticipated then later during dry months there will be much less (or zero) snow melting to fill these rivers and lakes during the months when people need it most.
Where does all of California's water go?
The breakdown is roughly 50% environmental, 40% agricultural and 10% residential. Right now a lot of the focus in water reduction is on environmental water and residential water. The idea, as I understand it, is to keep California's economy as strong as possible by imposing as little as possible upon California's agriculture.
80% of all human water use goes towards agriculture.
What does that mean financially?
This is a difficult question to answer, because it's hard to tell exactly what the impact of a prolonged drought will be.
California agriculture was valued at about 22.3 billion dollars in 2010. If you just look at California's agriculture revenue more is generated from it than from 100% of the state revenue of the following states: Alaska, Connecticut, Delaware, Georgia, Hawaii, Idaho, Indiana, Iowa, Kansas, Maine, Mississippi, Montana, Nebraska, Nevada, New Hampshire, New Mexico, North Dakota, Oklahoma, Rhode Island, South Dakota, Utah, Vermont, West Virginia, Wyoming.
California's economy is about 156 billion dollars (about 50% larger than the next closest state) so a significant hit to the California economy would be a significant hit to the whole country.
How much water do people use per day?
The average households in the US uses about 90 gallons of water per person per day.
Are companies being respectful of the drought?
Largely they are, but generally only as they're be forced by law.
As a single example Crystal Geyser is about to open a bottling plant to take water from the Sacramento River in California, bottle it, and ship it to people around the whole country. Thanks Crystal Geyser!
Historical Rainfall: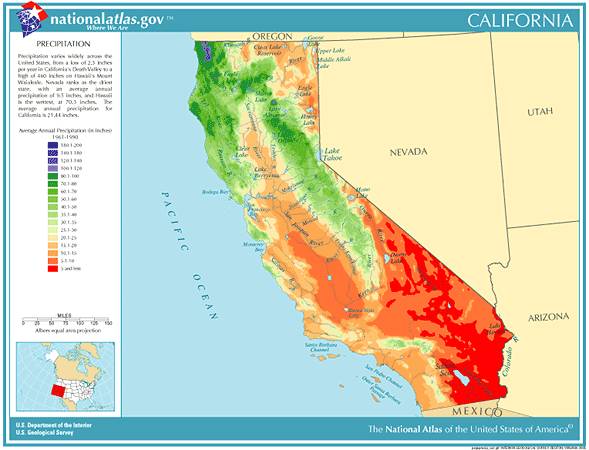 Population: