Welcome back to another Tactical Tuesday! I've got another gear review for you all today. This time it is a 9mm magazine pouch, made by ECLiPSE Tactical.
http://www.eclipsegear.com/Product.cfm? ... =0&login=Y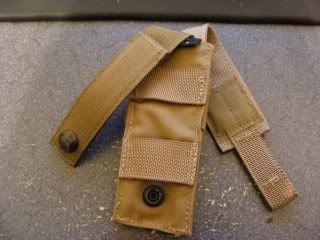 The points in bold are from their site, with my comments to follow:
Hook and loop closure
- Yup, pretty standard Velcro flap.
Back up webbing closure
- This is something new, that I haven't seen before. By using some sewn webbing on the pouch and flap, it allows for additional retention to keep the pouch closed. However, with the 9mm mag I tried, I wasn't able to use it. Putting a small multi-tool in the pouch, I was able to use the extra closure. And that's what it is... extra. I would not want to have to fiddle with un-doing it to get at a magazine while reloading. Not to mention, I don't think I've seen Velcro closures magically fly open, even when upside down, etc. I do like that it is extra material to grab onto to open the pouch, though.
Strong and lightweight 500 Denier Nylon
- Yup, it's tough.
Reinforced stitching
- Reinforced is one way of putting it. The pouch I got seemed like it was put together without much regard for how much threading was used. There were a couple places were it just looked like a mess of spaghetti. Also worry-some was that the finishing on threads left something to be desired. There was a number of coat tail threads, that I'll have to go over and hit with a lighter/glue to make sure they don't come loose.
Picture of one failed attempt at bar-tacking, and some coat tails.
Drainage grommet
- Nice addition, but I don't ever want to go swimming with it.
Reinforced at key stress points
- Again, via spaghetti stitching.
MOLLE compatible
- Yup! Was easier to put on and off then other similar pouches I've encountered.
Dimensions: H-5.25" x W-2" x D-1"
Weight: 1.6 oz
Overall, I'd rate this pouch a 7 out of 10. It's sturdy, and made out of quality materials. However, there's room for improvement on stitching, and finishing.