AAR of Milcopp 9-18/19 ZS Class
I can't hope to touch the great AAR on an earlier Milcopp class by Macabee Sicarius,
ZS Link
, but here's a go.
As to the 9-18/19 class...
Far and away the best class I've ever participated in, and better than many 'training videos' I've seen (which remember are edited and polished).
The weather was warm and sunny to fair and cloudy, with an occasional chance of cow shit. The site was a quarry and series of fields with uneven terrain that was great for real life parallels. Somehow I think that in the unlikely event we'll ever have to use the skills, the bad guys won't be waiting for us on a flat gravel lot.
Don and Dave are both outstanding teachers.
The pacing, quality, and organization of their classes are head and shoulders beyond other classes I have taken. As to teaching styles, they are neither coddling, nor are they abusive. In a situation where the shit is flying there won't be time for tea and cookies, yet I don't think anybody there was made to feel bad about not getting anything perfectly perfect
This class seemed like a combo of an introduction and intermediate levels. The basics are introduced on the first part of the first day. Luckily with this group nobody was dull knife or mall ninja. Each skill, each step, each concept integrates into something that you will be doing later. There was no chaff here.
There is only one way to change the outcome of a battle, quality hits/make the other guy dead
; as in DRT... no more bang-bang at you and your buddies... not three days later in a hospital. Shooting is a perishable skill. To paraphrase Dave, "Thats great if you can shoot the balls off a gnat at 200 meters, but what the fuck good is it if it takes you ten minutes from a benchrest?" Everything that was learned must be practiced or you will lose the ability to use the knowledge effectively. The class was using the NRA targets with only hits in the 8 inch black circle counting. Hits on paper but outside the circle were time/points down, and hits on the cardboard backer were more time points/down. This really is much harder than it sounds. Try it if you do not believe me, I dare you. At one point the targets were covered with t-shirts inorder to get us used to firing at 'targets' w/o targets printed on them.
It looks like we used around 700+/- rounds of rifle ammo, and around 100 rounds of pistol ammo over the two days.Most of the firing was done from 7 to 25 yards on day 1, and from 25 and 50 yards on day 2. Day one was mostly static drills, where as day 2 was almost all 'active' drills for lack of a better term. You ran from position to position, and engaged the targets/objectives. Being is decent shape is highly recommended as you will need to exert yourself to get the most out of this class.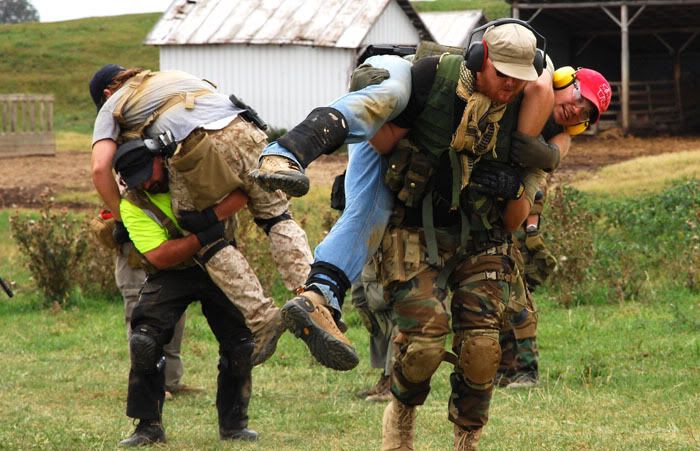 From firing positions (any more rollover prone or face down-ass up anyone?) to mag changes the skills Milcopp taught us are a great foundation. However, they all require repetition and practice. A few dozen times in a two day class is enough to
learn
the skills, but there are not know to
know
them. Muscle memory through quality repetition and practice is required.
Also taught was various types of cover and proper firing positions to use from them. We learned about functioning as part of a duo or team. Maintaining communication and eye contact are of paramount importance. Making sure that your teammates know when you are moving, reloading, or that you are there covering their movements, reloads, and unfucks is very important. Communication, communication, communication...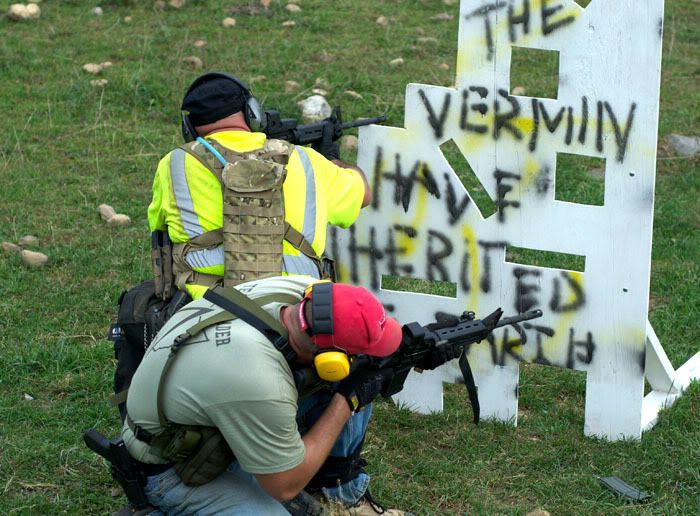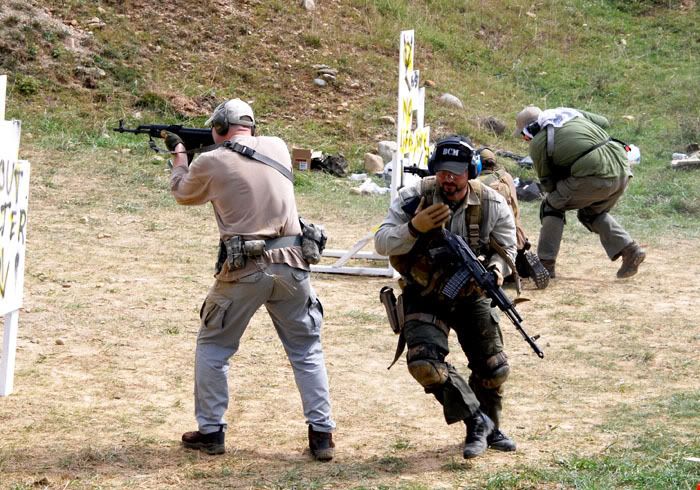 If the skills we learned are ever really needed, our enemy will be the one choosing the time, location, terrain/location.
This class taught individual and small team (2 to 4 persons) tactics. This class culminated with multiple drills in full terrain bounding overwatch. Every skill from day one and two was applied cumulatively in the last three or four drills. Did I mention that half the targets went from 12-16 pieces of paper to 4 inch target clays? Well they did.
If I had to summarize it all in one sentence?
Learn your stuff, practice your skills, and trust your team
.
Other points of note:
11 of 14? shooters were using the AR platforms. 2 using Kalashnikov type rifles, and one Sig 556.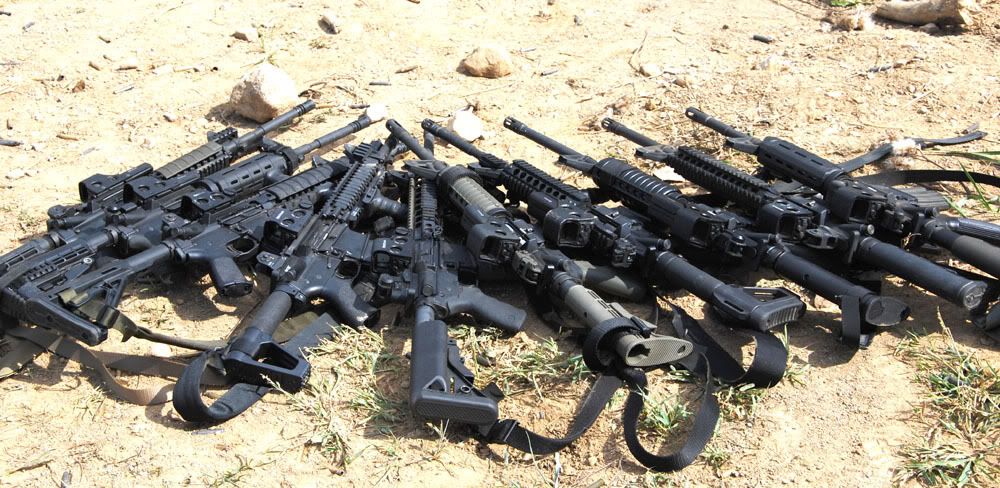 Only two ARs had any sort of real malfunction. One that needed swapped out (IIRC) and another (mine) that started doing weird shit on the very last drill of the day after 700+ rounds of Wolf ammo on top of two days of hard use and very loose dirt and dust. My ARs issue might be something in the trigger/FCG because that same upper just put another 120 rounds of mixed (mostly Wolf) ammo down range w/o a hiccup.
10 of the 11 ARs ran EOTechs and none of those EOTechs had any kind of reported malfunctions. One Aimpoint, IIRC.
Wolf ammo? Yep, Wolf and other 'steel' case ammo almost to a man. No issues that I can recall.
Now to the shooters....
What a great bunch of guys! Seriously, I'm glad I met all of you. No one was a tool, no one was a mall ninja. Every body brought the right gear for the class. Putting faces to screen names is always nice, it is even nicer when the people behind the screen name are good guys in real life. As to shooting skills, while nobody was perfect, I'd go shooting with any of them any time. Even when the targets switched to the clays the quality of the shooters showed. Whether they came to class skilled, or picked up the skills in class (and there were both in this group) one and two shot hits were eerily common. Seldom were more that 5 shots needed to break the clay (Now, if only the ones on the hill wouldn't flip and roll dull side up into the dirt behind other targets...this was the bane of us on Team Dead Hookers). Also important to add, no one quit... from youngest (21) to oldest (50something) everybody went hard from first drill to last.
Thanks Don and Dave for an awesome class at an awesome price, and thanks to my fellow ZS forum dwellers for making this class and everything I mentioned in my AAR possible. Thumbs up all around.