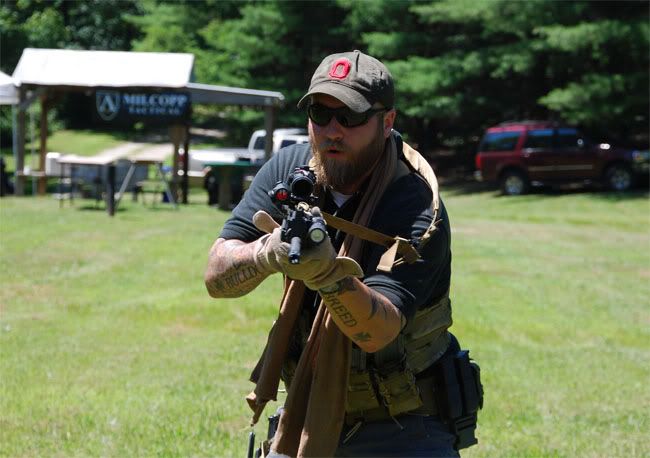 Last week I was fortunate enough to attend MilCopp's Level I Tactical Rifle & Pistol course, taught by instructors Donald Copp and David Merrill. Their bios can be read
here
. The course was on a Saturday, the conditions were still, cloudless, dry and hot (c. 90F).
This was the second MilCopp course I had taken, the previous one being a .22LR analog course. Right off the bat it was apparent that the tempo of this course was going to be a lot faster than the .22 course. Perhaps this can be attributed to the composition of the class (a mix of active LEO, former and current military and competent 3-gun competitors) or changes in the curriculum and how it was taught. I certainly welcomed the faster pace.
We started out with some paperwork, once that was complete we got on line for a safety briefing. We were instructed that we would wear our full rigs, have our rifles slung and pistols holstered for the entirety of the day, including during our lunch break. This was not just for weapon accountability and to get into the practice of being geared up all day, but also to find out how comfortable and practical our fighting rigs were. Not surprisingly, every student with a single point or triple point sling, or a cheap Condor vest was cursing their gear and vowing to replace it by the end of the day.
In addition to having our weapons on our persons all day, we were informed that our weapons would also be run hot most of the day - to be cleared out only during the aforementioned lunch break and during specific instruction sequences. As such, trigger discipline, muzzle discipline and selector awareness were of the utmost importance. Anyone with their booger-hook on the bang-switch, sweeping themselves / classmates / instructors with a muzzle, or with a selector in the wrong state, would be watching the class from the sidelines.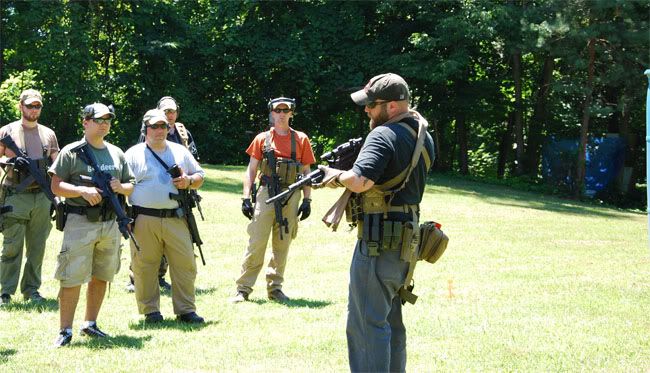 The next order of business was a gear check and weapon check. All weapons were function-checked by instructors and our rigs examined. If someone had a "tactical knee holster" or a piece of gear that was configured wrong they were instructed on how to square it away. If someone had a piece of kit that was junk, they were advised to shit-can it.
With the briefing concluded, we put our first rounds downrange, zeroing our rifles. Basic primary marksmanship instruction was dispensed: advice on correct prone form, breath control, trigger squeeze, sight alignment, sight picture. The usefulness of the 50m zero for 5.56 and 5.45 was discussed. Our rifles correctly zeroed, we moved on to our first drills of the day.
All drills were to be competitive, with winners receiving prizes and bragging rights. In addition, the winners of the first three drills would serve as captains when we broke off into teams. The targets we would use throughout the day were NRA standard small-bore bullseyes, stapled in the center of IPSC cardboard backers. Hits within the black portion of the bullseyes would count as 0 points, whereas hits on the white portion, or on the cardboard would count as 1 or 3 points, respectively. When a shot-timer was used and drills were calculated with a time-added measure, a certain number of seconds would be added for any hits outside the black.
The first drills were based around level changes: up-down drills and modified-Delta drills. The tactical importance of changing levels was stressed by cadre.
Once our first set of drills was complete, the captains picked their teams, school yard dodgeball style. About a third of the class had Kalashnikov pattern rifles, they were all on one team, the other two teams were all equipped with AR15s.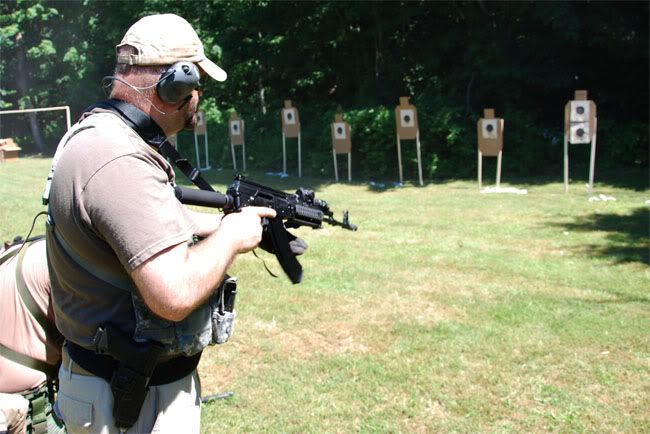 I usually try not to harp on gear, but I will take a moment to describe what the instructors were running. Don was armed with a Glock 19 and M&P15. Dave was running a 9mm service Glock (34 or 17RTF) and had several rifles for instructional purposes: an Arsenal AK, a short-barreled BCM AR, a 16" AR with ACOG & offset Micro, as well as a FN SCAR. Both instructors would demonstrate the techniques we were learning in front of the class with their rifles cleared and chamber flags inserted.
However, when Dave was finished demonstrating a technique, he would casually toss his rifle over his shoulder, letting it clatter to the ground about six feet behind him. The first time he did this, it elicited gasps of shock and horror from some students. Later on in the day, he would explain that if you're not comfortable tossing your rifle, then perhaps it shouldn't be your fighting rifle. You have to be confident that your rifle and all the bits bolted onto it, will be able to take some knocks and still perform. Honestly, if I owned a SCAR, I don't think I'd have the heart to toss it like that, but that's another topic for another day.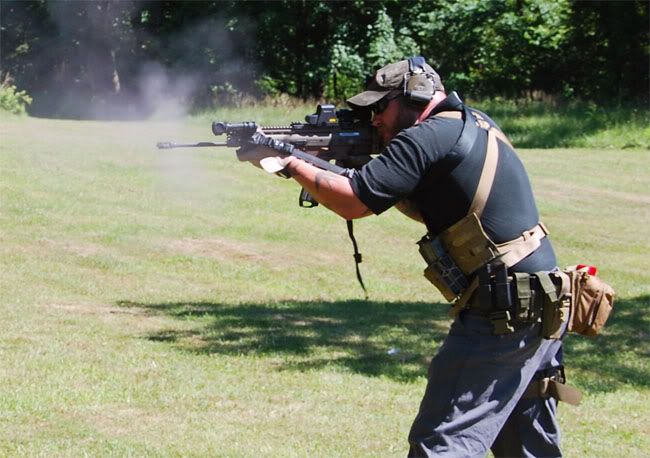 The next element of movement that was incorporated was forward linear movement. We got on line and all "Groucho-walked" towards our targets while firing. We were told that whenever possible we should not pull the trigger at the same time as our heels hit the ground, as it would adversely affect accuracy. Once we reached our targets, scanned and assessed our surroundings, the drill was concluded. When I used the word "incorporated" in the beginning of this paragraph, I mean just that. Every technique we were taught would be stacked on top of the next one. If we were changing mags, we would change levels. If we eliminated a threat, we would scan and assess, looking for additional threats. I really did like the way the course was structured, every technique we drilled seemed to dovetail nicely into the next.
Speaking of the next drill, it was individual. Each of us would navigate a path around a couple of 50 gallon barrels while maintaining fire on multiple targets. The path necessitated forward, backward and lateral movement. Each student would have Dave or Don behind them, with a hand on their shoulder to give instruction and to make sure nobody got into any trouble by getting their feet tangled up. Before the class I already knew never to cross your feet while shooting and moving; the preferred method is to shuffle when moving side-to-side. So I guess it goes without saying that during this exercise I crossed my feet over more times than a Russian ballet company.
The next series of drills were focused on weapon presentation. As a class, we'd start with our backs to the targets. On command we would turn, leading with the head, step forward, pivot around the muzzle (being careful not to sweep one's self or classmates) bring the rifle up, disengage the safety, neutralize the threat, scan, assess and return the weapon to a safe state. Deliberate weapon handling was stressed.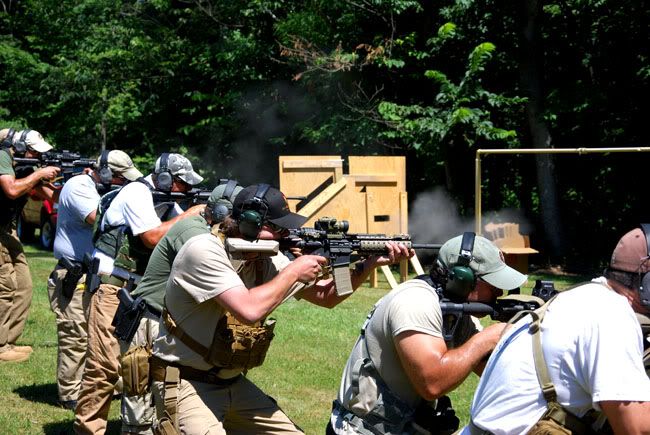 Once we had that down, we had our next batch of drills - the first team drills of the day. Our teams (each the size of a fireteam) would walk laterally along the firing line, either from right to left, or left to right with our weapons hanging on safe, slung at the low-ready. On command we would turn towards our targets, leading with the head, bring up our weapons, flip selectors to fire, engage threats, scan, assess and return weapons to safe.
From here we moved on to using cover effectively. We worked individually, running up to a simulated barricade, shooting through the hole in the wall, while an instructor was behind us watching us for form and safety. Standoff distance from cover (especially not flagging the muzzle or resting the barrel) and sight-offset were stressed.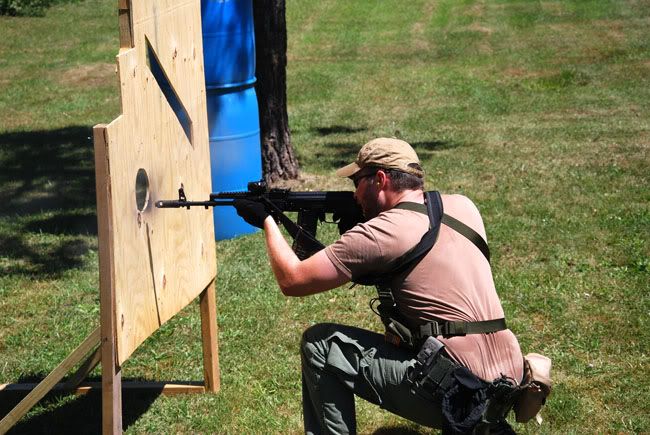 After that, we worked on shoulder transitions. Different techniques were shown for various sling configurations. We did several dry runs with cleared weapons, switching the stock from one shoulder to the other, before switching the grip. It was explained that that method is preferred because its a more secure transition and because in an emergency you can still fire off the support-side shoulder with your firing-side grip (although not comfortably or as accurately). Next we moved on to individual live fire shoulder transitions around simulated hard cover.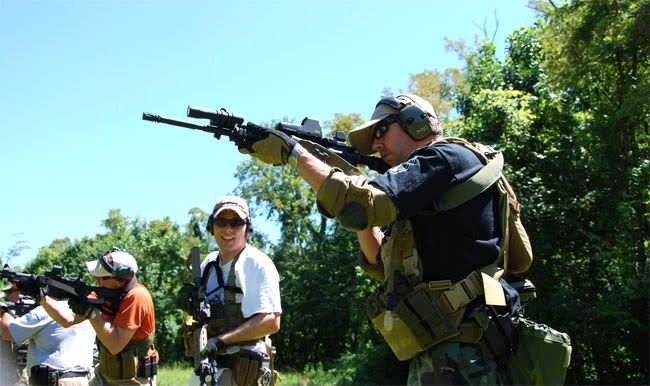 The next area of instruction covered malfunctions. Various types of malfunctions and their remedies were discussed - from the simple tap-rack-bang, to the "oh crap" stuck-bolt pogo. Next we talked about double-feeds, case-head separation / rim shearing and methods of clearing out double-feeds. From here, while keeping our weapons on safe and pointed downrange, we deliberately caused double-feeds in our rifles, by locking back the action, inserting a loaded magazine, dropping a round into the action and closing the bolt. After that, we would clear our weapons, chamber a live round and simulate firing.
During the course of intentionally causing malfunctions, I was (through my amazing skill) able to cause a beautiful bolt-over double-feed; the live round wedging itself between the charging handle channel in the upper and the gas tube. In fact, it was such a gorgeous bolt-over double-feed, that the class was temporarily halted, while my Noveske was shown as an example to the other students as an illustration of a textbook bolt-over double-feed malfunction. Not wanting to hold up the class or miss any material, while I attempted to un-fuck my rifle, I put the N4 away and grabbed my LMT which is configured almost identically to the Noveske.
After this, we got a little surprise: everyone's red dot sights stopped working! It was just like the EMP in Call of Duty Modern Warfare 2. OK, so it really was nothing like that, but for training purposes our RDSs were non-functional for the next string. We were told to turn off our red dots and engage our targets from 25m. The catch was, if your flip up sights were down at that moment they would have to stay down. If you didn't have irons at all, well you just got a free life-lesson. We were given some pointers on using our Aimpoints as giant ghost rings or shooting over the top of the EOTech hood. Both rifles I brought with me that day had fixed irons (LaRue BUIS on one, Daniels Defense A1.5 on the other) so I was pretty good to go.
Now that everyone had re-learned the importance of irons, it was time to relearn the importance of red dots - because it was time to practice urban-prone / rollover-prone / face-down-ass-up roll forward prone. Uncomfortable shooting positions are definitely where the RDS comes into its own. The bottom of the simulated cover / barricades were obscured even more, with IPSC targets stapled to them, resulting in just a little hole through which we could fire. Urban prone is always a challenging position for me, and I welcomed the opportunity to practice it and get more pointers.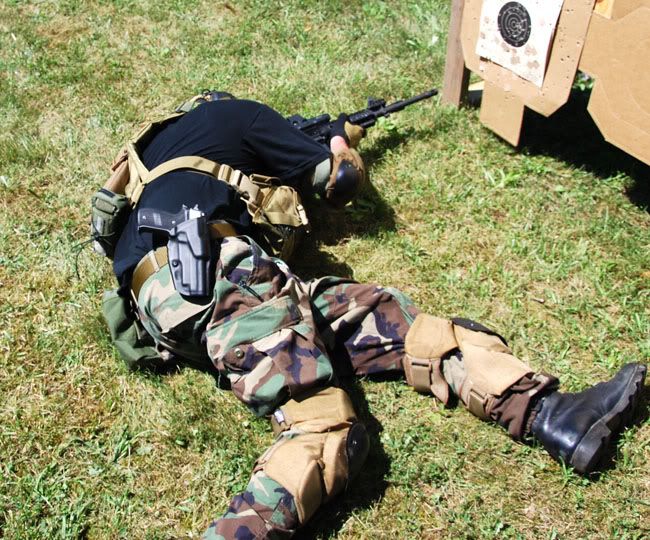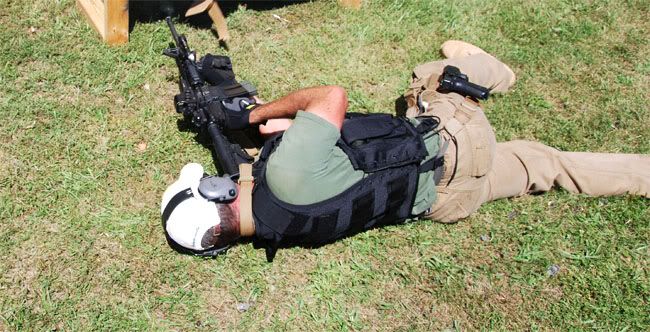 Next up, we covered sidearm transitions. Proper draw, presentation, extension and stance were covered. Some time was also taken to talk about tactics of using a pistol, the importance of the handgun as a fail-safe, the importance of "bumping up" full mags from the admin side to the loading side and so on. After that, we did live fire pistol transition drills as a group. From here on out, whenever we had a malfunction with our rifles or ran out of ammo, we would switch to our sidearms to shoot out the remainder of the drill.
Pretty soon it was time for lunch. We cleared out all of our weapons, but as stated before we kept them on our persons. While some people were eating lunch, others decided to do a bit of informal recreational shooting. With a RSO present, several classmates sprayed off rounds with a full-auto Powder Springs MAC 11 or tried out a SCAR for the first time.
After lunch, as class resumed, the heat of the day had reached its apex. The tempo of the class, however had not. So far, all we had learned were building blocks, but for the rest of the day we would be putting everything together. We had been starting out with dry runs, then going live, slowly increasing the speed, but from this point on, we'd be running flat out the whole time. All of the drills for the rest of the day were team relay drills and were timed with a shot-timer and scored for accuracy. A team would stand off behind the firing line. A shooter would run down to the firing line, complete his course of fire, run back to his team (weapon on safe, muzzle pointed in a safe direction) then the second shooter would run down to the firing line and so-on until the relay drill was completed.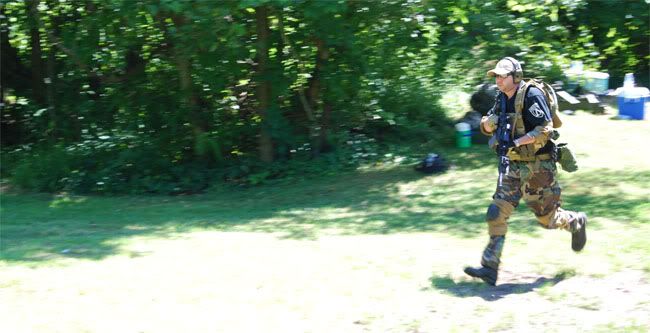 In regards to the first half of the day, I went into a lot of detail about each drill. For the second half of the day, I'm not going to do that, because each relay drill had multiple components and I've probably already gone on for too long. Suffice it to say, that the drills were composed of all of the smaller building blocks we'd worked on that day: level changes, shooting and moving, use of cover, shoulder transitions, pistol transitions, roll-over prone, & ct. It was a lot of material to cover in one day and by the end, everyone was exhausted, but in high spirits. Everyone I talked to was having a great time, learning a lot and everyone was an improved shooter by the conclusion of the course.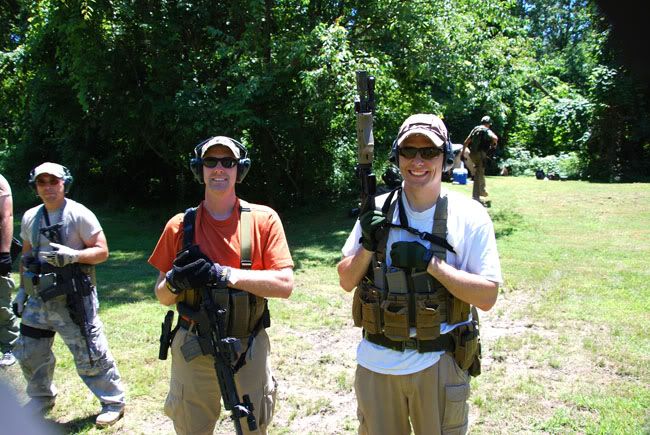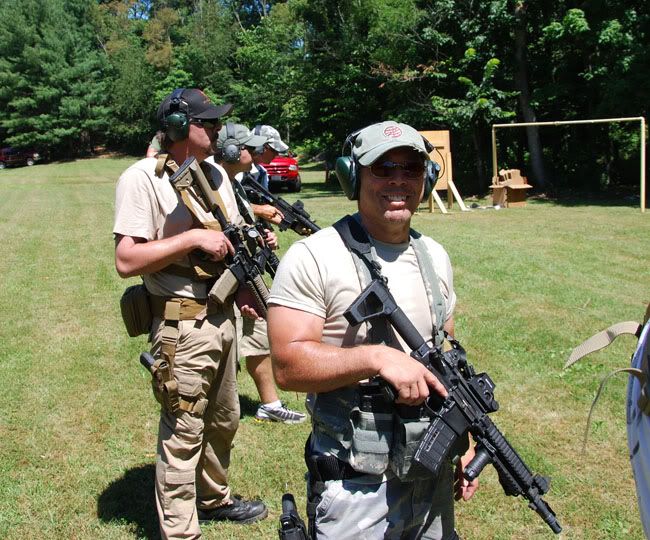 We were told that the Level II rifle / pistol course picks up right where Level I leaves off. At the next available opportunity I'll attend that class. By the end of the Level I course I was so spent that I wouldn't have able to absorb anything else effectively, but the course left me wanting more - and I mean that in a good way. I'm not sure what's covered in the next course, but I'm anxious to find out.
As far as lessons learned and lessons reinforced for me:
1) Come prepared to class.
I wasn't expecting to need a back-up rifle, but I did need one. I also had a spare SIG P226 to back-up the one I was training with. In addition I brought a spare holster, in case of equipment malfuntion, spare sling, spare boots, twice as much ammo that was suggested for each weapon, and so on. Bring two rifles, two pistols, extra ammo - the peace of mind alone is worth it.
2) Learn your weak areas. Be honest with yourself. Work on your areas of deficiency at your home range.
For me, my pistol-craft could use more work. I'm not as good with a pistol as I am a rifle. Time to put more work in on my own time, so that next time I take a class, I can get more out of it.
3) Proper clothing is a must
At the last MilCopp class, I was cursing myself for leaving my elbow pads and knee pads at home. This time I brought them, but I forgot to wear compression shorts and got some painful heat rash in a very, erm personal and tender area. I was hurting bad by the end of the course. The powder I thought was in my rucksack, of course was at home.
Also on the clothing front - I'm the fool in woodland BDU pants, black boots and a black shirt. If I wore a khaki shirt and trousers, it probably would have kept me cooler. One of the students (not pictured because of his status as an undercover LEO) was wearing Level IIIA armor all day. I was not envious of how hot he must have felt and was thankful I left my armor at home that day, as I had considered wearing it to make training more realistic and to get a better workout.
TL;DR - It was an awesome class, enjoyed by all in attendance