The class was held May 22 and 23 at the Orange Gun Club, Orange Texas. Gabe Suarez was the instructor. I took this class with my workout / training partner.
The premise for this class is built on looking at case studies of gun fights. FBI crime data consistently shows that most lethal attacks start within arms reach, while most firearms training is done at fifteen to 20 feet of distance. The Tueller drill proves that you can't draw and shoot an agressor who starts out 21 feet away from you with a knife. Tueller's work was done on officers with open belt holsters too - if you have a concealed holster it will take you longer.
The data on lethal violence shows it is very physical, and physical contact is rare in most gun training. We started off doing some simple movements as we reacted to shoving each other around. I'd shove my partner, he'd take that energy and move off line. We worked that harder and harder, and started including drawing our blue guns as we moved. My workout partner and I decided this was a pretty good warm up / loosen up drill and we will make this part of our daily warmups.
Gabe quoted Sonny P: "When bullet is in air, it is fucking King." When someone is going to shoot at you, you need to get out of the line of fire, and very quickly. Assuming clock number directions, 12 o'clock (straight front) and 6 o'clock (straight back) won't normally get you off the line of the bullet. Any movement backwards has a lot of risk, as you can't watch where you're going and the bad guy(s) at the same time. For this class, we used moving to 11 and 1 as default directions. As you move closer to your opponents, they must move their point of aim much farther to track your movements. We also looked at the vertical component of getting off line.
Just about every martial art has some sort of "take off" move, and the one we were shown come from pekiti. Put simply, this is a drop step, where you load your weight and power onto the leg opposite the direction you want to go. This gets you lower instantly, and lets you fire out very quickly. Quickly enough to avoid the first gun shot? We got out our airsofts, and had at it.
Gabe had us rotate partners frequently, which was mostly a good thing. Mostly good, as some people weren't in sufficient cardio shape to take the class. I've practiced this take off before, and can get past that first shot nearly every time. Our drill was to get 3 yards a part, with the bad guy draw down on the good guy's face. The good guy initiates the action by moving, and the idea is to not get shot in the face. Now, in real life, if someone wants my money and I am pretty sure they will take my money and leave, then they can have my money. There are times when you get a feeling that giving up the money won't be the end of it though, and that's the case for this skill.
We did this drill many times, and the folks who were not in condition started to suffer. It was around 90 degrees, with very high humidity in coastal Texas. Airsoft masks and extra clothing adds to the need for conditioning. It wasn't too much of an issue for me, as the people in condition would pair off and let the others pair off.
As we got better at it, we started adding to the drill. After you get away, shoot the bad guy while running. After a number of rounds of that, the bad guy starts tracking you but stays still. In this drill, it is almost impossible to not get shot, but I could consistently get 3-4 center mass hits on the bad guy before I was hit. While the airsoft (at ranges under 5 feet) hurt, some 9mm Corbon will upset his OODA loop a bit more decisively.
A variant of the drill was for the bad guy to start with his gun holstered, and to initiate the action by drawing. I could usually get off the X enough to tag him 2-3 times, and often close on him and tie up his gun had to prevent getting shot.
We moved in closer, with the bad guys gun at your head execution style. At this range, you can not go for your gun - you must go for his. We worked disarms and arm bars on this. We showed (with live fire on day two) that you can grab the slide and prevent it from cycling. It will still fire once, so you need to understand where his muzzle is.
We'd started the day with some pushing drills, and after lunch we went back to that theme. If you're pushed down, you have very little mobility and mobility in a gun fight is what helps you survive. We got on our backs, and played a game where your partner tries to tag one of your shoulders. You need to move around keeping your feet towards him to kick him back, and create enough space to access your pistol. This drill sucks for people who carry strong side at 3 or 4 o'clock. They had an almost impossible task to get their gun out without getting tagged.
We looked at couple ways to get up with your pistol out. There are a lot of things that work, and the one we used is almost the same as the Turkish Get Up exercise. That has the advantage that if you get knocked back during any phase of the get up, you are simply back where you started. There are some quicker methods of getting up if you have sufficient quad strength (basically, pop your butt up and pull your feet under it and then go straight up). I can do that quickly, but if my partner jumped on me during that I usually ended up down on my chest with my gun pinned under me. If someone jumped on you during the Turkish Get Up type move, you end up on your back with your pistol in their belly.
Another key point in FBI on lethal violence is that there is very rarely one attacker. The average is 1.7, and interviews with convicts show there are often others present who stay in reserve unless needed.
We stepped up the ante and repeated the same drills, using two and then three attackers. It sucks to be attacked by three people. It wasn't too bad if one or more of them were out of shape, as by late in the day a lack of conditioning was really hammering some people. I can't expect that in real life. Our jails have turned into gyms and fitness training centers, and many of the ex-cons come out of jail extremely fit and strong.
Day two started off with knife defense. There are a variety of contact weapons that might get used from hammers to baseball bats, but knife defense works ok on much of that. Many times a knife attacker can cut you up even if you manage to block the strike. Most of the people hadn't had any knife fighting instruction, and again I was amazed at how much damage an untrained person can do with a knife in a very short period of time. I was partnered most of that morning with a man who was a strength coach for a Div 1A university. He wasn't as nimble as you'd expect as a "knife fighter" to be (picture a high school football coach) but he could deadlift 500+ and bench 300+, so stopping him in an attack was like trying to stop a Mack truck.
Against a gun, speed is your friend. Against a knife, you need to be fast, but you also need to block strikes until you can create enough distance to draw your gun. If you think you will get cut up a bit before you kill him, remember - that's the best case. If you aren't quick and have a bit of skill in blocking his attacks you will likely bleed out before 911 gets to the scene.
We're starting within arms reach, his knife already deployed, since that's what the data shows how attacks starts. Another issue - people always say they are too alert to allow someone to get that close to them with a knife. Well, if he's brandishing it, sure. 90% of the people that get cut in a knife fight didn't know they were in a knife fight until they were cut. I also always go by the principle that if a Marine patrol walking through known hostile territory can get ambushed, so can I. There's no way I will be as tuned in and as alert as those Marines are walking combat patrols, so just like them, I need to have imeadiate action drills programmed into me so I react to the attack in a positive manner.
Working against this very strong man, interestingly, I found that if I closed on him rather than tried to slip back, I had better luck working an arm bar and then shooting him in the face. (He thanked me for saying BANG BANG BANG rather than popping him with the airsoft at contact distance). I always got cut badly on the arm in this, but not as badly as if I tried to slip his slash and draw on him. It also worked to just fucking run, as I could outsprint him for 20 yards, then turn and blast him. That didn't work on all partners though.
Defending against two guys with knives sucks, and that's about all to say about that.
After lunch, we did a few live fire drills. We did the get up drill, firing the pistol through out the process. We worked on methods to hold the pistol in battery while doing contact shots, and also holding the slide to prevent it from cycling. The force involved in that is much less than I expected. Another interesting drill was shooting through our cover garment. If you practice drawing from concealment, you know that hanging up your clothes on your pistol happens. If it does, force the pistol forward and shoot. The round will go where you pointed it, and you will blow a hole your shirt. Force the pistol through that hole (Pulling cloth back with your other hand) and you can shoot again. Transfer the pistol to your other hand, fight, and transfer back after you get your hand free.
Some key takeaways:
Rule #1: Cardio. I don't care if you're running from Zombies or disaffected youths, they will run circles around you until you are too tired to resist and then finish you off at their leisure. I've been working fight cardio with jump rope and boxing drills, and was very pleased with my conditioning.
Hydrate or die.
Getting shot with an airsoft at a range of 12 inches hurts. However, it also sucks to run around in a couple layer of clothing when both the temperature and humidity are over 90. I think next time I will got with less padding - maybe just the mask. I got tagged a couple times on bare skin and while it bled, it isn't the end of the world. If you mask the pain to the point that you aren't avoiding getting shot, you aren't doing the drill realistically.
The get ups, shoving, and take offs are going to be our new warm up exercises.
Don't get too tied into your opponent that you miss his buddy showing up.
I need more work at this with more variety of partners. Different things work against different people, and I need to find the common elements for what works for me against them.
I need more work in knife defense.
Some photos:
Mr. Murphy will make sure that whatever skin you leave exposed gets hit.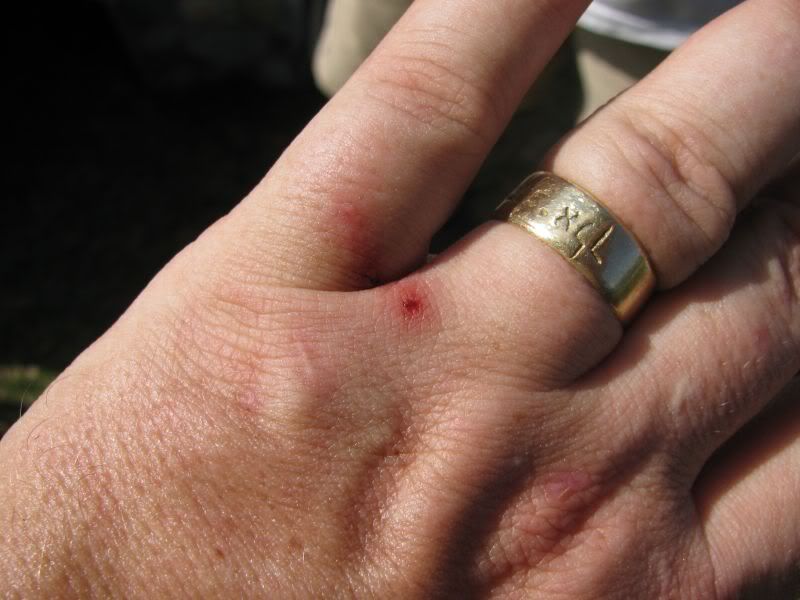 Shooting and running, wearing extra pads and clothes. Not only do I think I won't use the extra clothes next time, the black Hanes long sleeve Beefy was a really bad idea. I still got welts.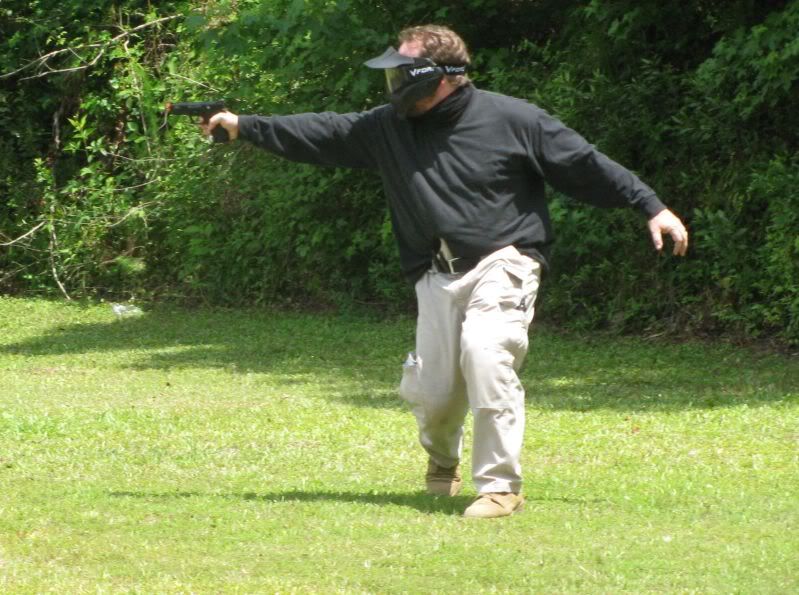 My workout partner didn't use the extra padding, and you can see the blood on his shirt from my marksmanship.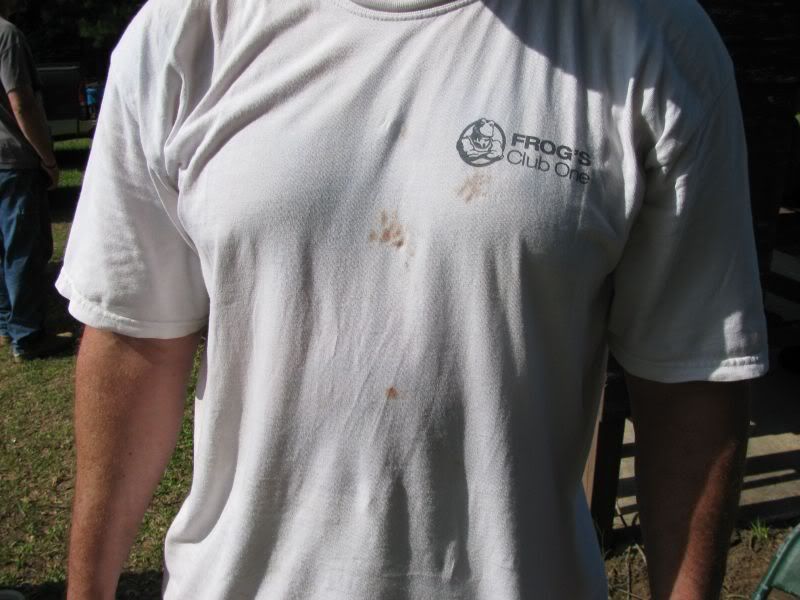 In this drill, I'm aimed in at his head, and I shoot when I see him move. If you're very quick, you can make that shot miss.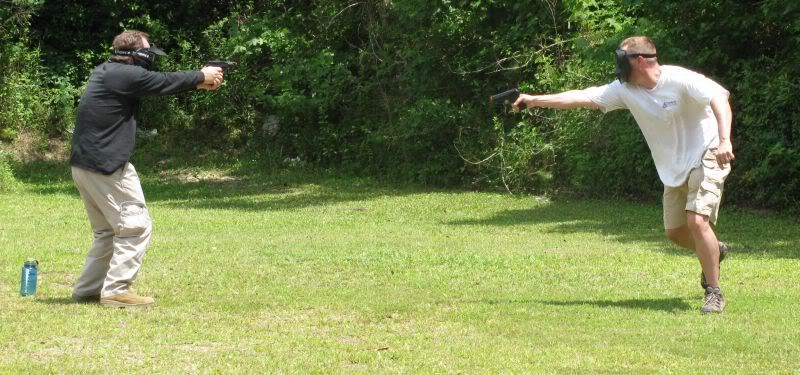 This was my new friend, the strength coach. He wasn't much fun when he had a knife and was within 2 feet.