First Edit, Jan 4: Ditched the little blue electronics bag I was using as a hygene kit and replaced it with a plain-ol baggie. Removed the rarely-used poncho and replaced with rainpants and a pack cover. (my regular shell is waterproof, so I was covered there) Added a handful of clif bars. Weight went up, but not too much. And yes, I still have the mini toothbrush.
Second Edit, Jan 7: Added another 1400 calories in the form of Clif bars and 2 more meal packets. Added some more coldweather clothing to the clothes bag so they are onhand at all times. After much soulsearching and general flip-flopping, I have decided to keep the woodgas stove. In the SE USA, I can ALWAYS find wood to burn, and the stove weighs less than an esbit stove and 4 tabs. It will mean I have to actually get OUT of the hammock to make morning coffee, but I am prepared to face these things.
Third edit, Jan 19: Finally decided to add a full load-out of clothing to the bag, as opposed to my earlier plan of, well, hoping I had the right clothes on and/or in my truck. Now I have extra socks, base layers, raingear, gloves and headgear all packed away. The bag is heavier, but a lot of the clothes at least would be coming out and being worn as opposed to hauled around. A fair enough trade off I suppose.
Fourth and most likely final edit, at least til next winter. Added a writeup of my new Ribz Front Pack, which totally rocks.
In preparation for the Winter Mock Bug Out contest, I decided it was a good time to re-evaluate my bugout bag, and get some comments and constructive criticism from the good people of ZS.
The purpose of my bag is to let me survive and cover a lot of ground on foot, for a period of at least 3 days without resupply. The bag does NOT have any firearms, since 1)should I encounter Police or National Guard checkpoints in a disaster, they would react badly to weapons of any sort, 2)I wouldnt put any weapons in my pack anyway. Too hard to get to when you need them.
One of my primary motivations in this bag is saving weight. The lighter the pack, the more miles I can cover in a day, and the fewer calories I need to recharge at each stop. I'd love to carry 90 pounds of awesome Bugout gear, but I cant. Bad ankles, worn out knees, and all around worn-down-ness dictate that the pack be as light as I can reasonably manage. At the same time, I like having safeties and redundancies in my systems, so I have backups for critical items like water purification, firemaking, and the like.
Regarding food. I am bugging out, I dont think I'll have time to stop and set snares or catch fish. I am going to be covering miles, so quick and easy is the name of the game.
And finally, I am presuming I will have seasonally appropriate attire if/when I have to bug out. I wear hiking boots and cargo pants at work, and have baselayers and heavy coats in my truck bag. So I dont have very much extra clothing packed in the bag; I presume I will have it on me, or close at hand.
And now, the gear.
The Pack: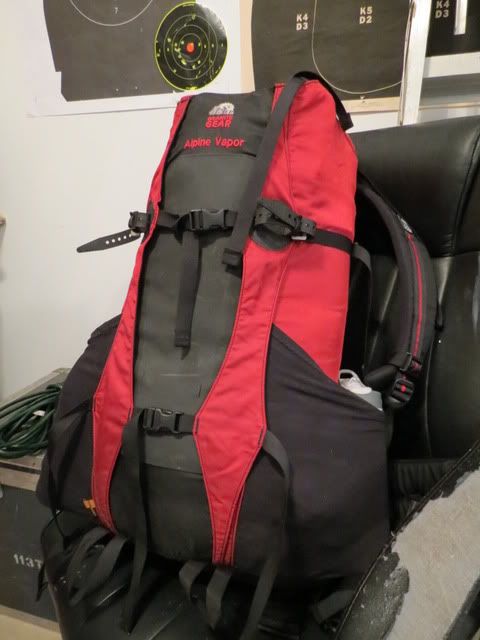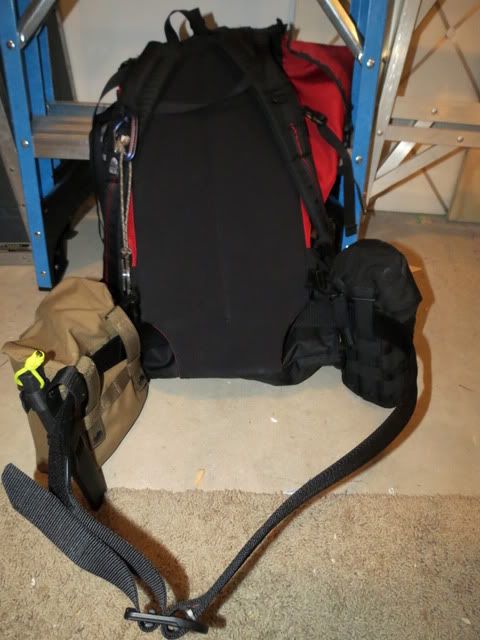 Granite Gear Alpine Vapor, with my knife and two molle pouches on a riggers belt rig. One pouch is a 5.11 water bottle carrier, the other an offbrand SAW pouch. It carries flashlights, poncho, water bag, firekit, and other small sundries. I currently have my compass hanging from the straps, it usually winds up riding in a coat pocket or around my neck. Empty weight of the pack with the pouches is 3 pounds 1 oz.
EDITED TO ADD: I dropped the pouches and riggers belt, and went back to the GG suspension. The stuff I was carrying in the pouches moved to the Ribz pack, see below!
My new favorite, the
Ribz Front Pack.
This is a lightweight, zip front pack, worn on your chest - basically a civilian LBE, and I must say it is THE BOMB. Big enough to get all the stuff you want, I basically could have used it as an E&E bag, if I had to ditch the main pack. Everything is in front, right where you need it. No need to stop moving to grab a snack, a drink, or (heaven forbid) grab your FAK. The Ribz itself is ultralight silnylon, weighs less than 11 ounces, and carries a respectable amount of gear.
The Ribz pack, ready to head off to the hills.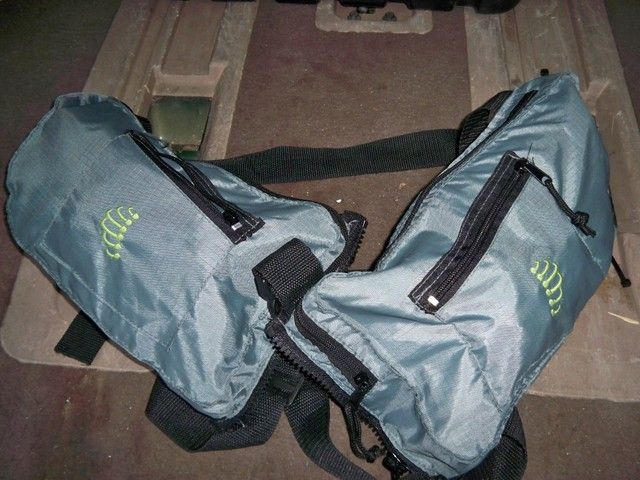 My FAK went in the right side main compartment. The front pocket held my camera.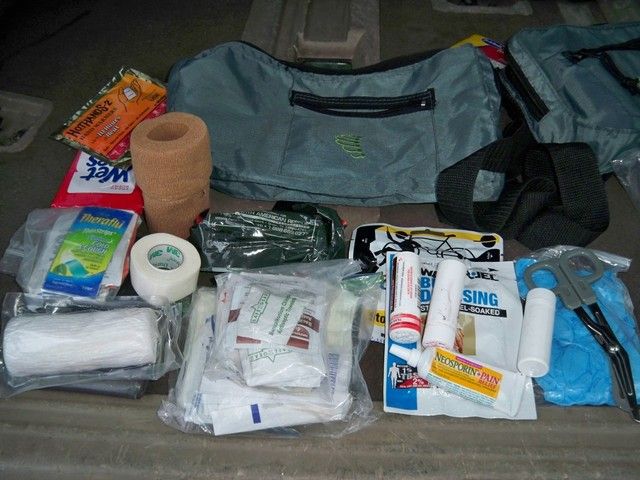 The left side main pocket held my maps, a water bottle, clif and mainstay bars, and water purification kit. The front pocket held my headlamp, compass, and firekit.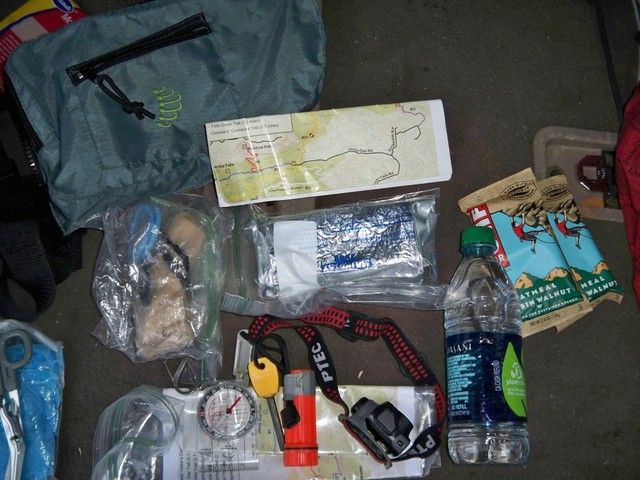 The nicest part was that it was all instantly available while on the move. And I had more room for even more stuff, if I had decided to really cram gear into the bag. Pure win, in my book. It also helped having some of my gear weight on my front, easing the backwards pull of my backpack. The straps never interfered at all with my pack straps, although I did get them twisted on themselves a few times after dragging it around camp for a night. I love it.
Good pic of the Ribz pack in action, courtesy of Omega Man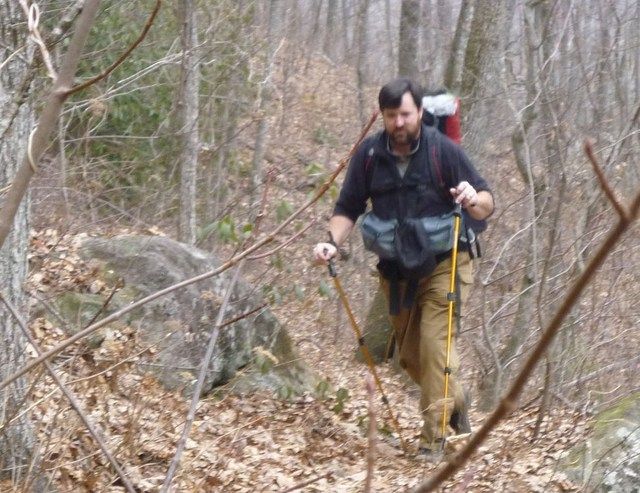 The stuff I have in the pack.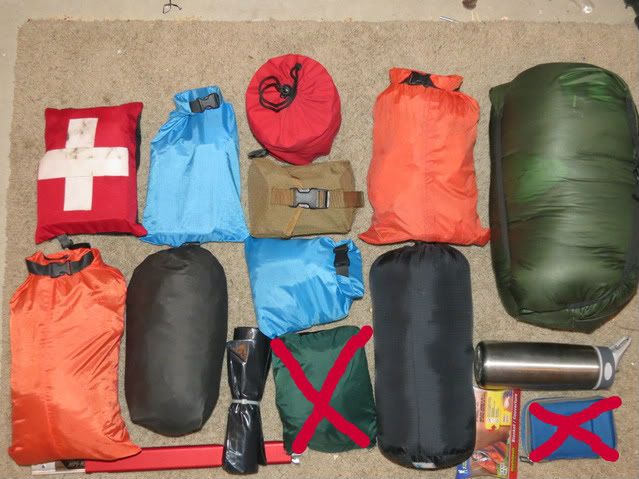 Hey, a pile 'o bags. Top row, from left: FAK; blue bag with radio and charging kit; Cook kit (red bag); small molle pouch carrying my Kahtoola Microspikes; Hammock and ropes(Orange bag); Top and Bottom quilts(green bag).
Second row from Left: Food bag (orange); Warbonnet Tarp (Black); several large black plastic bags; spare socks and base layer (blue);
Ditched the Poncho for rainpants and pack cover (green bag)
; Sleeping bag (black bag); 1L SS water bottle; AMK heatsheet;
Changed out the hygene kit bag for a ziplock
; and svensaw along the bottom of the pile 'o bags.
The stuff in the bags:
RADIO BAG: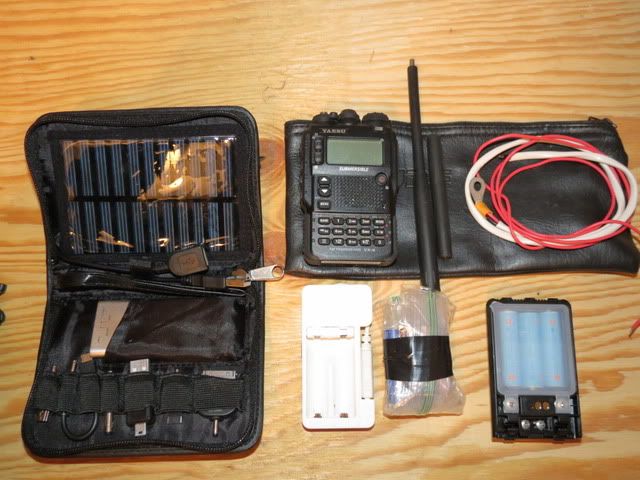 Small solar panel charger with misc usb/ipod charging tips; Yaesu VX-8R radio; various radio antennas; Sanyo USB AA/AAA charger; baggie with several Eneloop AA and AAA; Yaesu AA battery pack for VX8R. I must say, I have been pleased with the solar panel, the battery pack has plenty of charge to bring my phone to 100%, then I can leave it plugged into the panel (and strap the panel to the top of my pack) all day to recharge. The panel does a nice job charging directly, but takes a lot of time. I like the extra battery for quick work.
COOK KIT
small collapsible cup; Snow*Peak 1400 pot and lid; Bushwacker stove; spare water purification tabs and filter; small scrub pad; spork and spatula; Tea; Fire kit w/ cotton balls and spare lighter; COFFEE.
Edit: I ditched the spatula thing and the Ti spork, for a small folding doohickey that fit nicely in the 900. Still have the J Falk Bushwacker.
MICROspikes bag. These are simply awesome for giving me the traction I need in muddy/snowy/icy conditions. Absolutely amazing devices, and easy on/off. I am currently using a heavy molle bag to hold the microspikes, just because I am worried that the spikes could puncture a lighter bag and cause problems. I am sure there is a better way to carry them, but til I figure it out, the molle is working just fine.
EDIT: Found the perfect microspikes carry bag - it is a microphone bag from Shure. Find any local sound company, they probably will give you a spare bag for free. Alternately, a Crown Royal bag works well, and you get the pleasure of the whiskey to boot!
HAMMOCK BAG (and tarp bag)
I have quite a few hammocks, but the Warbonnet Blackbird has become my favorite by far. Roomy and packs light, the bugnet on the hammock helps in cold weather to keep my sleeping gear in the hammock and off the ground, plus it breaks up the wind a little too. I have also started using the Warbonnet Mamajamba tarp - the caternary cut and the seamsealed pullouts, plus Brandons maniacal attention to detail, make this tarp simply bulletproof.
I will update with a pic of the sleep system set up, as soon as I have a few spare minutes at home. Total weight for hammock, ropes, tarp, stakes: 3 pounds 9 oz
QUILTS and SLEEPING BAG(or, my happy world of wonderful warm downy goodness.)
For cold weather lightweight traveling, nothing beats Goose Down. In temps above freezing, my Mountain Hardwear Caribou bag is plenty enough all by itself. Once the wind picks up or the temps drop, the quilts come out. I have a Warbonnet Black Mamba topquilt to throw over my sleeping bag, and a JRB Mt.Washington3 Underquilt, which hangs below the hammock, snugged up tight. Hanging underneath as opposed to inside the hammock makes sure the quilt doesnt get compressed between me and the hammock, so it lofts up, and cocoons me in awesome, downy warmth. This system can keep me warm and comfy in temps near 0 F. But JUST IN CASE, I also have a AMK heatsheet emergency space blanket to wrap up in if things get really bad. (Gotta have redundancies)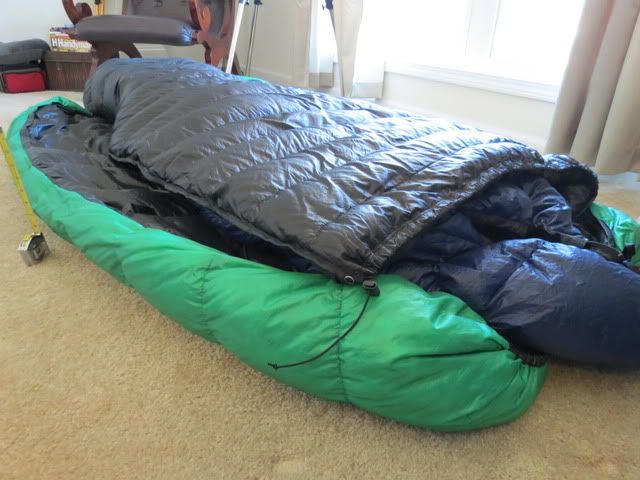 In the pic, I just laid all three bags out and let them sit for a few minutes. 11 inches of loft is just right for near-0F weather, methinks.
Total weight of sleeping bag and quilts, 4 pounds 3 oz.
FOOD BAG: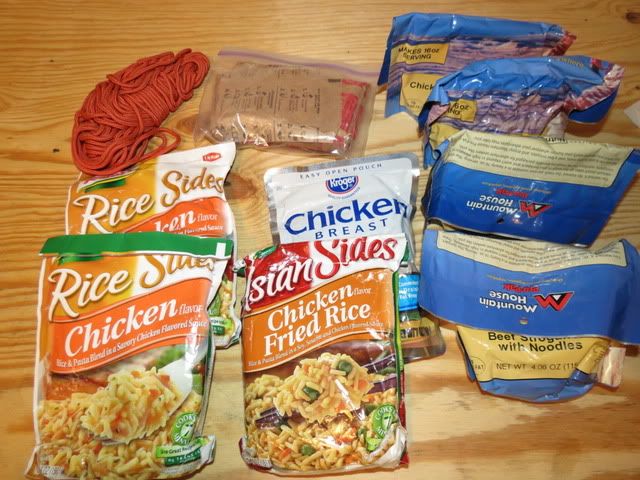 Some MH, some oatmeal, some of the really nice lipton/knorr rice sides. Enough for 3 full days. (And 50' of cord so I can hang the bag if need be.)
EDIT: Added some more calories - I now have 6 Mainstay bars in the mix (2400 cal there) plus I ditched the MH meals and added a few more Knorr sides. Those things have around 700 cal each! I also now have a total of 9 oatmeal packs, for a grand total of approx 7000 calories.
SPARE CLOTHES.
(updated Jan 19)
Outer-ish layer: Mountain Hardware Compressor Jacket, Marmot Precip rainjacket (used as an outer shell), Manzella fleece gloves, Gordini waterproof ski gloves.
Base-ish layers, top left to bottom right: Balaclava, UA poly heatgear longsleeve, UA woven longlseeve, poly tshirt. Marmot rainpants, UA poly longjohns, undies. smartwool socks.
SLEEPING BAG. See "Quilts" above.
HYGENE KIT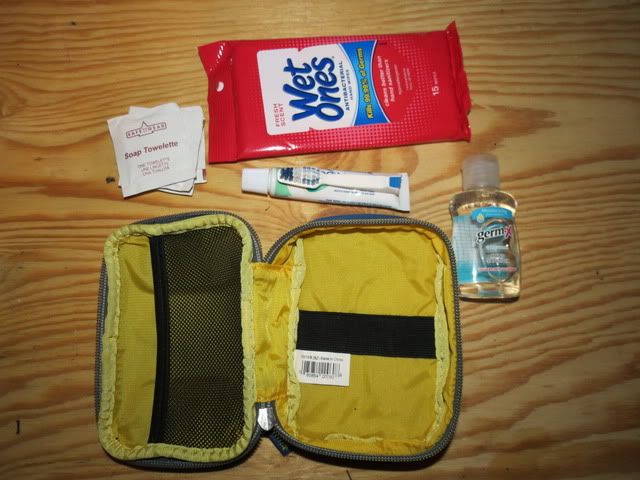 A coupla towelettes, a pack of wet ones, toothbrush and toothpaste, and hand sanitizer. Not much else to it.
Dropped the blue case for a ziplock.
Other, Miscellaneous stuff.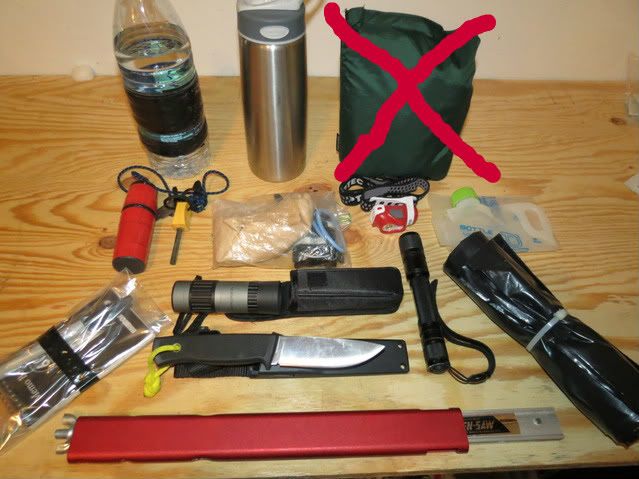 1L plastic water bottle, SS bottle, poncho, my primary firekit, water purification kit, Princeton Tec headlamp, Platy water bag
EDIT: now have 2 of the 1L platy bags
, rite in the rain notepad w/ pen and sharpie, Brunton monocular, Fallkniven F1 knife, Fenix E21 flashlight, a couple of plastic bags for whatever, and a 15" SvenSaw.
Final Weight, with 2L of water.[EDIT] not any more. Closer to 32 pounds, but who's counting, right?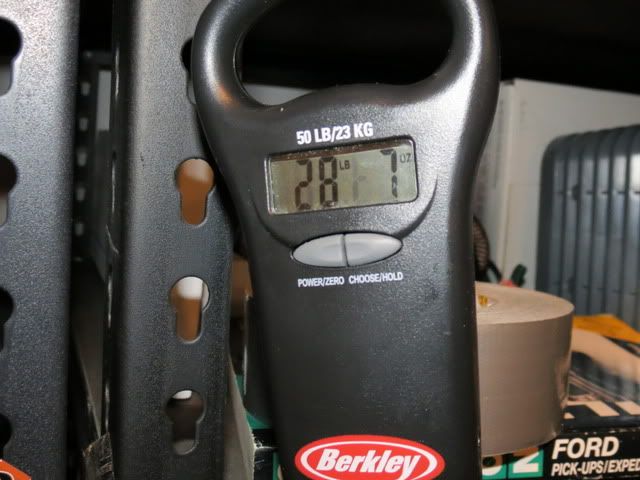 So, what do you think? Comments and suggestions welcome!