Many of you have seen the infamous video, if not, here you go.
http://www.youtube.com/watch?v=b60OZhrTB6o
Now that that madness is over, here is a video review that lets you get a good look at it from all angles. (It's not mine)
http://www.youtube.com/watch?v=E2Ucf8TCb6Y
All this peaked my curiosity about how well made this magical Chinese shovel really was. So i decided to spend stupid amounts of money on an E-tool, for SCIENCE!!! So join me on my little adventure.
When my package came from
http://www.greenbeetlegear.com
I felt like it was (enter your religious holiday of choice) morning. I opened the package and there it was, a brand new, shiny Chinese Wonder Shovel.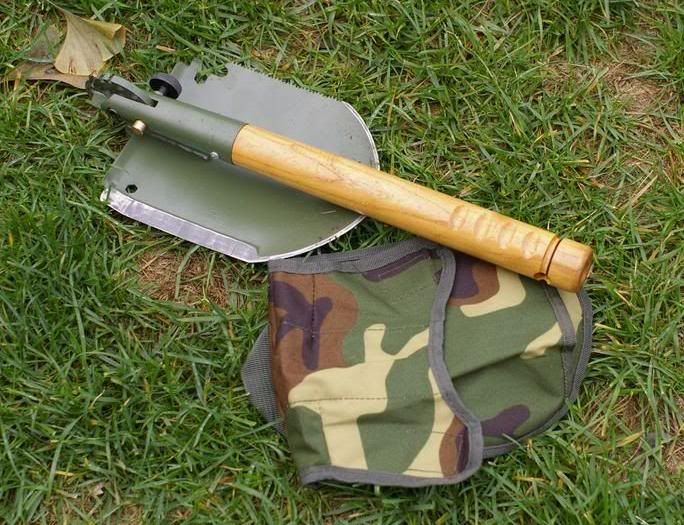 Yeah, it's a stock photo but I forgot to take a delivery pic
My first impression was one of optimism. The steel seemed strong and the handle wood hard... (Giggity) The case fabric is thin but the stitching is pretty good. My only complaint about the case is that the saw blade side of the shovel snags on the corner of the case. I'm considering making a kydex insert to fix this.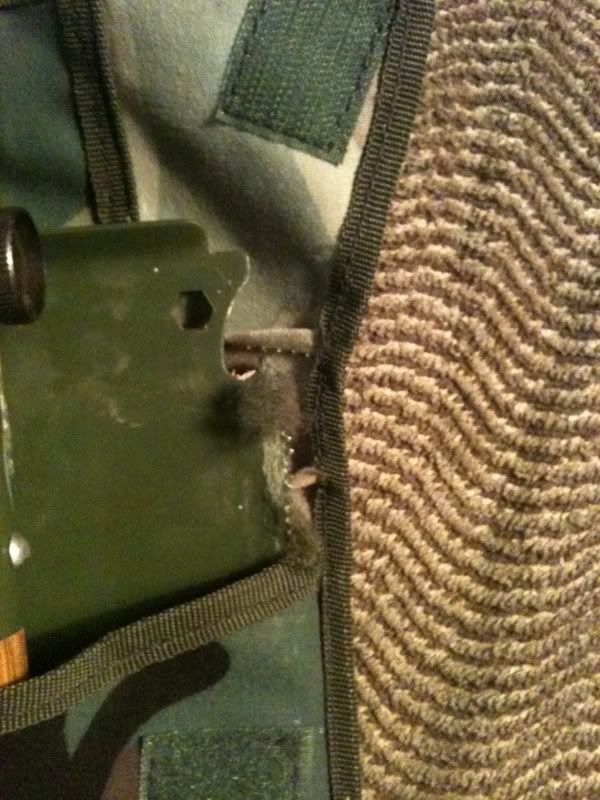 The back of the case had webbing to make a belt loop so I popped the stitching and used the webbing to make it MOLLE compatable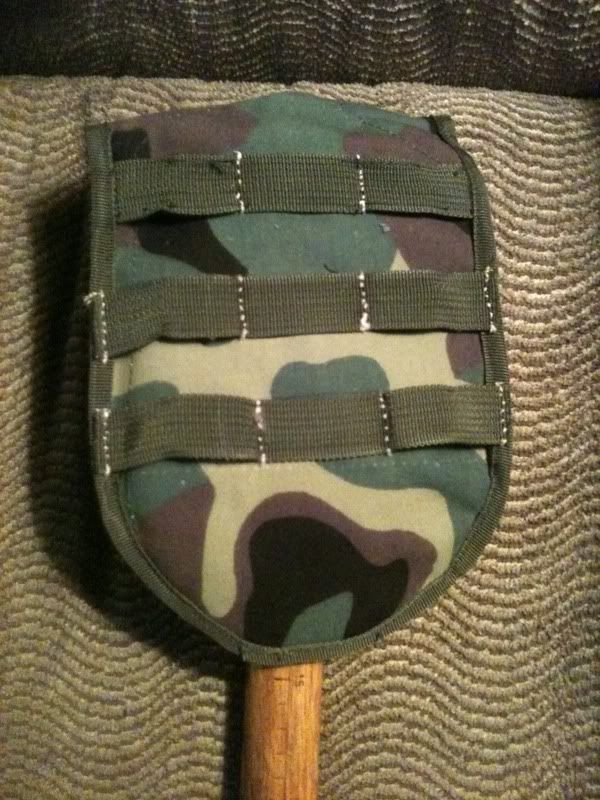 Now it fits on the back of my Maxped Kodiak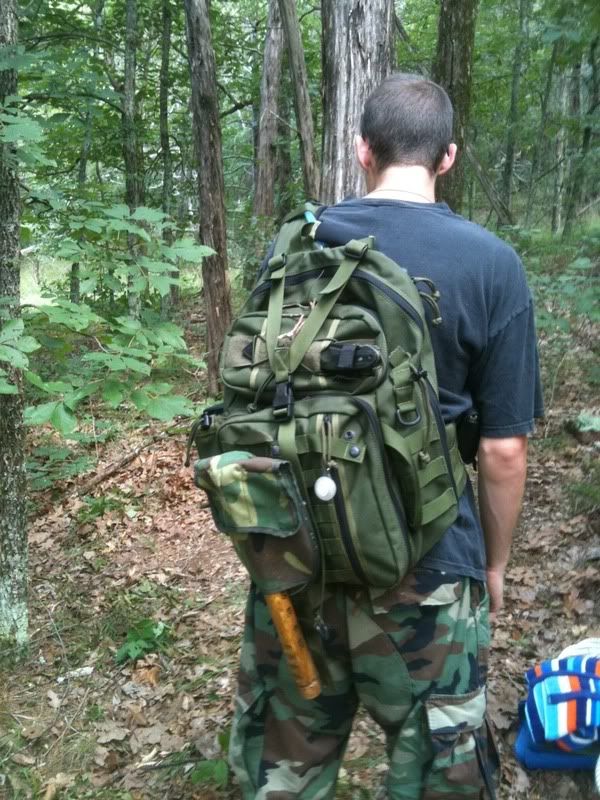 So I give the case a 2.5/5 stars (after MOLLEfication)
-Locking Mechanism
This was the big mystery to me, considering that most E-tools have that big locking nut around the collar. This has always pissed me off because no matter how hard you tighten it their is always a ton of play.
Enter the CWS locking system, on one side of the handle is a knob that works like a set screw. It fits into individual holes along the hinge. on the other side of the handle is a brass screw that has a ball detente in it so that when you open it up the set screw aligns with the holes that allow different functions. This is one of the components I was determined to test out. I will cover my assessment as we continue on this little adventure.
-Shovel/Pick
The day my shiny new E-tool arrived I just had to try it out in my back yard. The dirt is somewhat hard but with few rocks and lots of tree roots. I found a spot where my wife wouldn't object to a small hole and began hacking away. Immediately I found that the weight and balance was not too bad and the beveled edge helped it cut through the dirt pretty well. A light swing in pick mode would cut in about 1.5-2 inches (I found this satisfactory considering all the digging I've done here in the past) At this point in time I was not sure how the locking mechanism would hold up so I was admittedly being gentle. I produced a small hole quite easily and decided that was enough digging till Z-Con.
At Z-Con the pick was used to dig out the side of the mountain to level out camp chairs at base camp. Those of you that have seen the mountain side it is rocky as hell, more rock than dirt. 2 E-tools were used for this specific task something that looked like a glock E-tool (we weren't sure who the manufacturer was) and the CWS. After 2 days of tip torturing this is what happened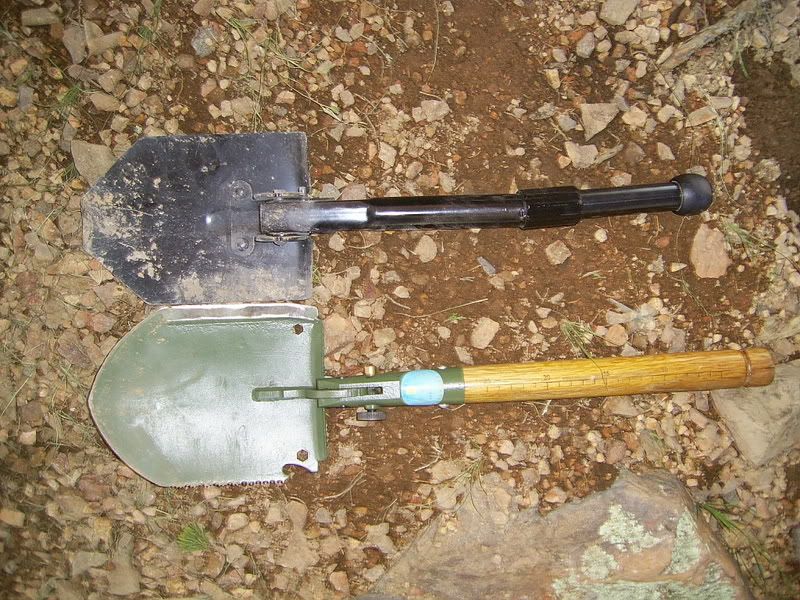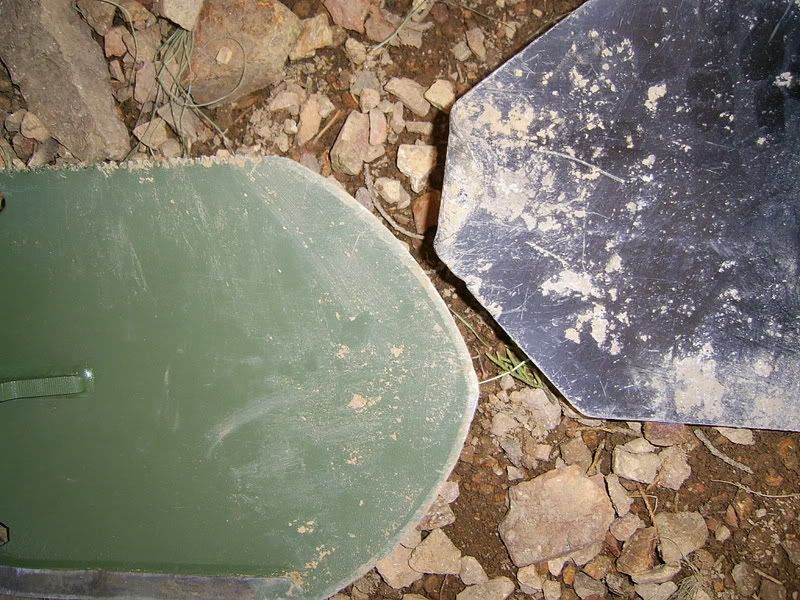 CWS:1 Nature:0
As you can see, the pseudo-glock couldn't cut it on the mountain. The tip bent on the second day, and although the severe angle cut through the dirt well, The sheet metal it was made of couldnt handle the rocky terrain. The CWS Had a few minor nicks along the blade and continued to stay in that condition for the rest of the week. The locking mechanism held up well and showed no noticeable differences.
-Hatchet (Chop)
Out of the box the hatchet edge was more dull than the the shovel edge. It is quite stout because of the thickness of the metal on this side. I put a file to it and put on a nice utility edge. I had some freshly fallen branches in the yard from a storm so I hacked away at them. Admittedly I pulled my punches a little bit but still was able to hack through a few 2 inch branches with little effort. The curve of the blade makes it somewhat awkward to swing at certain angles but the weight and balance makes it easy to swing with little fatigue.
At Z-Con we had an interesting curve ball thrown at us with one of the vehicles. It snagged up on a small tree stump in the parking area.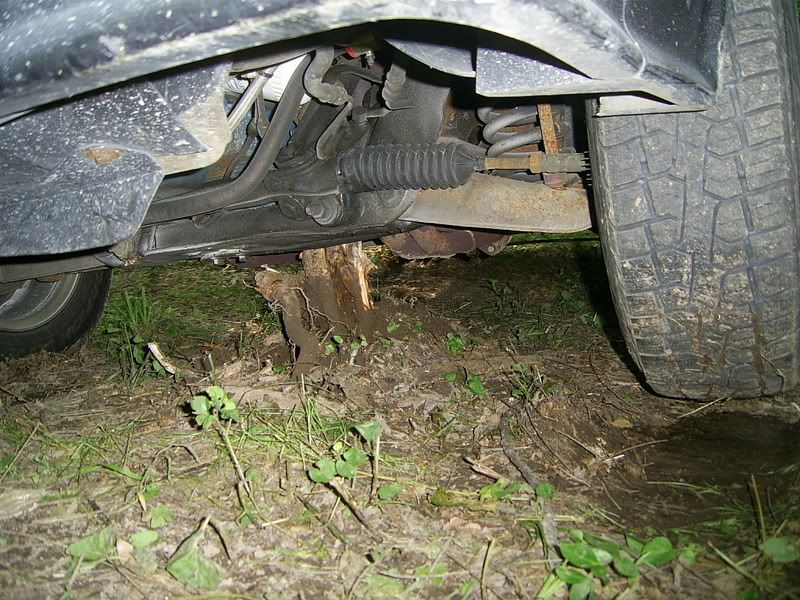 After jacking up his car and getting it off the stump, I gave him the CWS and let him whack away at the roots to remove the stump. He pulled no punches and swung with blind rage till the stump was out (somewhere around 10-12 swings). I guess he was mad at nature trying to violate technology.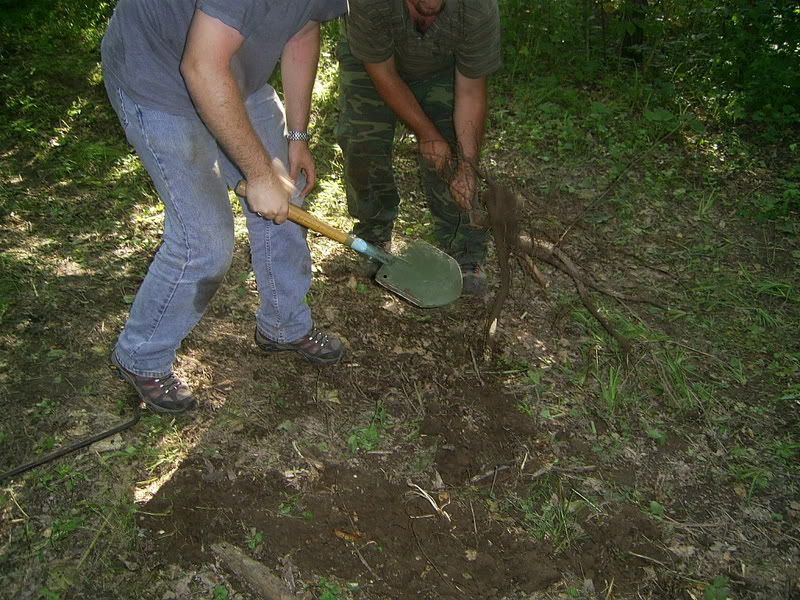 CWS:2 Nature:0
I almost felt pity for my new gadget till it pulled through with nothing but dirt to wipe off. After several other hacking events only small nicks were produced in the blade that were easily touched up. The locking mechanism still has no noticeable difference in play.
Hatchet edge 4/5 stars
-Saw
The teeth to the saw are staggered 2 to 1 this helps keep the blade from binding. However, the fact that the shovel itself is curved puts a bit of a hindrance on making deep cuts. Each one of these pictures is after approximately 50 passes with light downward pressure.
Green tree branch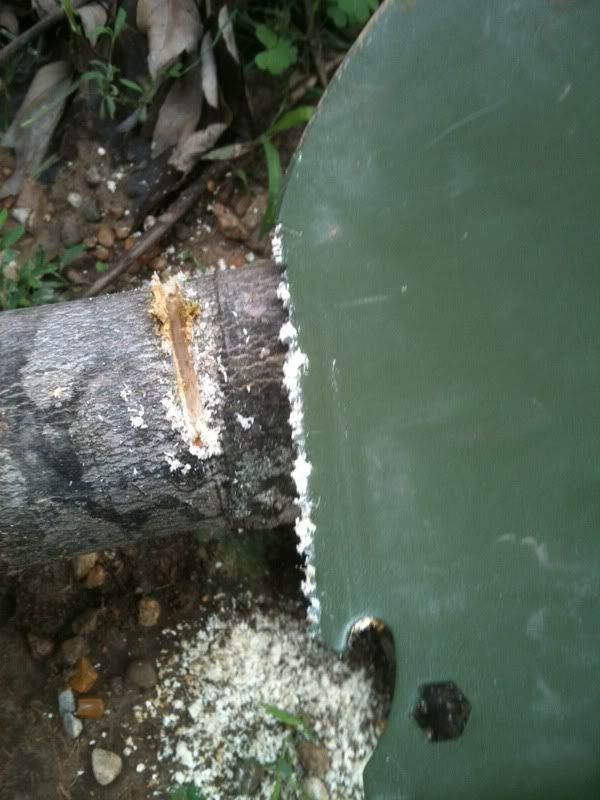 1" PVC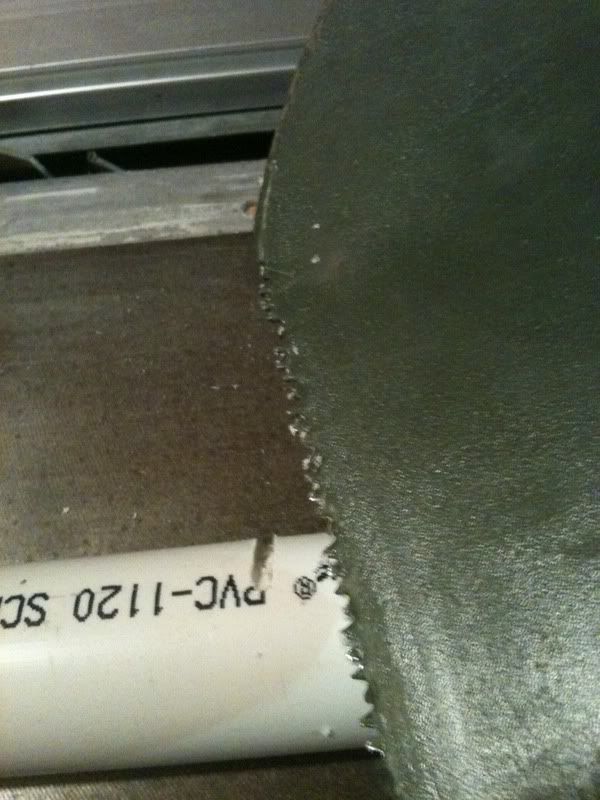 Cinder Block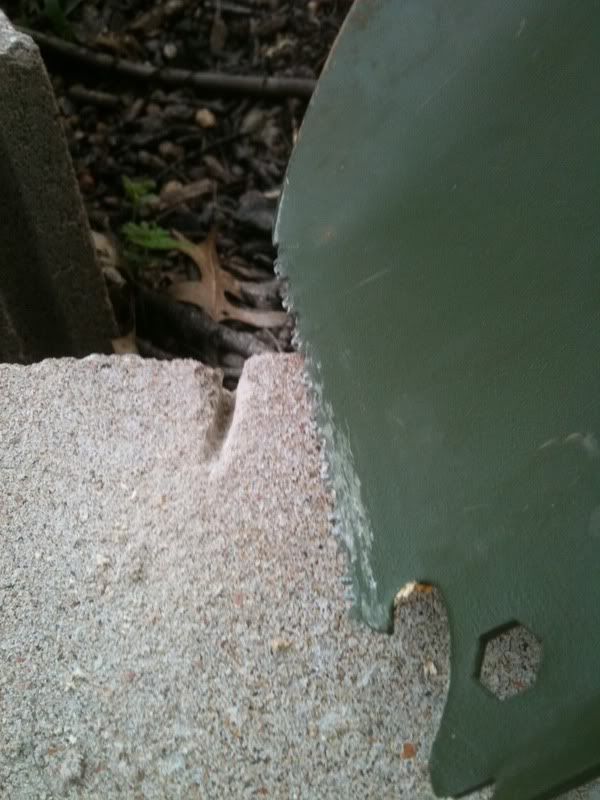 I tried a nice soft piece of copper pipe but did little more than scratch the surface
I would say that the saw works and in the woods it's better than nothing. If I need to cut larger limbs, that's what the hatchet is for, however, using it for small cutting tasks like notching wood it would work well.
CWS:3 Nature:1 (I gave them each a point because it cuts, just not great)
Saw 2/5 Stars
-Hammer
The balance as a hammer is good but the width of the blade is a minor hindrance. Driving nails is no problem, it feels like a 20oz hammer. The claw portion will only accommodate up to a 10d nail. So you're only pulling out tacks, not dismantling a house.
At Z-Con on range day, Will's ramrod broke so I let him borrow a tent stake and the CWS to finish loading the shot that caused his rod to break.
We did this more for humor's sake than anything else.
Hammer 2.5/5 Stars(hammer head good, claw... meh)
-Bottle Opener
On the saw blade side their is a notch that makes a bottle opener. It's... a bottle opener. It works... That is all.
Bottle opener 5/5 Stars
-Wire Cutter (Scissor)
The quality of the wire cutter is pretty good, cutting harder wire like chain link fence and barb wire. Because the cutter is on the hinge you use the edge of the blade and the handle for leverage (this provides plenty). However the width of the blade will prevent you from getting the cutters in any tight spaces. This is why a Leatherman would be a better choice, but you get more leverage with the CWS.
Wire Cutter (Scissor) 3.5/5 Stars
-Can Opener
The blade that makes up the wire cutter when opened up all the way has an extended blade which makes the can opener. It may be operator error but I couldn't get a good enough of a grip on the lip to drive the blade through the top of the can. FAIL! if you want a can opener, get a P-38 and dummy cord it to your gear
CWS:3 Nature:1 (No points awarded, tin cans are not a part of nature)
Can Opener 0/5 Stars
-Ruler (Measure)
The handle has a ruler marked out to 25cm. I myself feel that this is just something to pad the functions because there are so few reasons for me to need a ruler. However, it could be useful in some respect.
Ruler 5/5 Stars (It's accurate... That is all)
-Wrench
Something not shown in the propaganda video is the fact that there are 2 wrench openings at the back of the blade sized 8mm and 9mm. They fit and would work, but the location and size of the tool cause these wrenches to be almost impractical. Perhaps the Chinese have an intended purpose for them. "A" for effort, "D" for execution.
Wrench 1.5/5 Stars
Now I think it's time to move on to the slightly less believable functions. The ones that make this shovel a true wonder
-Oar
This one made me laugh, but comes down to the fact that its a flat blade on a handle, much like an oar. The only difference is the fact that a real oar has more surface area to work with and a longer handle. During the Z-Con Float trip I told Hudson to stop paddling. I tied off the CWS to the canoe as to not loose it and proceeded to paddle us down the river. The sight of me using this tiny "oar" made Crypto and B3 laugh. I couldn't get a pic because my damn camera died on the river (not from water). We weren't going at top speed but I did keep us moving. When you think about it any E-tool of similar size would be equally effective. My real concern was the dangers of rusting. After immersing the CWS in water I left it to air dry in the humid Missouri air. Not a spec of rust after the whole week of abuse.
Oar 2.5/5 Stars (it's no oar, but in a pinch, it's not gonna crap out on you)
-Shield
The Chinese must have small hands (in their defense, so do I). Because of the curvature of the blade, when its in the folded position, there is a gap that you can fit your hand in. Do no try this with your big Shreck hands. Yes you could use it as a shield. However, its kinda small to defend yourself from stick wielding bandits. It would hurt like hell to get punched in the face with it though.
Shield 2.7/5 Stars (extra points for creativity, points lost for size)
-Grappling Hook (Anchor)
As I mentioned before the set screw fits into specified holes along the hinge. One of these holes locks the blade at a 45 degree angle. Along the hinge is also a large hole designed (I assume) to thread a rope and tie it off. Doing this then wrapping a half hitch around the top of the handle is how you turn your CWS into a Grappling hook/Anchor. At Z-Con I found a sturdy tree branch and threw my trusty shovel. On the first throw I hit my mark and it actually hooked on (results may vary).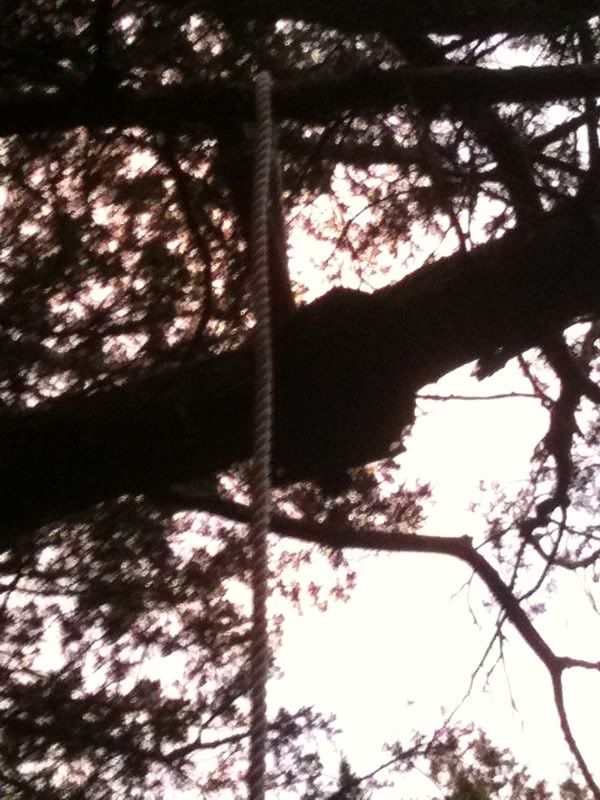 admittedly, these photos were taken near sundown with my phone (stupid camera)
Finding volunteers to test a "magic" shovel were hard to come by. Kevin threatened to kill me with the CWS if anyone hanging from it were to get injured. I wanted to find someone that would be heavy enough to prove the point... I had to settle for Hawk being the only one crazy enough to put his faith in my knot tying skills while I took pictures.
I call this one "Grappling Hawk"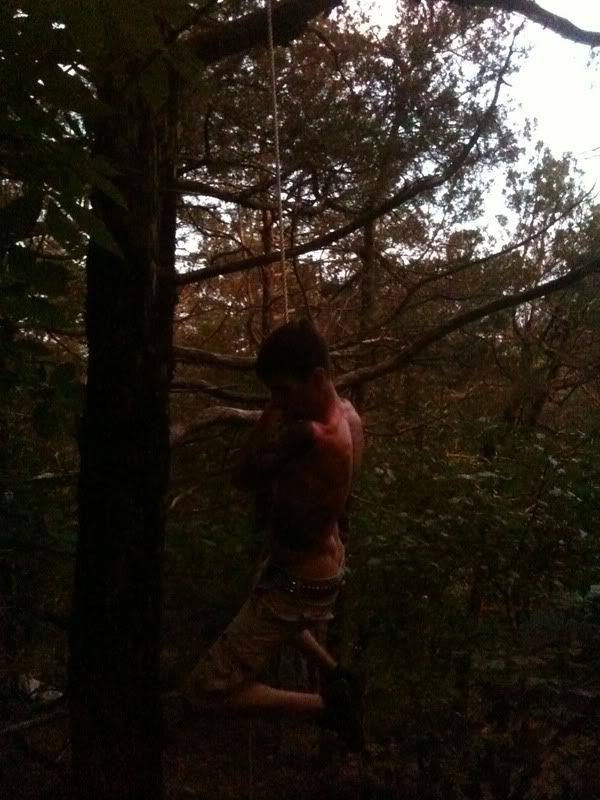 Also, here is a video of the guys at
http://www.greenbeetlegear.com
doing their own test of the grappling hook feature.
http://www.youtube.com/watch?v=A0W0g_7jG1k
Side note- we discussed using this as a boat anchor but I didn't try it from fear of loosing it in the river.
CWS:4 Nature:1
Grappling Hook 3/5 Stars (I'll increase the rating once i find a heavier volunteer)
And finally
-Zombie Killer!
For this I used the standard Jeriah Coconut Test.
I'll let the pictures do the talking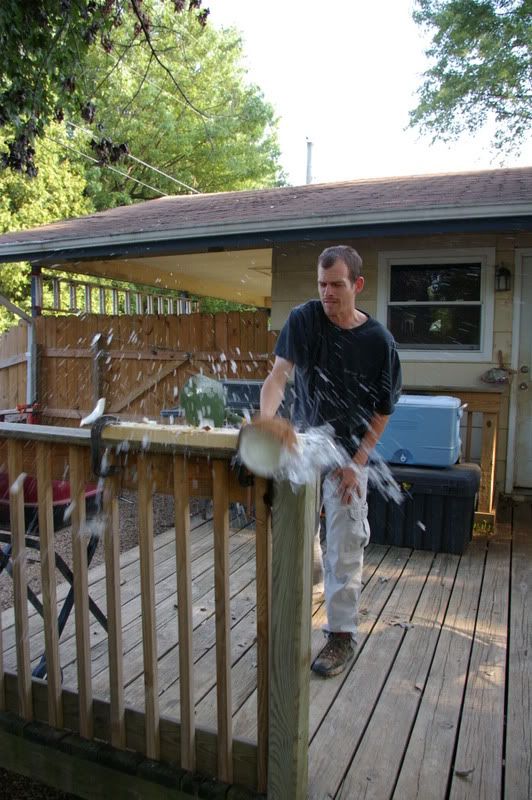 BRAAAAAAIIIIIINNNNNSSSSSS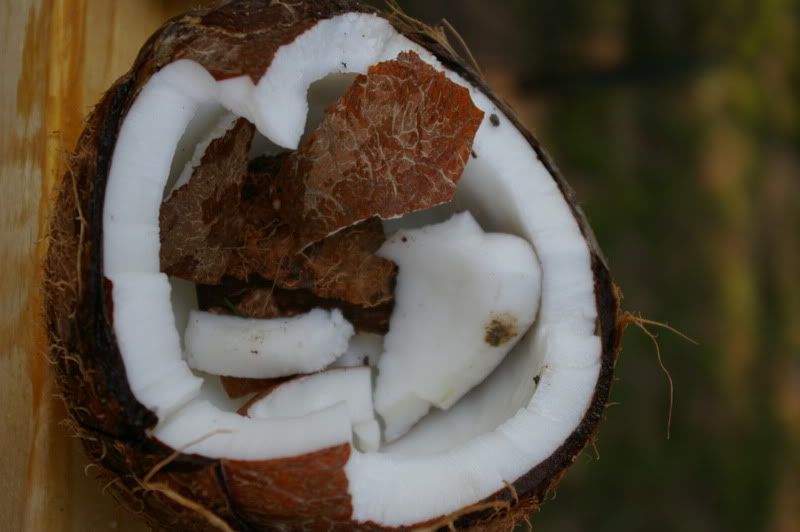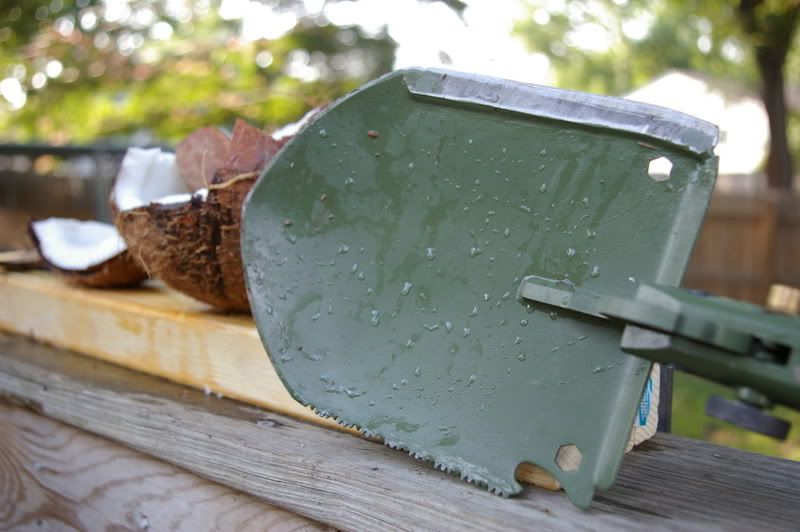 Comparing the destruction to Jeriah's original test, the damage was similar to the Gerber hatchet. It's pretty effective.
Zombie Killer! 5/5 Stars
-Locking mechanism
After all this abuse, the locking mechanism remained in tact with little wear and no change in quality.
Locking Mechanism 5/5 Stars
-Handle
My primary concern about these tests was the sturdiness of the handle. It's made of acacia wood which is relatively durable. The handle held up to all punishment and asked for more. If it ever breaks, I can replace it. So my concern for the handle was very little, all things considered
Handle 5/5 Stars
-Final Summation
CWS:5 Nature:1
The hatchet, shovel/pick, hammer and grappling hook were my favorite functions. They all proved to be functional around home and camp. No tool is perfect, there will always be tradeoffs when you make any kind of multi-tool. On the other hand having all this stuff in one 2.5lb tool is pretty damn cool. If all you want is an E-tool that you can hack wood with, go for the CS Spetznaz shovel. If you want something more... wait till the price goes down, these things will cost around $80 minimum. For me, I am officially making this part of my BOB.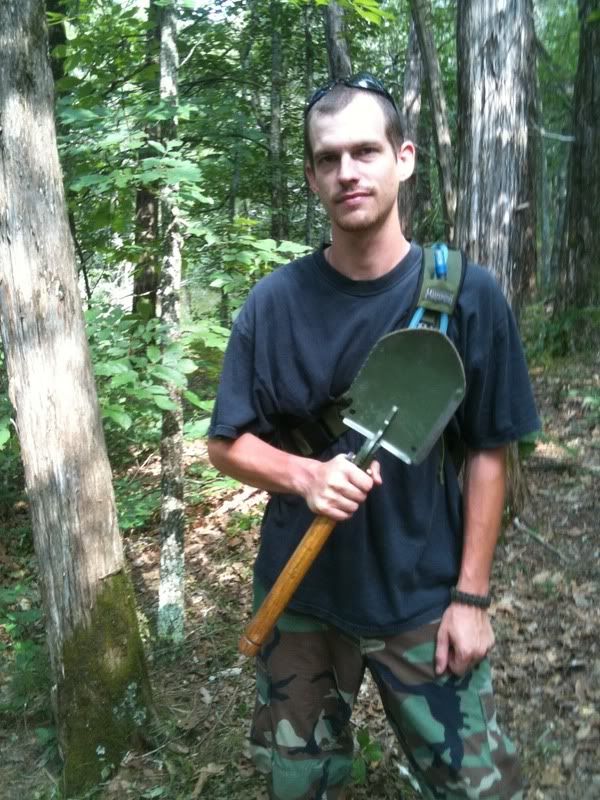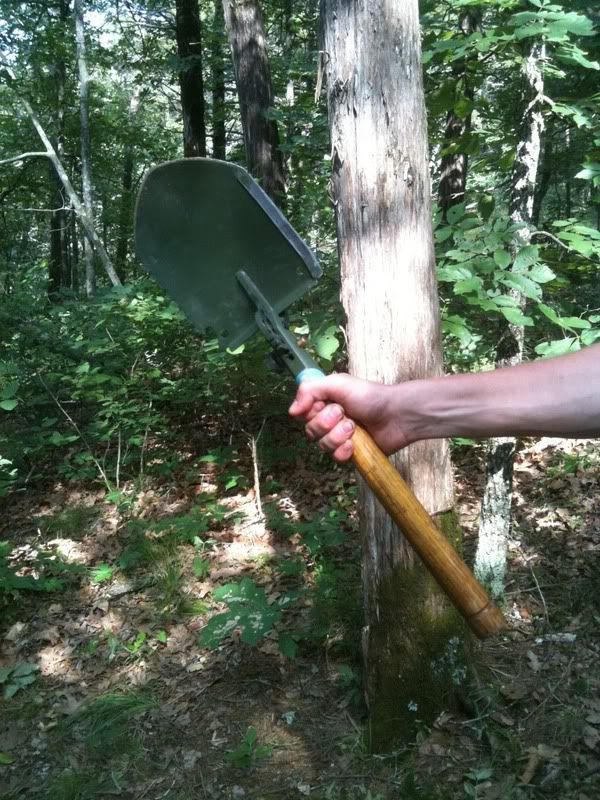 Chinese Wonder Shovel; when nature needs to know who's boss
::Flame suit on::
P.S. If you have any other tests you would like to put to the CWS I will take them into consideration (Short of something that will definitely destroy it). Also, if anyone wants to buy me a crovel to torture test, I'm all over it.
Edit: Fixed my dumb ass typos