Alright, so here goes, I haven't put a FAK in here yet, just need to take some stuff from my actual First Aid Bag and also update my Fist Aid Bag seeing how I haven't updated since the very beginning.
We start with the bag
Just a normal bag I picked up at Dicks a while ago. 4000Cc. On the outside of the pack are some cheap carabiners, a good climbers carabiner, my
small walk pack
and a monocular strapped to the chest strap. (also need to take a picture but my gerber LMF II will be strapped to other chest strap) Also not pictured (amazing what you forget to take a picture of) is my hatchet, two nalgenebottles, one plastic and one in stainless steel and a stainless steel cup that fits snugly on the bottom of my nalgenebottles.
Inside the front pocket
Currently just a little wind up radio, a pack of playing cards and some spare batteries
Inside the left pocket
Currently a Silva Techo for recharging my batteries, mask, guyot designs utensils, emergency blanket, inside the camp pillow is a Zombie Squad Flag and a pocket fisherman.
Inside the right pocket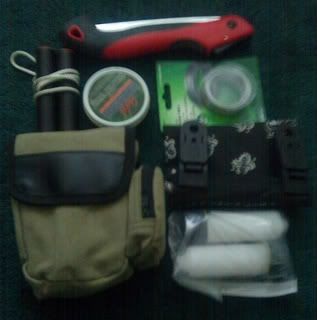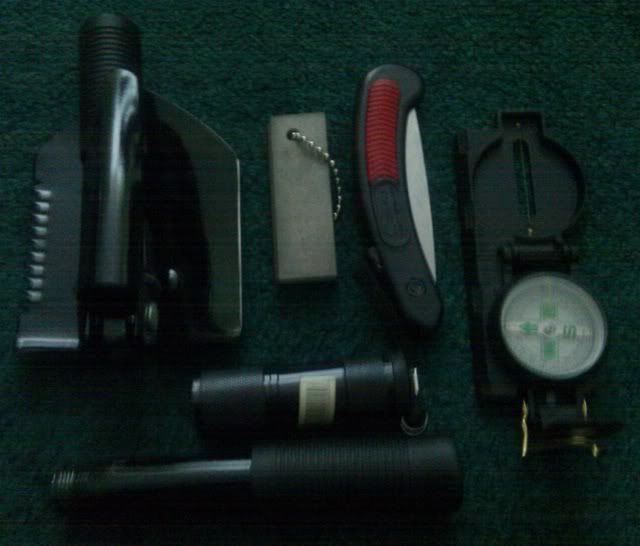 Currently a chain saw in a can, a limb cutter, picture frame wire for snares, a bandanna with 4 tarp clips attached, two 10 hour candles and a pouch
Inside pouch is my small shovel, a magnesium bar/striker, a very cheap limb saw, a small led light and compass.
Inside the top pocket above bag
[
Currently a poncho, mosquito net, head lamp, a face mas camo, and small bag
Inside small bag is a map of local area with points marked out, important informational documents, a pen, small journal and money.