I had started another thread
http://zombiehunters.org/forum/viewtopi ... t#p1551172
looking for ideas on how to make a better LBE set up. I am pleased to report that I think I accomplished my goal.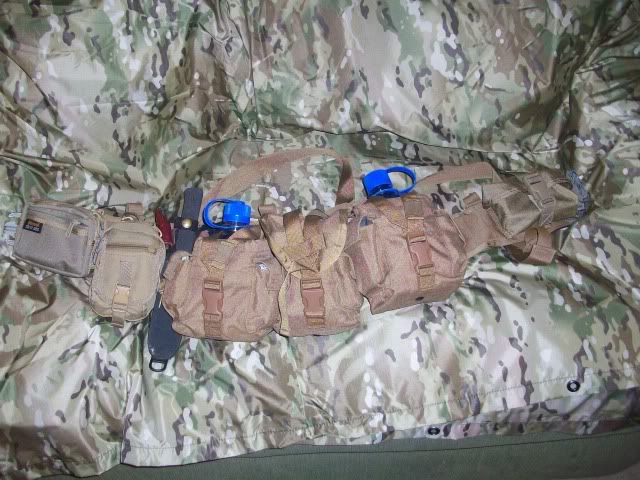 ATS Warbelt with ATS suspenders, Inner belt is a BIanchi Accumold Elite.
Pouches are listed right to left.
Spec Ops Gear Shell Holder, holds 20 rounds of ammo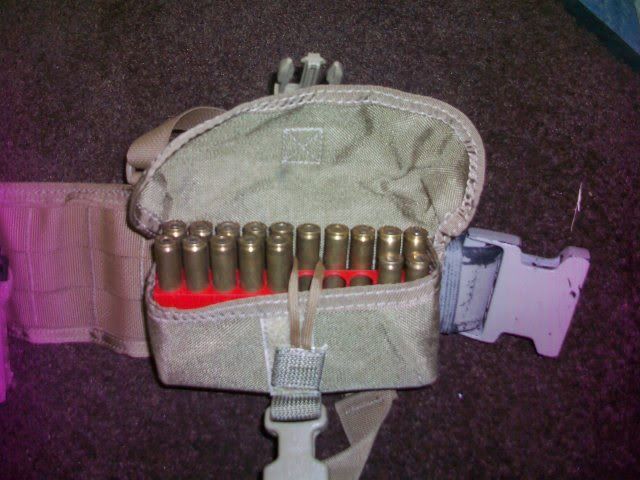 Gerber Suspension multitool in Condor single Mag Pouch
(no picture needed)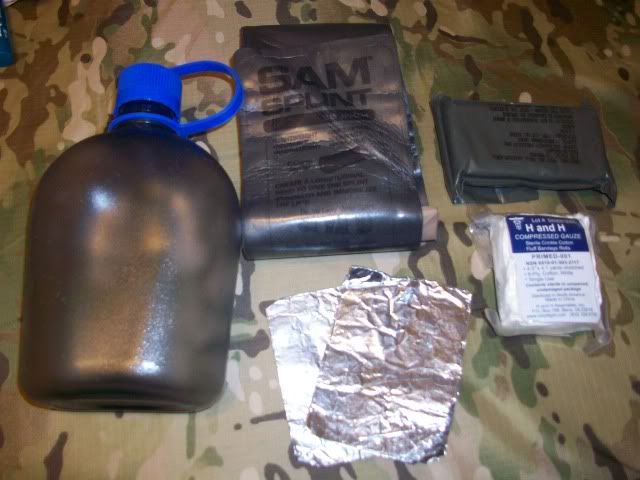 MilSpec Canteen Pouch:
-Nalgene Canteen
-SAM Splint
-Old school Pressure Dressing
-H & H Compressed Guaze (kerlix)
-2x HD tinfoil sheets
MilSpec Canteen Pouch (#2):
Headlamp
Lens Cleaners
Space Blanket
Poncho
Band aid asst
Drug asst
Matches
Vasoline Cotton Balls
emergency fire kit-dryer lint, antibiotic ointment, matches, tender sticks
lens cleaners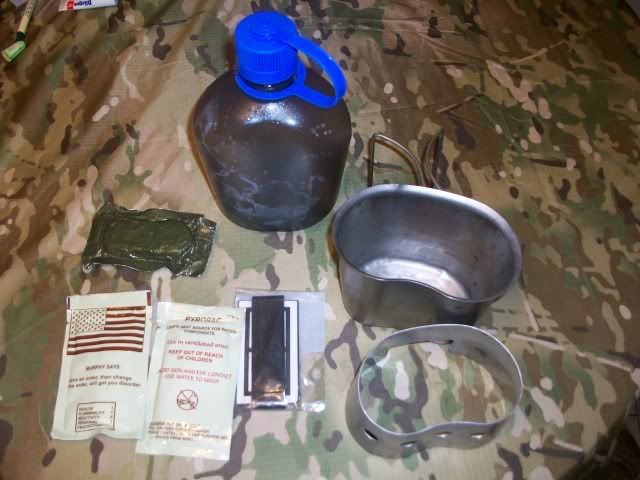 MilSpec Canteen Pouch (#3):
Nalgene Canteen
trioxane tablets
Alcohol Burners
Canteen Cup and Stove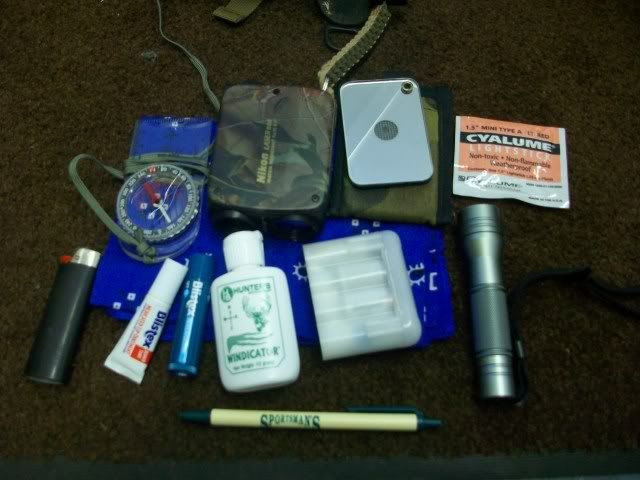 Condor Gadget Pouch:
Rangefinder
Compass
2xChapstick
Flashlight
Batteries
Hankerchief
mini chem light
earplugs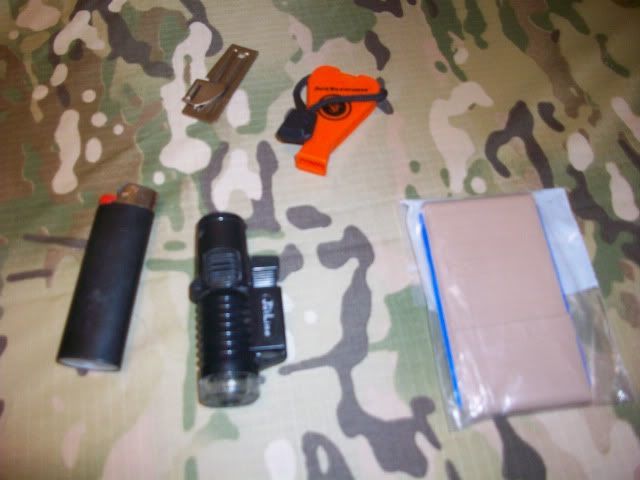 Maxpedition Tac Pouch
Butane Lighter
Bic Lighter
Duct Tape card
Jet scream whistle
can opener
MIsc stuff I forgot:
Flashlight
Bug Spray
Ballpoint pen
Cordage
Water purifing tabs
Wind indicator
3" ACE bandage
Toilet Paper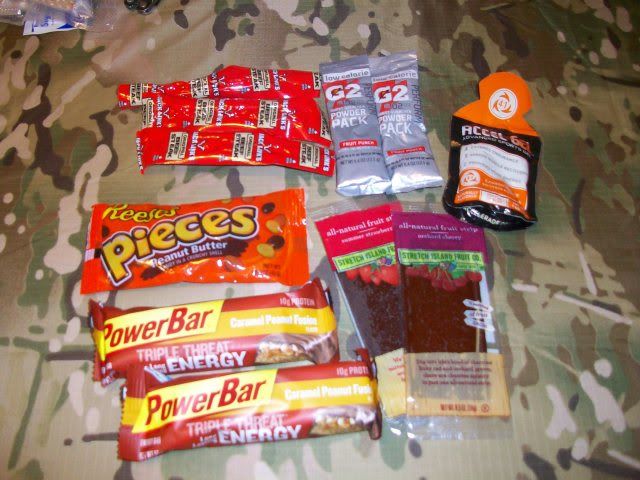 Food:
Power Bars
Fruit Leather
Reeses Pieces
Gatoraide
Goo Packet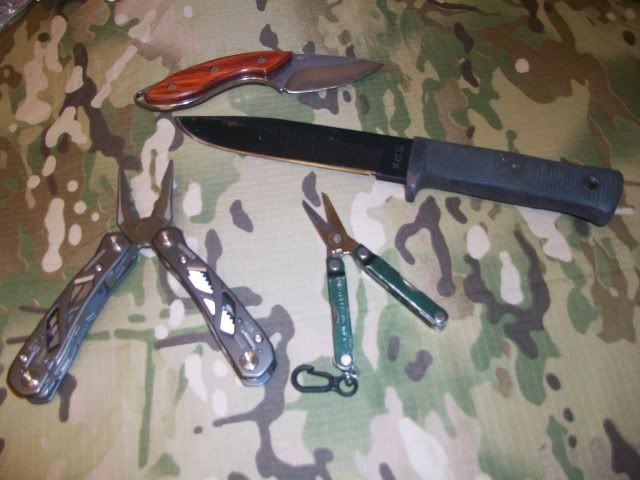 Blades:
Leatherman Micra
Gerber Suspension
Cold Steel SRK
Buck Skinner
The knives will probably change at a later date. I wasnt comfortable putting my new knives onto a MOLLE belt with MALICE clips so I wanted to try this first.
This belt is designed primarily as my hunting belt with the secondary mission of being a quasi first line under my chest rig. I have been using it for a few months now and I have no real complaints. The suspenders will be updated later and replaced with the Condor H harness. I will still keep the ATS suspenders for use under the chest rig.
One thing to keep in mind is that you structure your gear for your mission, not the other way around. The beauty of this set up is that I can change pouches around depending on what the mission is. I can add my pistol and mags, I can drop the rifle ammo pouch and add AR pouches. I can change all these things with little or no difficulty.