This recent thread comparing commercially available firestarters inspired me to make up a batch of these great little homemade ones!
http://zombiehunters.org/forum/viewtopi ... 14&t=58290
" onclick="window.open(this.href);return false;
First off... I didn't think this up... It's one of the little jewels in my bug out/camp out arsenal that I can trace directly to wisdom someone shared here on ZS. I'm just re-sharing. The amazing wax impregnated cotton balls!
If you are the awesome person who enlightened me about this... take a bow!
These are more labor intensive than petroleum jelly cotton balls, but they are better in a couple of ways. After a time, petroleum jelly balls can become over saturated, making them hard to light. Also they are messy, requiring a dedicated case. Using wax you can get around all of these shortcomings. The raw materials you need are:
Cotton balls... $2 for a 200 count bag at wally world. Be sure to get all cotton balls. not those with any poly-fill content. (they're cheaper too)
Wax. I like to use gulf wax. $5 per pound at my local ace hardware store in the canning section.
These are the basic ingredients. I use a pair of nitrile gloves to make it a little less messy. You need some sort of double boiler. I recommend simply a tin can set inside a kitchen pot full of water. (Don't use the actual double boiler you may have down in the kitchen... SWMBO will slay you.)
I use a sheet of aluminum flashing or a disposable aluminum cookie sheet to set my cotton balls on as they cool. At the end you can just chuck the whole thing... easy cleanup. Don't use the actual cookie sheets you may have down in the kitchen... see above.
Let's see what we can make for less than $10.
Here are some pics...
Here's the Gulf wax. Sold in a 1 pound box. Pure, and unscented. IMHO this is the ideal buddy burner fuel as well.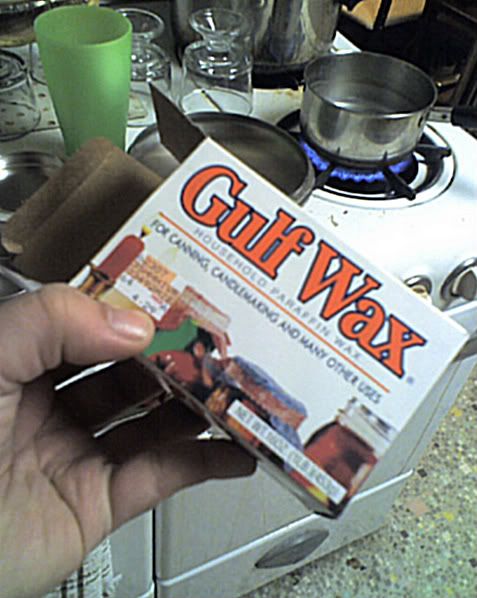 Inside there are (4) individual bars.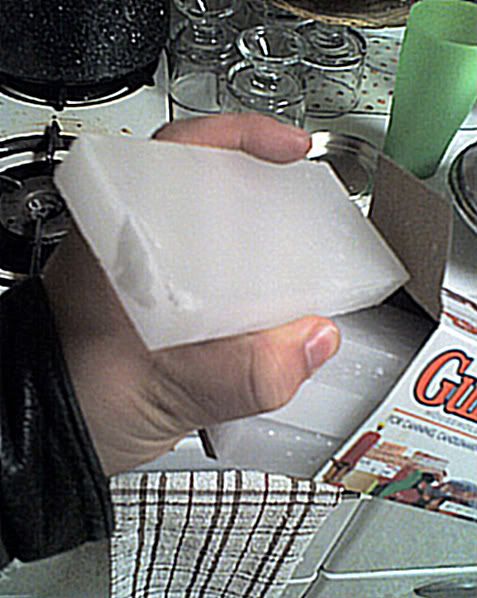 Take a knife and hack up the bar. Use SWMBO's least favorite knife... or better yet... for maximum jedi self reliance points, a $10 cheapo mora.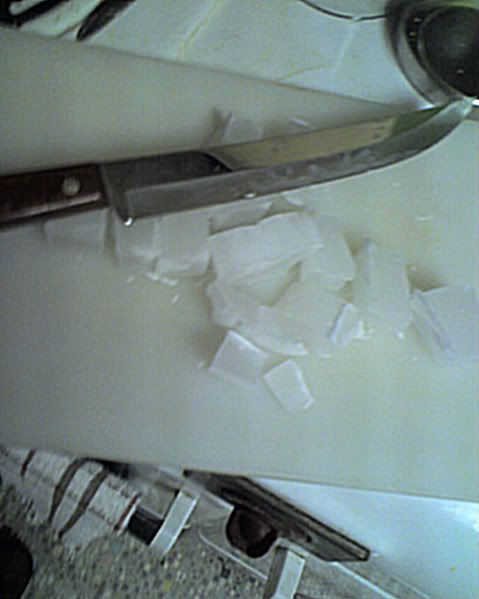 Put the chunks and the crumbs in the tin can.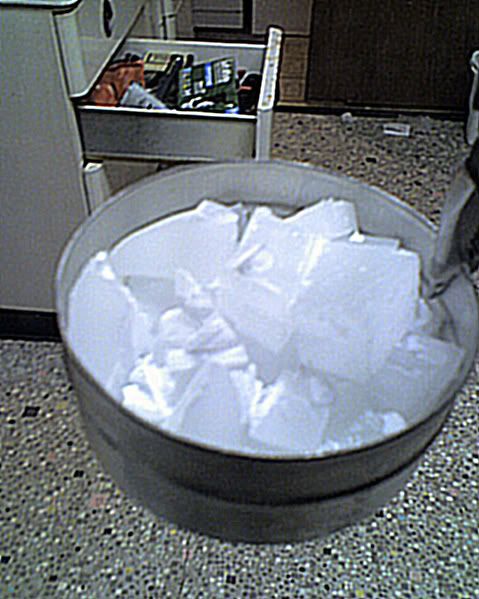 Tin can in the boiling water...
Use a leatherman to pick up the can... This fuel is ultra pure so it's clear like water when melted.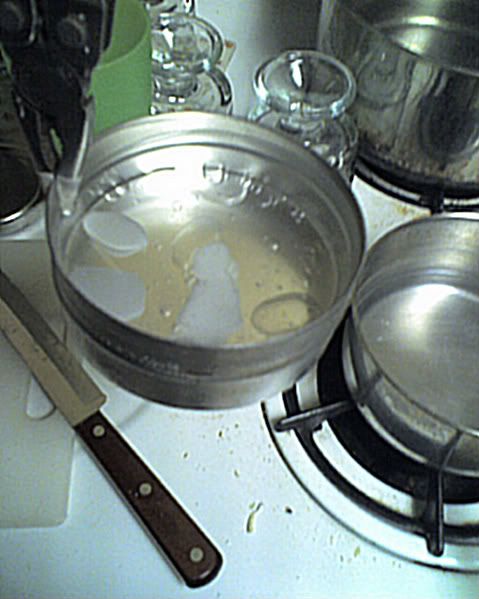 Here's our workspace... a tv dinner stand. The aluminum sheet is on top. The gloves are there, and some sort of metal spatula is a good thing to have.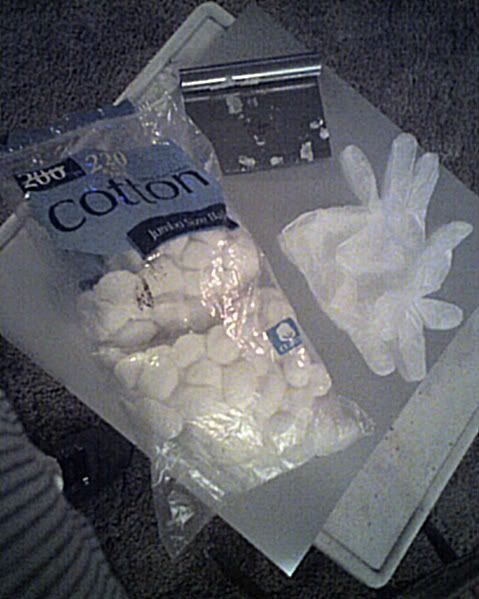 Dip cotton balls into the molten wax. It doesn't burn much. Quit being a wus.
Gently squeeze the balls when they're submerged to squeeze out the air bubbles. Lift them out of the wax and let the excess drain back into the can. Set them on the sheet to cool for a few minutes.
After the balls have partially hardened, but are still warm and soft, squeeze each one over the can again. This will squirt out a few drops of wax. Now is a good time to roll them like a meatball into the final form. I find an inital compacting/pinching phase followed by the rolling action works best. Try not to have any gaping seams. Pinch and roll until smooth.
You can have a set of balls cooling, while rolling another set. With experience you can get so you know how many you can have in process at one time. (if they cool to much they become hard to work)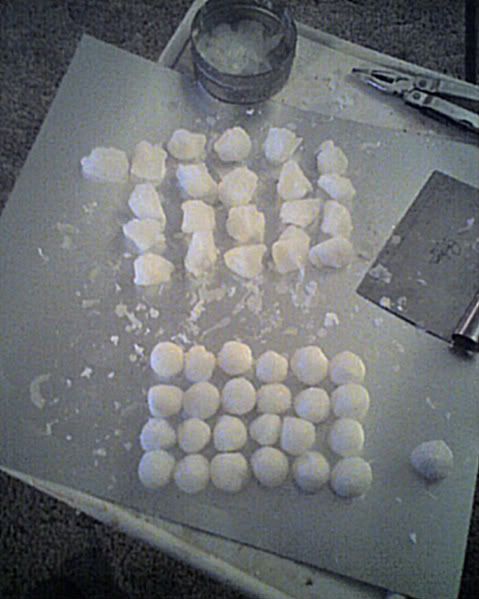 Solution: Careful microwave re-softening.
Here is the finished product. 46 Fire starters from 1 pound of wax ($5) and roughly 1/4 of a bag of cotton balls ($.50)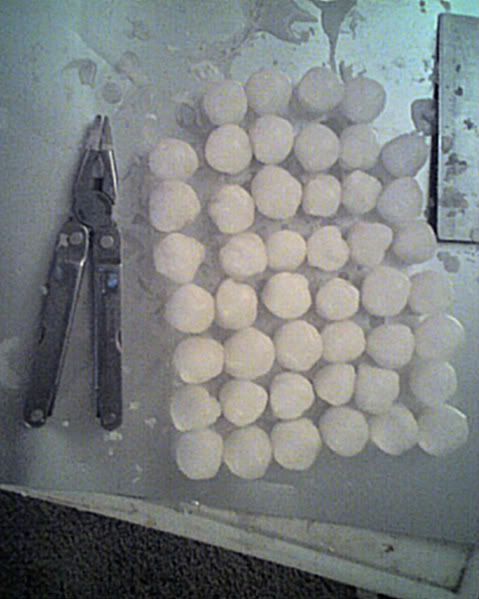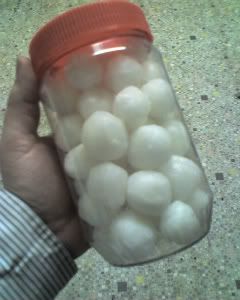 Throw them in a recycled peanut butter jar for bulk storage. I package them in ziplock snack bags (the really narrow ones for kid's lunches) The balls are pretty stable, but in theory they are subject to melting in hot conditions. That's why i recommend storing them in something plastic. If you had cellophane, there's no reason why you couldn't individually wrap them like big candies.
They're a little big for a BOAT, but they're great for just about any other type of kit.
To use them, just take your knife and cut one 1/2 way through. Then pry the ball open like a clam. If you look closely at the middle you will see many very fine, very dry cotton fibers. Aim your lighter or more importantly, your firesteel at these fibers. They light readily, and burn for at least 10 minutes. Pile on the tinder! You're in business.