Wandering though REI this afternoon, I spied an addition to their shelves. The Gerber Tempo AAA keychain LED Light for $10.
I had been looking for a possible replacement for my LED Lenser that used AG13 watch batteries.
Look ma' their super tiny. The LED Lenser has a push button tail cap. Tempo, is operated by screwing the tail cap till in turns on. Oh, and it didn't come with that key ring either. (wtf, over?) Gerber, if you're listening, make a push button tail cap.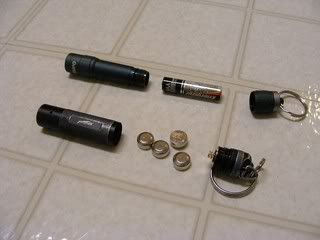 While the LED Lenser did come with a spare set of batteries, the Tempo wins this one for being AAA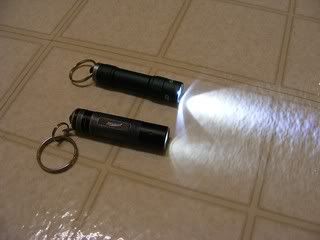 Not really a fair test here, but oh well. The LED Lenser has been riding along with my keys in my pockets for several months now. It's been warn in, and turned on by accident more then once. The brand new Tempo throws out more light.
Tempo's Specs:
http://www.gerbergear.com/index.php/product/id/261
" onclick="window.open(this.href);return false;
LED Lenser's (aka Coast) Specs:
http://www.coastportland.com/product.ph ... &prodnums=
" onclick="window.open(this.href);return false;¿183¡186¡1030¡1036¡928¡943¡199¡204¡1029¡214¡216¡194¡271¡272¡274¡275¡953¡954¡18¡13¿&mastCat=1&catid=6