AT trip/gear report 56k warning.
Did about 12 miles on the AT a few weeks ago with my uncle. It was very hot and humid so we burned though gallons of water. My uncle is older than the hills but can cover some real ground. Did a few gear tests so guessed a report is in order. The terrain was standard Appalachian Trail stuff. Mostly hills and rocks and even some roads as there are times when the AT needs to travel down roads to access bridges etc. The AT markers are white.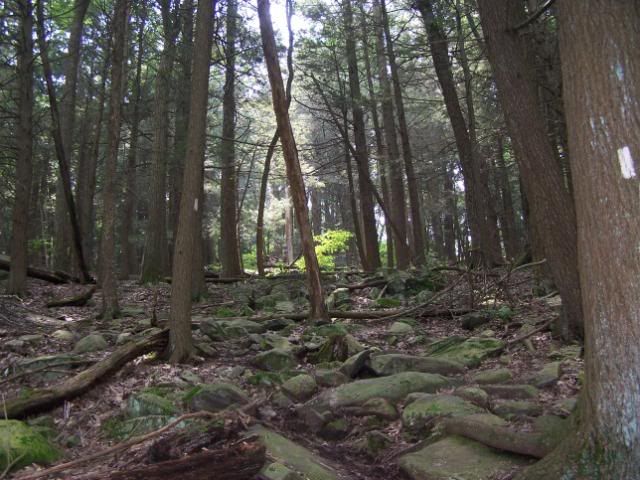 Oh snap a UFO off to the left.


Some T-storms moving in and I gotta go over that hill on the right before calling it a day.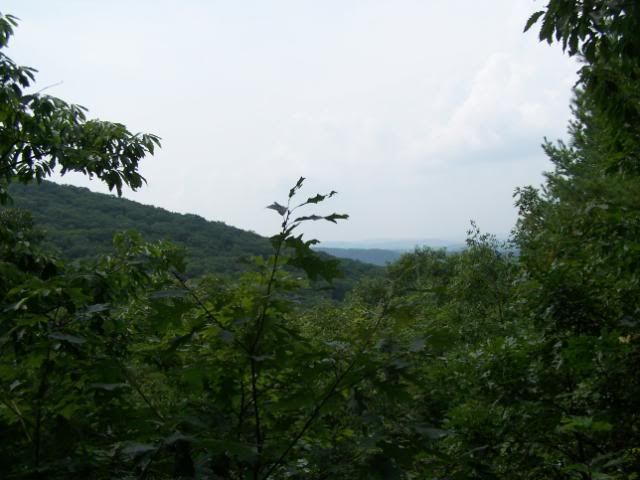 Bushcraft items of note:
The legendary true tinder fungus. There is some info on that in the Maya dust thread.
Lime stone spring. Water flowing directly from the rock filtered though a large area of lime stone. Ice cold and oh so good. These are often at ground temperature maybe 54 degrees so are a benefit in all seasons. Often safe to drink from without filtration but one never knows so best to understand all the risks.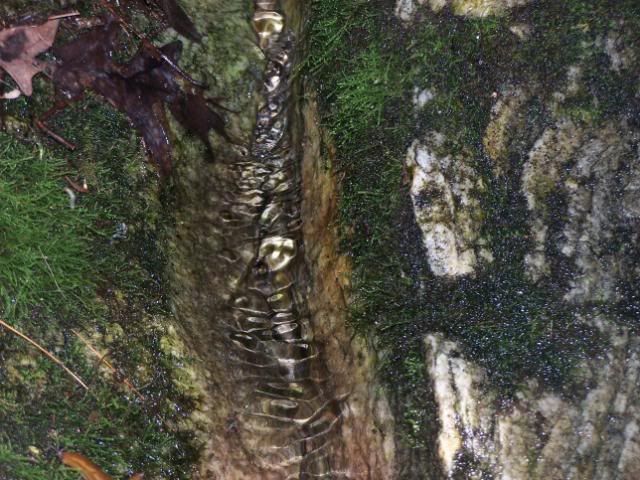 Packs:
The Osprey Atmos 65.
Loaned it out to my uncle as his pack is a bit on the heavy side. Probably the most popular pack on the AT. A good combo of UL, capacity and comfort. Good ventilation too. It has been updated this year with a new suspension and less crazy colors. Being UL this is not bomb proof like my Kifaru packs but equal in comfort and better in hot weather due to exceptional back ventilation. Here he is messing around with the Atmos.
http://www.ospreypacks.com/Packs/AtmosSeriesMens/
" onclick="window.open(this.href);return false;
The Osprey Argon 85.
Larger capacity than the Atmos with better suspension. Still is UL so can't say it could take the same beating as my Kifaru EMR. But comfortable and has a removable top lid that becomes a belt pack. The hydration system holder can also be removed and combined with the bottom straps makes for a UL CamelBak type holder. I have used the combo but prefer my Osprey Daylite that can dock with the host pack. The pack can be custom fitted with 6 different harness and belt sizes. Also you can get the belt custom molded at any shop that has the Osprey oven but this is more of a marketing gimmick in my view. The belt conforms to the user after a day or so on its own. The Kelp pack and brownish harness/belt blends in well. On a side note I pack Crocs for camp shoes. They are good for stream crossing and are crazy UL. Have a set of the coyote brown hiker Crocs in my INCH bag.
http://www.ospreypacks.com/Packs/ArgonSeriesMens/
" onclick="window.open(this.href);return false;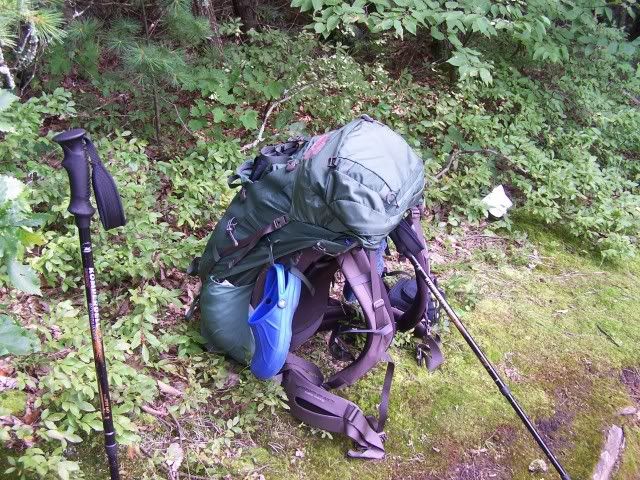 Shelters:
I used the Hennessy hammock Explorer DLX with sil nylon undercover. My uncle used his Expedition Asym. Much has been said on ZS about these shelters so a review would be redundant. The Asym is the green thing behind my DLX.
http://hennessyhammock.com/catalogue.html
" onclick="window.open(this.href);return false;
New gear tested:
Been looking to test out the Aquamira Frontier pro. I first purchased the black color but naturally wanted the orange too. I guess one can never have enough filters.
http://aquamira.com/preparedness/fronti ... er-system/
" onclick="window.open(this.href);return false;
Water bottle test. The filter is supposed to fit standard soda bottle threads. I fitted it on a water bottle however would leak a bit during use. The treads on most water bottles are even more marginal than a Coke bottle so guessing it would work better for these. The flow rate was good but had to allow air back into the container after each drink. Notice the frosted bottle. This water was at ground temperature from the spring and better than any tap water I have ever drank.
The filter has a tube that allows for use as a straw type filter. This was preferable to a direct connection as there was no need to allow for air flow back into the container. In this case my uncle's Nalgene with insulated cover.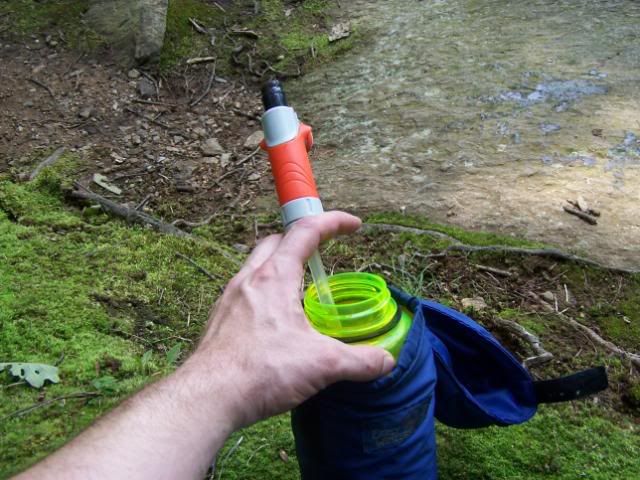 Worked good. We also tested it connected to a Platy bag. No leaks at the threads as was the case with the water bottle but needed to allow air to return for the next drink. For some reason I had the urge to place my tongue on the bite value. This made it initially harder to use until I stopped acting stupid. Sorry no photos of the Platy test. It could also work in line for a CamelBak tube however this was not tested.
Zebra light H501 and H501w (warm tint):
Before my trip review I will go over what is meant by warm tint. The H501 uses a Q5-WD. The warm tinted H501w uses a Q3-5A. The Q5-WD is nice as is not too blue tinted and more efficient than the Q3-5A however the 5A tint offers some of the advantages of incandescent lights which to my eyes works better in the woods. H501 is on the right, H501w on the left.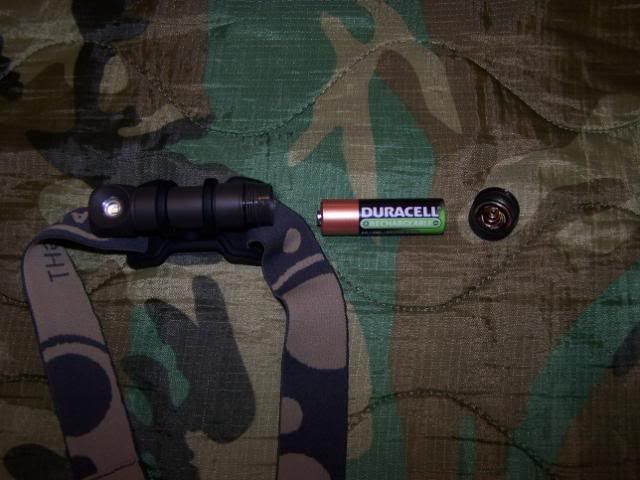 I used the H501w for a headlamp and the H501 for an area light hung from a dead Eastern pine over my camp. I should have looked over the site better before setting up camp. Widow makers are often a big consideration in site selection and I didn't like the looks of the tree in the AM.
http://www.zebralight.com/
" onclick="window.open(this.href);return false;
They both worked great. These are so UL I could pack both without concern for bulk and weight. Nice even flood light. On the down side it is all flood at the expense of throw. The regulation is near perfect so there is little warning when the battery is low. My area light turned off without warning. But on the pro side it runs forever on low and a good long time on medium. One concern is recent reports of quality control issues on CPF. Mine work great but always report all available information on any gear recommendation.
Char-Broil Chimney charcoal starter.
This trip was rushed and forgot to pack my Trail stove Hobo. I like to use a Hobo stove for a campfire as they burn little wood and leaves almost no trace. Headed out from my sister's house and remembered there was a brand new charcoal starter in the garage. Guessed it would make a good hobo stove. The handle assembly was separate from the body so to reduce weight this was tossed. It has all the good hobo makings including a raised ventilated bottom grate and side air ports. Guessing it came in at under 2lbs once field stripped. This is a bit more than I like to pack but beggars can't be choosers. I have built my share tent/hobo stoves and must say this was a total surprise. It had great ventilation and like all good hobo stoves burned the wood down to a fine ash despite being wet. Put off a bunch of heat and helped keep the swarms of mosquitoes at bay. 15-minutes of wood forage were enough to keep it running until 12:30 am. I could have cooked my food with it but used the MSR pocket rocket. These charcoal starters are available at B&M stores so anyone looking to mess around with a hobo should check one out.
http://www.charcoalchimneystarter.net/c ... starter-2/
" onclick="window.open(this.href);return false;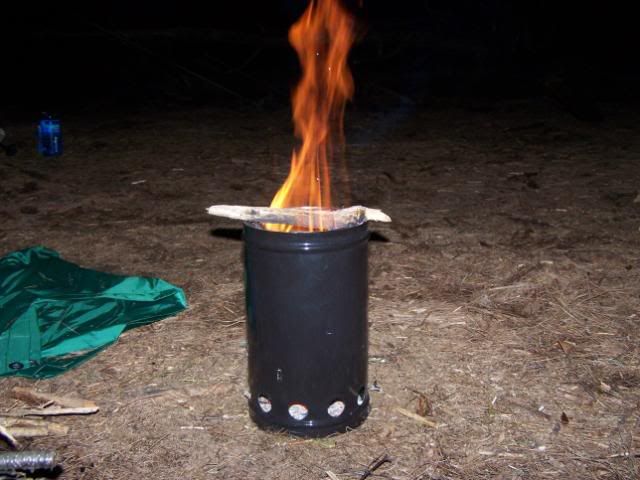 I will probably use this again for a car/base camp but not so much for longer range activities as my other smaller hobo stoves like the Sierra Zip and Stratus Trail stove are more UL. But thinking the weight is still less than a MSR white gas stove with a full 20+ oz tank. Overall a good little outing.