My revised 3-season daypack.
In an effort to reduce pack weight for day hikes I went thought my hot weather extended daypack and did some reworking. Remember this is not a BOB however for much of the time it is the only pack in my truck beyond the medium Alice behind the seat as I hike 4-5 times a week to keep my edge so to speak. Often these hikes are on local trails with the occasional daytrip to the AT.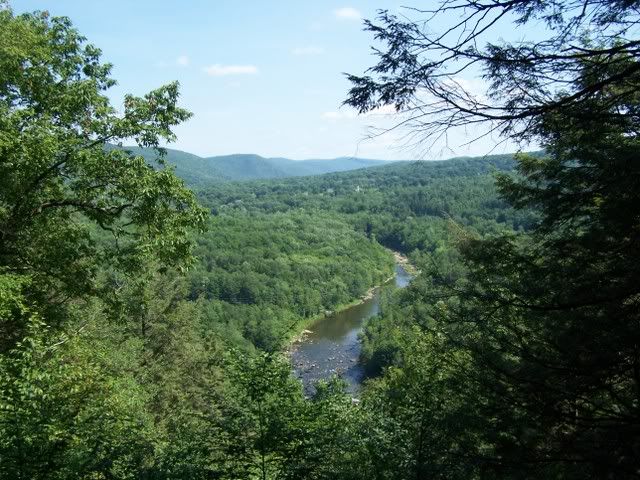 Here is the original hot weather extended daypack post.
viewtopic.php?f=14&t=32274
Most of the gear has been taken from this pack but some new items have been added with others taken out for seasonal and weight considerations. The process of reviewing gear for weight and bulk reductions could be applied to any pack system.
The newer day pack:
Osprey Stratos 24.
http://www.ospreypacks.com/Packs/Strato ... entilated/
The pack is their large size and has a 1700 ci capacity but can hold more due to external pockets. Also the water bag can be packed inside the vented backing. The empty weight is 2 lbs 8 oz. Like my larger Atmos the pack is ventilated for cooler hot weather hikes. Comfort rated to about 20lbs. Naturally the price paid for a UL pack is durability. For winter or hard core bushwhacking I take my Kifaru E&E or Pointman. This is not to say the pack is poorly made, in fact it is top quality for this class.
The Gear:
I often attach stuff to my pack when not used. Items like my small Silva compass can clip on or off using a Black Diamond plastic carabineer. I have an S carabineer for securing items like my poncho's stuff sack to the pack. There is also a Micro light attached to the inside smaller mesh pocket. The pack has an integral whistle buckle.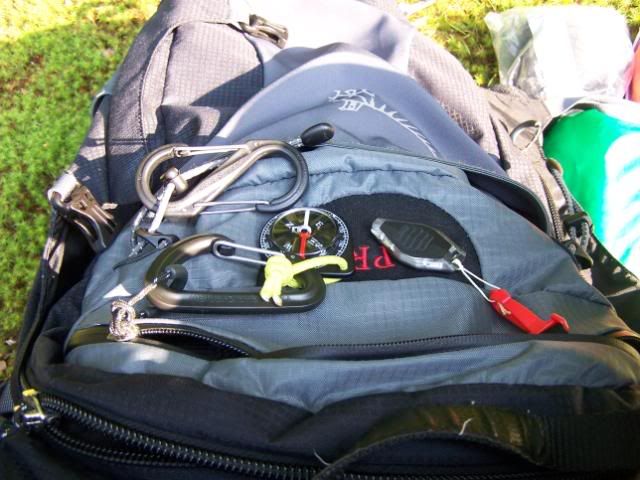 Primary water storage is a 70 oz platy inside an insulated cover. This goes into the large external stretch pocket.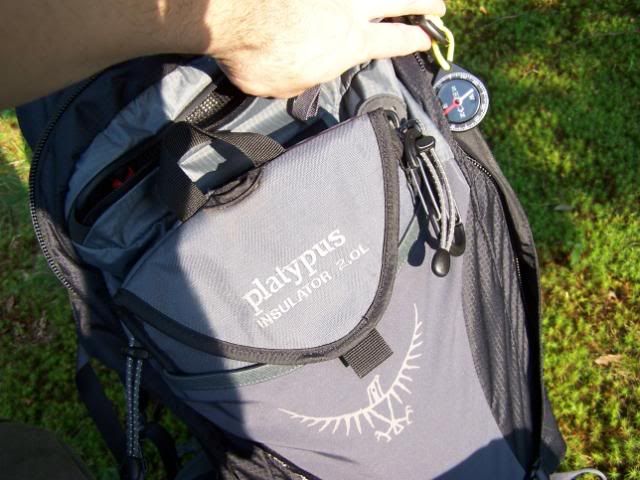 If it is very hot or the hike looks to be more than a few hours I can add two canteens to the outside holders. So the maximum capacity for storage would be around 125ish ounces as I use sub 34 ounce canteens due to the size of the two side canteen holders. The full size Nalgenes are a bit too tight for easy access. I can place extra water bottles inside but never needed to. Most of the times the Platy plus an extra canteen is enough.
For gear I was looking to cut every last ounce possible but still cover the majority of needs that might occur. Here is photo of the base line gear taken during a hike. Nothing is more inviting than a nice bed of moss. The weight of the base gear is 3lbs 12oz. This does not include any of the extras that are added from the black bag nor extra canteens beyond the Platy or water and extra food. These change as the needs dictate.
The base line gear with a list and reasons. All gear that can be harmed by water is stored in zip lock bags. I removed some items from these for easier viewing.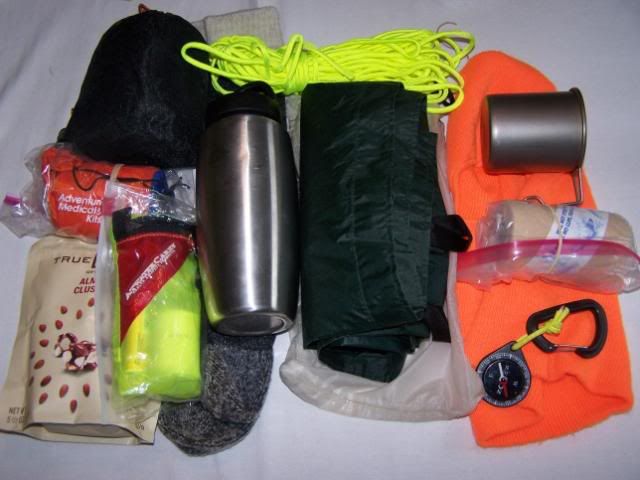 1. Golite poncho with stuff sacks. I have a few of these and find they make for acceptable rain gear in moderate weather and a workable tarp if needed.
2. Snow peak Ti cup. At less than 2 oz is the most UL way to boil. Went small as in reality it wouldn't be needed for a day hike but considering the weight it covers a lot of possible needs.
3. Extra hiker's socks.
4. Crazy blaze orange balaclava hat. This also goes into my short hike in the woods gear and hunting pack as sometimes it can get cold even in summer and the high visibility is nice for some situations.
5. Silva Compass on a BD carabineer. I often pack a better one but have forgotten to in the past. So with luck I will always have one.
6. 50 feet of yellow paracord. Have other colors but like this stuff. Got 100 feet on the cheap at EMS so cut two 50 foot lengths and use it for my camping/hiking gear.
7. Extra canteen. This one is stainless but will also pack others.
8. AMK Heat sheet bivy. I think the AMK Thermolight bivy is better however looking to reduce pack weight and bulk so for the warmer seasons I pack this. For colder weather it is the Thermolight.
9. Mantis bug bivy. We saw this in the Woods monkey survival contest. It is the most UL bug protection available that is still workable when used with a bivy.
10. Snack. In this case almond clusters but will sometimes toss in an apple or a few granola bars too.
11. Large roll of athletic tape. One of the few FAK items I have actually needed to use. Great to stabilize a hurt knee.
12. Small FAK. List and photos posted.
Green Silnyon bag of goodies:
This bag is moved around and taken along on fishing/hunting and short range day hike so is included in this pack.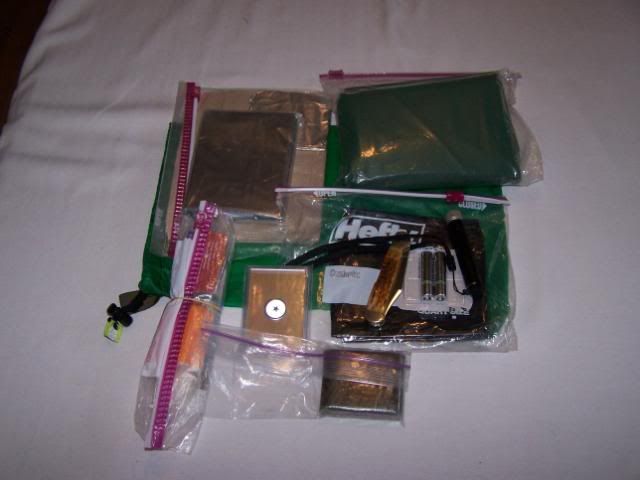 1. Courtesy poncho. Can be used for a wind break or rain gear if the Golite is setup as an ER shelter, Also could be the only rain gear if the green bag is packed inside my fishing/hunting pack and I was not expecting rain. But mostly as the name implies a courtesy item if hiking with the less prepared. This happens more often than one might expect.
2. Mylar blanket. I have a few AMK Heat sheets but they are inside my E&E and 72-hour BOB. I don't want to rob Peter to pay Paul with these and considering the AMK Heat Sheet Bivy packed I will keep it. I just don't want to spend the money on yet another AMK.
3. Case folding knife. Made in the USA. Quality blade that is small but very sturdy. I EDC a knife so this is mostly packed to ensure that I have a blade just in case mine is forgotten.
4. Duct tape rolled around a playing card. I have only used it to attach a bunion pad over a blister.
5. Small Fire kit. Two mini Bic lighters, hiker sized magnesium block with hacksaw blade striker, 1 box of Diamond wooden matches and 6 large cottonballs mixed with Vaseline. I have other fire starting things like LMF fire steels however this setup is about the most UL as I could get and still have 3 ways to start a fire.
6. Leatherman S1 flashlight. Runs forever regulated on a 1xAA. I EDC a small flashlight but this like the knife is packed to ensure I have something.
7. 2XAAA lithium batteries.
8. Contractor size trash bag.
9. Paper towels. Works better for TP than actual TP. Not quilted with cartons bears jumping around on TV but works better in the woods. Also makes for good dry tinder and used to stop bleeding from minor cuts.
10. 3 feet of folded Aluminum foil.
11. Star flash signal mirror. Small and bomb proof. Unlike my other mirror can be aimed better. Hope I never need it.
Small daypack FAK list.
As stated weight and bulk are my primary concerns so this is minimal.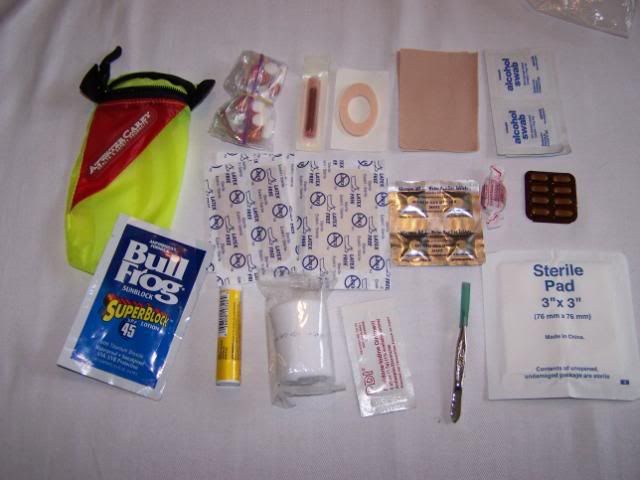 1. Small packet of sunscreen. I often apply some before heading and that has always been enough but extra can't be a bad thing.
2. Chap Stick. I hate chapped lips.
3. Small roll of gauze.
4. Anti bacterial cream packet.
5. 3x3 gauze pad.
6. Metal tweezers for splinters and ticks.
7. 4 kayadyn water tabs.
8. Small bag of pills. Some Imodium AD, aspirin, Tylenol and Aleve. I have been considering adding Benadryl but I don't get allergies. Hell poison ivy does not even bother me. I do pack it inside my overnight camping gear for a courtesy item so may add a few tabs.
9. Funky Iodine (I think) liquid in a tube. Left over from the AKM FAK which the FAK container used to house.
10. 4 alcohol swabs. This is something I actually use.
11. 10 Doxycycline tabs. I have a believe that a tab taken within 24 hours of a tick bite will reduce my chances of contracting Lyme disease that is all too common in my area. Is this true? Don't know, could be doing more harm than good but this can be applied to much of my activates.
12. 2 cut sections of moleskin. Gotta keep those feet going.
13. 1 cough drop. Must be useful as there were 4 last time I checked.
14. Band-Aids. Thinking 2 large 2x3 inch pad size and maybe 4 standard larger sizes. Not going to open the kit up again to recount.
15. 1 large bunion pad. There were two so guess it was useful.
16. Missing items. I had an Off Deep woods Deet Toweltte inside the FAK but it was missing. Guess it got used during a bug infested hike so added a replacement. Don't recall if the woods was deep as the name implies.
Other optional gear items.
Inside my truck resides the feared and often misunderstood Black bag. The gear inside is stand alone and not really part of my BOB or camping gear. Thinking it would be tossed inside my Medium Alice pack stuffed behind the seat. I don't like to keep expensive packs or gear inside the truck as been a victim of theft in the past. The rain paints are tossed inside the truck along with a rain jacket.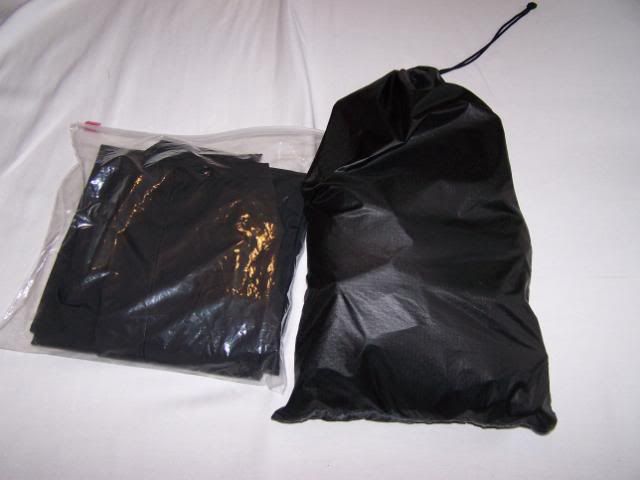 Sometimes I will take items from this bag before a hike if the situation calls for extra gear. Like everything else I store anything that could be harmed by water inside zip-lock bags but didn't feel the need to remove them for just for photography's sake.
The most common items taken are as follows:
1. Petzl Tikka Plus headlamp. If night hiking my preference is for the 4-mode Rebel EOS however there are times when running late a little insurance is needed. The Tikka plus is also a good direct drive headlamp.
2. Red bandana. I like to dunk them in streams and put the cool wet bandana around the back and sides of my neck. Seems to drop my body temperature almost instantly. So if it is hot I will take it.
3. 4XAAA batteries. The standard 2XAAA packed in the green bag is meant for the S1 and being lithiums could harm the direct drive headlamp. I need at least 3 just in case the headlamp's batteries are low.
4. UL Columbia rain paints. The Poncho is great for moderate rain but needs extra coverage for the bottoms of the paints. If the weather is funky I will take the rain paints.
5. 1 oz Deet bug pump bug spray. Take this along most of the time.
6. Leatherman tool. Sometimes packed but not all that often for a day hike unless I forgot my EDC folding knife or one of my smaller fixed blades. I have the Case inside the daypack all the time but my OCD fears going into the woods without a backup of some kind.
7. Frontier water filter. This will work with my ever present Platy bag or alone. If just going out for the afternoon my packed water is always more than enough. If not I can fall back on the water tabs inside the FAK or even boil some using the TI cup and a small scout fire. But this is more in the realm of a hypothetical survival situation that in all practicality would not occur for a short hike. If heading out on a daylong hike in very hot conditions it is worth having. I have used springs and pumps along the AT to re supply. The water from some of these springs is good to go without any filter but best to error on the side of caution.
8. Everything else. There are other items inside the black bag that are only occasionally packed. I think there is a spork someplace and even some Ti Sheppard's hook tent stakes. A very cheap extra poncho too that was once packed for a group of 3 but never used.
The gear weight almost never exceeds 5 lbs and that is only when packing the rain paints, filter, headlamp and maybe a few more extras. The pack is 2 lbs 8 oz but may increase if I use the Kifaru Pointman or something else. So the maximum weight for everything, pack included minus water should be under 8 lbs but could be a little off. I guess for a lot of day hikes I could get away with a lighter, poncho and a few bottles of water but what is the fun in that?