It was once again time to re-test my BOB and see if my bag load was up to snuff. This is sort of a follow-up to
THIS
thread where I took my bag out for a simple overnighter in the local area. Well for this time around I made a couple of quick changes, then went out and did it again. According to my Wii Fit the total pack weight came in at 60 pounds, which was a target weight for me and I wanted to see how tough of a go this would be. Here is a packing list of what I was carrying:
Pack
Kifaru MMR w/ XTL
Kifaru large pod
Kifaru 2-quart pouch (attached to waistbelt)
Electronics
1 x Princeton Tec EOS Rebel headlamp
1 x Custom 3 x CR123 light w/ Malkoff M60L lamp
1 x Pelican Battery Case containing
- 17 x CR123 batteries
- 6 x AA batts
- 6 x AAA batts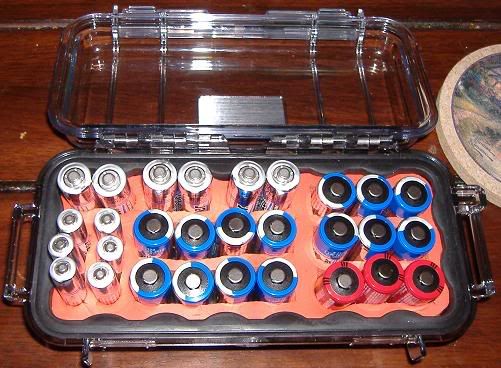 Clothing
2 pair Columbia Falmouth II wool socks ( = Smartwool medium hikers)
1 pair ExOfficio synthetic underwear
1 pair ACU-style pants
2 OD cotton/poly t-shirts (generic)
1 TAD Gear wool beanie
1 set Bass Pro synthetic long underwear (top & bottom, made with Polartec Power Dry fabric)
1 TAD Gear Stealth Hoodie v3.0 (Shark Skin, lightweight)
1 pair nomex gloves
1 pair Jack Daniels board shorts
1 pair Guinness slippers
No pics of clothing, sorry but it's mostly just basic stuff.
Fire
1 x LightMyFire Swedish FireSteel fire starter
6 x Ultimate Survival Wet Fire Tinder cubes
1 x Bic lighter
1 x vial wind & waterproof survival matches by Pro Force Equipment (25 matches)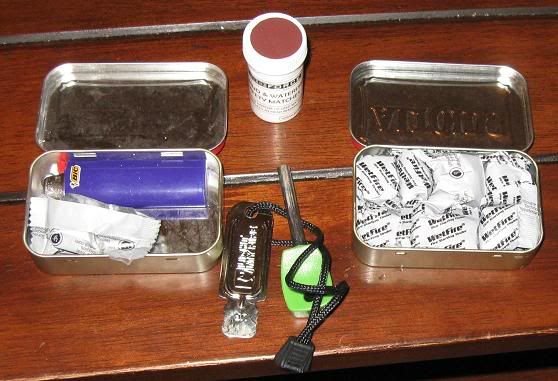 Camp Kitchen
1 x MSR Alpine Classic cookset
2 x GSI Lexan Deep Plate (9.75" diameter)
1 x GSI Camp Gourmet Telescoping Spatula
2 x MSR Packtowl Original (small)
2 x Light My Fire Spork
1 x Coffee mug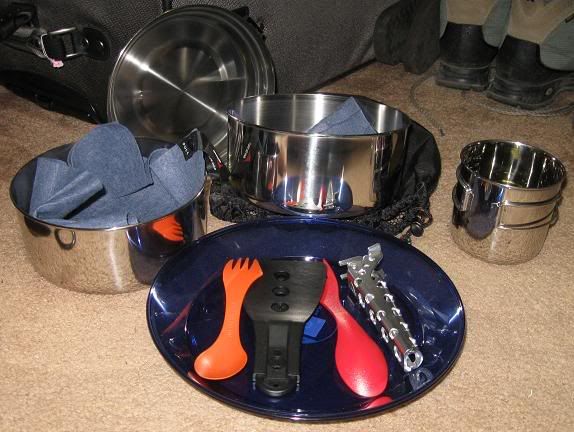 Hydration
1 x MSR Miniworks EX water filter
2 x wide-mouth Nalgene bottle
1 x 102 oz Camelbak Omega Reservoir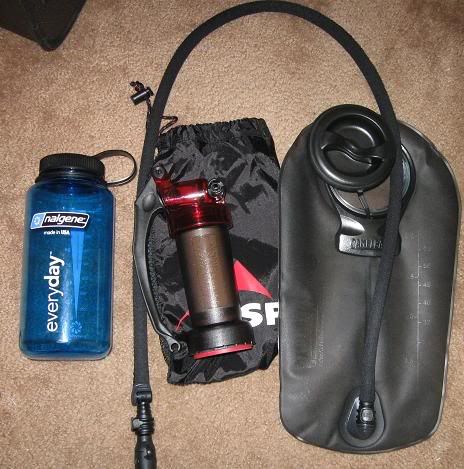 Sleeping
1 x Kifaru Regulator Slick sleeping bag w/ stuff sack
1 x Thermarest RidgeRest sleeping pad
1 x Coleman Fossil Creek tent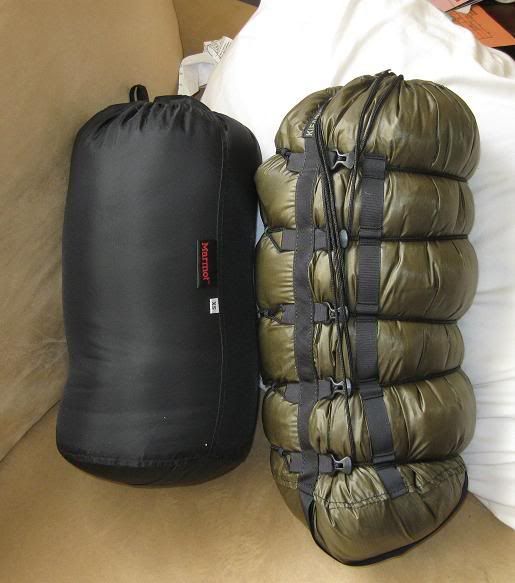 Cutlery
1 x Ka-Bar knife
1 x Snow & Nealley Hudson Bay Camp Axe
1 x Gerber Multi-tool
1 x Kershaw folder

Misc
1 x Wind Storm All-Weather Safety Whistle
1 x Pack wet wipes for wiping my ass
1 x spray tube hand sanitizer
1 x USGI non-tritium compass
I was too lazy to assemble this stuff for a pic
Food
2 x cups rice
1 x can tuna
3 x cups oatmeal
1 x 1.5 lb porterhouse steak
4 x granola bars
2 x single-serving packets of gummi bears
2 x packages beef jerky
FAK
Sorry don't have a breakdown of contents right now.
Weapon
Ruger P89 w/ Hogue grips
16 rounds Winchester hollow-point ammo
4 rounds 9mm snake shot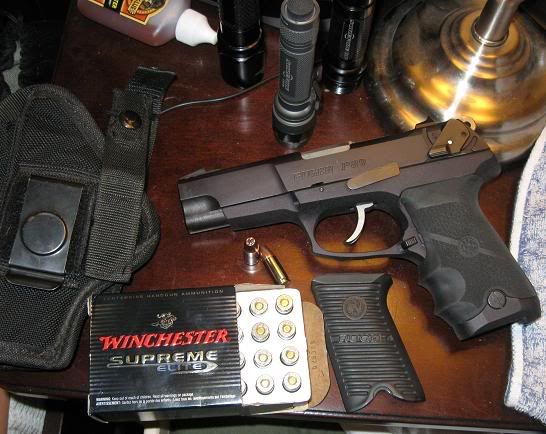 Put it all together and it looks sorta like so: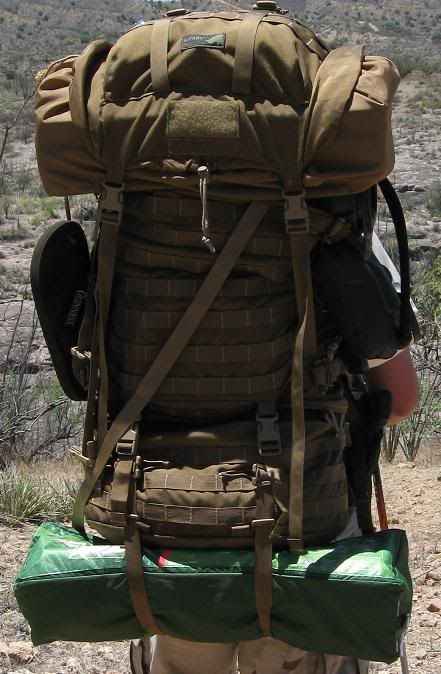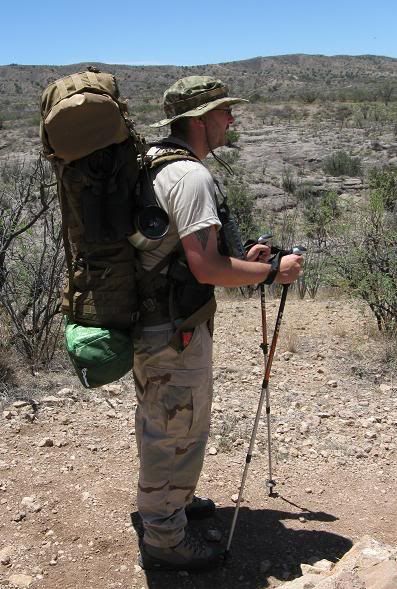 One piece I added to my kit that was a great help were the trekking poles. They are Leki Makalu poles and made a big difference in the speed at which we were able to move. My wife and I were able to make the trek in almost exactly 2 hours this time, increasing our speed by about 20%. Stability was noticably better as well, but the biggest improvement came when trying to climb uphill with all this stuff. Despite that I was carrying more weight than last time, I had an easier time getting up the hills because I was able to use my arms to help pull myself up with the poles, instead of relying on pure leg muscles. Great thing to add to a kit if you're carrying a lot of weight, and makes it easier to cross streams too
Once we got to camp we decided to test our survival knowledge and see if we could build a shelter. We decided on a simple shelter and tried to use as few tools as we could get away with. We ended up using the camp axe and worked this up: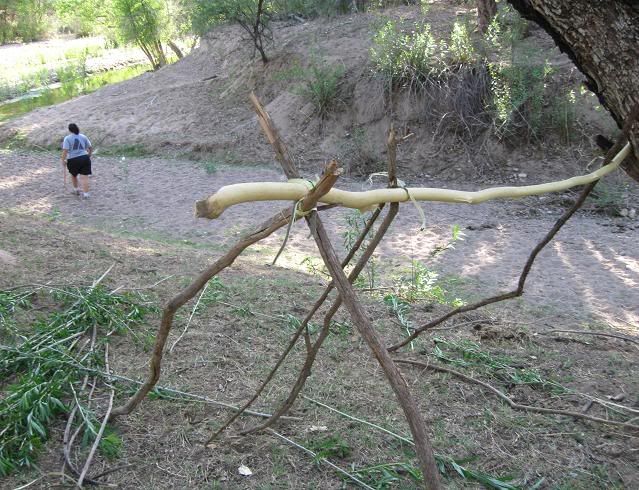 Starting off as a simple thing, I cut some green wood for a top pole and used the bark to tie it all together. It worked a little better than I had expected it to: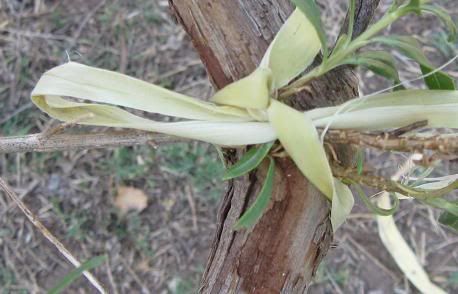 Some other dry sticks were leaned up against one side while my wife cut some greenery to lay on top of it, ending up with this:
We spent a total of maybe 20-30 minutes working on it and, if we needed to, we probably could've built one more complete or larger. We just kinda said "ok we got the concept, let's find something else to do" at that point. We were going to try to catch some more crawfish but had a hard time finding them. I thought maybe we should wait until after dark and try again, so instead we just built a fire and got to cooking: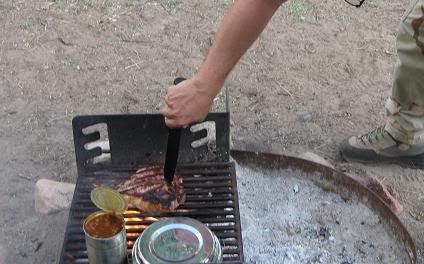 I had heard it would be difficult to cook rice over a camp fire so I wanted to try it out. I like rice as a food and it's pretty healthy, so may as well know if it'll work out or not. I cooked it in one of the pots of my cookset, just mixed it up like for my rice cooker at home and set it on the grill for a while. Came out pretty well: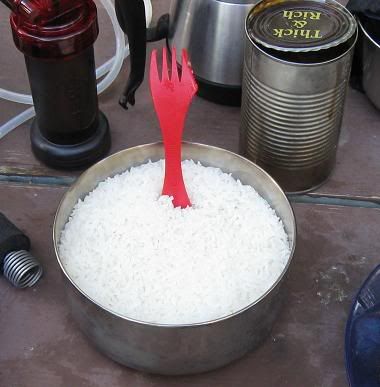 We also had a can of baked beans that my wife brought, so we cut the steak...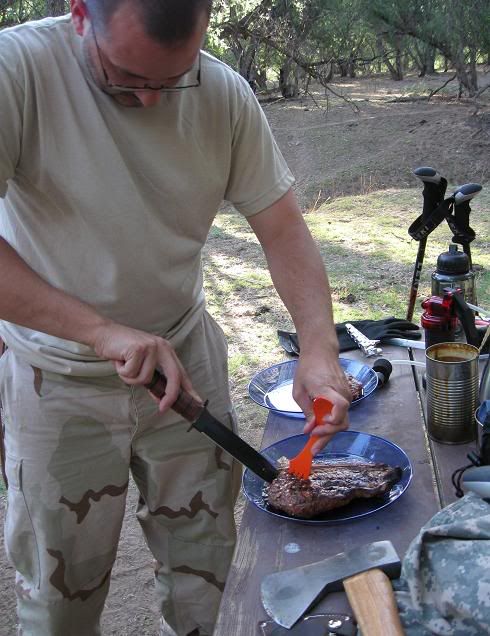 And made our plates: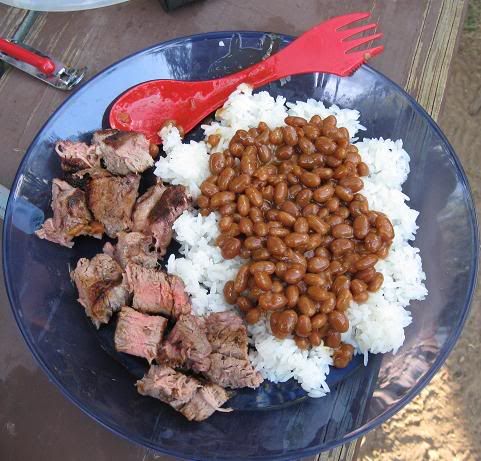 Of course I didn't want my Kabar to rust, so I cleaned it off promptly: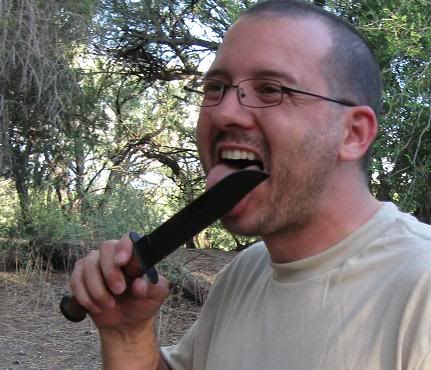 Last time I went out I barely used the Kabar, but this time I used it quite a bit. Used it for everything from cutting brush and small branches to cutting dinner. I was going to try and use it to open a can but I got lazy and too hungry to mess around with that (good thing the wife brought a can opener). Of the cutting tools I didn't use this time, the Kershaw folder was still on the list. I think that unless I am planning on getting fish, I'll consider leaving that at home instead. The axe is a definite keeper, the Kabar has merit as a good knife, and the multi-tool gets used for knifeing or the pliers, but the folder has yet to show me anything cool. Heck even my wife found a use for her Kabar, she sat around most of the afternoon carving spears (I don't know why either, but I know we were protected from vampires).
Later on that night we decided to try for crawfish again, so we went down to the creek with our headlamps and crawfishing gear. Turns out that crawfish are nocturnal, the creek was virtually swarming with them but they would try to run away from our lights. Despite that, we were able to snag a few: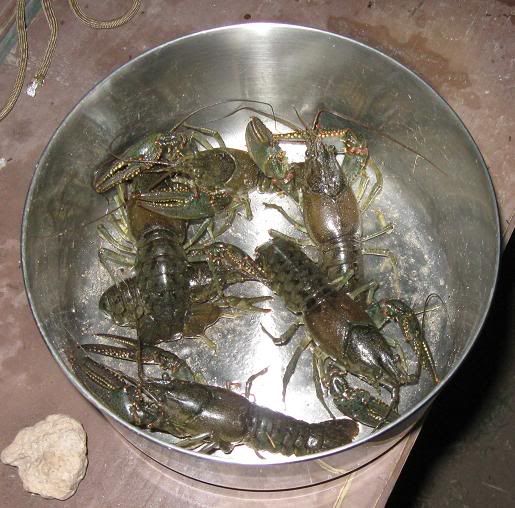 Snagged 6 before we called it quits, but there were plenty more available. We got all these literally within about 50 feet of our tent, mostly from the same spot that wasn't anything special. We weren't really hungry at this point due to the filling dinner but wifey wanted to cook them up anyway: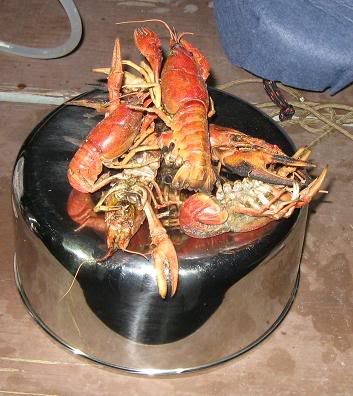 I also tried cutting open a cactus while we were out to see if it was full of candy like I was told, but turns out it was just solid throughout with the texture of a watermellon rind, only not as wet (I was hoping for skittles). So what did we learn on this trip?
1) The desert is still friggin hot, and water weighs a ton
2) Shellfish hunting may be best done at night
3) You can build a house with just an axe, at least a temporary house
4) Trekking poles help a lot
5) Starting a fire in windy conditions is still hard
6) Nomex gloves are friggin great for helping you get to your food while it's on the fire, just get in and out quickly
Sucky thing is this was likely my last trip for a bit, looks like a vacation to the sandbox is in the cards again. I feel that this is a good weight load and in a survival situation I would probably swap the steak out for more rice/beans/oatmeal or possibly survival rations. The rest is a good fit, and while I could go lighter it would likely cost some comfort or durability that I would rather just get in better shape to keep. Hopefully while I'm in the desert I'll be able to get in better shape to make this sort of thing even easier.
So that was this trip, tonight it's chili, Guinness, and UFC 99.