Zebralight H501 headlamp review:
A few weeks ago I got the new Zebralight H501. Already own a H50 but wanted a single AA headlamp that can operate with one hand as the fine H50 is a twisty. For anyone interested in my H50 review please view the follow link.
http://zombiehunters.org/forum/viewtopi ... 50#p830697
" onclick="window.open(this.href);return false;
Here are the H501 stats from Zebralight.
http://www.zebralight.com/
" onclick="window.open(this.href);return false;
• Light Output: Constant ratio output level spread. Current regulated.
o 96 Lumens (2.3 hr) on High
o 18 Lumens (19 hr) on Medium
o 3.3 Lumens (3.5 days) on Low
Light output and runtimes are measured using a Sanyo 2700 mAh NiMH battery. Light output are out the front values.
• LED: CREE XLamp XR-E Q5
• Weight
o 21 gram (0.74 oz)
o 41 gram (1.45 oz) with an alkaline battery
o 63 gram (2.22 oz) with a battery and headband
• Dimensions
o Diameter 18.5 mm (3/4")
o Height 71.2 mm (2 3/4")
• Battery: One AA size alkaline, 1.5v lithium primary, NiMH rechargeable, or 3.7v 14500 Li-ion rechargeable. Reverse polarity protection.
• Beam Type: 80 degree flood, with no hotspot
• Constructions
o Soft touch pushbutton switch, with a minimum operating life of one million cycles.
o Recessed impact resistant LEXAN polycarbonate lens.
o Precision 3D machined casing from premium grade Alcoa aluminum alloy billet, light weight with superior structural strength.
o Electrically conductive aluminum body provides inherent EMI/RFI shielding.
o Durable hard anodized finish.
Waterproof
________________________________________
Meets IP68 in accordance with IEC 60529
• Dust-tight
• Protected against continuous immersion (1 meter, >30 minutes)
Operations
________________________________________
• From Off
o Press and hold to cycle through Low, Med and High, release to set.
o Click to High, click again quickly to cycle through Med, Low and High.
• When On
o Click to Off.
o Press and hold to cycle through Low, Med and High, release to set.
• When High
o Double click to toggle between Strobe mode and High.
The H501 comes with the following accessories.
• One black silicone holder with headband
• One glow in the dark silicone holder
• Removable pocket clip
• Two O-rings
Here is a comparison photo of the Rebel EOS II, H501, H50 and Camo PT Aurora headlamps.
Direct comparison photo of the H510 on the left and H50 minus glare shield. The H501 does not need a glare shield due to reduce flood light. The H501 produces an 80 degree flood and H50 120.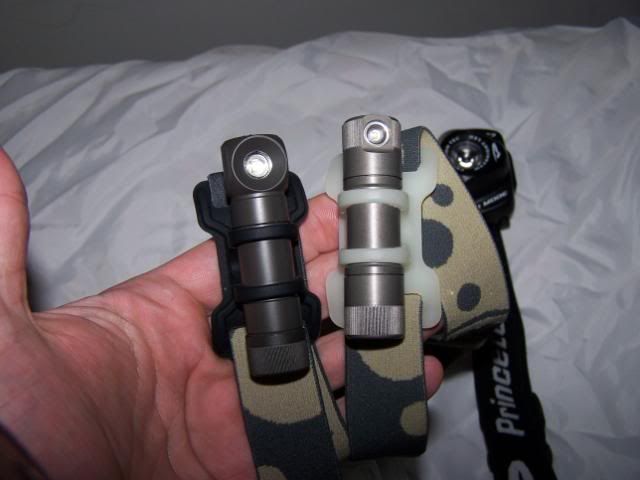 On big pro of the H501 is Zebralight's preference to warmer tint Cree Q5 LEDs. The older H50 was more of a crap shoot. Zebralight is now using Cree Q5-WD with tints in the 5700-6350K range. In non technical terms this means lights with a Q5-WD LED should lack the angry blue tints that often cut though fog, rain and snow less. Blue tints also make natural environments appear less real. They are also selling a warm tint Q3-5A version that will be available soon. I originally ordered this version on a limited run but was shipped the Q5-WD in error so according to the company they will send me the correct one once they become available. If this happens I will update the post with info on the H501w (warm tint) version.
Beam shots from left to right. H50, H501 and Rebel EOS II.
H50, H501 and Camo PT Aurora.
Impressions and field testing.
The H501's beam much like the H50 is primarily flood. It is more directed than the H50 but still this headlamp is more for camp than bushwhacking. Still on medium it is very possible to hike on well defined trails. The 96 lumen high will light up a very large area. The low is enough for basic camp jobs and runs for over 3 days regulated. The circuit is probably the most efficient on the market. The runtimes listed on the stats are regulated meaning constant output for the life of the single AA battery. Most headlamps on direct drive can have 100 hour runtimes but after 50 they will be less bright than even the constant 3.3 lumen Zebralight's low. Part of this is the efficiency is the Cree Q5-WD or in the case of the warm tint Q3-5A. Still the circuit must be very efficient to get the listed runtimes.
The UI does take a little getting used to. Press and hold for a second to start on low or a fast click for high. Then just hold to move though the modes. Press again to turn off. Double tap on high for strobe. I am no fan of strobe modes so like that this is far out of the way. The clicky is very easy to activate. This is great for one hand use as the headlamp does not have the mass to remain in place if they used a stiff clicky but the downside is the headlamp must be locked out before packed in a BOB etc. This is easly as just a 1/4-1/2 twist of the tall cap locks the light. But something to consider. Field testing was done using multiple hikes and a 4 day flyfishing trip.
Buddy using my H50.
Catching trout. We only kept enough for the fry pan but I got 56 and my friends landed 48 and 35.
Pissed off trout.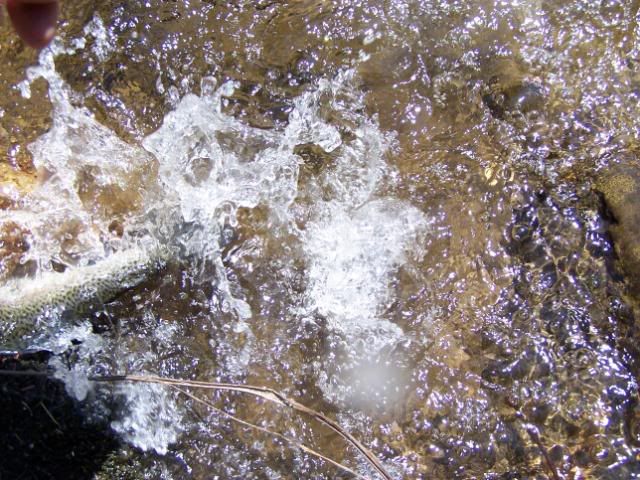 One of my friend's kids working the fly like a pro. The little guy landed 10.
The H501 ran on one AA battery for the whole trip as I mostly used the low and medium settings. This was more than enough for camp work. The hikes used medium and occasional high setting for reorientation. Most of these hikes were return trips from native trout fishing on some local streams. Still the night hikes were over a mile and involved some stream crossings in the dark. Worked very well inside the tipi as a tent light. This would also apply to most any shelter or camp.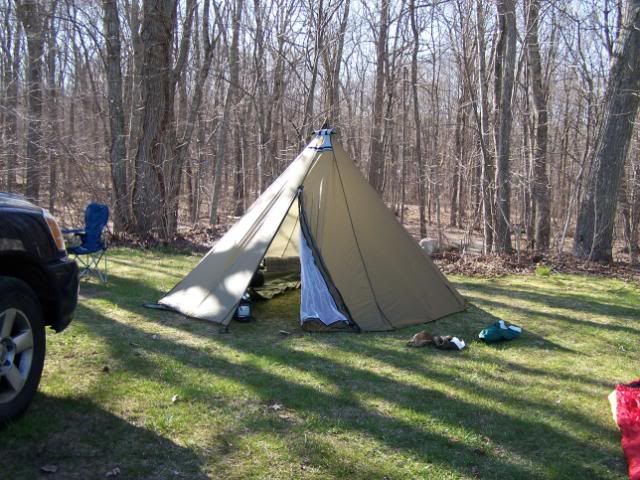 Pros:
1. Very efficient output. The regulated runtimes and lumens for a single AA battery are just amazing.
2. Extremely comfortable. I hardly know it is on my head. Very UL.
3. Uses common battery types. Runs on a single AA primary be it Alkaline, NiMH or lithiums. Also can use Li-ion rechargeable. Works best using NiMH or Lithiums for the high modes.
4. Well built.
5. Aluminum construction.
6. 80 degree flood light provides for a smooth working light.
7. Very easy switch. This allows for one finger mode changes.
8. Silicon bracket/ holder plus threaded trail camp means no headlamp adjustment hinge or battery latch to break.
9. The Q5-WD tint works very well with the outdoors. Want to see how the warmer tint Q3-5A looks.
Cons:
1. 59 bucks is not cheap and can only be purchased on-line.
2. The waterproof rating for me indicates protection from heavy rain and dunking. Don't know if I would want to intentionally submerge it for ½ an hour. I say this not because it looks like it would leak all that easy but water infiltration can be more of an issue with regulated circuits than direct drive lights.
3. Silicon grease was needed on the treads. The treads are smooth but still think they should have done this at the factory.
4. Must be locked out if packed due to easy switch.
5. Light cuts off fast due to near perfect regulation.
6. A new product so has no real history to determine longer term durability beyond good construction.
7. 80 degree flood is nice for a wide field of vision but at the sacrifice of throw.
Conclusion:
Passed the field test of a 4-day camping trip with flying colors. This includes field chores like cleaning fish in the dark and cutting wood for the stove. I was amazed by the output and regulated runtimes for a single AA battery. I plain on packing the H501 or H50 into the INCH bag due to the crazy regulated runtime on low. This combined with my solar fold up solar charger can keep the Zebralight running for a long long time.