A few months ago I decided to put together a new 72 hr kit. I built ou my INCH over time and I still think it needs some work. The problem with the INCH is that it was cobbled together over a long period of time without a cohesive overall plan. Also I think the INCH scenario is a really tough one to tackle. So... I left that for another day... The scope of a 72 hour kit is much easier to grasp. If the mandate is only 3 days, and some items would obviously last longer... it would give me added flexibility. The scope of the kit was to be a three season kit, supplemented by another bag if it was to be used in winter. Additionally I wanted to put a totally new kit together, from the ground up. This would save me from having to root through my camping and INCH gear to grab key items, possibly under pressure. I wanted to find a middle ground between super expensive high end high performance gear and cheap cr*p. Since I was willing to take a few months to put the kits together, I decided to take advantage of sales and clearances as a key strategy.
The Pack:
I selected this chick magnet tacticool bag that was on clearance from campmor for $21. The pack has a waist belt and a hydration bladder pocket. :
Now is it the hottest daypack? No. But it's well made by a reputable company 2500cubes for $21. That's the sort of decision I was aiming for with this kit. I probably could have used a lesser pack, remember it only has to last for 3 days. But it would be hard to find a lesser quality pack for less than the money paid. It would also be less likely to attract unwanted attention from law enforcement on account of it looks so goofy. (That's the Douglas Adams SEP field effect. [Sombody Else's Problem])
Lets look inside!
The pack has only 2 compartments In the top I have tools and the FAK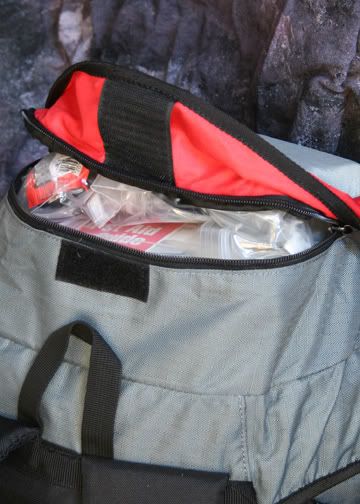 There is a ziplock with the following tools; Cheapo last resort multitool... (I have my Wave on me at all times so this is a just in case last resort sort of thing it was $10 so the bar is set pretty low) A space blanket, a silva polaris (very basic but decent quality compass) a $10 minimag with lithium AA's. The Mora is kept in the main pouch, but I wanted to show it with the tools. Also there is a ferro rod and striker that I got from SG. It came in a three pack for $14... so it was a lot cheaper than a LMF model. The quality is OK. I have it here with the tools, instead of with the pyro stuff for 2 reasons. 1) so all my firemaking stuff is not in one bag, 2) I find that striking it with the file on the multitool is effective.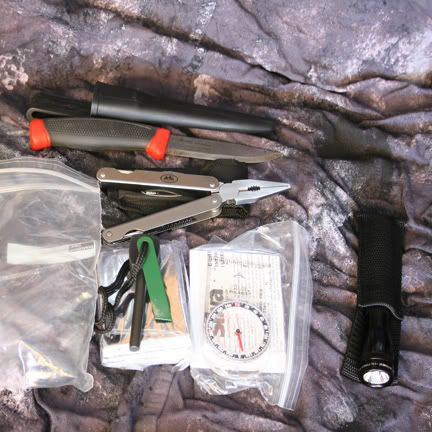 There is another ziplock with my firestarting items. I live in a rural town, If I had to travel overland to a bug out location or staging area, I might have to move overland. Therefore fire is a good thing to be able to make. The kit has 2 primary butane lighters of the adjustable variety. We all know how (from high school) to convert these into mini blowtorches. As a backup there are 2 bics in a sealed waterproof pack. I find the construction of bics to be a little better than the adjustable lighters, but they're all cheap and light so why not have all of them. They would make good barter items as well. There are also 2 trioxane bars 1 big and 1 little. It would easily light quite a few fires. Hexamine is better, but it's usually packaged in quantities larger than I wanted to carry. This stuff is cheaper. I know about the evap problem some have had with this suff. I have work arounds if that happens though. There is also a Uco candle-lantern candle. It can be used for fire making, light, or heat of a small space (with care).
The candle is in a plastic baggie in case it melts.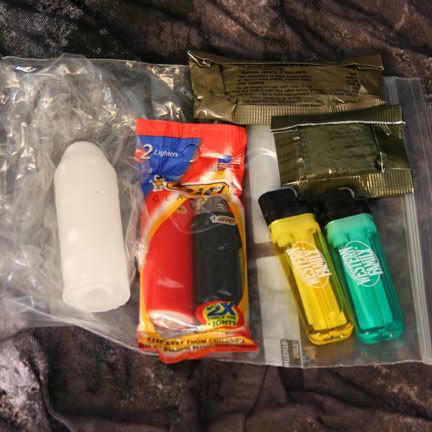 The FAK:
The Fak is based on one of those $10 J&J kits that you can get at the pharmacy of any wal-mart. The kit has been modified, added to, subtracted from and repackaged in this waterproof tackle box that i got from colemans mil-surplus. (i think it was 6 of them for $18 or something)
The kit has metal pinned hinges and 4 latch locks.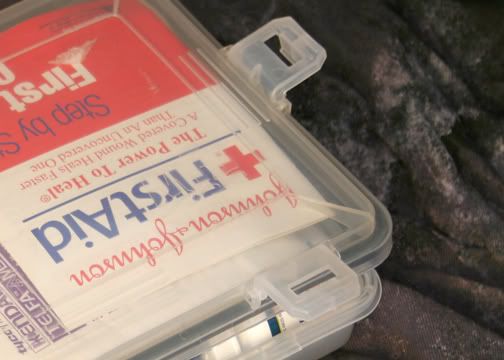 Things I took out of the kit:
A bunch of band aids... remember 3 days... There are an awful lot of them in one of these kits
Space blanket...put it with the tools
Cold compress...just not enough room
All the little packs of meds except for the immodium
The little neosporin pack.
The tongue depressor...seriously? If i have to I'll use my spork
Things I added:
a small bottle of asprin
a small bottle of ibuprofen
real fabric sports tape
1 roll Kerlix
3 Telfa pads
3-1 antibiotic ointment tube
Moleskin
pack of Halls cough drops
More immodium
Ace Bandage/wrap
The basic kit was $10 The additional stuff was about $15. The box was about $3... so less than $30.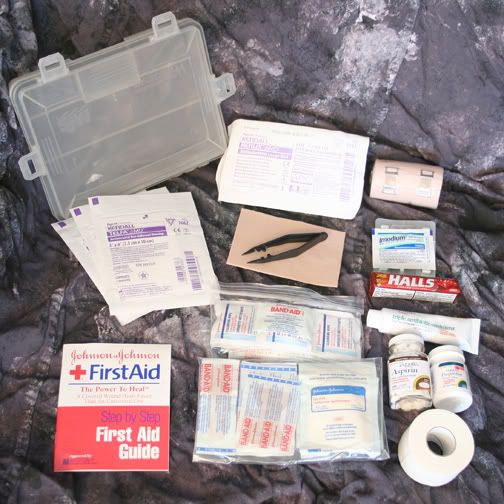 Now on to the Main Compartment...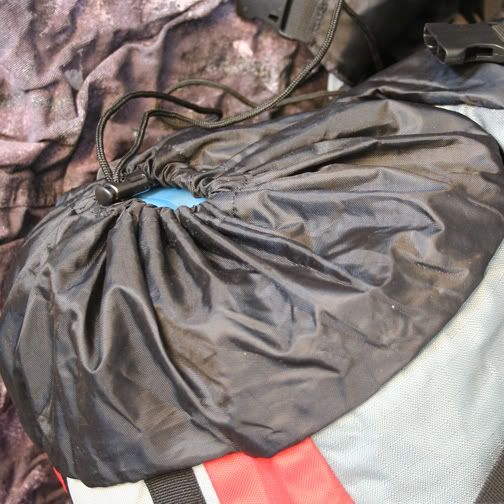 The bag is fairly well made, but to protect some of the elements from a driving rain, I elected to use a military ruck liner. Now these are not the highest quality of dry bag you can get, I don't know how well i would trust them in an immersion test, but for rain they're ok. Also the liner protects the contents from the hydration bladder and the stove fuel if there is a leak..
The hydration bladder is a 100oz hydrastorm on sale from CTD for 3for $30. That's not a bad deal. It got better since I bought these (3for20) GRRR. But thems' the breaks.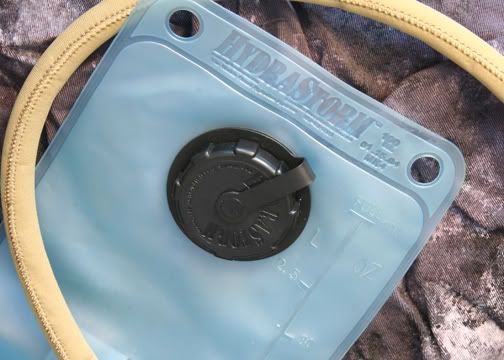 As I said outside the bladder are 2 additional items, The stove fuel and the swiss alpenflage poncho:
The alpenflage poncho is very sturdy and made of a heavyweight vinyl. (It smells like a shower curtain) I agree with anyone who says that a US mil poncho is better...I have one of those assigned to my INCH gear But they cost $30. These were 5 for $14. I dare anyone to find a poncho as good as this for that price... Double dog dare...
Inside the Liner:
-
There are clothing items: I went down to the thrift store and picked up some cheap used fleeces for VERY cheap. There is a pair of leather work gloves, a pair of cold weather glove liners that can be made to work with the leather gloves, a winter hat, a pair of spare socks, and a mylar sleeping bag. For three season use the ponch, hat and mylar bag should be a halfway serviceable shelter system.
The mylar bag stores inside the leather gloves for protection.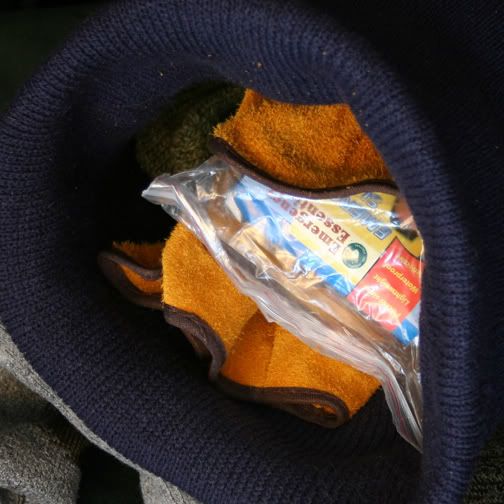 Cordage items: These are an assortment of low cost nylon strings and cord, additionally a small sewing kit. The cord is not paracord, rather other stuff i picked up from the hardware store. I may add some paracord later.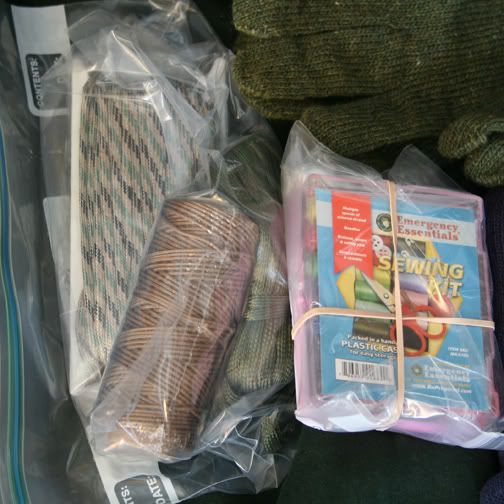 Sanitation items: There is a role of TP in a heavy duty Ziplock.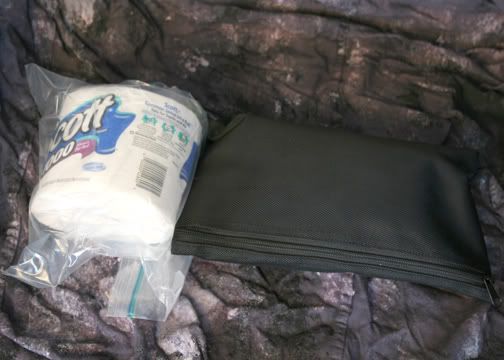 The rest of the items live in this pencil case.
The contents include 5 feminine pads(for GF, or bandages, or firestarting) , A rayon camptowel from wal-mart, and a bag of other hygene items that are pretty explanitory: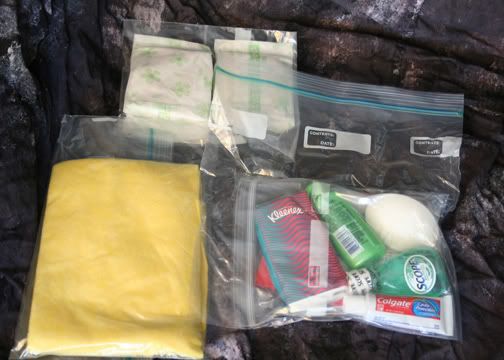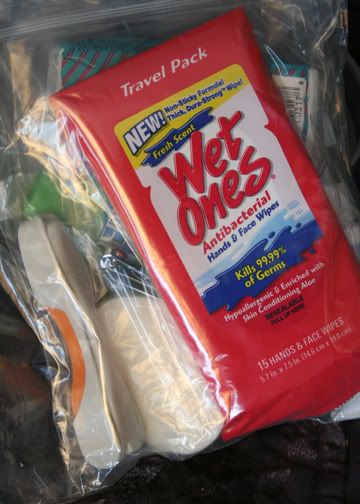 One note of something that often gets overlooked:
...Nail Clippers!!!
Water and food items:
Now let me say right off that I hear all the people that say "You don't need that stuff for a 72 hour kit!" I know i know, but hey this is me guys. What are the odds that I'm going to put any sort of serious kit together without a way to heat water? I can tell you to 5 decimal places! (0.00000%) Nothing calms me down in a stressfull situation more than a cup of tea or cocoa and a good think. Plus it's a multi-use item... allowing me to boil drinking water. Keeping with the three day mandate... and allowing for some extended use, this is what I put together: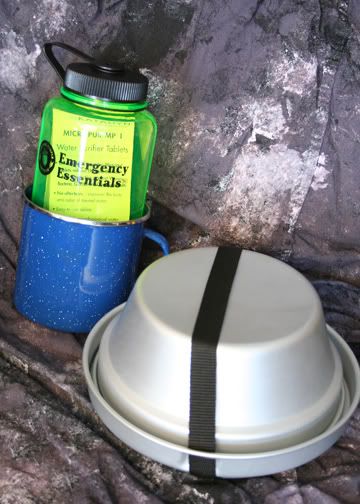 There is a crazylarge enamel mug that i got from campmor for $5. I debated getting a SS space saver cup, but this is cheaper, and only a little less bulky. There is an Emergency essentials polycarb bottle... Probably full of BPA... but for only 3 days...I'll risk it. Inside the Polycarb bottle are 30 MP-1 water tablets if i can manage to find some clear flowing water. If it's questionable I can boil it. There are 24oz of alcohol... which is a liberal amount for 3 days. This allows me to boil drinking water if necessary. As you see below, this cook kit has been tweeked with the Trangia burner/simmer ring, a LMF spork and a pack of pre-soaped sponges ( a three pack incedentally)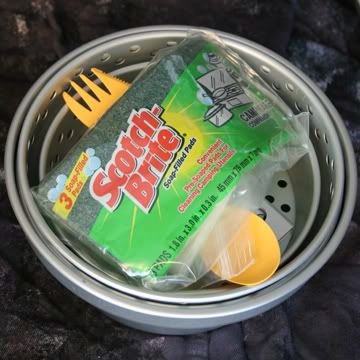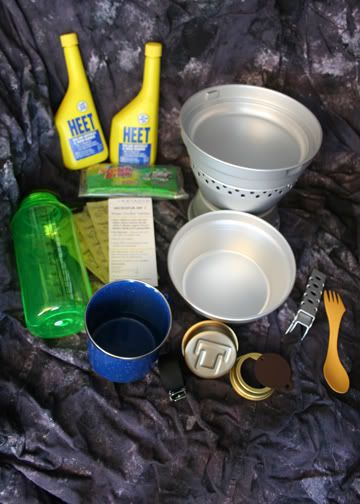 The Arno strap on the cook kit has been purposely left long, so as to be a multi use item.
The food pouch: All of the food is in a 2 gal ziplock. I love these things.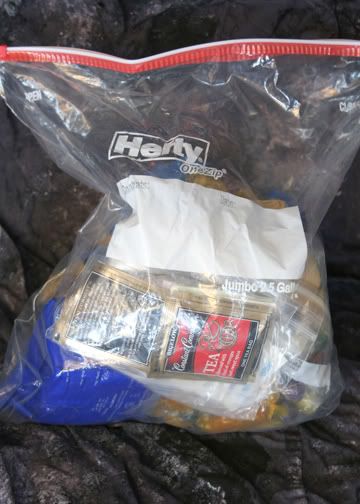 There is a 3600 Datrex, which should be enough for the three days. But we want to have flexibility and a little comfort in this kit.
So, there are some hard candies, A tea kit useful for 2-3 uses, Hot cocoa kit, Some fruit leathers, some jerky, and 4 single serve mountain house entrees.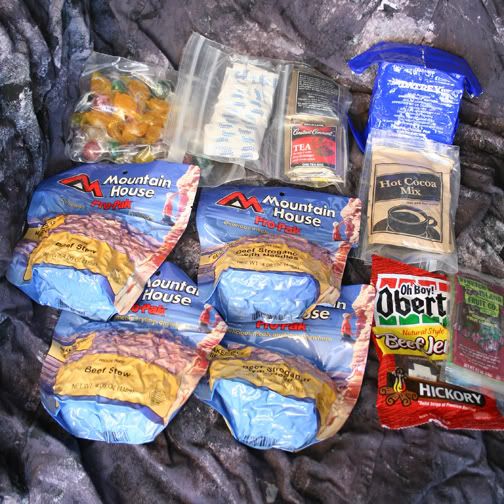 That's about it.
Oh, one more thing... I noticed that when i went to start buying things for these kits that they often came in multi-increments. (3 hydration bladders, 3 firesteels, 6 waterproof boxes...)
So... uh...
I made 3 of them: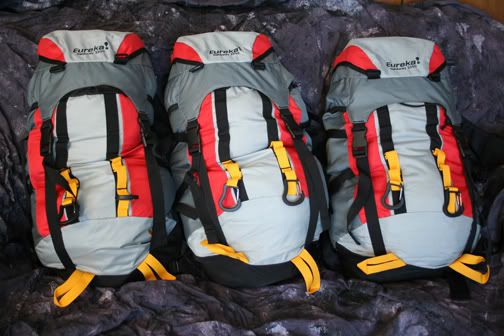 I figure one for me, one for GF, and one for whoever shows up first.