Cheap UL water filter system.
I have a few filters however this is the system that I have been using over the last year camping. It is not really a filter but rather a concoction of components that produces good drinking water. Or at least that has been the case for me so far.
The components are:
1. Sawyer filter bottle for tap water.
2. Old Platypus water bladder.
3. Micropur water treatment tablets.
4. Nalgene canteen.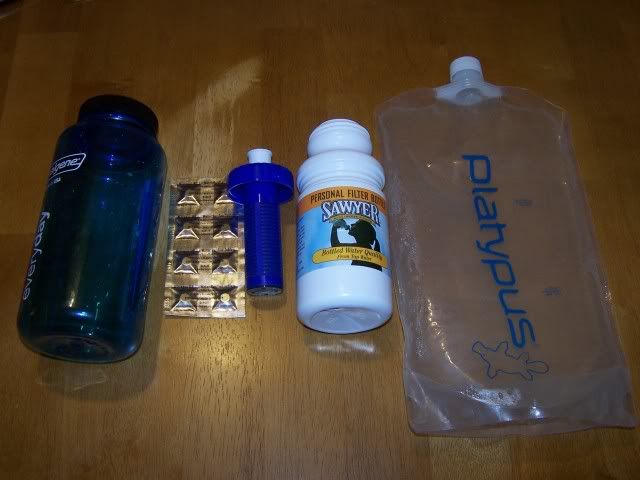 The Sawyer filter bottle for tap water is not meant to be used alone. It was made to remove lead, chlorine and odors from tap water. But it does the same for treated water. It removes the chemical taste from most water treatment tabs that I have tried. Also removes much of the tannins and other contaminants that the tabs don't. These are cheap. I got mine in a discount store for a few bucks but seen just the same product for under 10 dollars in most B&M stores. The Sawyer treats 20 gallons or 150 bottles. It filters down to 23 microns. Clearly not enough to remove harmful biological organisms in its own right. I am thinking it uses activated carbon to remove chemicals and metals. The total weight of the tap water filter bottle, extra platy bag and treatment tabs is 5 oz.
The process is fairly simple. First fill the Platy and drop in the tabs. Setup camp or hike etc until the pre described time has elapsed and the water is biologically safe. Then I just pore the water into the tap water filter and squeeze it though into the canteen. Because the filter is doing only 23 microns it is a snap. I have treated and filtered gallons of murky frog infested water using this and the end product is clean and very palatable. Looks, smells and tastes far better than just using tablets alone.
Informational links.
Tap water filters.
http://www.fit-fresh.com/products/livpure/
" onclick="window.open(this.href);return false;
http://www.usimprints.com/prod/promotio ... 372057.htm
" onclick="window.open(this.href);return false;
Water treatment tablets.
http://www.safetycentral.com/wattreattab.html
" onclick="window.open(this.href);return false;
Platypus.
http://www.platy.com/product_selection. ... tegoryID=8
" onclick="window.open(this.href);return false;
Naglene.
http://www.nalgene-outdoor.com/
" onclick="window.open(this.href);return false;
Aquamira filter straw.
http://www.cheaperthandirt.com/CAMP174-1.html
" onclick="window.open(this.href);return false;
All this brand name gear is not really needed. Someone on a tight budget could probably go into Wally World and pull something very similar together really cheap. Even cheaper if they use an empty plastic soda bottle for the untreated water container. On a side note make certain you keep track what container has the
untreated
water and use the filter bottle
AFTER
the tablets make it safe. Do to weight and limited overall requirements of a 72-hour bug out this system backed up with a Frontier filter straw has replaced my MSR water filter which has been moved to my INCH bag.