I put this here to get some input. Rip into it.
The idea is for a hiking daypack that would contain the essentials for one or two nights out if there was an unexpected emergency. This would be intended for 3-season use. The importance of this was demonstrated recently when a party of dayhikers was trapped by rising water at a local creek. Even after they were found (They were able to call for help on a cel phone) emergency services was unable to get to them. They dropped some gear to them from a helicopter, but were unable to land due to the nature of the gorge and the wind conditions. The group was forced to spend an unexpected night out. Some suffered mild hypothermia even though it is summer.
This would also work as a 72hr kit by stretching the food a day. (or adding a little more before going out the door)
Significant improvements include; larger capacity than my earlier system, provision for shelter, enhanced water purification, and a better bivy sack.
The system is contained in a Kelty Redwing pack (i think 3100) There is room to spare.
This is where I got it:
http://www.rei.com/outlet/product/765325
This is a minimal FAK.
EDIT: The sawyer kit has been removed
.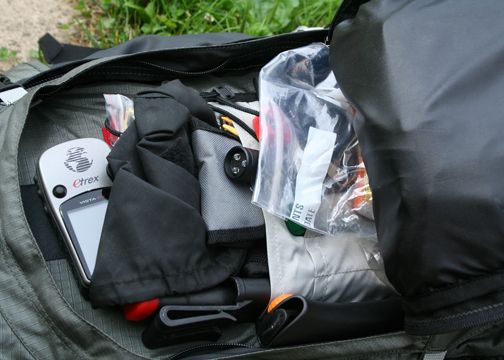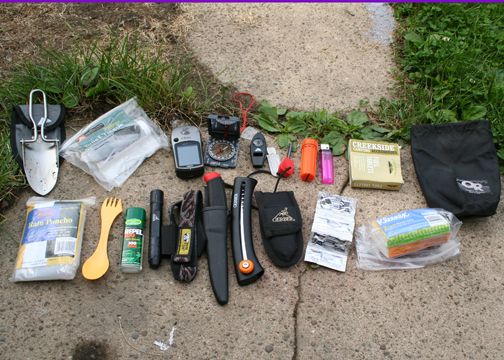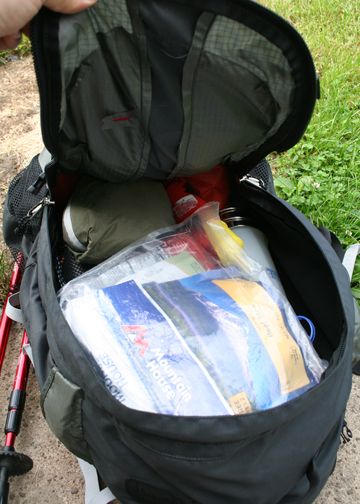 The small orange bag is the bivy, The large orange bag is a fleece sweatshirt, the black bag is a water filter. The little green bag behind the cook kit is a rainjacket. The large green bag is the tarp and stakes.