Glow sticks are great. First and foremost, they're just fun. I don't go camping without them. Glow sticks have another purpose too, though. They can be used to mark a camp or signal for help during a survival situation. When they're being used for something this important, people don't want to sound like fourteen year olds at a rave, and so refer to them as chem lights.
Every once in a great long while, I'll find that one of my glow sticks is a dud. If I'm camping, it's no big deal. If I were in a survival situation, however, problems might arise.
I was told to look into getting a Krill Light. A Krill Light is an electronic glow stick. It's water proof, shock proof, "virtually" bomb proof... all around very decent. At $20, it seems fairly priced. I don't have one myself, but I've used a friend's. As nice as they are, I just can't justify spending $20 on a glow stick when I need one for my EDC and 2 for my BOB. Someday I'd like to, but there are just too many preps that need to be taken care of between now and then.
http://www.modernoutpost.com/gear/details/kr_krill.html
" onclick="window.open(this.href);return false; (Buy the Krill Light. Heck, buy me one too, please.)
A cheaper alternative I've found is the Garrity Fun-tastick Battery Operated Glow Stick. TheFreakinBear and I picked up a few of them on sale at Meijer's last week for $1.74 each. In store, they previously were $3. 49 but can be found online for less. They are disposable, but give 24 hours of light, and can be turned on and off. Also, at that price, I've got one in my EDC and 2 in my BOB, just like I wanted.
http://tinyurl.com/OmegaManGarrityFunTastick
" onclick="window.open(this.href);return false; (Buy the Garrity Fun-tastick.)
More info here:
http://www.garritylites.com/page77.html
" onclick="window.open(this.href);return false;
These photos compare the Garrity to regular glow sticks. Er, I mean chem lights.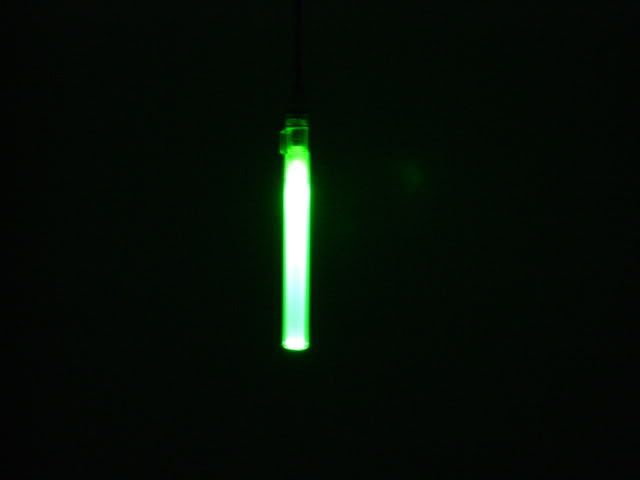 As you can see, they appear to be every bit as bright as a regular glow stick. They are water resistant, but not water proof. They come with a break away lanyard, but I'm probably going to replace mine with some paracord. Available colors are green, red, white and blue, though TFB and I found only green and white at Meijer's. The green seems to glow much brighter than the white.
I'd definitely recommend.