You have a FAK for your fleshy butt, but do you carry a FAK for your pack? Tears and rips suck, and they suck harder out in the middle of nowhere. Sure, one can slap together a basic bandaid repair with duct tape and deternimation, but at some point youre gonna want to mend that. This kit also works well for non-pack damage, such as clothing.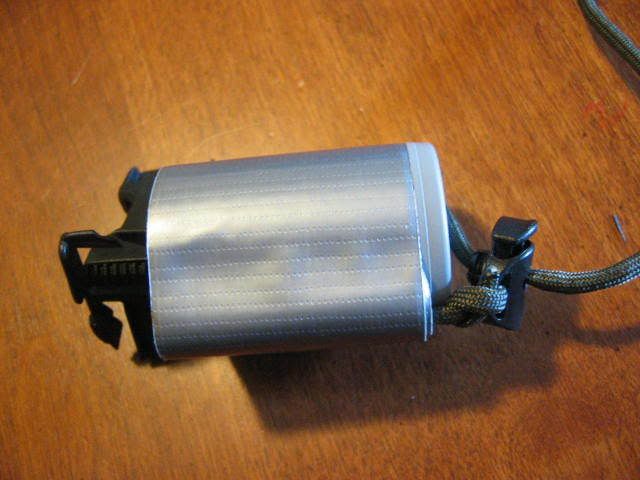 What youll need;
Film canister
Duct tape
550 cord or similar
drinking straw
thread
needles, safety pins, thimble
Field repair sidelock buckles (if you dont got em, Ill show you how to make them)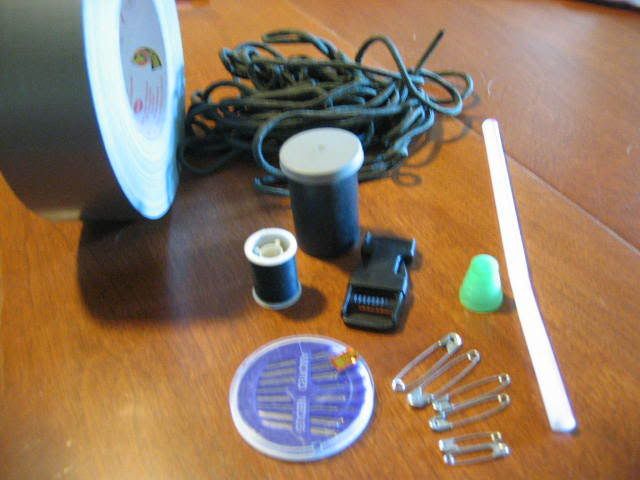 1- Cut the straw down to three lengths, a little smaller than the length of the film tube, or about 2".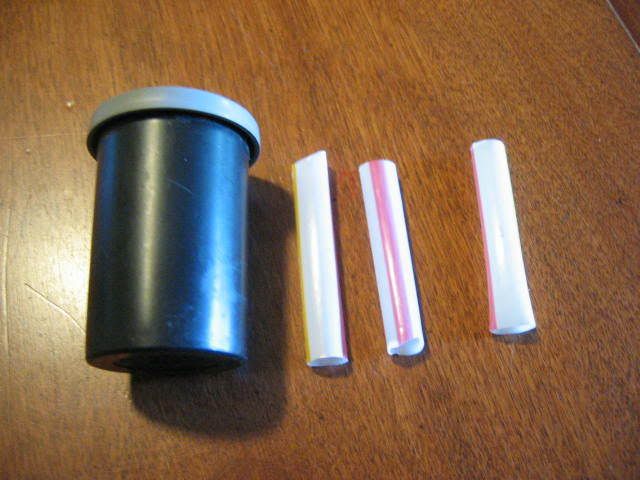 2- Take one length of straw, and feed the end of your string through. Tie it off into a slipknot.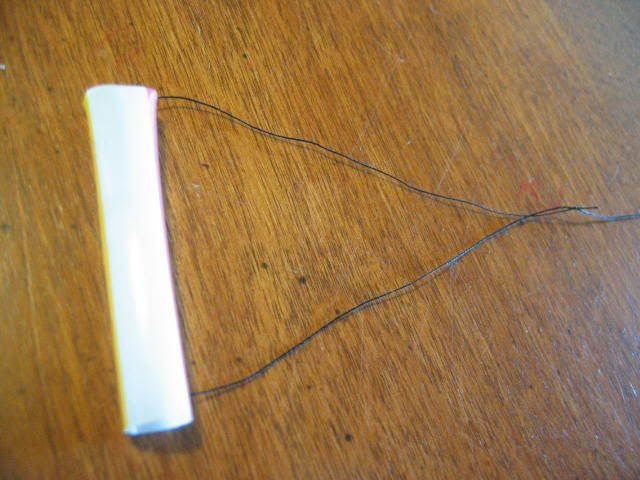 3- Draw the slipknot tight, and center the knot in the middle of the straw.
4- Now wind, wind, wind your thread onto the straw. I only did enough here for you to get the idea. You can put a lot of thread onto this, up to about 1/2" diameter. Keep about 1/4" bare on each end to help it stay on. Helpful trick for winding the string off the bobbin is to place it inside the duct tape so it doesnt roll away.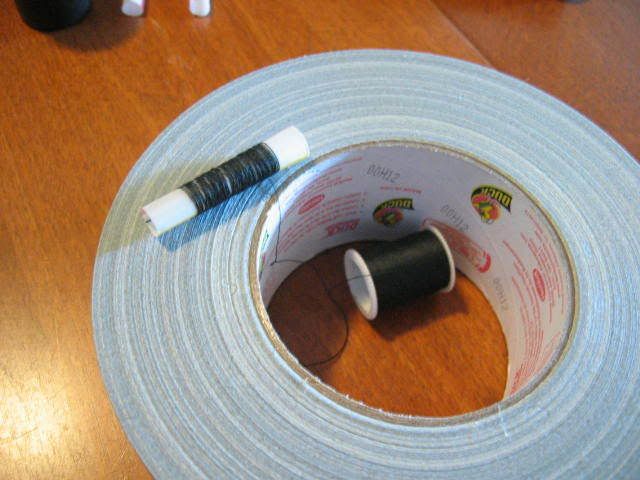 5- Once you have as much on as you please, just cut a slit into one end of the straw and slip the loose end of string through.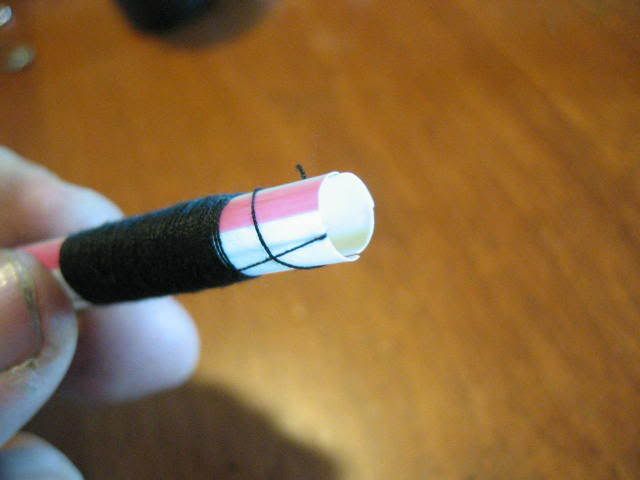 6- Take the other two peices of straw, your film bottle, and a couple inches of duct tape.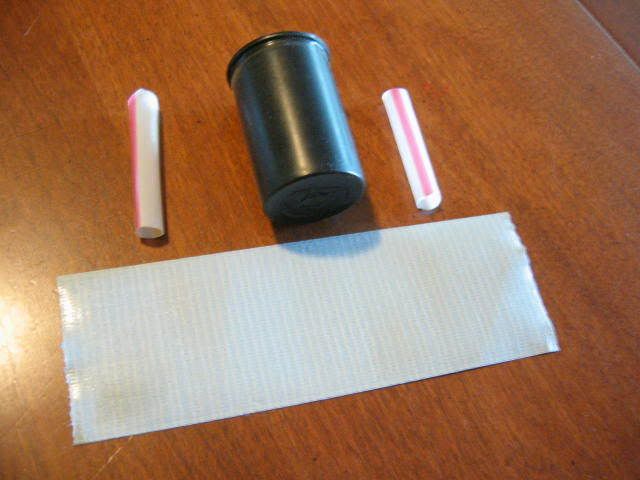 7- And tape the straws to either side of the bottle like so. Since your probably half-cranky from winding all that damn thread, feel free to take a shot of liqour from your new
ROCKET CUP
.
8- Pass some 550 cord through both straws, forming a U with the two tails at the open end of the canister.
9- And wrap with several feet of duct tape. I only did about 5' here.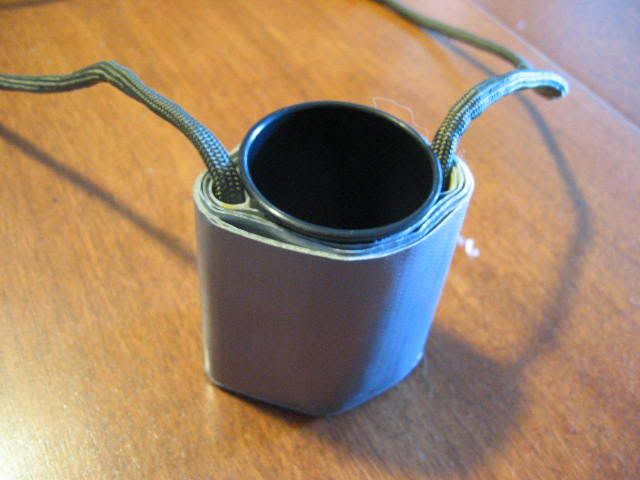 10- Will look like so.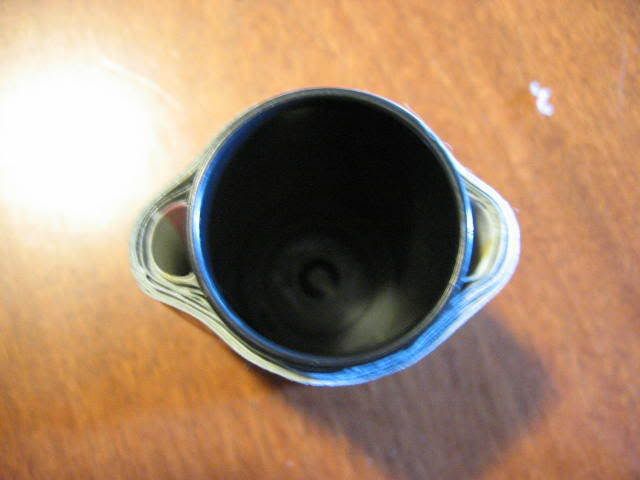 11- Trip the tails of the paracord.
12- Slide out one leg of the loop and thread on a couple feild repair buckles.
13- Slip a couple sewing needles under the thread spool you made.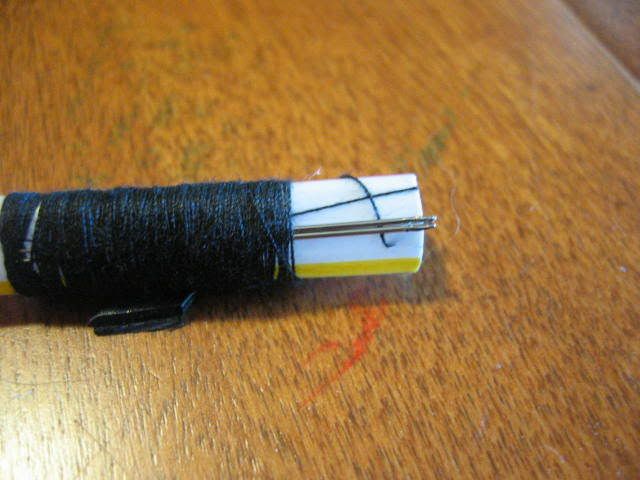 14- And toss inside the canister, along with the other supplies. You can fit plenty of thread, pins, and needles inside one of these if you pack it smart.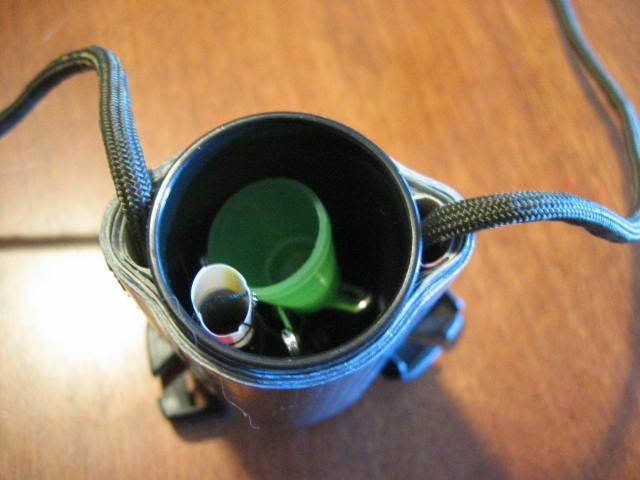 15- Snap on the cap, and tie it down securely with a knot with the loose tails of paracord...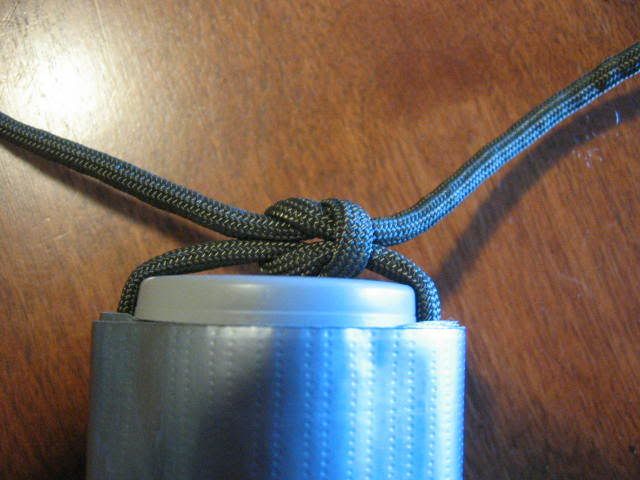 16- ...or a spiffy slide-lock.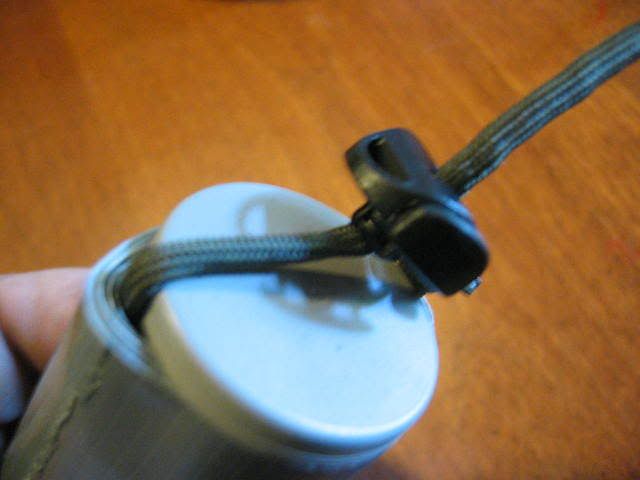 Feild Expedient Repair Buckles-
These are spare side-lock buckles to match those on your pack. The bars that the webbing is looped onto is split. This way, if a buckle snaps, you wouldnt have to cut and re-sew its anchor point. Of course, if its the adjusting side of the buckle, you can just feed the webbing through as normal. Make sure your replacement buckles are compatible with those on your pack, that way you wont have to replace both if only one side snaps.
To make, simply take a sharp pair of wire cutters to the buckles, and cut a diagonal notch out of the middle of the bars.