Fenix L2D Q5 and E01 review.
In the past I carried a Surefire G2/G2Z or Inova T3 inside my 72-hour BOB and INCH bag for secondary use to my headlamps. Great lights but the CR123 batteries are an issue. Being lithiums they have a long shelf life. They also provide more power. But I have been standardizing all my emergency electronics to an AAA or AA format. The advantages are obvious. They cost less and offer greater availability. Also nice to have the same batteries powering my GPS, cell phone recharger, flashlight and radio. I can even recharge the AAA/AA batteries in the field. But one big problem with most AA flashlights is reduced lumens compared to most CR123 based systems. For my hand held flashlight I want to light up the area. After some research I decided on the Fenix L2D Q5 and tossed in a little E01 for EDC and general camp work.
Fenix L2D Q5.
http://www.fenixlight.com/viewnproduct.asp?id=18
" onclick="window.open(this.href);return false;
Utilizes a Premium (Q5) Cree 7090 XR-E LED with a life of 50,000 hours
* Two modes of output, selected by turning the bezel (patented)
* General Mode: 12 lumens (55hrs) -> 53 lumens (10.5hrs) -> 107 lumens (4hrs) -> SOS
* Turbo Mode: 180 lumens (2.4hrs) -> Strobe
• 28 days of survival use (2 continuous hours per day on the lowest setting)
* Digitally Regulated for Constant Brightness
* Uses two 1.5V AA ( Alkaline, NiMH, Lithium ) batteries (not included), inexpensive and widely available
* 14.7cm (L) x 2.1cm (D) or 5.8 in (L) x 0.8 in (D)
* Made of aircraft grade aluminum
* Durable Type III hard anodized finish
* 56-gram (or 2.0 oz) weight (excluding batteries)
* Waterproof to IPX-8 Standards
* Toughened ultra clear glass lens with AR coating
* Push-button tail cap switch
* Capable of standing up securely on a flat surface to serve as a candle
* Batteries not included
* Includes a holster, a lanyard, two spare o-rings, and a rubber switch boot
The light came with a holster, lanyard and extra 0 ring and rubber tail switch cover. I ordered a red filter extra. I will get a white diffuser in the future or just make one from a ping pong ball or something.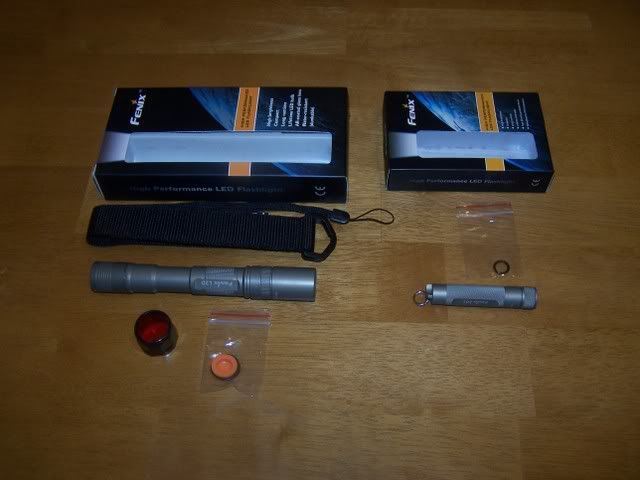 The lanyard was insufficient for field use as I like to wear my flashlight around my neck sometimes so I made a better one out of some yellow paracord black sliding adjustors and yellow Kevlar line. I used the same measurements from the lanyard that came with my Surefire battery holder. The yellow cordage works great for increased visibility if dropped.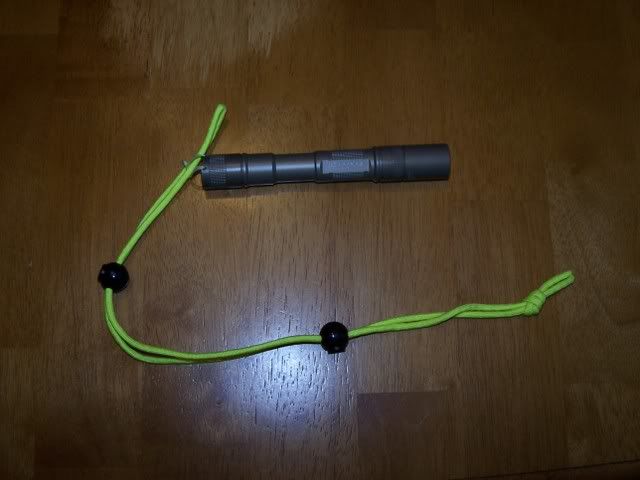 The L2D can toss a ton of light. The Cree LED is everything people say. I still have a hard time accepting that so much light can be generated from 2XAA batteries. I decided to compare the L2D Q5 to my older Inova T3. The G2Z was photographed but I will hold off comparisons until I get my ordered P60L upgrade. However the L2D Q5 is far more powerful than the standard surefire emitter.
A beam shot of the L2D Q5 on high.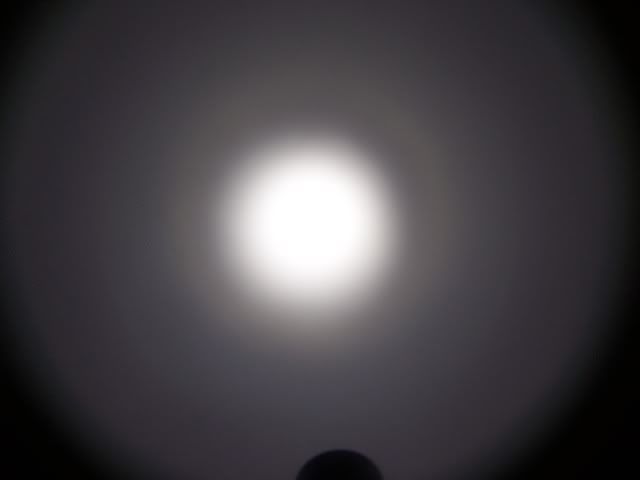 And turbo.
From the photos the shots look the same but in the field the difference between 107 lumens to 180 is clearly visible to the naked eye. This flashlight really lights up a great area.
A beam shot of the Inova T3.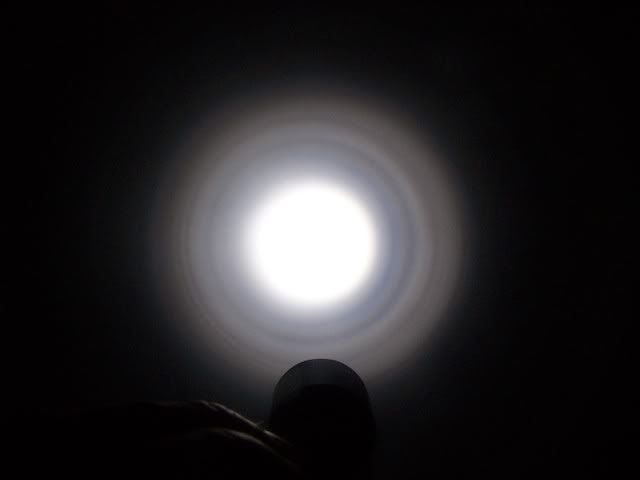 Update:
Beam shot from my G2Z with P60L drop-in. Seemed nearly the same as the L2D Q5 on high however it is hard for the human eye to compare. The refector, tint and LED of the Surefire differ from the L2D Q5.
As stated this is an older model T3 that is rated for around 80 lumens. I think the 08 version is more like 150. Still I like the T3 but the output is not comparable.
L2D Q5 field test:
On high or turbo this light is by far the brightest handheld packable flashlight I ever owned. It can illuminate a great patch of woods. Offers a nice hotspot and very good spill. Spill is important to me as this offers area illumination not just a pinpoint. On medium I found the 50ish lumens more than enough for night hikes. The low is good for camp work and nighttime bathroom excursions. If looking to conserve power it is possible to walk on known trails/roads using the lowest setting. The posted runtimes have been confirmed though testing. The flashlight is very small and light weight. Here is a photo of my L2D Q5 inside the holster with homemade yellow lanyard next to some of my gear for scale.
Pros:
1. Well made. Much better quality than I expected.
2. Crazy bright on high and turbo. The new generation of LEDs are truly an advancement.
3. Medium and low settings are useful. Not too high or too low.
4. Crazy long runtimes. The runtimes are for mostly regulated output. For example the 10.5 hours listed as medium runtime are just that. 53 lumens for nearly 10.5 hours. Once the batteries are used up it drops into 50% mode for the last bit.
5. UL and packable.
6. Use 2 AA batteries. Works with Alkaline, Lithium and NiMH cells.
7. I like the user interface. I can set the light on turbo/strobe or start at low then move up to medium/high/SOS. I don't need to do a full click to change modes.
8. Has a lock out tail cap.
Cons:
1. The tail click does not allow for momentary on.
2. 50-60 dollar price range is not cheap.
3. The lanyard is questionable.
4. My flashlight did not come with polarity protection. So if I put the batteries in reverse polarity aka backwards the light will fry. I believe they now offer polarity protection but getting one with it is a crap shoot as both are sold under the same model number. Also I have been told the polarity protection lights can produce some low sounds during turbo mode but can't confirm this.
5. I dislike the SOS mode. Can't imagine that someone would work out it was an SOS but who knows? It just is another mode to tap past.
6. Run times are for NiMH batteries. The light will work with normal alkaline batteries however the runtimes are reduced. Have not tested Lithium cells but guessing the runtimes are comparable to NiMH batteries.
7. Construction is good but not certain the light could take the same abuse as my G2Z.
Fenix E01.
http://www.fenixlight.com/viewnproduct.asp?id=25
" onclick="window.open(this.href);return false;
The Fenix E01, a perfect portable mini LED flashlight, with negligible volume and weight, can be put into your purse, pocket, or simply be fastened onto your keychain. It could serve you as your reliable companion at any time. Though it is compact in volume, the Fenix E01 has amazing performances. You will be marveled at its excellent brightness and extraordinary long runtime, high reliability & durability, outstanding water resistance and its exquisite workmanship. All these make it become your best choice to add to a flashlight collection or to give as gift or to serve as your close companion.

Features
Uses a Nichia white GS LED with a life of 100,000 hours
Constant brightness: 10 Lumens
Uses one 1.5V AAA ( Alkaline, Ni-MH, Lithium ) battery, inexpensive and widely available
7.1cm (Length) x 1.4cm (Diameter)
21-hour working time ( 11-hour sun mode plus 10-hour moon mode)
Made of aircraft-grade aluminum
Durable Type III hard anodized finish
14-gram weight (excluding batteries)
Waterproof to IPX-8 Standard
Reliable twist switch
Capable of standing up securely on a flat surface to serve as a candle
The light itself is very small. Much smaller than the Garrity photographed. The E01 is even smaller than the Dorcy AAA. I didn't have the Dorcy available for beam shots as my little nephew decided it was his. The E01 comes with an extra O ring and keychain loop. I added some yellow paracord for visibility and the cheesy lanyard from the L2D Q5 as this light is used in my summer extended daypack. The construction is by far the best I have ever seen from a keychain light.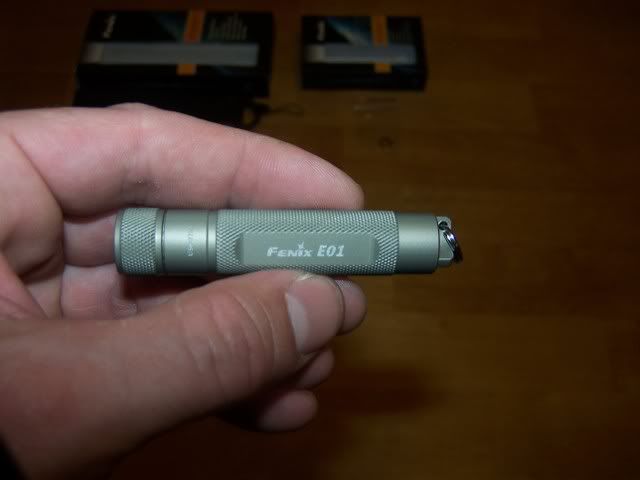 A beam shot from the E01.
I really don't know if the light produces 10 lumens or even how I would test this but the output is equal or better than any keychain light I have owned. What makes the beam useful is the relatively large amount of spill. Better to illuminate a larger area than have a small brighter pin point especially with a small keychain type light.
A beam shot for the Garrity AAA.
The pin point beam may illuminate a bit farther but it has very little spill compared to the E01. Even the Docey had more spill. Overall the E01 puts off far more useful light. The E01 has a very long regulated output. From my tests the company's number are accurate. I could get 9-11 hours of constant high output after that it would drop into moon mode. I believe the moon mode is a 50% reduction. The company states the moon mode will last for 11 hours but I never had the patience to test this.
Field test:
The E01 works well under my tarp for just a little more area lighting.
I have been using the E01 for a backup to my PT Aurora headlamp in my daypack. Mostly do the weight and same battery type. On a recent hike I left my camera 1.5-miles back on the trail. Really pissed me off as I was a bit tired from the 5-mile hike and it was 8:30 pm. Knew that a 3-mile round trip in the dark combined with camera search would mean a 10:30 pm return. I put on the PT headlamp and discovered the batteries were nearly used up. The backups were also beat. Go figure? The headlamp worked ok for an hour or so and I found my camera but with around a mile left the output was so weak it only trashed my night vision. I was forced to use the E01 as my primary light. 10 lumens does not sound like a great deal but for a bitch black night on a known trail it was enough to find my way back and not trip over rocks etc. Here is a photo from that night. Not a good one but I was not really in the mood for taking any more photos.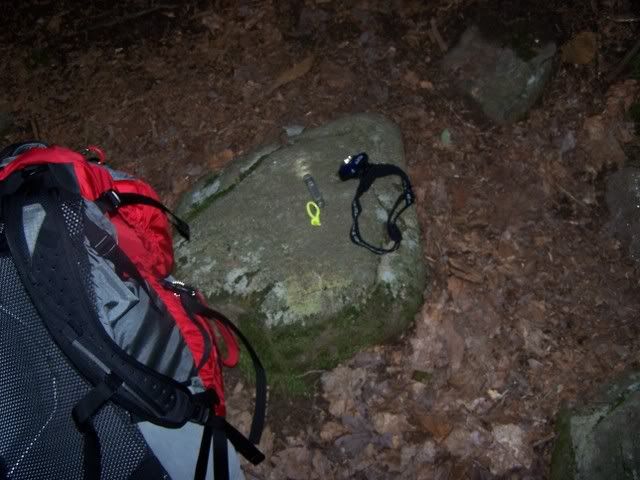 The long regulated runtime helped out as the light was used as an area tarp light for maybe 5 hours and had another 2 hours of additional burn time. Used the light again for another hour and decided to change the battery out despite still working on sun mode.
During a weekend family camping trip I ran down my headlamp and tested out the NiMH AAA batteries inside the E01. Despite no longer providing enough illumination on the direct drive Aurora the batteries still had enough juice to run the E01 on sun mode. Basically the E01 put off more usable light with 1 AAA then the headlamp could with 3. So thinking the light works very well using partially depleted cells.
Pros:
1. Priced from 12-15 dollars. A very reasonable cost.
2. Extremely well made.
3. Good output within the context of a keychain light.
4. Very small and lightweight.
5. Runs for a long time in non dimming regulated output.
6. Can use alkaline, lithium or NiMH AAA batteries.
7. AAA batteries are cheaper than lithium button cells used with many keychain lighs and more available.
8. Twisty on/off is more reliable than a clicky.
9. Only keychain light I have used that can actually work as a real flashlight.
Cons:
1. Still is a keychain light so don't expect a great deal of lumens.
2. Twisty on/off does not allow for a momentary setting.
3. Some have complained that the output is too purple. Mine seems just fine.
4. The two modes listed are in fact a description of the regulated output. A fresh battery will burn bright (sun mode) then drop into a lower setting (moon mode). The user can't select a brighter or dimmer mode.
Conclusions:
Two very nice lights. I would highly recommend both.