My hot weather extended daypack.
It has been very hot this month. Some days are darn near 100 with humidity so high I could cut it with a knife. But just because the heat index is though the roof that is no reason to stop training. However humping my BOB is just not that enjoyable. If I am not having a good time then there is a greater chance I will forgo the necessary training. This is not a BOB but often during these times of the year with the exception of the always present E&E it is the only pack I have due to the limited room in my truck. The gear is selected for weight concerns but not to the point that the value of the training be overly reduced.
The Pack:
For warm weather hiking my preference is the Osprey Atmos 65.
http://www.ospreypacks.com/Packs/AtmosSeriesMens/
" onclick="window.open(this.href);return false;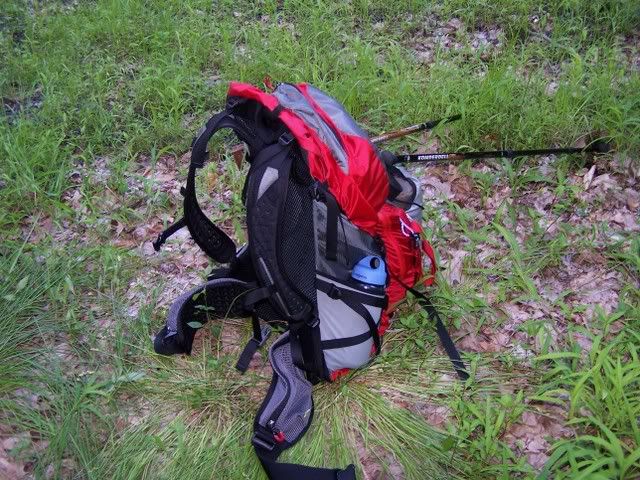 It is an extremely comfortable UL pack that offers one very big advantage. The suspension has the best back ventilation I have ever seen for an internal framed pack. A sweaty clammy back is just no fun during the dog days of summer. Not a combat type pack but made well just as long as the limitations of UL packs are understood. A look at the ventilated back.
My UL gear list.
Some of the gear packed is not my first line stuff. I tend to dislike moving gear around between packs as this is a sure way to not have a critical item. But all gear has been used and proven pack worthy.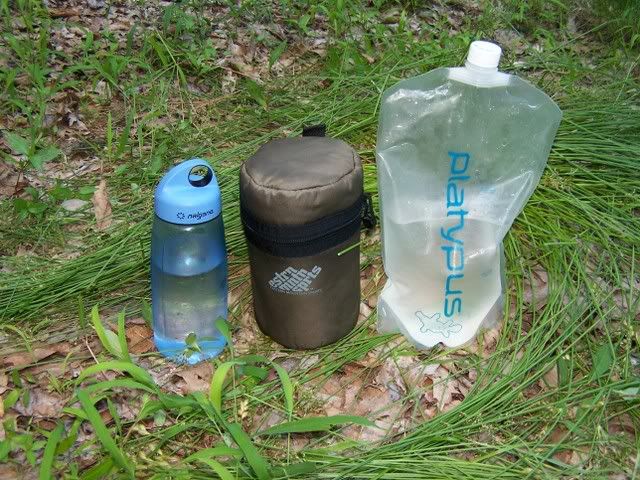 1. 70 oz Platy.
2. 24 oz Nalgene. It fits the side canteen pocket better.
3. 32 oz Nalgene with insulated cover. The cover was taken from my 72-hour winter BOB setup. Does a good job keeping the ice un melted for a late hike treat.
I do have hydration systems but don't use them for my day hikes. If more water is needed I have a large collection of canteens and will pack more water based on distance and weather. I have packed 200 oz for very hot days. Water is stored in both integral canteen and side pockets.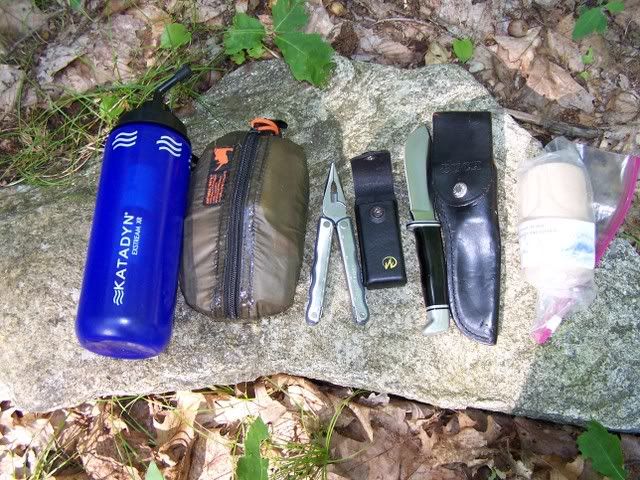 1. Leatherman Kick. Lighter than my Super Tool 200 but still full-sized for easy handling.
2. Buck Skinner fixed blade knife. Kept shaving sharp.
3. Mini FAK. Contents can be found in the medical section of ZS.
4. Kaytadyn EX filter. Not the fastest but like the scoop and drink application.
5. Athletic tape.
1. EMS breathable rain jacket with hood.
2. Cheap courtesy poncho just in case hiking with the unprepared.
3. Medium weight hiking socks.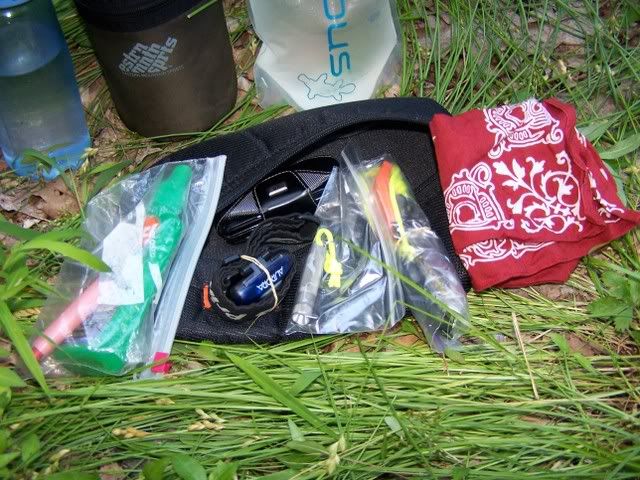 1. Padded Kifaru pullout. A little extra protection for Cell phone and lights.
2. PT Aurora headlamp. Liberated from E&E as all INCH Bag electronics have been moved over to AA. This headlamp takes 3 AAA batteries.
3. Fenix E01 flashlight. Takes 1 AAA battery.
4. Cell Phone.
5. Full bottle of bug spray. Small size is just too expensive for multiple applications.
6. Sometimes a spare Bic lighter.
7. EMS Bandanna.
8. Survival neck chain. This includes a compass, small SAK, LMF fire steel, 3 feet of yellow paracord, whistle and monetary only keychain LED. A good way to have essential gear but not have to rob it from other pack systems.
1. Cheap Mylar blanket. My two double Heatsheets are inside my 72-hour BOB and E&E. With overnight temps in the lower 70's I am willing to allow this marginal gear item.
2. Nasty iodine water tabs. My better tabs are inside other pack systems. But with the filter and larger amounts of packed water I don't really care about the tabs anyways.
3. Fire starting kit. 2 red Bic lighters, 10 cotton balls soaked in Vaseline and three packs of matches.
4. Blue Glo-toob. Better than a chemical light stick. Don't really know why it is packed. Tends to be used for the back of my Kayak during night paddles.
5. 2 rolls of camper TP. Opps used one up. Never replaced it. I just put some TP in a ziplock bag now.
6. Partially used sewing kit. Yea believe it or not I have used the thing once.
7. Duct tape folded over a playing card. Never leave home without duct tape.
8. 50 Feet of black paracord.
9. 4 Alkaline and three 900 mAh AAA rechargeable batteries.
10. Silnylon stuff sack.
11. Aluminum foil
1. World's lightest tent. Consisting of 5x8 ID siltarp for a canopy and custom made silnylon bug bivy with bathtub floor. 1 lb 11 oz including tent stakes and tie-offs. I don't really know if this is the world's lightest tent but sure feels that way.
2. AMK Thermolite 2 bivy.
3. BOB canteen fishing kit. Not really expecting to eat fish during a day hike or even in the event of an unexpected bivy. But I like fishing if the opportunity presents itself.
4. 7 Precut ½ inch webbing tie-offs 6.5 feet each. Light as paracord but it will not tangle. Nearly impossible to break. I use this stuff for most of my tie-offs. NSN 8315-00-255-7673.
5. 8 Ti Sheppard's hooks with air tube covers to protect my pack. Darn points are sharp.
6. Six Easton tubular aluminum stakes for ridge line and hiking pole/stick support.
7. Sun glasses.
8. Boonie hat.
Optional gear.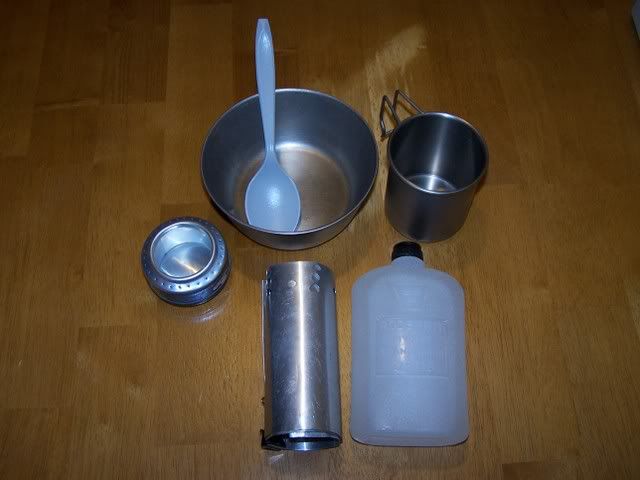 1. Homemade Pepsi can stove with windscreen.
2. Large GSI spoon. I have several LMF and Snowpeak Ti sporks but they are packed in my general camping gear and BOBs. A spoon is what I mostly use anyway. Even the sporks are used mostly as spoons.
3. 8 oz denatured alcohol.
4. Random Ti cookware. Whatever is not a part of another pack system. Have so much of this stuff.
The stove is optional unless I am going out for the whole day and feel the need to cook something around 6 pm once things have cooled off. Even if not packing the stove I will take the little bowl or some other item like a canteen cup etc. Just in case the unexpected happens.
This you will
not
see. This is not a full fledged BOB.
1. Sunscreen. Not that I don't have it. Rather it was not photographed. I keep a full-sized container in my truck and is applied before heading out. I toss it inside the pack then return it to the truck after the hike.
2. Hygiene items. I have some toweletts in the FAK and can use the bandanna for a towel. If forced to bivy I really don't care about not having camp soap.
3. Knife sharpener. I pack them inside my other systems but really don't expect my razor sharp Skinner to become hopelessly dull during a day hike or an overnighter. But a sharp knife is more dangerous to the user than a dull one. So it is never packed dull.
4. Guns. I have them and if one is on my person it will go with me. Crazy to leave a loaded handgun in the truck.
5. Tons of food. I pack some trail mix and dried fruit. If heading out for the day I may pack a meal. Just depends on the situation. No need for 3 days worth in a larger daypack.
6. Maps. If hiking a new trail I will make every effort to pack a map. But don't need the same kinda map that is packed with the 72-hour BOB or INCH bag.
7. Signal mirror. A good item but the woods are so thick I don't think anyone would see it. However I could use the Mylar or aluminum foil to reflect light. Just not worth removing one from my other packs. Moving gear around is a sure way to misplace critical items.
Some hot weather tricks.
I use my Boonie hat to keep the sun off my head. Sure feels nice to remove the hat when overheated but this increase in comfort is an illusion. The hat reduces dehydration and sunburn to my face and neck. I spray the hat with deet to keep mosquitoes away from my head. If sprayed directly on the head often the Deet will mix with perspiration and burn my eyes. Treating the hat with bug spray avoids this. Also is a near fool proof defense against horse and deer flies that often target the head. They just bounce off the hat. They know just what to do about wildly swinging arms. However nothing in their evolution prepared them for the boonie hat.
If overheated I dunk the bandana in a stream or if there is extra water inside my pack dampen it. The wet bandana is placed around the neck to cool the blood flowing to my brain. This seems to drop my body temp and being made of cotton all the negatives of the material in the winter turns into summer positives. Darn bandanna is so useful.
I avoid high ridges during late afternoon. This is when heat generated thunderstorms are most active. Sure the risk is small but being on a high ridge during a nasty thunderstorm is like tossing fish heads into a group of bull sharks and going for a swim. Best not to tempt fate. I avoid deer paths and areas with deer scat to keep ticks down. Same goes for tall grass. Generally weather and bugs are the only real dangers. That and my two left feet.
That is my extended summer daypack. I call it extended as it has gear for an unexpected bivy. Everything including the pack is UL. So the total weight is reduced. I tossed this together in June and will hike with the system until September. Most of the photos were taken in the field so it is possible I forgot to post something. I can't overstate just how light weight this system is. Everything from the pack to the gear was selected primarily for weight. It is not my Sumer BOB. But if hiking this daypack and my E&E are the only packs on hand. There is enough extra room in the Atmos to dump all the gear from the E&E if forced to bug out. Same goes for the extra food and water inside my truck. The pack expands to 4200 cubic inches and is 3 lbs 13 oz. Their is a price to be paid for using a UL pack. I have read stories about my Kifaru Pointman being dropped from helicopters and coming though just fine. Osprey warns about dropping the Atmos fully loaded or sitting on it may damage the suspension. There is no free lunch.