Solar recharger and pre-charged NiMH batteries.
LSD batteries
I have been using Energizer AA /AAA NiMH batteries to run my headlamps and flashlights. I recently acquired a foldable solar recharger and working on field testing. I do a lot of night hikes and camping. It was getting to the point that every week I was tossing at least 4 dead batteries into the trash. In the past I had bad experiences with rechargeables but figured it was time to try again. The NiMH batteries worked well this time around. Still there are some draw backs. They have a tendency to self discharge over time. Discovered this during a night hike when the backups recharged 6 months ago had lost much of their power. So just guessed that for BOB use the NIMH batteries would have to be secondary with the intent for a field recharge if for some reason I ran out.
During a trip to the local market I found some pre-charged batteries sold under the Duracell name. I purchased some and did a little research.
The ones with the black tops are believed to be re-bagged Rayovac hybrids. The white tops are believed to be re-bagged Eneloops. The Eneloops are made in Japan and the prevailing wisdom seems to indicate these are the best overall batteries available. They can be recharged 1000 times and have no memory effects. Here is a link to Sanyo Eneloop pre-charged batteries.
http://www.eneloopusa.com/eneloop.html
" onclick="window.open(this.href);return false;
You can order them online or just buy the white topped Duracell pre-charge batteries. Here are some advantages to the Eneloops that makes them more suitable for a BOB over the older NiMH batteries.
1.
Once the application has used all or some of the energy, eneloop can be charged like a conventional rechargeable battery, 1000 times, before it needs replacing.
This is much greater longevity than normal NiMH batteries rated for lower numbers of recharges.
2.
Once charged, eneloop retains its charged capacity even after 6 or 12 months of storage
(90% of Charged Capacity retained after 6 months, 85% Capacity after 12 months). eneloop is pre charged and is ready for immediate use after purchase, straight from the pack. Just like Primary Batteries. There is no need to charge-before-use.
The pre-charged status and very low self discharge makes the cells better for storage and ready to use right out of the package. A big plus for a BOB.
3.
Key advantages of Ni-MH batteries are still inherent in eneloop:g
for example, superior performance in digital cameras (four times more shots than with alkalines) and the excellent stability even at low temperatures, for example while skiing.
My newer Cree flashlights and APEX headlamp draws a great deal of power. In testing people have found that Eneloops work longer than alkaline cells. Stability in lower temperatures is key for me. True I also pack lithiums but nice to know the new batteries will hold up ok in the cold.
4. This is not from the web site but I have been told the eneloops will not leak. Leaking alkaline batteries is the reason why instructions warn people not to store batteries inside the device. I really like to keep my BOB electronics ready to go.
5.
Eneloop can be charged with virtually all modern chargers for Ni-MH batteries.
Ok this is good especially for field recharging.
6.
The eneloop battery does not experience the effects of "memory effect".
This is very important as I think memory effect is what gave me the bad experiences in the past with rechargeable batteries.
Silva Solar Recharger.
So now that I have decided on a rechargeable battery exactly how would I plain on field recharging? Normally I would not expect to find working outlets in most ER situations. Also these are a bit hard to find in the woods.

Lucky for me during a trip to Dicks I found this solar recharger on sale. It was 66% off. For 20 bucks it was worth a try.
http://www.thesolarpowerstore.com/silvacharger2.html
" onclick="window.open(this.href);return false;
Fully charge 2 AA rechargeable batteries in 10 hours. Designed for rugged outdoor use, this charger is made from the same super durable yet flexible solar cells used on Eureka! US military tents! Also at only 2.8 ounces, it is one the lightest weight chargers on the market, it folds to a convenient 3 1/2in x 5 5/8in x 1 1/4in size for convenient carrying. The unfolded size is 18in x 5-5/8in.

*** BATTERIES NOT INCLUDED ***

Charging capacity is 100% when perpendicular to full sun, 70% when at a 45 degree angle to full sun, 60-90% in light overcast, and even 20-30% in heavy overcast.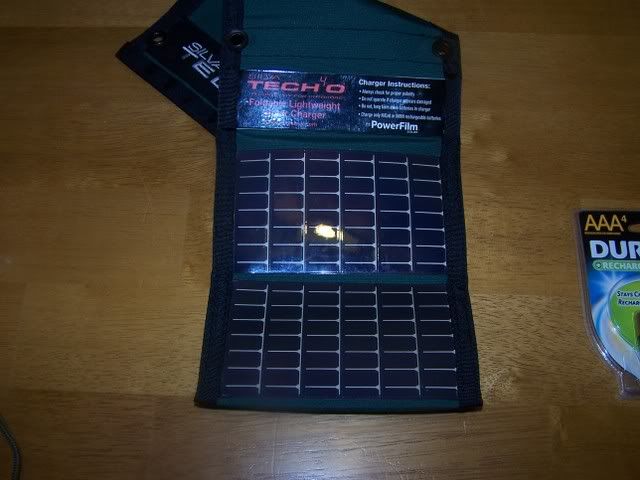 But like the Duracell batteries the Silva solar charger is also a re-bagged product sold under this company.
http://www.tech4o.com/c-5-solar.aspx
" onclick="window.open(this.href);return false;
I think this is the company that makes them for everyone. But don't know for certain.
http://www.powerfilmsolar.com/products/ ... index.html
" onclick="window.open(this.href);return false;
The main advantage to this system is I get a full recharge of the device. Most crank type chargers offer marginal recharges for only a few devices plus the solar recharger does not need bright sunlight to do its job. It would be working for me as I am doing other things, however any new gear item must be tested before I will pack it. Also I am not in the habit of suggesting gear on ZS that I don't have total confidence in. I plain for testing this on the following BOB items.
1. AA and AAA radio.
2. GPS
3. PT Aurora and Apex headlamps.
4. Fenix L2D Q5 and E01 flashlights
5. Energizer cell phone recharger.
Field testing:
PT Aurora headlamp.
I have tested the recharger in a controlled setting for the PT Aurora headlamp. The results were good. Being a 3-AAA powered device I had to rundown two sets of batteries and recharge them 2 at a time. There is a 4 battery charger available but as this was an impulse sale purchase I have the lesser model. The headlamp appeared to have fully charged batteries after 10 hours of bright sun light. Still I feel the need to re due this test just to be 100% certain. I will update with photos of beam shots during after the re-test.
GPS.
I tested the panel in actual field conditions. It was attached to the back of a friend's Osprey pack on a recent trip to the AT. It was a make shift attachment using some twine. I may use some of my little carabineers for faster removal and adjustment in the future. The panel has grommets so attachment to most packs is possible.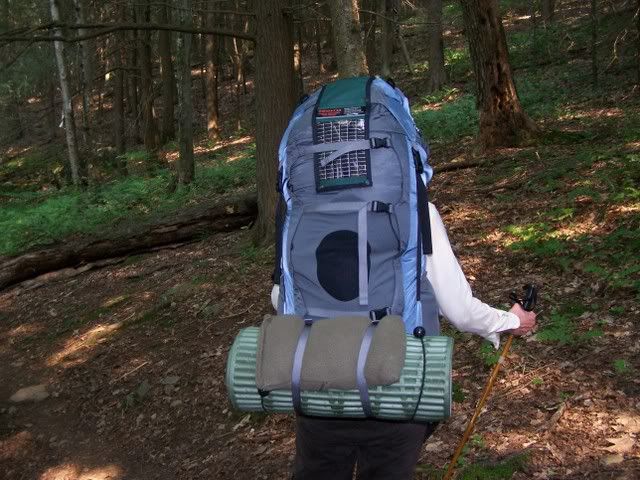 The solar panel worked well. It pushed the GPS from 2 bars back to 4 in the same numbers of hours. The panel was not in direct sunlight as it was being used in a woodland setting. The GPS retained the 4 bars during the last few hours of the hike and the hour long drive home. I am satisfied with the results. I still need to do field trials with the other devices. I am running down my flashlight and will do that next with accompanying beam shots. The Cree LED is so efficient that it seems to be taking forever to rundown those two AA cells. I am going to use the Energizer 2450 mAh standard NiMH batteries that were used in the GPS test for consistency. The follow up testing for the E01 and repeat of the PT headlamp test will use 900 mAh standard Energizer NiMH batteries for the same reason. I don't expect any real difference in recharging LSD batteries but that will also have to be tested once the standard Energizer NiMH solar recharge testing is done.
I will update this tread with more information as it comes in.
Thread update:
More Field tests.
I tested out the solar charger in the following conditions. A mostly sunny day for 6-hours 12 pm to 6 pm to simulate a base camp situation. Then hiked with the panel though the woods using the above pack attachment method for an addition 4-hours during a partially sunny day with the conditions leaning to cloudy. 4-hours the next day with mostly cloudy conditions and intermittent rain. The panel is listed as splash proof but repacked it on and off based on precipitation. It is listed as recharging two AA batteries in 10 hours however being skeptical I bet the makers based this on ideal conditions and 2000 mAh cells. To maintain consistency I used Energizer 2450 mAh NiMH rechargeable that I know perform well. AA cells often have double the mAh of AAA so guessing it must be charging each cell at a rate of 200 mAh per hour. So the stated time of 2 AA or AAA in 10 hours should indicate that AAA batteries would be fully charged in 5 hours. This would have to be tested in the future. It seems high to me for solar recharger so small and light weight. Heck I have an older plug in charger that takes longer. But guessing the recharge rate in normal field conditions maybe around 150 mAh per battery but this is speculation beyond some earlier testing using my 3 AAA PT Aurora headlamp and 2 AA GPS.
To simulate field use I ran down the batteries in my L2D Q5. It took longer than expected. The light is very efficient. I ran it down until turbo mode would not function. Then until high dropped out of regulation. Lastly until medium also dropped out of regulation. Judging from the runtime charts on this website the cells were drained. In the field having a light drop out of regulation on medium is a good clue it is time to change cells.
http://www.light-reviews.com/fenix_l2d_ce_q5/
" onclick="window.open(this.href);return false;
Here are the devices tested with the solar recharger. For this test used AA devices from my INCH bag and EDC.
1. Energizer cell phone recharger.
2. L2D Q5 flashlight.
3. PT Apex headlamp.
4. Radio shack radio.
The rest of the stuff is my cell phone. The battery is totally drained and for the test. The Energizer USB Duo recharger. This was used for the break in charge. Some re bagged Duracell Eneloops for future testing however these work in any recharger. More Energizer 2450 mAh batteries for future Apex tests. A back view of the Silva recharger showing the AAA adaptors. They are the two blue things.
Fenix L2D Q5.
As stated it was run down to a non functional turbo mode. Then to 50% mode on high and finally 50% mode on medium. Here are factory stated runtimes for the L2D Q5.
* General Mode: 12 lumens (55hrs) -> 53 lumens (10.5hrs) -> 107 lumens (4hrs) -> SOS
* Turbo Mode: 180 lumens (2.4hrs) -> Strobe
Based on the charts in the review links and my experience with the light these non dimming regulated runtimes are accurate with NiMH batteries. I still can't get over the performance of the emitter. Here is a beam shot of the light using the 2 AA solar recharged NiMH batteries on Turbo mode. Behold! 180 lumens of converted solar energy. Kind of puts a new spin on the marketing phrase "Sunshine in Your Pocket".
The light has been running on medium for about 4-hours now. This is my favorite setting for the pitch black woods. 50 lumens goes a long way in dark.
Energizer cell phone recharger.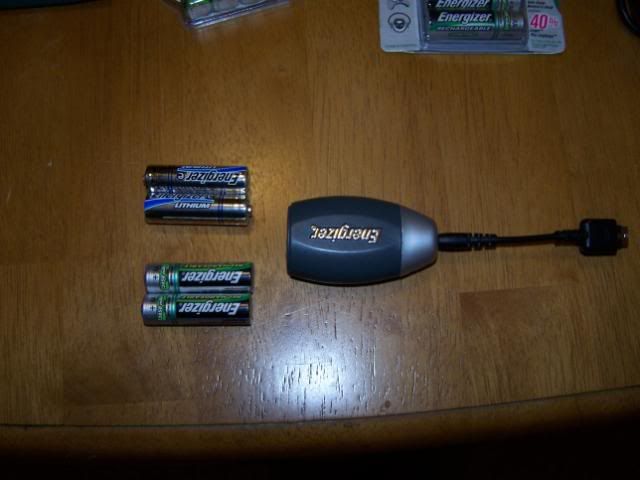 I was a bit worried about this test. The cell phone recharger came with Energizer Lithium AA cells and really seems to eat alkaline batteries. Comes to think of it the thing devours the lithiums too. If the batteries are low it will not function. So with fear in my heart I removed the lithiums and used the solar recharged NiMH batteries. It worked. Sorry for the bad photo as I couldn't use the flash due to the low light of the LCD screen.
The radio.
It worked but this was not real surprise.
That is it for this round of testing. Next will be the Apex when I recharge 4 more batteries. I will test my AAA devices from the 72-hour BOB with reduced charging time to see if my assumption about faster AAA charging is correct. Finally I will test the LSD batteries however I really don't expect any difference. The thread will be updated with future results.