Fleece sleeping bags.
During warmer months I often replace my standard sleeping bags inside the 72-hour BOB with a fleece bag.
It packs down very small and is 1lb 8 oz. The bag is made by Northeast outfitters. I got it at Dicks about 8 years ago. I didn't see the same bag on their web site but similar products can be purchased for around 15-30 bucks. I have seen them at Wal-Mart for around 12 bucks. This is not a gear item that will break the bank.
http://www.cabelas.com/prod-1/0022801516244a.shtml
http://www.campingworld.com/browse/skus ... iateID=590
http://www.llbean.com/webapp/wcs/stores ... 1-YahooSSP
For the most part these are simple rectangular bags however I have seen them in full mummy configuration.
My bag did have a shock cord loop to hold it in place when rolled up however years of use finally snapped the cord. No real effect on the bag. I just cut the remaining loop and use paracord. One aspect that I like about this bag is the nice YKK zipper. Something that I didn't expect from a cheap 20 dollar made in China product.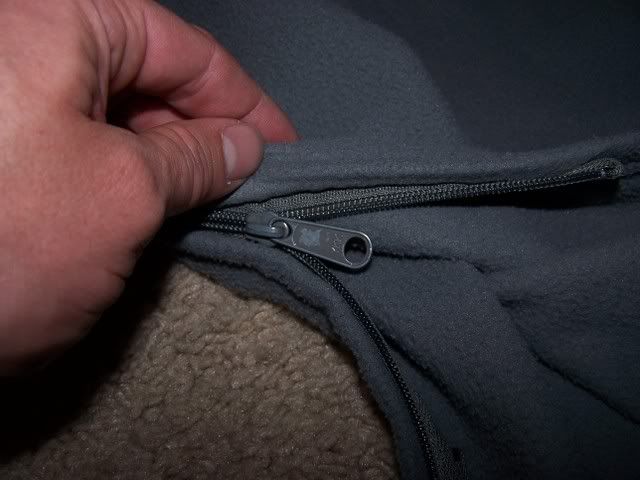 So how does it perform in the field? I have found the fleece bag to be a little warmer than my USGI poncho liner. The reason is the zipper. Nothing against the poncho liner however. I have two poncho liners. A Wiggy's and standard issue USGI but still like the fleece as it can be made into a blanket or a bag. I have pulled a tie-offs on my USGI poncho liner attempting to make a sleeping a bag out of it. Must have happened during some late night tossing and turning.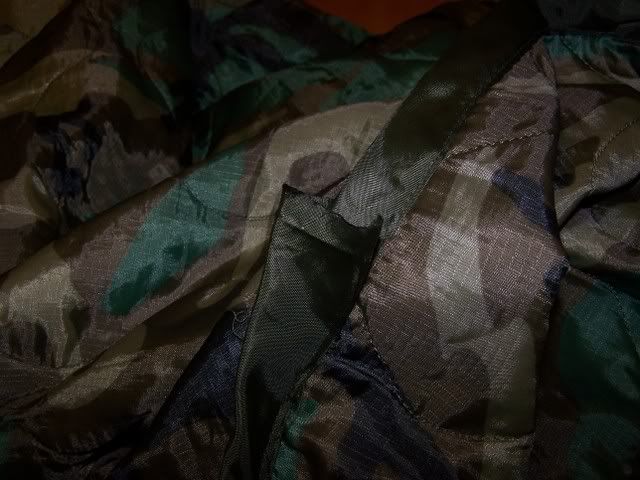 The fault probably lies with me and is no way a statement against what I view as a good gear item. A zipper kit would have corrected this problem however these are a pain to install if not good at sewing. A ranger roll setup with a USGI poncho would have been better but that is another topic. In any case I now pack the fleece bag. As a standalone bag I would rate it to maybe upper 40's despite producer's claims of 50's however this is relative to the user. I am a bit of a polar bear.
Accessorizing your fleece bag:
A good way to increase the temperature rating and versatility of a fleece bag without adding too much weight is with some extras. The following are gear items that I employ to beef up what is admittedly a marginal bag.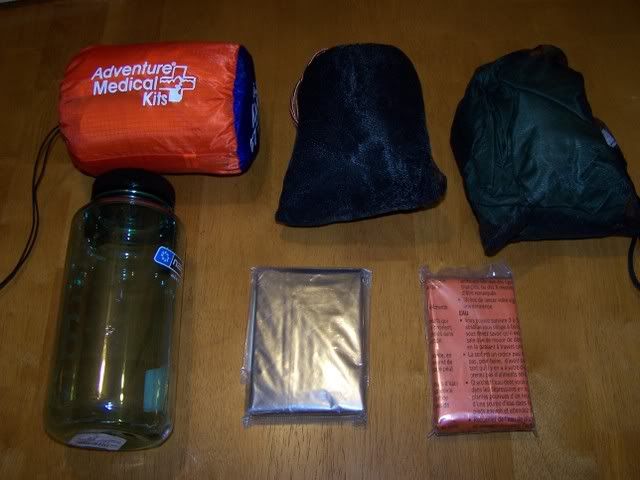 1. AMK Thermolite bivy. This offers increased temperature rating and wind/water proofing.
2. AMK double sized Heetsheet. Same advantages as the Thermolite but to a lesser degree.
3. Cheap Mylar blanket. Not big enough but better than nothing
4. DWR bag liner. Can act to protect the bag from windblown rain and increase temp rating.
5. DWR top/Sil nylon bottom full bivy. Offers head protection and waterproof bottom combined with DWR top aids in weatherproofing the fleece bag and increases the temp rating
There are other goodies too like the Mantas bug net etc. The best way to increase the temp rating is with extra clothing. I know some people don't like sleeping in clothing but if not wet I would seriously consider wearing something like a base layer, hat, socks and if cold enough a jacket.
Pros:
1. Cheap. If someone can't save the coin for a sleeping bag than this is better than nothing.
2. Can be stored packed for a long time. Often sleeping bags stored compressed will go flat. But the fleece bag has no real loft.
3. Packs down very small and is UL. For someone with a smaller BOB there is no real excuse for not packing one. Again something is better than nothing.
4. Greatly enhances the ratings of a marginal sleeping bag. I have found that a fleece bag/liner adds about 10 degrees.
5. Fleece feels comfortable next to the skin and dries very fast. Lacks all the badness of cotton.
6. Multi use gear item. This is the aspect I most like. The fleece bag can be used as a marginal sleeping bag, bag liner, unzipped into a blanket, a large towel, scarf, head and upper body supplemental protection and surely a whole bunch of other things I have never thought of.
Cons:
1. Marginal protection from cold. This is not to be used in place of a full fledged sleeping bag for winter weather. Even with extra items expect to be cold below freezing. Extra clothing helps but still we are talking about a thin fleece bag.
2. No head protection. You will need to crawl up into a ball or use it with a bivy etc for that. Again this is a rectangular bag that is not overly large.
3. Fleece melts easily. I have fleece garments just full of holes from camp fires. If you sleep outside a tent near a fire than don't be surprised to see some pinholes. But this is true with other synthetic protects like standard nylon sleeping bag shells. This is no wool blanket.
Conclusions:
The fleece sleeping bag is a good inexpensive gear item but reasonable expectations should be considered.