I originally wrote this up as a reply to
Woods Walker's Paratipi review
. But as I typed I realized I was getting a bit off topic so I decided to post a new thread.
I was recently checking out the Kifaru Tipis online in my search for a winter shelter with a wood stove. I really liked the
4 Man Tipi
. I thought one of the best things about it was the interior height. Their diagram shows it to be 6 ft. 6 in. It would be nice to be able to stand up in your shelter and straighten out your back once in awhile.
From the Kifaru website: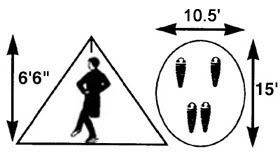 But that image is probably a little misleading. If your tall (like I am) your head would probably be hitting the fabric, not to mention the center pole.
Another image from the Kifaru website:
Unless that dude is like 7 ft. tall, I'd say a diagram showing a stand up interior is a bit of an exaggeration.
Anyway, my main concern is durability. I want a shelter that can withstand the snow and fierce winters throughout a cold season in northern New England. Kifaru makes some high quality products but their FAQ's has this to say on the question of long term setup:
Q.What about long term set up?

A. Any nylon structure will suffer from UV rays if allowed to remain erected for prolonged periods of time. We strongly recommend NOT using your Kifaru shelter as a permanent structure.
Ok, so a little common sense should tell you that shelters that fit into a backpack and are made of nylon should not be used on a permanent basis. I suppose you could bring something like a disassembled garden shed with you instead, but the weight and size of that would make it unreasonable...
So there's the dilemma. How to get a sturdy, wood-heated shelter to your bug-out-location without having to use a delivery truck as a BOV?
One solution might be to use the Kifaru shelter if you have to bug out in the middle of winter and then also have tools, like and ax and saw, to build a more sturdy dwelling when the seasons change and the weather warms up. (I'm planning along the lines of TEOLAWKI/I'm Never Coming Home type of scenario.)
I guess I'm just thinking out loud here to see what everyone else has to say.