Woods Walker's entry in the Mini Bob contest.
Here is a list of my contents and weights. The mini BOB came in at exactly 5 lbs 8 oz. I used a postal digital scale. This scale will sometimes round up a tenth but it very very accurate. Here is a photo of the mini BOB.
The main bag is a home made Go-bag. Sil nylon body and gym bag strap. 3.4 oz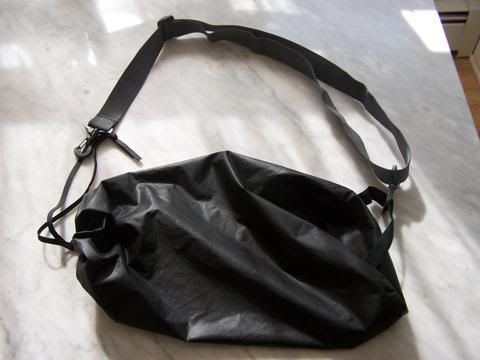 I included a red stuff sack so my critical gear will be easy to find after the bag is taken out of the mini BOB. 0.7 oz. This makes the bag more water proof for critical gear and a small bag is always good for forage and water storage etc.
A. Medical kit. It is a mini BOB but I still wanted a semi good medical kit.
First Aid total 5.4oz
1. 6 Qtips
2. 1 ½ x2.5 yards tape
3. 3 3x3 sterile gauze pads
4. 5 Wound Closures Strips
5. 6 1'x3 Adhesive strips
6. 2 knuckle bandage
7. 6 Ibuprofen
8. 2 Antihistamine
9. 2 Antibiotic Ointment
10. 1 Povidone-iodine Ointment
11. 2 Sting Relief pads
12. 9. Antiseptic Towelettes
13. Ticture of Benzoin
14. 1 Splinter Grabber
15. 2 Safety pins
16. 1 eye pad
17. 1 2x2 Gauze pad
18. 1 small Butterfly wound closures/one large
19. 1 2x4 Adhesive bandage
20. 1 5x9 Abdominal pad
21. 1 medicated Chapstick
22. 10 assorted Adhesive bandages
23. ½ oz Four paws VBS antiseptic Quick Blood Stopper
24. Imodium AD 6 tablets
B. Light. The Aurora will give about 100 hours of usable light per set of batteries. I have two sets. The Web site says the light works 160 hours on low but I don't know what they call usable light. In reality it is 100 hours.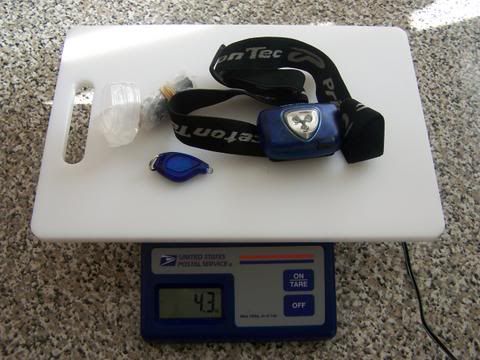 1. Princeton Aurora Headlight including batteries. 2.8 oz
2. Small key LED light. 0.2 oz
3. Extra three AAA batteries. 1.2 oz
C. knives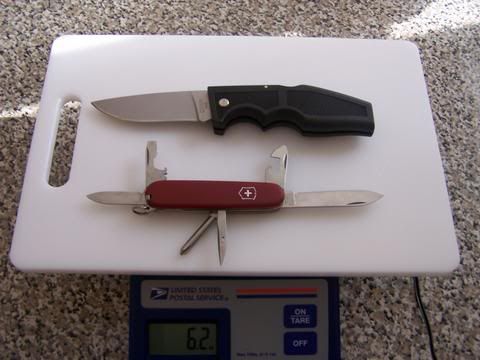 1. Swiss army knife. This is one of their smaller models but it has all the stuff I use and none of the worthless junk than is never used by anyone. 2.1 oz
2. Gerber 600 larger Folder 4 oz
D. Fishing Gear.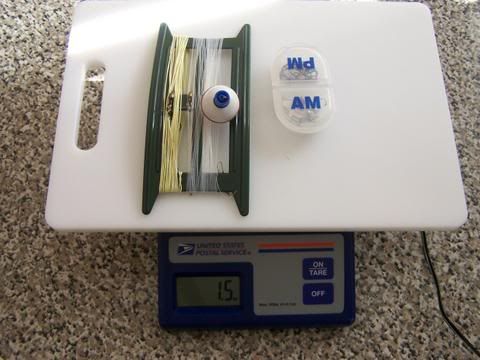 1. Drop line system. It has 30 yards of 6 lb test and 15 feet of near unbreakable Kevlar Line. The Kevlar line is for snagging fish and it makes some good snares. A drop line works by tossing the line out and winding it back to reel in. If I find a can or bottle during the hypothetical bug out I will make a toss line system aka BOB canteen fishing system. Total for drop line and tackle box is 1.5 oz
2 . Pill box Tackle kit. I like using small pill boxes to hold small gear like fishing hooks etc. They are made to be resistant to opening if dropped and sliding on flat surfaces. I have some small sinkers, a silver lure and assorted sized hooks including a treble hook for snagging and sizes down to #14. Why such a small hook? Most streams or small ponds have tinny dace or minnows. Being lower on the food chain their numbers are much greater than bass or trout. The only way to catch such tinny fish is with a fish trap or very small hook. It takes a good number for a meal but their numbers tend to be great
E. Sanitation needs. Total 4.6oz
1. Travel sized tooth brush
2. Travel sized shampoo
3. Travel sized dental floss
4. 2 packets of MRE T.P
5. 2 MRE hand wipes
6. Travel sized toothpaste
F. Bug protection.
1. 100% Deet replant small pack size. 1.2 oz
2. Cheap camo face net. Anyone that thinks these cheap face nets will provide any protection on their own against Mosquitoes when asleep is dead wrong. But spraying the face net with Deet makes it very effective. In fact it is far more effective than spraying the Deet directly on your face as it remains on the bug netting longer and you don't have that crap in your eyes. 0.7 oz
I am going to post a photo of the next 4 items. No real point in making separate photos of items most people have seen.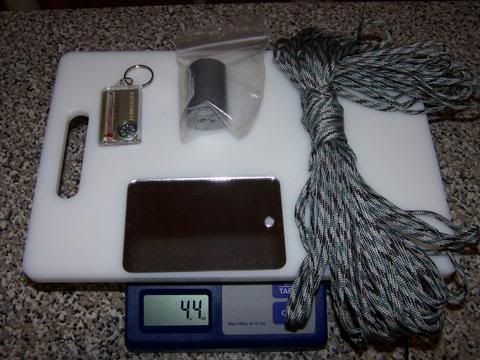 G. Repair items
1. Mini roll of duct tape. 1.2 oz
H. Cordage.
1. 50 feet camo cord. I got this more for the holder that makes a good drop line. But the cord is ok. I guess anyone could include the fishing line and Kevlar Line in the cordage list too. 1.9 oz
I. Navigation. I don't really need any maps etc but a small compass is always useful. So I packed a small compass/thermometer combo 0.5 oz
J. Signaling. I am not a big fan of signaling after all I want nothing to do with anyone if I bug out. But just on the off and more likely chance I am just plain old lost and need help I included a plastic signaling mirror. 0.6 oz. My headlight can flash for a night visual signal. I don't care much for audio type signals. Maybe in a larger BOB but I was on the thin line for weight.
K. Shelter System/Rain gear combo. Here is what I have come up with. You don't get to see a heated poncho tarp every day. Shelter is 1 lb 3.3 oz for Poncho, Bivy, 4 Ti stakes and Thermal Blanket.
1. A Golite Poncho tarp in sage green. Looks like a good natural color that will not stand out. 11.3 oz with stuff sack. I took 4 Ti tent stakes with my home made covers to protect the rest of my gear from the sharp ends. Just use fish tank air tubing. 1.6 oz
2. DWR Bivy/Bag liner. I can fill it up with grass etc for a sleeping pad and not worry so much about getting damp. Or if I could make a grass bed and fill the bivy with leaves or grass to make a blanket. If the bugs are heavy I can crawl into the bivy and put my Deet covered face net on. I have had to do this in Maine. It worked but there must have been a million mosquitoes so they kept me up anyways with the buzzing however I would have been sucked dry. No joke. 4.4 oz with stuff sack. Emergency thermal blanket. 1.9 oz.
L. Stove system.
Stove assembled:
1. Freezing to death is what scares me. I like to have a fire even in rain or snow without getting wet. Yea this is a mini BOB and could be only used until I reach the main BOB but I am not going to any f@cking convention center in a bug out and have no plains on dying of exposure if lost so I wanted a warmer shelter. The stove is made out of Ti foil and the pipe is made out of Stainless Foil. Everything is held together by Stainless wire. The heat output is totally insane. The stove body is about 12 inches long by 8 wide. I have an inline spark screen and a Ti damper. Total weight for Stove, 4-foot pipe, Wire rings, Ti Damper and spark arrestor is only 1 lb 10.7 oz plus the stove has an extra sil stuff sack that could be used for something else.
How does it all come together? I set up the Poncho as an A frame with the long length as the A frame's width. This way I could lower the A frame to the ground and have room to sit up if the outside temp is very cold. I would need to sleep at an angle but could still stretch. In the photos I raised the A frame up some as the weather is warm. If there was lots of snow I would kick snow around the side and pile snow and brush to block one end. The stove would then be fired up. During cold nights a stove under a tarp will take the chill out of the air and dry a person off even in snow or rain. All I need do is tie the poncho's head section closed to fully water proof the shelter.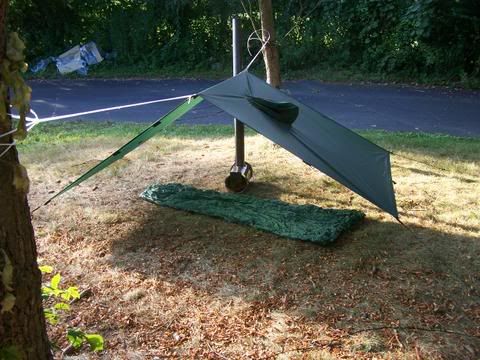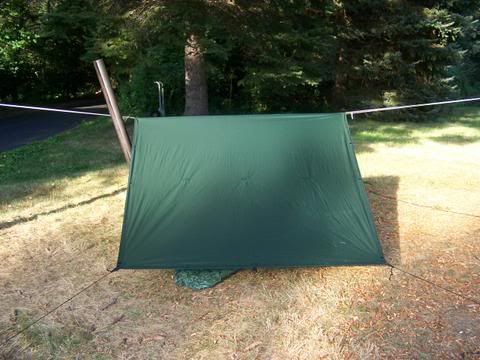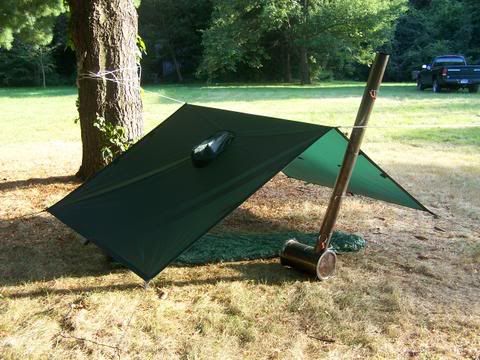 Some may question a wood stove with a 10 oz fire box. Does it hold fire or am I just pulling your leg?
Fire shooting out of the pipe is cool but hard to photo.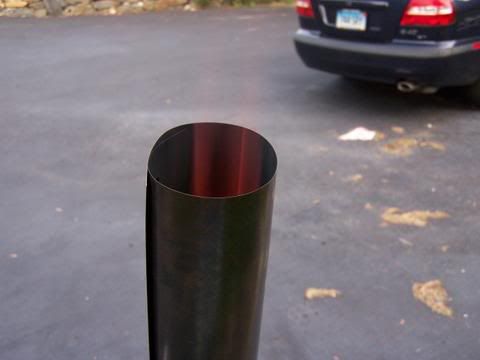 M. Fire starters.
1. 3 packs of MRE matches. 0.3 oz
2. Bic lighter sealed 0.8 oz
3. 25 cotton balls soaked in Vaseline w/ zip lock bag. 3.5 oz
4. Small Magnesium fire block with flint and striker. I am really more interested in the flint and sparker to ignite the cotton balls when the lighter fails.
N. Water purification and storage.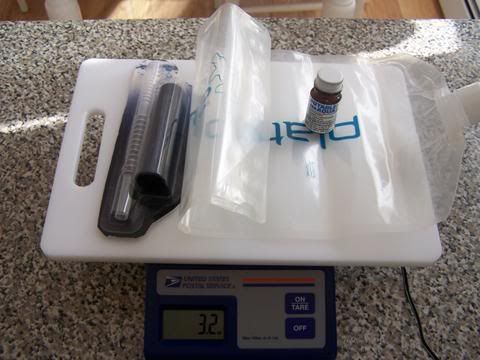 1. Frontier Emergency Water Filter system. Will filter up to 20 gallons 0.8 oz. Just in case I need to drink and run.
2. Potable Aqua Tabs. Not the best tasting tabs and I didn't have the room for the neutralizer tabs but heck better than nothing and I could always used charcoal to sweeten the water. 1.2 oz
3. Platypus Water 80 oz water bag. 1.2 oz
O. Cook pot.
1. Ti bowl 1.8 oz. It is large and works well for about everything.
2. MRE Spoon. Why not for only 0.2 oz
Some things I may have forgotten about as I tried to keep it all organized as I took the photos etc. Other things I just didn't add like food. I know what some people may think but the reality is that no one has ever starved to death in a few days but lots of people have died of exposure in a shorter time than even that. What could I pack in a 5 and ½ lb BOB? Lunch? That is not going to make a tinny bit of difference. However in cold weather having the stove will help me save more calories than its weight in food. Not saying food is no good to pack but for this mini BOB I think the gear is more valuable. I carry my wallet and cell phone 100% of the time as the cell phone is my only phone and the law makes me carry ID when driving. I have about 50 bucks in emergency cash. Anyone can use any idea I have to beat me. Here is one Item that I didn't add to the BOB but there is a VERY good chance it will make its way into the thing after the contest. My NAA 5 shot .22 mag revolver. It is only 6.2 oz and the ammo is about 9 rounds to the oz give or take one. The gun may look like a joke but nothing funny about a CCI .22WMR HP Maxi Mag + V doing over 1000 fps at a range of 8 feet.
I may edit this if I find grammar or spelling issue or discover Items that are inside my mini BOB but somehow got overlooked. Any changes will be explained if major aka missing items.