So, one of our yearly backpacking trips was well planned in advance. My wife and I planned out a 130-mile backpacking trip along the Appalachian Trail (Erwin, TN to Damascus, VA). Everything was set and we set off; linked up with our shuttle and after sitting in vehicles for about 7+ hours, we finally got our feet on the trail. Day-one went just as planned; no issues other than fighting to get our trail legs and being just a little exhausted since we were up at 0100 with a long drive.
The never-ending curse of distance backpackers is cutting weight, shaving ounces, and counting grams. There is a certain level of risk associated with balancing weight, limiting redundancies, maximizing the use of every item, and generally riding the line of just the right amount of kit, water, food, and fuel for the environmental conditions.
Seasonally, it's been a little cooler than normal with increased precipitation; water was no issue on the trail. As my wife and I used average forecasts and just watching the weather trends, we felt pretty comfortable cutting back on clothing and insulation. Big mistake.
We completely failed to fully consider the effects of temperature at the elevations we would be hiking (Roan Highlands), coupled with some severe thunderstorms and high winds. We froze our asses off after the first day. The following days were overcast, sporadic rain showers, cold winds, and we were dumped on the following two nights before even reaching our planned camp sites. We were soaked to the bone and nothing would dry out. The first major thunderstorm hit us about a quarter-mile from the planned shelter site. Even after we decided to just find a spot and get our rain flies up, we got pummeled from a massive deluge, high winds and a good 15-20 degree drop in temps. My wife got her fly up and as able to hunker down; she was soaking wet. I was only able to wrap up in my rain fly and take the 20-minute beating…soaking wet. Pack liners are important as we kept the hammock, quilts, and spare clothing dry, but everything else was soaked through and through.
There was a serious hypothermic threat. Once the winds died down, the temps still remained low and we had sporadic showers. We switched out of wet hiking clothes and climbed in the hammocks to warm up. Both of use skimped on better quilts to go lighter. My wife used a cheaper (and smaller) down quilt and mine was really only rated to about 50 degrees. We later found out temps with wind chill were in the low 40's. Because previous trip experiences and conditions, we cut weight on heavier sleep clothes. I didn't bring my rain shell pants, left off my heavier sleep shirt for a very light silk shirt, dropped my lightweight merino wool long underwear and just kept some silk-weight running shorts. I didn't freeze, but sleep was affected and I wasn't fully comfortable or warm throughout the nights. Because it's June, I excluded brining my under-quilt (another colossal mistake); it only weighs 15 ounces but is very effective in temps lower than 50 degrees. If you know anything about hammocks, convection is the killer and cold air under your backside makes for a very miserable night. I still carried and used my Z-Rest section of CCF mat, which helps significantly, but only covers a section from butt to neck.
I typically get and function off of 5-6 hours of sleep, but sleep is pretty important to your body on the trail. Yes, we're cramming calories in the body, but after carrying even a lighter load up and down irregular terrain, exposure to less than ideal weather, and just the normal exhaustion your body gets from hiking all day…sleep really helps your body recover; we value it highly! And we didn't get much of it.
Same weather conditions and miserable night the next night. What was really bad is we just couldn't get anything to dry out. Socks were the worst. I had two pair of merino wool socks and a pair of bamboo socks. I rotated two pair and kept one dry for camp and sleeping in. Shoes never dried out and the socks would be heavily damp at best. Fortunately, no blisters, but had we kept this up, I was beginning to feels some soft-skin hot spots.
We had a little view of the Roan Highlands, but my wife slipped in the mud, banged and twisted her knee pretty good which slowed us down. What was crazy was the wind-chill on when crossing both Little Hump and Hump Balds; both were socked in with fog and we experienced strong gusts, guessing it had to almost have been sustained at 15-20 mph and gusts up to 30 mph…it was freaking freezing for shorts. Moving (much slower now) was the only thing keeping us warm. As we descended into Roan Mountain, TN, we finally got some sunshine, but my wife's knee was bruised with some swelling. We were going to resupply at a B&B/Hostel, but made the decision to reschedule the rest of the trip. Temps ended up being even lower with more rain in the higher elevations. Despite all the planning, Mother Nature can give you a good kick in the balls; and if you're no prepared, she will follow up with a knee to the head!
The good news is we had a good time despite the freezing nights, cold winds, and heavy downpours. I've spent my career in some pretty crappy conditions…part of the job and I got paid for it. This is our "vacation", so we admitted we are "fair-weather" backpackers and after making the decision to reschedule the last leg of the trip, we shuttled back to the truck and made our way to Asheville, NC for a great Juicy Lucy burger and couple of local micro-brews after a hot shower and looking forward to a warm bed.
First, I'm glad I packed my Arc'Teryx dri-down puffy vest. My wife even wore it climbing those balds with the wind chill. Pack liners are a must to keep essential insulation, shelter and spare clothes dry. Having a merino hat and glove liners were crucial at night…glad I brought them. My wife's circulation sucks; her hands were freezing when on the trail and she actually used my gloves. She's going to add a pair of liners to clothing bag as well (I was using OR 100-eight synthetic gloves; very thin liners).
We completely underestimated the weather conditions at the higher elevations. I think the average is 3.5 degrees cooler for every thousand feet; it was likely 10-15 degrees cooler without the addition of rain and wind. We both agreed that a couple extra pounds of proper insulation and sleep clothes would have made a significant difference in dealing with the conditions. As much as I love my non-waterproof Salomon shoes, I am going to use GTX versions for anything that remotely places us at elevation with any chance of rain. My current shoes got soaked from ankle high grass and the conditions never let them dry out. Rain pants and ankle gaiters would have helped significantly as well. Even damp merino wool socks are okay, but damn, it's no fun putting on cold damp underwear and socks every morning (my wife wasn't too excited about the cold, wet sports bra either).
Immediate additions to the pack: OR Helium rain pants, long sleeve merino wool sleep/layer shirt, lightweight merino long underwear. GTX hiking shoes outside of the drier months of July and August (for the SE area). Sweaty feet are easier to manage than soaking wet feet that won't dry out when constantly overcast, wet, and frequent rain showers. Any trips outside of July and August, I'm going to include my under-quilt as well; it's 15-ounces of quality sleep insurance. My base weight is going to go up a couple pounds, but I am going to go back to some lighter accessory items (headlamp/battery combo, no need for a regular flashlight, etc,).
We were in much better physical shape than previous trips. Still, with poor weather conditions, your hiking distances take longer. Even with the basic "trail" terrain, we typically average about 25 minutes a mile. With the weather and effects on the trail, we ended up taking as long as 35-40 minute miles having to slow down on slippery rocks, deep/slippery mud, and having to stop frequently to don or doff rain gear.
Foot care is critical. I tried to rotate two pair of soaking wet socks (one merino wool, the other bamboo). The mesh-toe shoes would soak them as soon as a I wrung them out. What was important was retaining one dry pair for sleeping in and despite the weight of "camp shoes", I had a pair of Xero-Shoe sandals which I put on as soon as we got to a campsite. My feet were a little cold at times, but getting them air out was extremely important. Massaging your feet is also important. I may consider a small container of Gold Bond powder, but it wasn't necessary as long as we got into camp with a few hours of daylight and the opportunity to do some foot maintenance. I'm also considering "waterproof" socks. There are some new versions on the market and one of our shuttle drivers said they have heard some good reviews from thru-hikers. I'm leery as most waterproof linings that get soaked take longer to dry out, but regardless, nothing dried out the last three days of our four-day section.
We considered making a fire to dry stuff out, but honestly, it was way too wet and the frequent and heavy rain storms would have made a fire extremely hard to maintain. We were far better off stripping down, getting into dry sleep clothes and climbing into the hammocks to maintain body heat.
The start as mentioned was great…good weather…we were happy (although my wife promptly fell asleep as soon as here hammock was up!):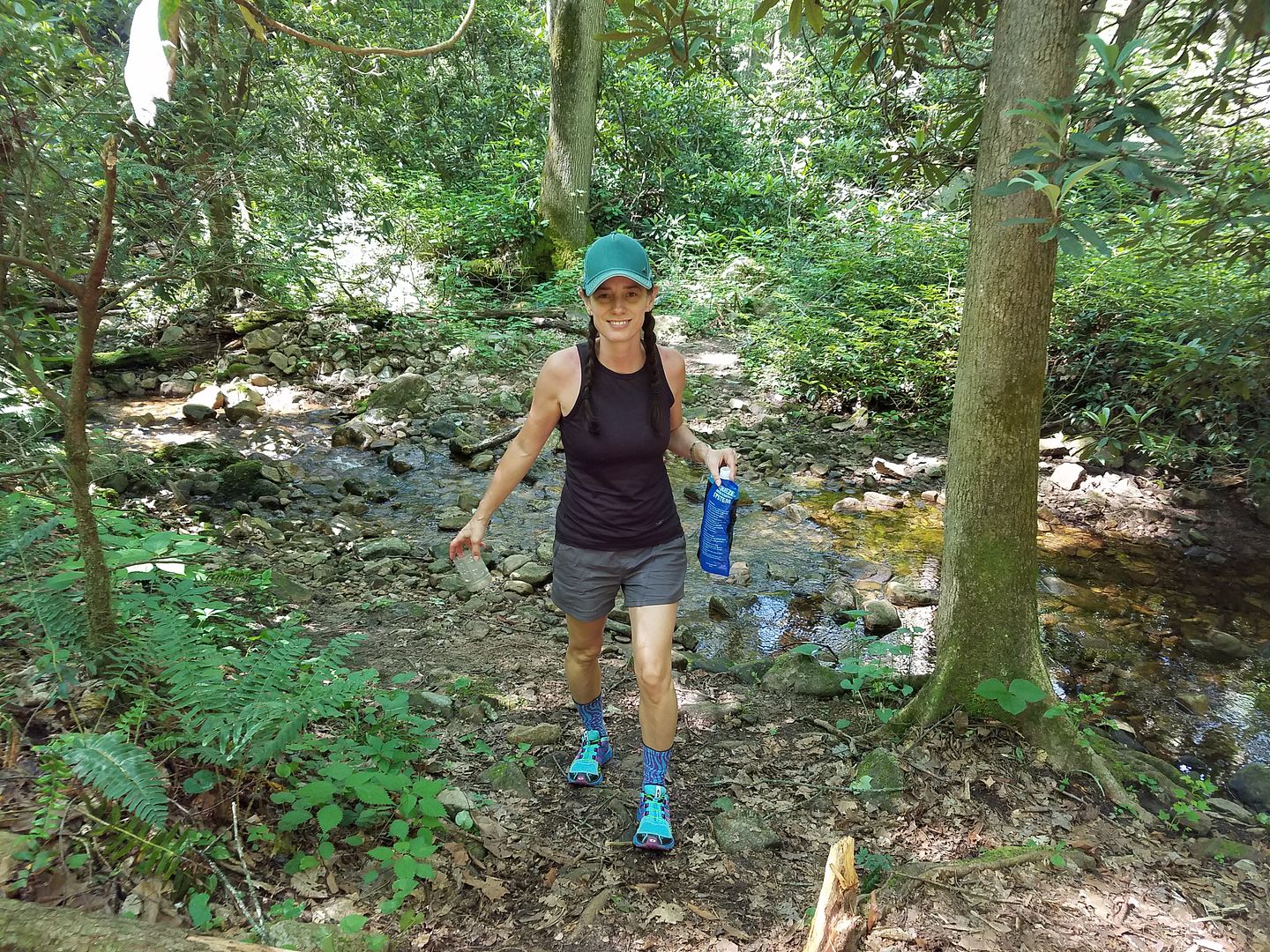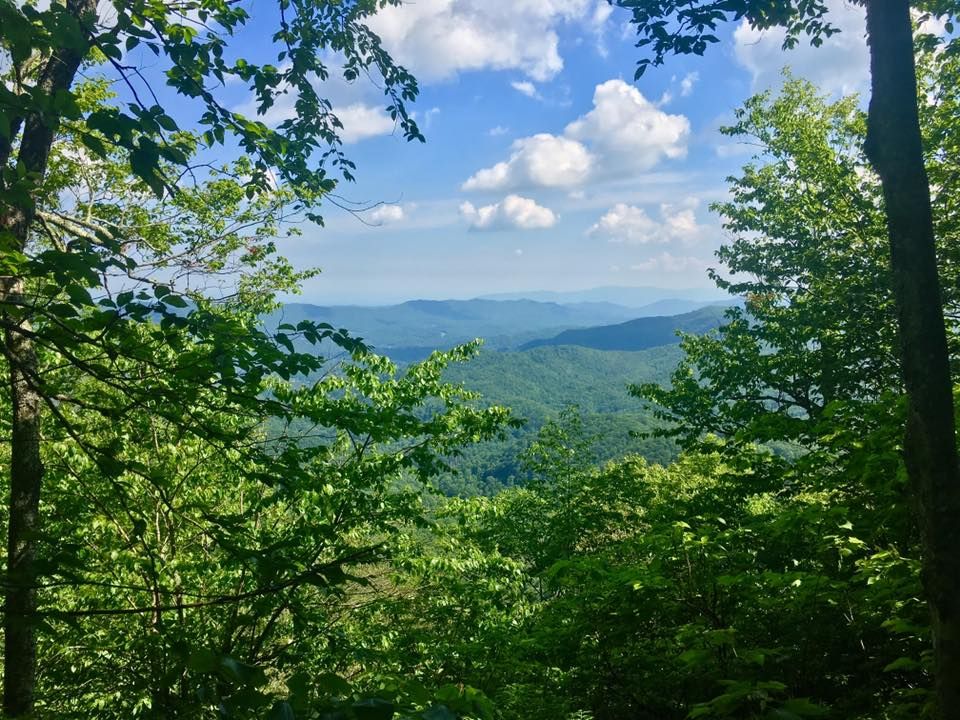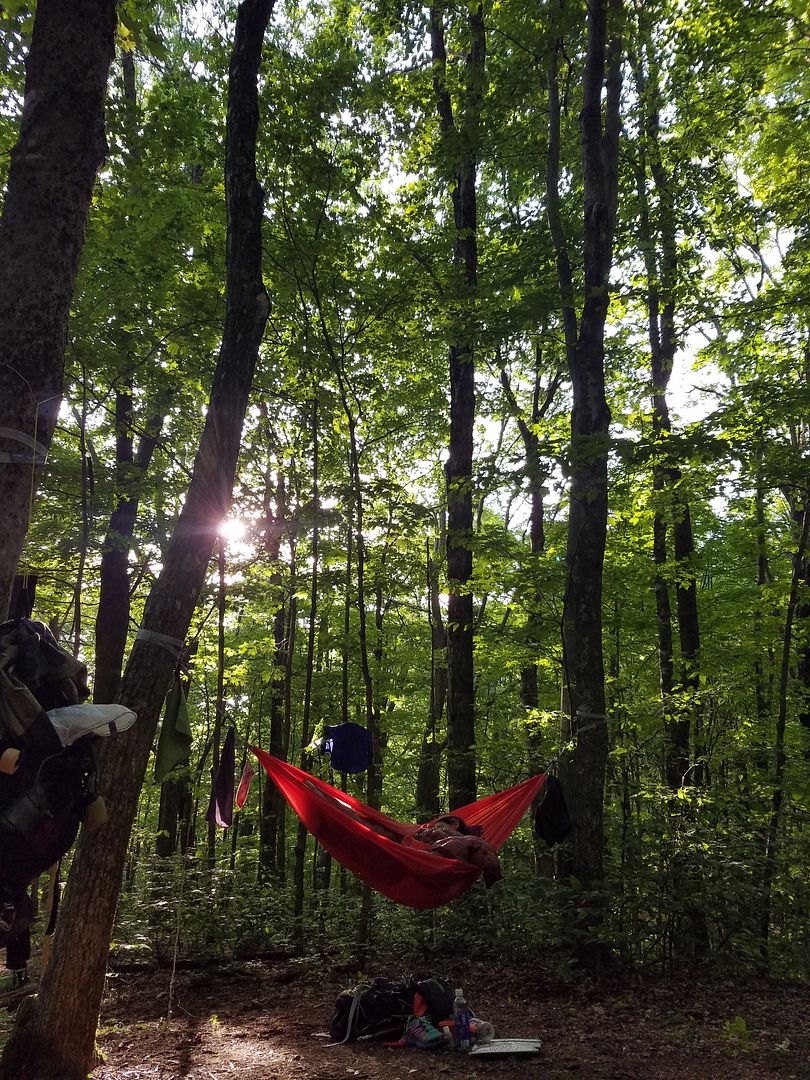 …and then the weather turned and the temps dropped: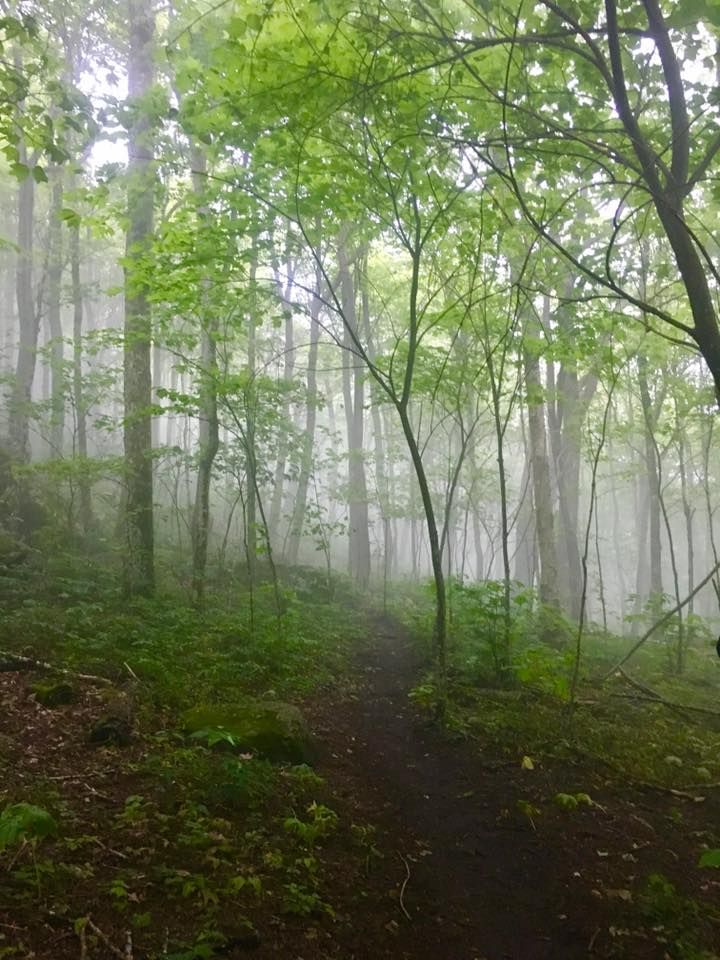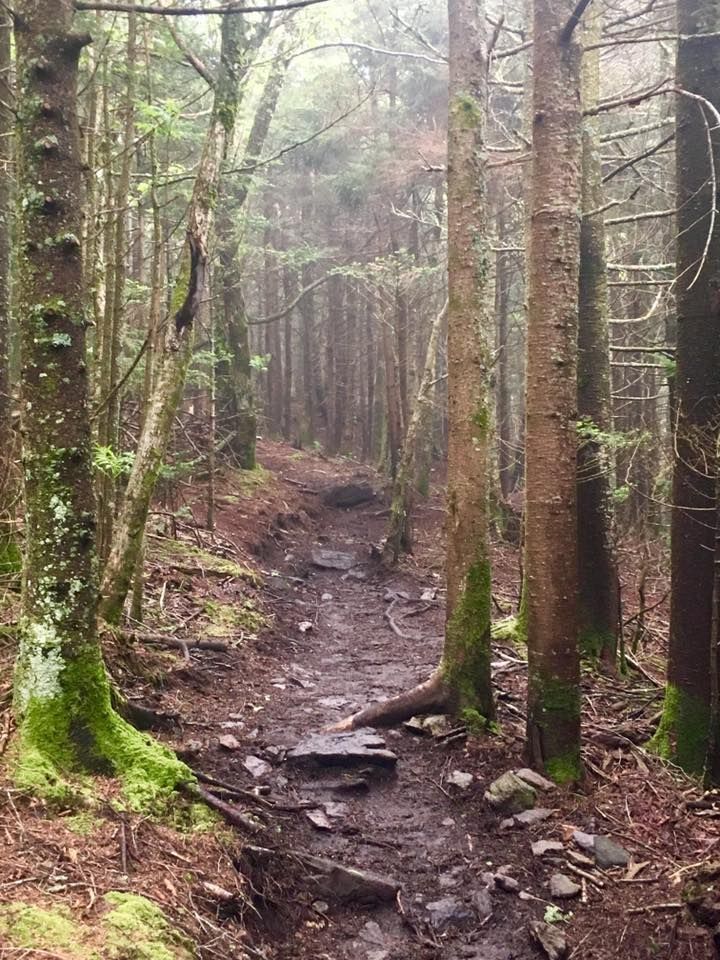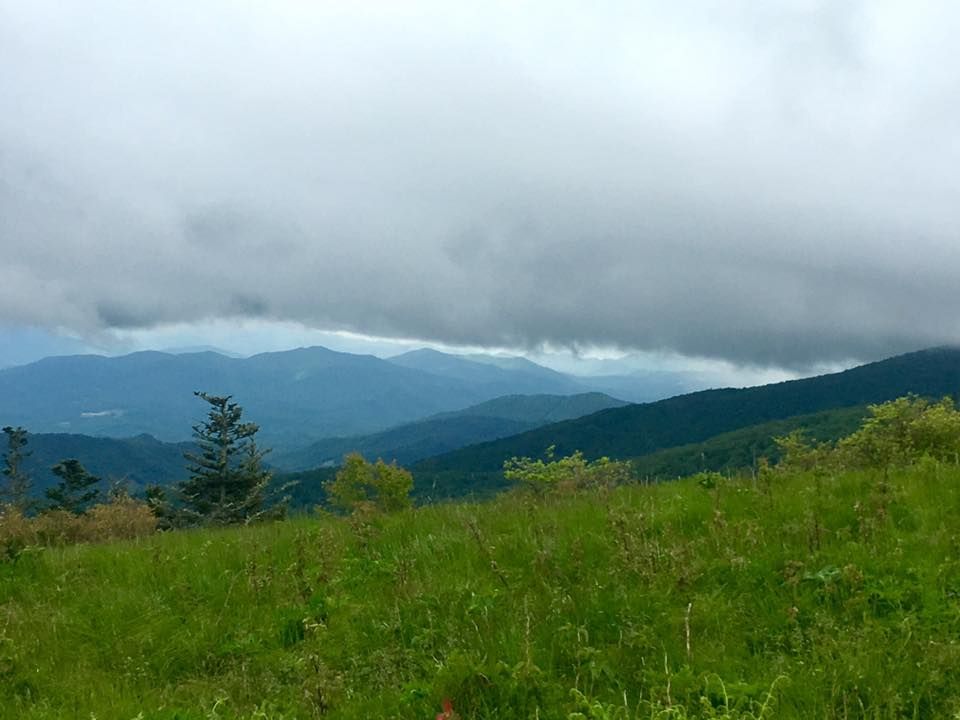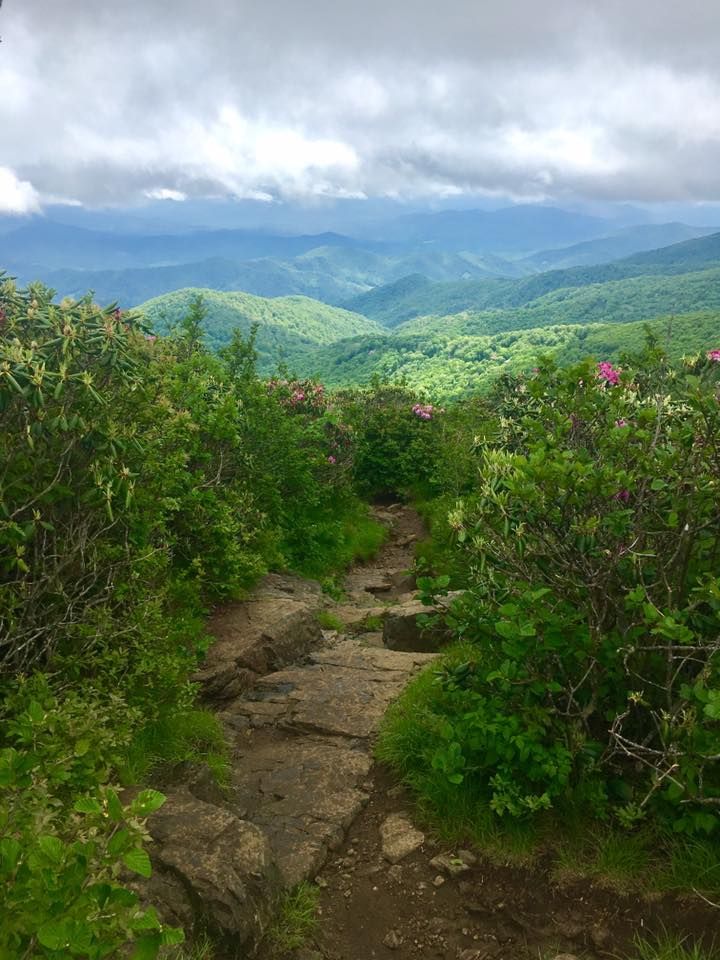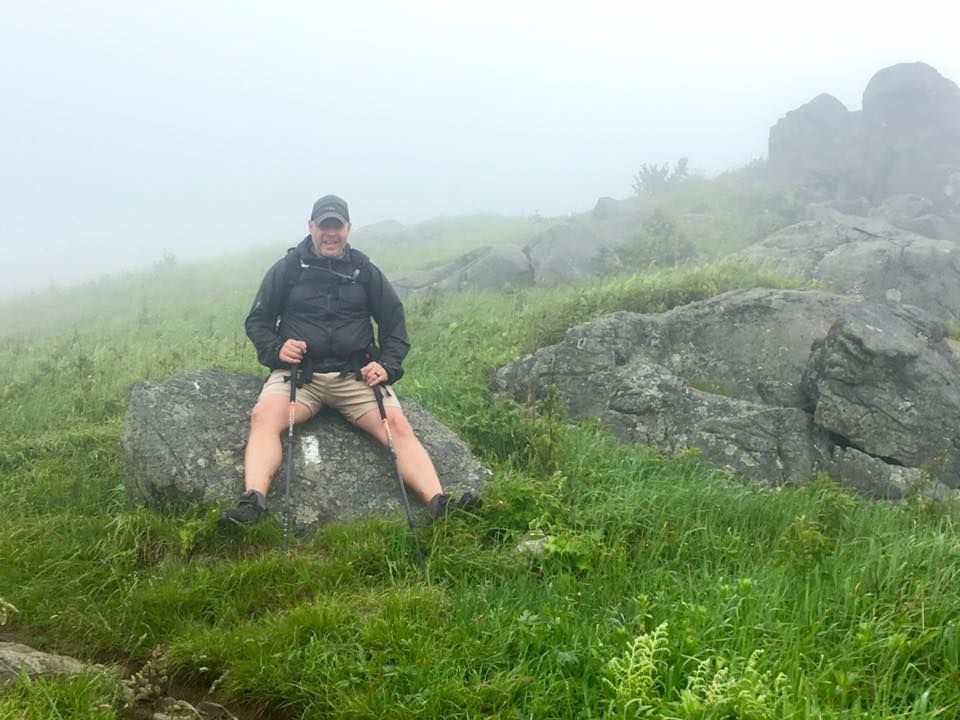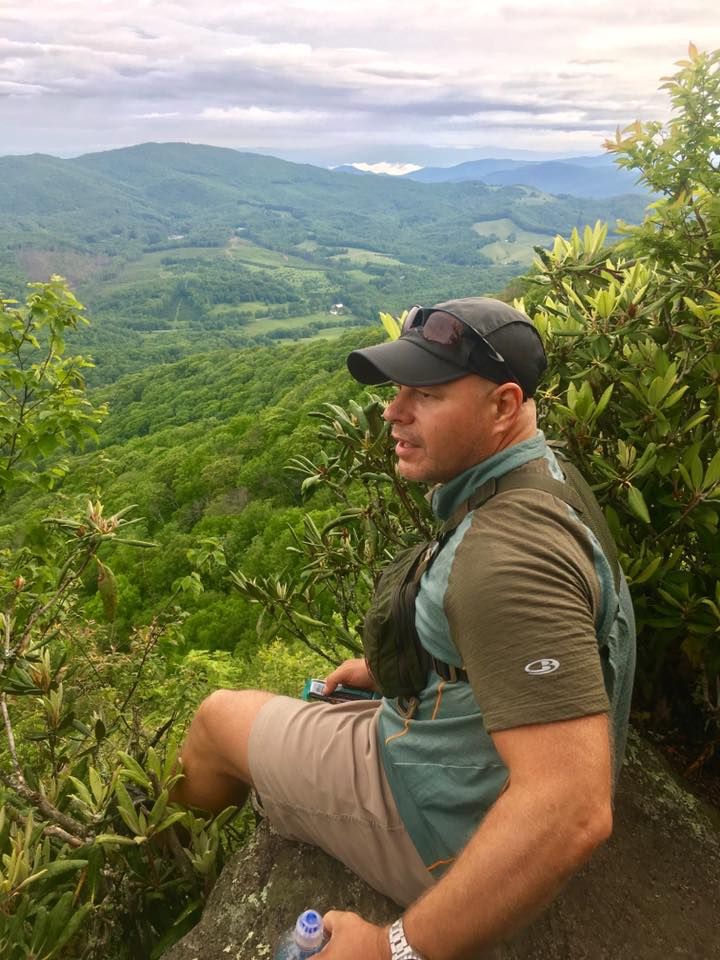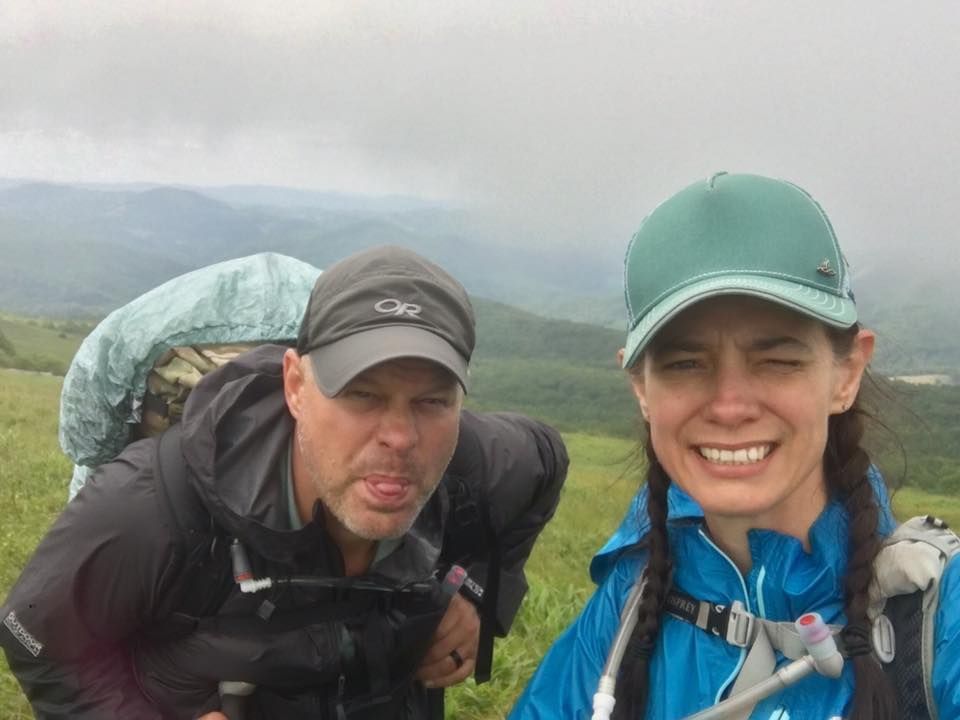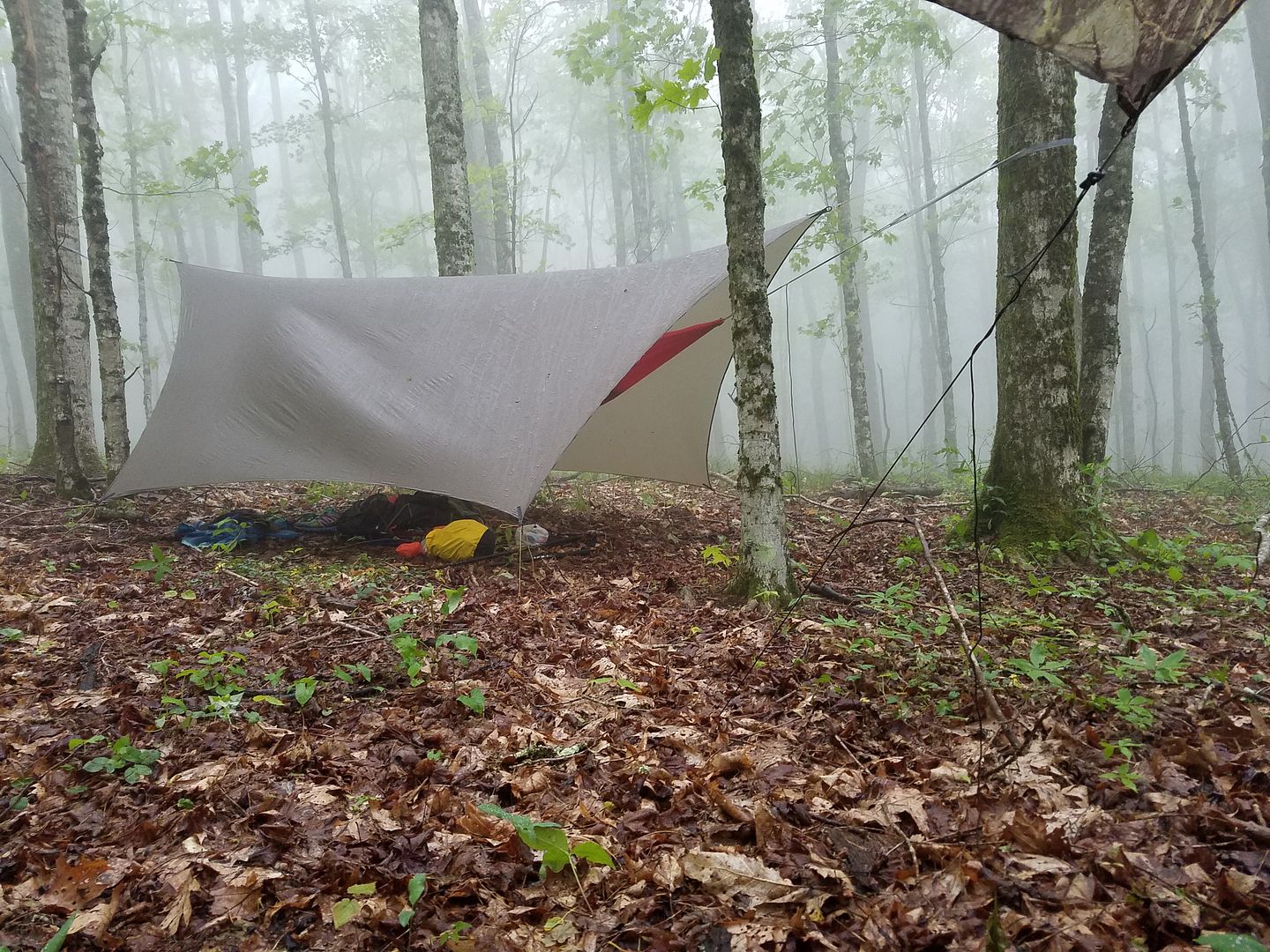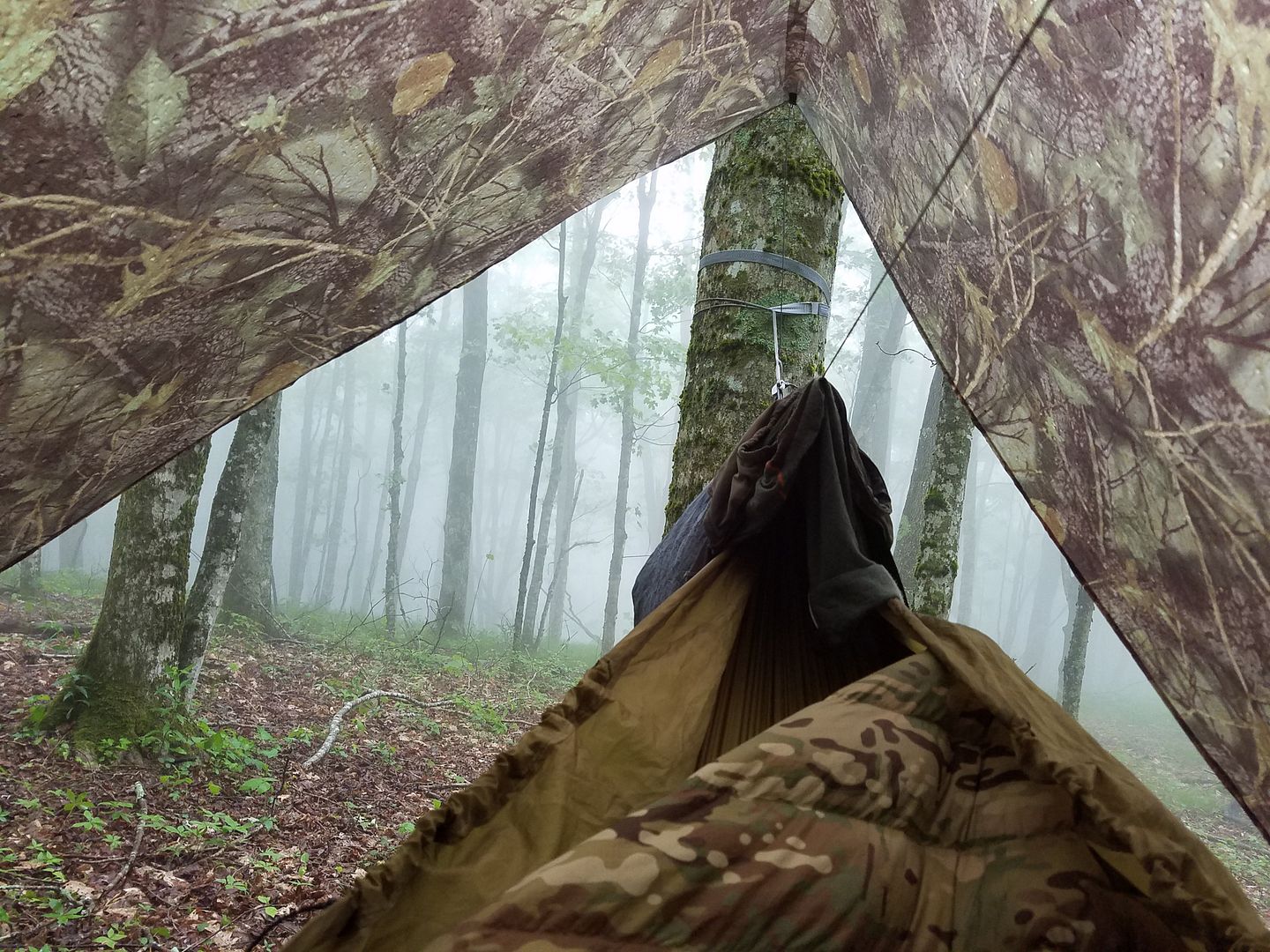 Merino wool cap and glove liners were much appreciated for the much-colder-than-expected nights (just wish I had my long underwear and under-quilt!)…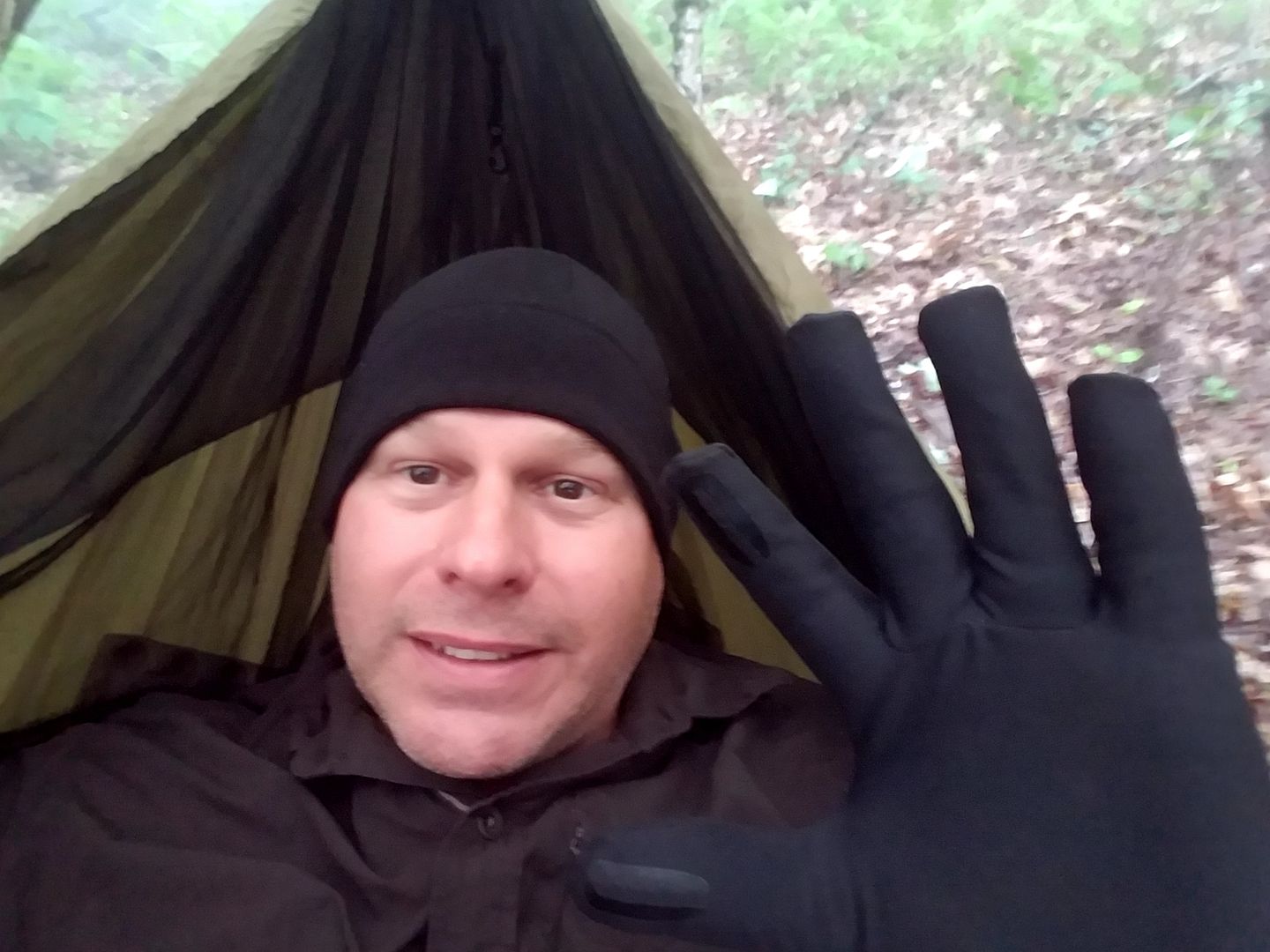 Despite our poor planning for the conditions, we still had a good time and plenty of lessons learned as usual. Fortunately, we had the flexibility to adjust our first plan…it sure didn't survive first contact! Time to reload and finish the rest of that section…and hope for slightly better weather and more importantly prepare for less-than-ideal weather!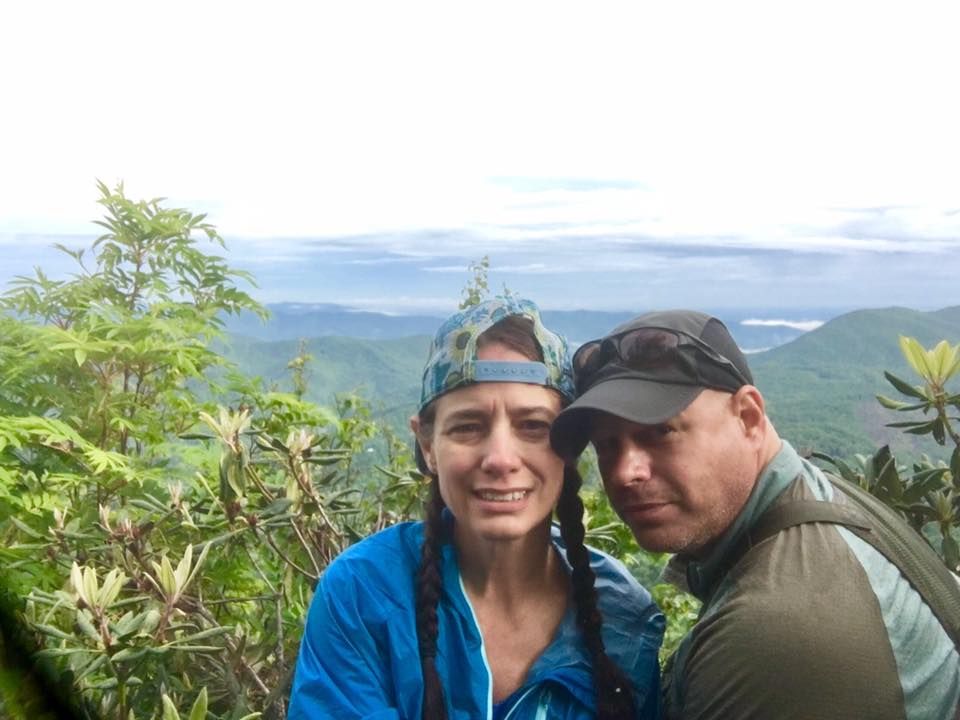 ROCK6