Ok that might be a bit of click bait as I am not suggesting dumping your outdoor/survival rain gear and clothing for Tyvek coveralls. That said I sometime do summer seal coating and when operating the sprayer at times I will wear Tyvek coveralls. The ones on the job didn't have a hood or booties as wore safety glasses and rubber boots but offered good overall protection. A few times kept the suit on when cleaning the equipment and was reasonably dry despite washing everything down occasionally in the rain. Also on the job it felt like a good wind break. So got to thinking if this would be a good survival kit or daypack item for times when packing full rain gear might be inconvenient because of bulk and weight.
According to Dupont Tyvek is highly water resistant and breathable. Those are characteristics of good outdoors fabrics.
http://www.dupont.com/products-and-serv ... ility.html
Naturally I am not going to pack any kit without first field testing during bad conditions. We had two days of late November rain. Temps in the mid 50's going into the 40's. Hard cold torrential rain in a flooded woods. To add spice into the mix wore the dreaded cotton jeans, shirt and socks. Before some yahoo gives me the "cotton kills is a misnomer" you go out in that this environment with such street clothes and see if a google search taken out of context will save your backside. You will be COLD and soaking WET. Do the math.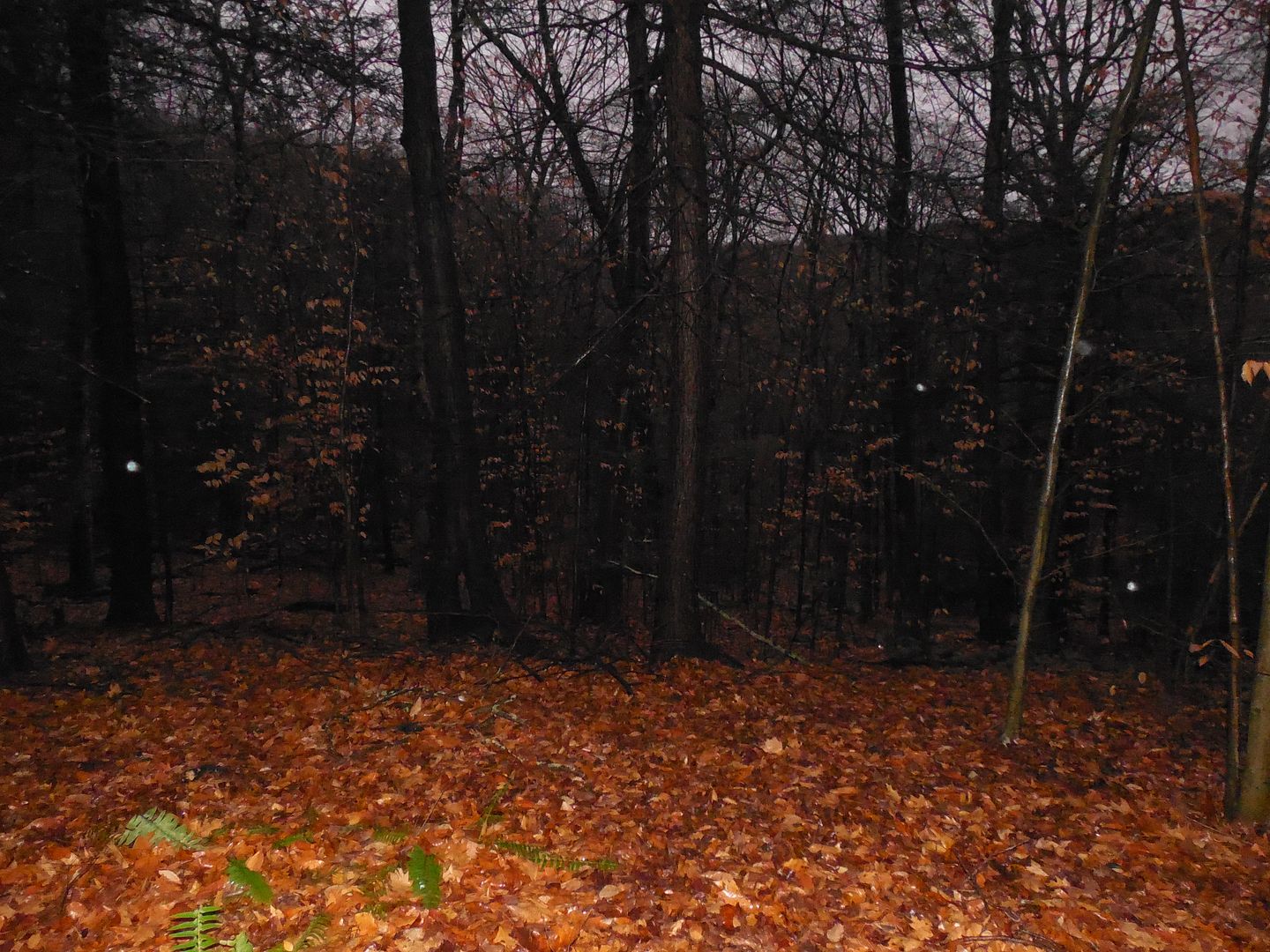 My camp. It's a good camp! Cozy!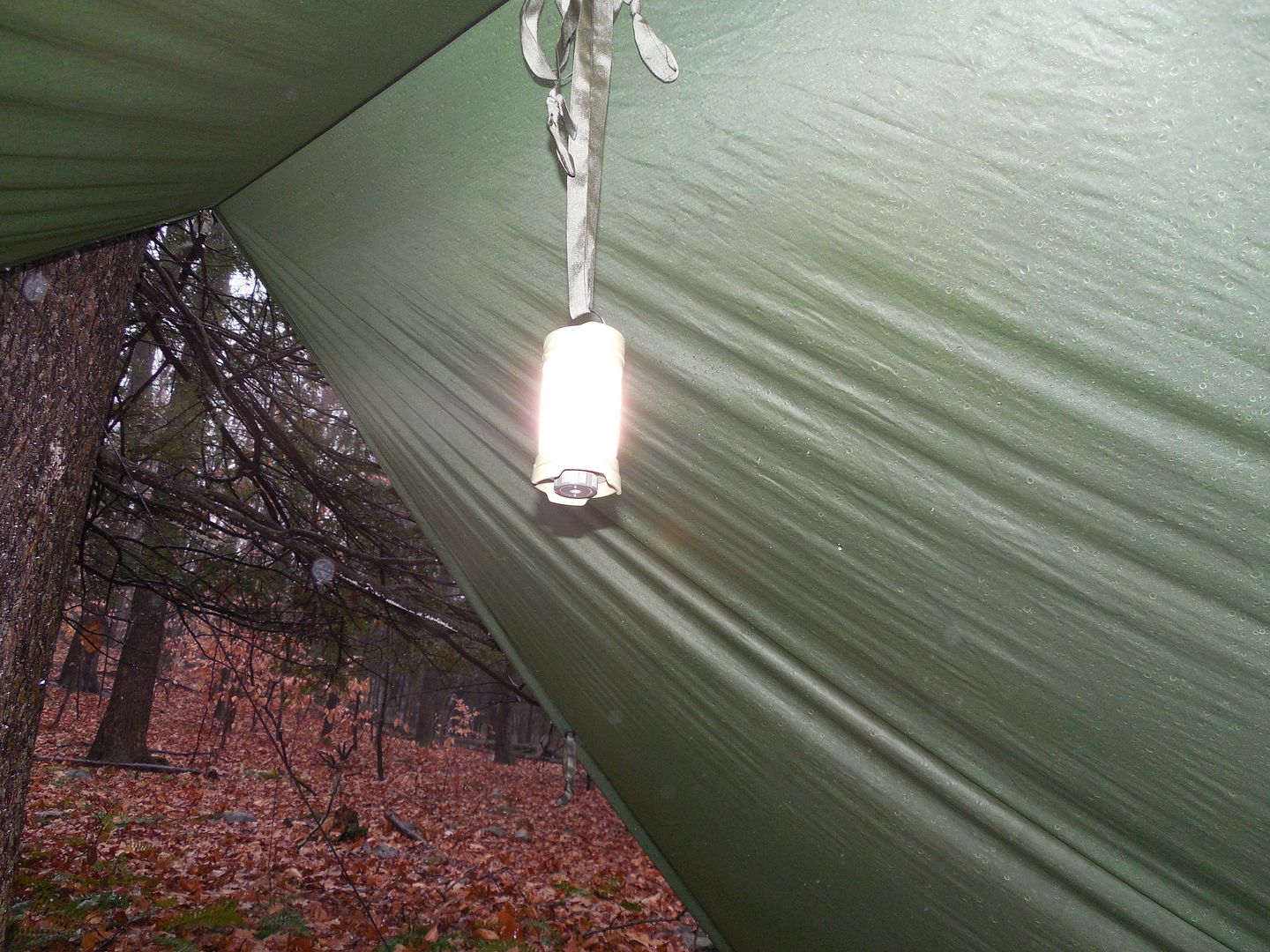 Pitched the side walls lower as the wind was picking up.
Getting squirrelly out there.
The Tyvek coveralls. I have seen them from 7 to 14 dollars. I got the extra special ones with hood, zipper flap, attached booties and elastic on hoot and wrists. Six and 1/8 ounces. Packs down small. Kinda glad I packed the MSS bivy as well. Good kit.
I need something to do in the woods to ensure there is enough work to get my dreaded cotton clothing potentially as wet as possible. I am going to attempt a ferro rod fire without edged tools or any means to shield the tinder. I won't even cover it with my body during the attempt. Personally I didn't give myself much of a chance. It was crazy wet.
I am heading out! The suit is XXL which fit good with plenty of room. The elastic wrist and hood bands didn't feel restricting. Notice the sweet collared shirt!
I beat through the bush getting wood and tinder. Hiked up and down hills. Forded a flooded feeder brook that was somehow knee deep surprising me. Here is my sad firecraft.
The more I attempted to fluff the tinder the wetter it actually got. Doesn't help the stuff was soaked to the core from the get go. I made no attempt to shield the tinder or wood. Didn't bring it under the tarp. Had no edged tools. Didn't use the dry tinder inside Strikeforce handle. I wasn't surprised in the least the effort failed. My actual goal was to maintain the maximum exposure wearing the Tyvek coveralls so didn't want to do anything which comprised that such as going under the tarp or making the firecraft easier. What a mess. I should hike back there as left everything in place. Used the pocket rocket under the tarp.
Firecraft failure. Got no shame admitting to it either and undoubtedly will fail again in the future. On a more serious note in such conditions when yea got a tarp, bivy and woobie the effort isn't worth it. Best to just wait the weather out IMHO.
So how did it work out. Well the Tyvek got dirty for sure. The few thorns I encountered for the most part just brushed off. The same goes for all the sapling underbrush. Not really a problem. It wasn't hard to go up or down hills with either. My feet were dry until I forded that flood water (on the video). So the pants wicked that water up my legs. The shoulders got sweated up as it's hard for any fabric to breath when basically covered in water all the time. The rain never let up for the entire outing. However I was warm and comfortable. It was a fantastic wind break and preformed very well as rain gear. Remember I was just wearing just a cotton shirt, pants and socks during cold November rain. It worked out rather well.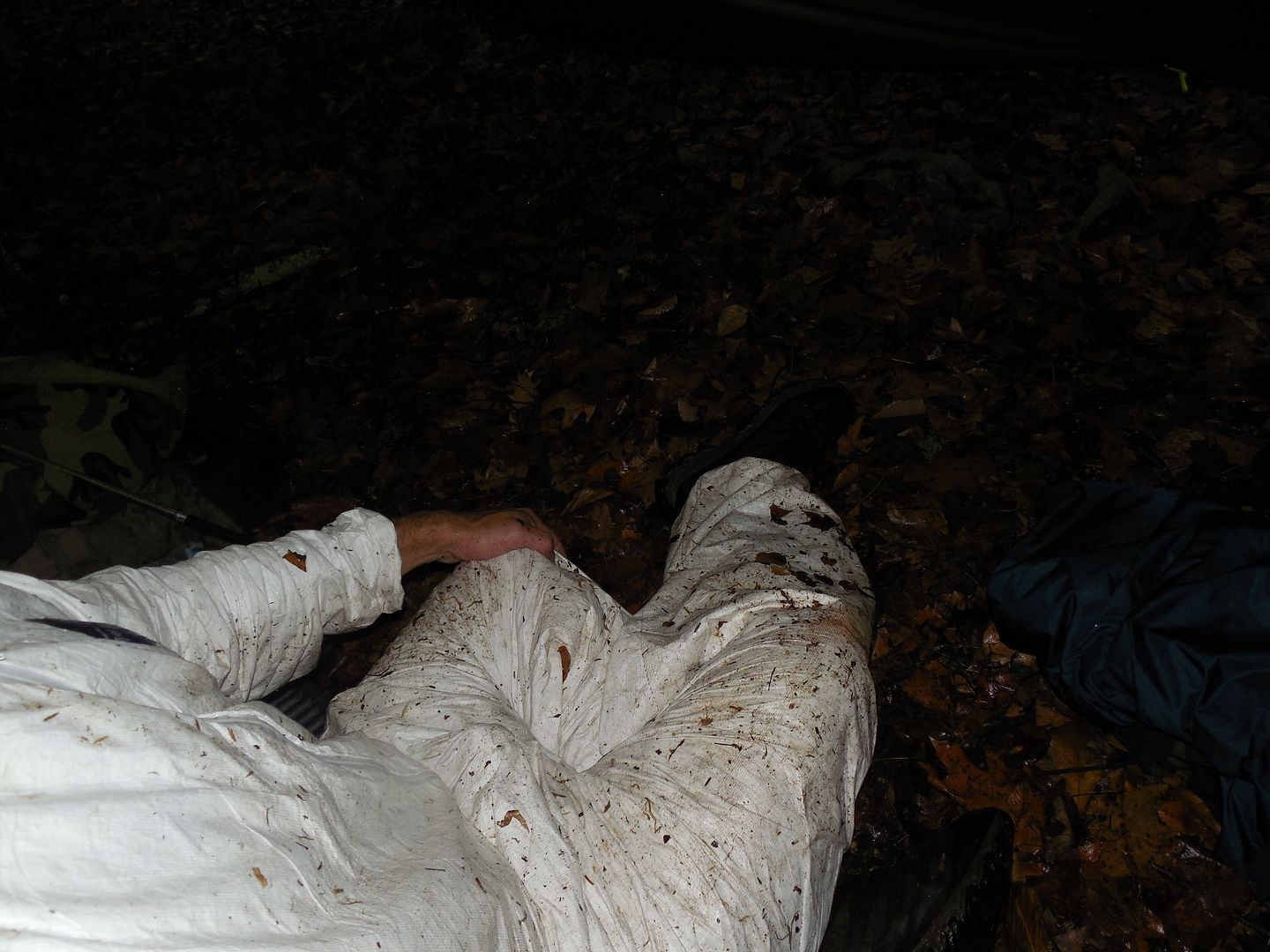 Walking around the camp at night in the suit cuz I can!
I washed the suit and will see how it works during a winter storm next. Never actually washed a tyvek suit before however it held up good in the washing machine. Buying another one for my kit! Here is a video of the madness.