I see lots of tarp and poncho shelters online but seemingly less bug solutions posted. Maybe others have alligator skin or something but personally I hate being kept up at night with bug bites. It's really the anticipation of the bites along with buzzing in my ears that are the worst parts. Yes the bites themselves also suck....pun intended. In the past I tried using just a face net, in fact still have a few of those and honestly it was miserable. So always on the look out for under tarp/poncho bug solutions. Here are two commercial ones I own. My plan was to go into the woods without using bug spray, setup two poncho shelters using both bug nets.

Shelter Number one:
1. The Equinox Mantis Sleep Screen
http://www.equinoxltd.com/the-gear/slee ... screen.cfm
While not destroying insects like its name sake, this Mantis will thwart their attempts to gnaw on you. Pyramidal in shape (with a bottom), the No-See-Um canopy can be hung from a tarp, tree limb or rigged from cord in a lean-to.

Constructed of No-See-Um mesh

Elastic drawcord with cord lock will tighten the entry side around the sleeping bag
24" zipper provides easy access
Loops in each corner for tent stakes
Accomodates one person for sleeping
Dimensions: 32"H x 33"W x 32"L

Weight: 4.5oz
2. MSS Bivy
3. Dakota outerwear MC Poncho.
Shelter number 2.
1. Sea to Summit Mosquito Pyramid Net Shelters - Insect Shield.
http://www.seatosummit.com/product/?ite ... 2=0&o3=146
Ideal for trekking, traveling and wilderness camping, these shelters provide essential protection against mosquitoes and other bugs. The asymetric shape means the apex of the pyramid is closer to the head end for more usable head room. An overlapping flap at the base (with an elasticized drawcord) makes it easy to achieve a bug proof seal against a floor or mattress. Colored tapes at each corner and a single suspension point ensure easy set up.. Insect Shield® treatment provides added protection.

Size Variation Single
Length 87 in/
Width 48 in/
Height/Depth 42 in/
Weight 9 oz/420g
2. Equinox UL Poncho with extension.
3. MLD UL Bivy.
Ok so how do they both work? Lets set up both poncho shelter systems and take a look. First here is the Sea to Summit Single Pyramid Net.
It attaches to the ridgeline using shock cord.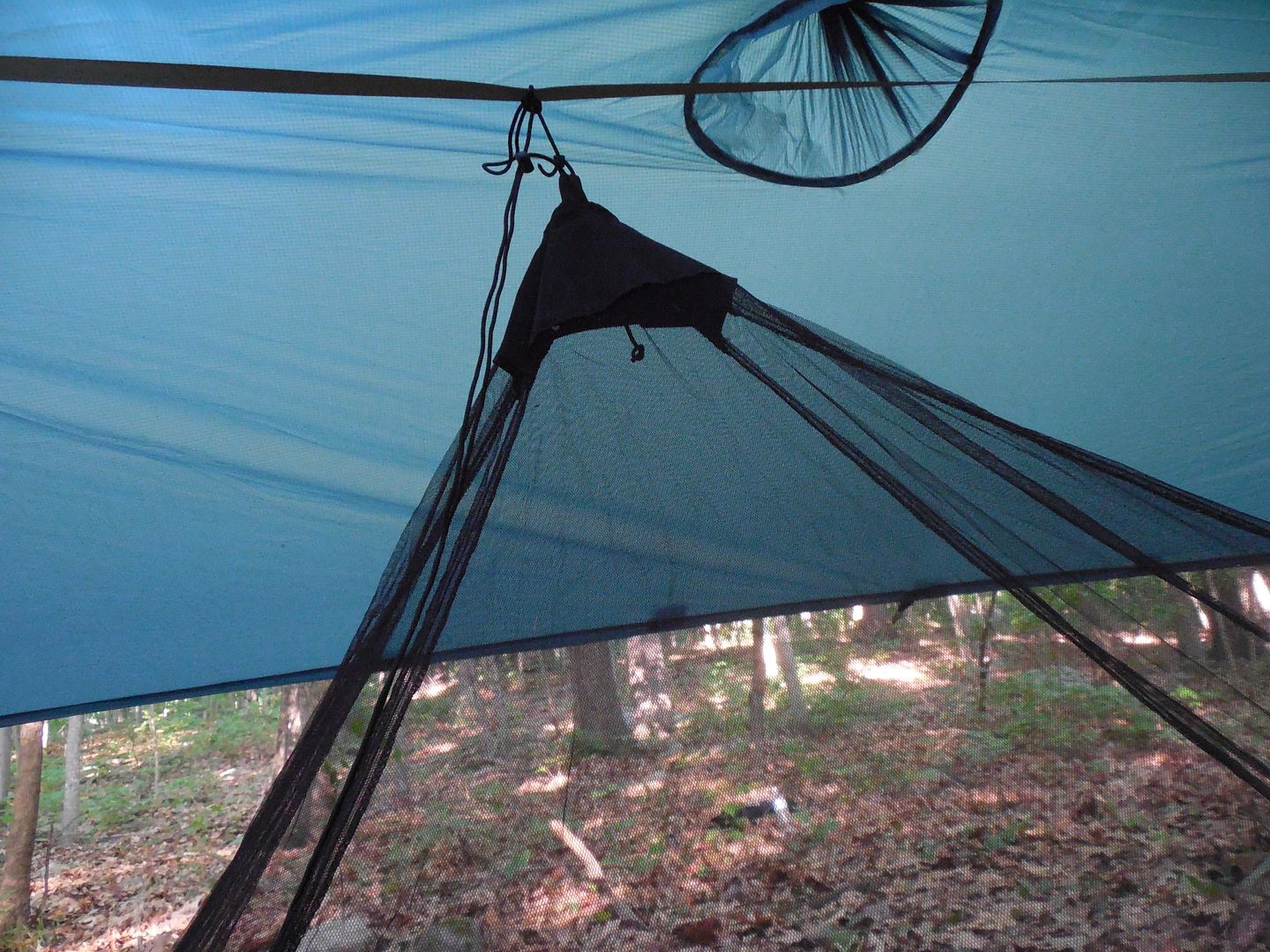 There are tie-offs on all 4 corners. The material cups inward to help seal the bottom within reason.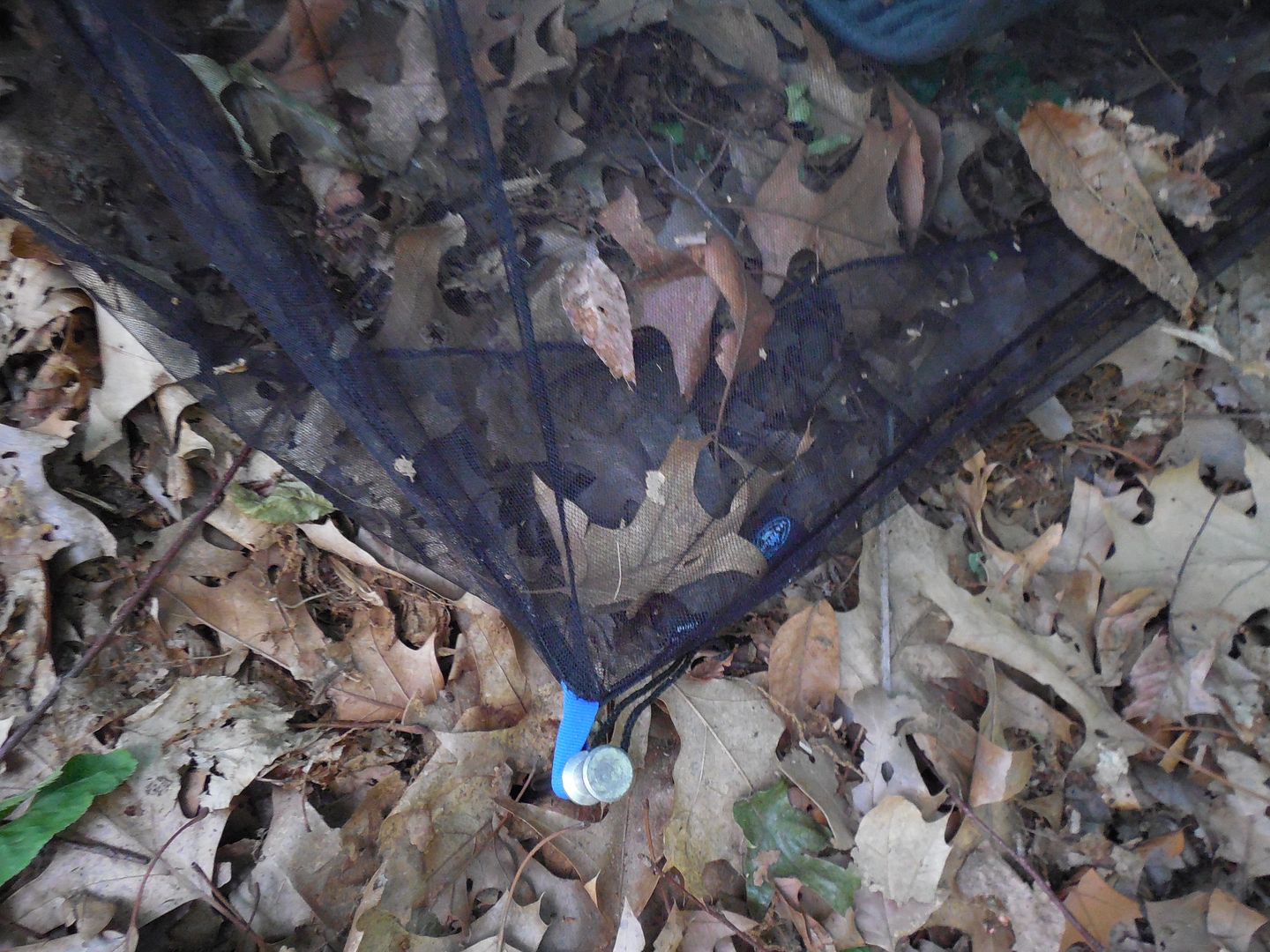 It's the larger of the two nets and will protect much of the body however anyplace the net touches the skin is an opportunity for an attempted bite. I use the UL bivy to protect my legs which bump up against the netting. The net comes treated with bug repellent which seems to help a bit.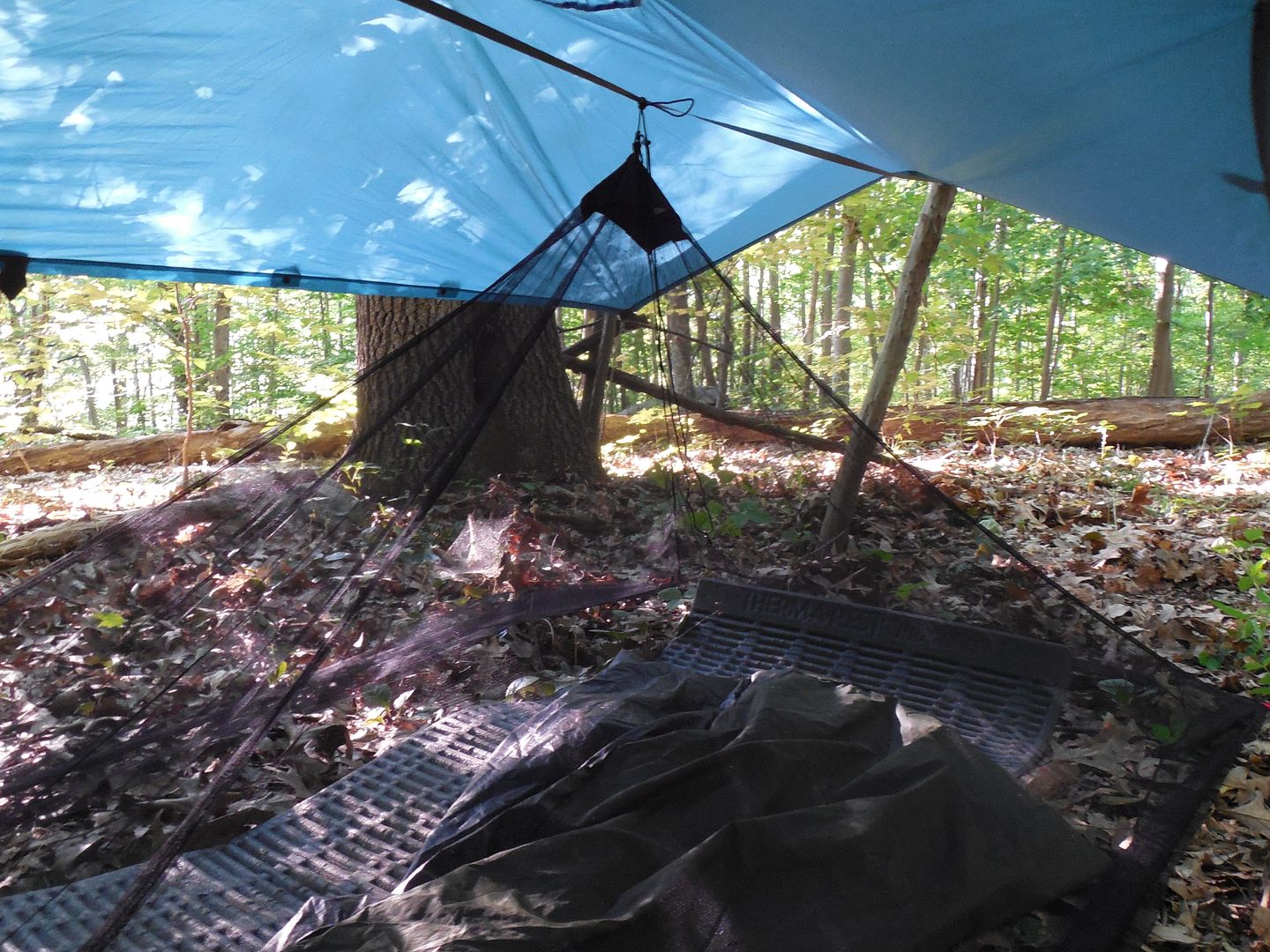 What do I think. First very often I use my Hennessy Hammock for warmer weather camping. When I do sleep under a poncho will use my custom MLD bug bivy. That said I have slept under the Sea to Summit 3 or 4 times. Entry is by crawling under the side which is easy. Seemed to work ok however when it comes to bug nets bigger tends to be better. If I could buy this gear item again would consider the double size. Still the single does the job and it's good for a daypack/BOB application during bug season if there is a chance of actually sleeping out. It's better than just a head net. Believe me those suck for sleeping IMO. Also a possibility for those looking to reduce pack weight.
The Mantis.
Ok two things are apparent. first Multi Cam rocks, secondly the Mantis is made only to protect the upper body. It's also has tie-offs on all 4 corners and shock cord for both top support and to close off the entry bottom.
The zipper pull is on the inside for easier access.
What do I think. To be honest only slept in the Mantis once as have other options. It did keep the bugs away from my face but was cramped. I do take this in my daypack more often as it's lighter than the Sea To Summit but for pure sleeping the Sea to Summit wins IMHO. I do like the way the Mantis is really just a large bug net bag so could have multi use applications. The Sea to Summit is also similarity shaped but the Mantis gives off more of a bag aura for lack of better words. It's better than a pure face net but not as good compared to a large pyramid or bug bivy.
What is a Bug Bivy? These tend to be totally enclosed bug protection solutions for sleeping under a tarp/poncho. Here is the one I most often use when sleeping under a tarp or poncho. The MLD Bug Bivy. It's custom made so didn't include it within my video review. Reviewing one of a kinda items tends to use up too much of the viewer's time for an item which very often isn't available or has a ling waiting list. I was pushing over 16 minutes talking about just the two readily available commercial options so wanted to just focus on that.
Next to a ID Siltarp 1 which was made in 2003 if you can believe it. I think it was my first Silnylon tarp! Photos taken some years ago.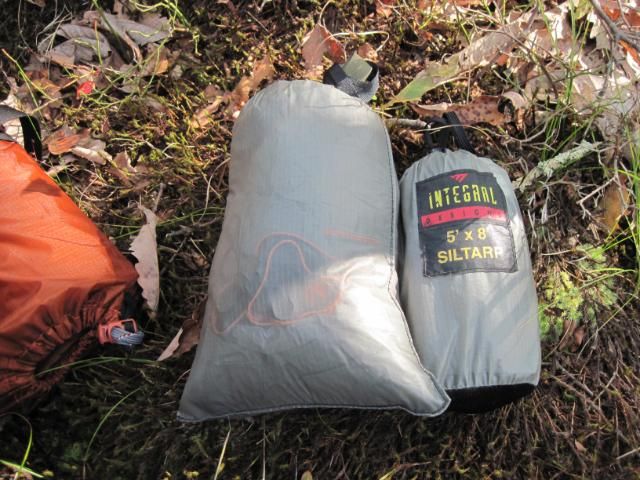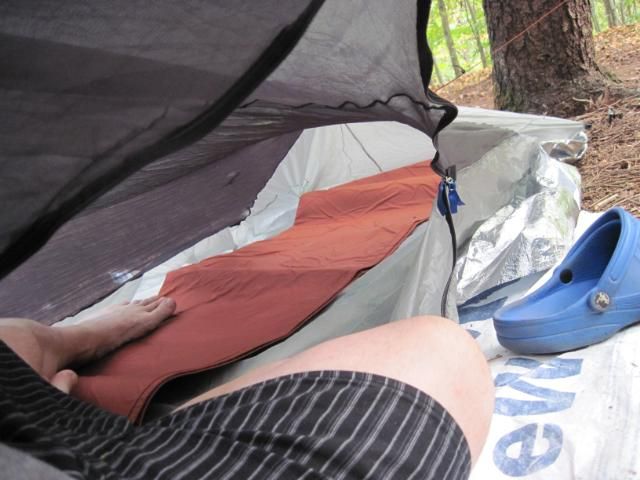 I think packing a bug solution beyond lots of spray and a face net is important during bug season. I had some very bad experiences trying to use just those two options in the past and have no intention of repeating them. When the bugs die down is one thing however when thick taking that issue into consideration will payoff. Here is a video showing the Sea to Summit Pyramid and Equinox Mantis setup from the inside out.
Thanks for looking.