By now many have seen those 30 dollar Gore-tex reversible military jackets on sale.
viewtopic.php?f=14&t=117279
http://www.tacticalassaultgearstore.com ... ckets.html
So how are they? Before we cross that bridge here is a question. How many of you have looked out the window on a very stormy night and thought, it's a wild night, glad I am not out there. Then again but how many wondered, dang, it's a wild night. I want to be out there! So it's a wild night and yes I am going out there. No gear gets included within my preps or kit without being first tested. Often this testing involves harsh yet plausible scenarios. By plausible what's a realistic situation that I might require a gear item for. It's not unreasonable to expect temps in the 50's with high winds and torrential rain at night. How far to walk? I decided a 6-mile night hike through a combination of wide dirt roads and narrow foot paths with hills would be a good test. I hardly ever night hike more than 6-8 miles. Running would probably be impossible so this might take 3 hours. That doesn't sound all that long however time tends to slow down during a wild night. That's possibly one of the draw to going out in them.
Wild night cheap surplus Gore-tex jacket field test GO!
Isn't this nice. The dirt road is underwater.
Maybe I will try going up hill. There was a path off to the right which is now a waterfall. That's to be expected during a wild night.
I am not going this way.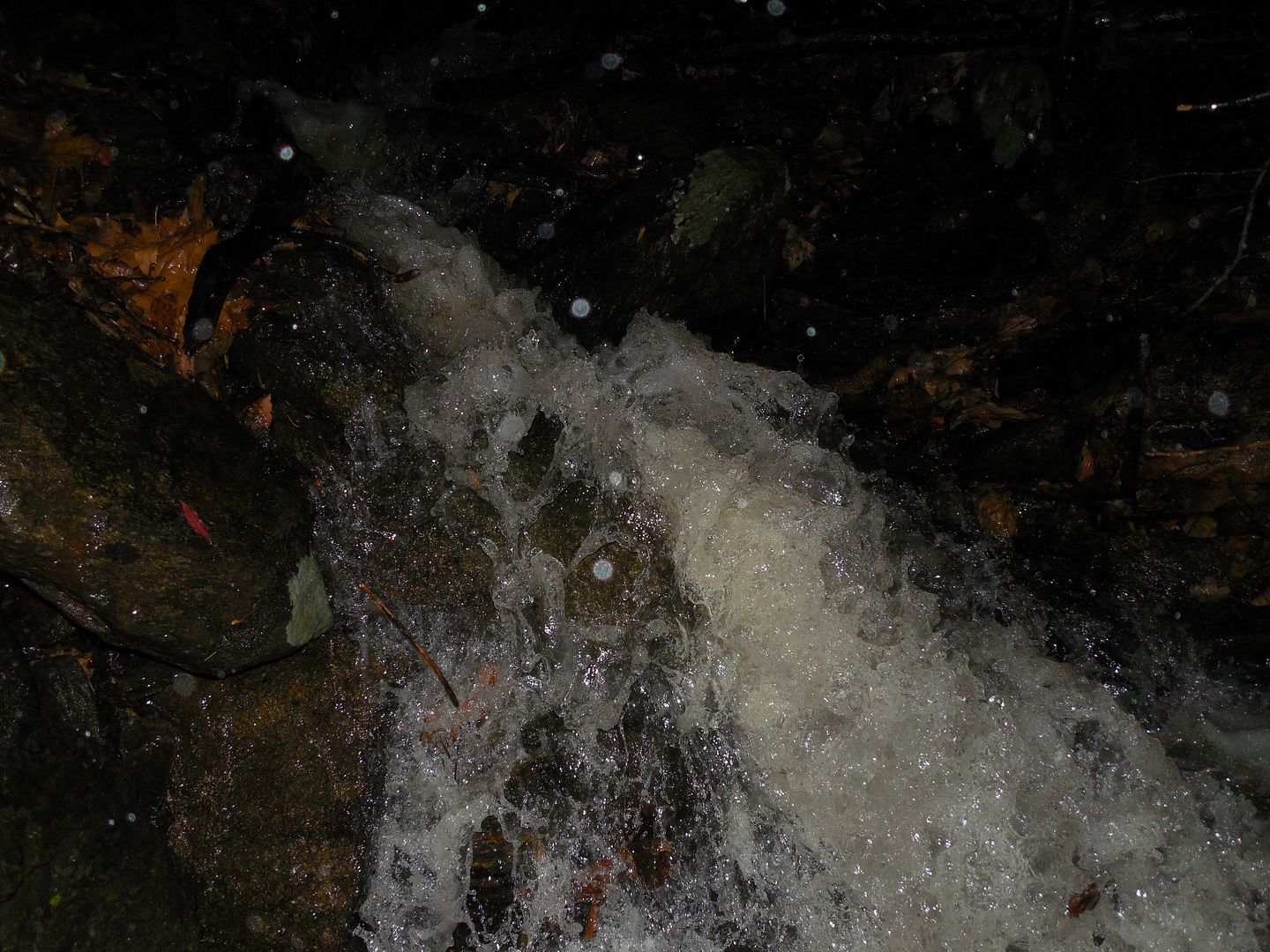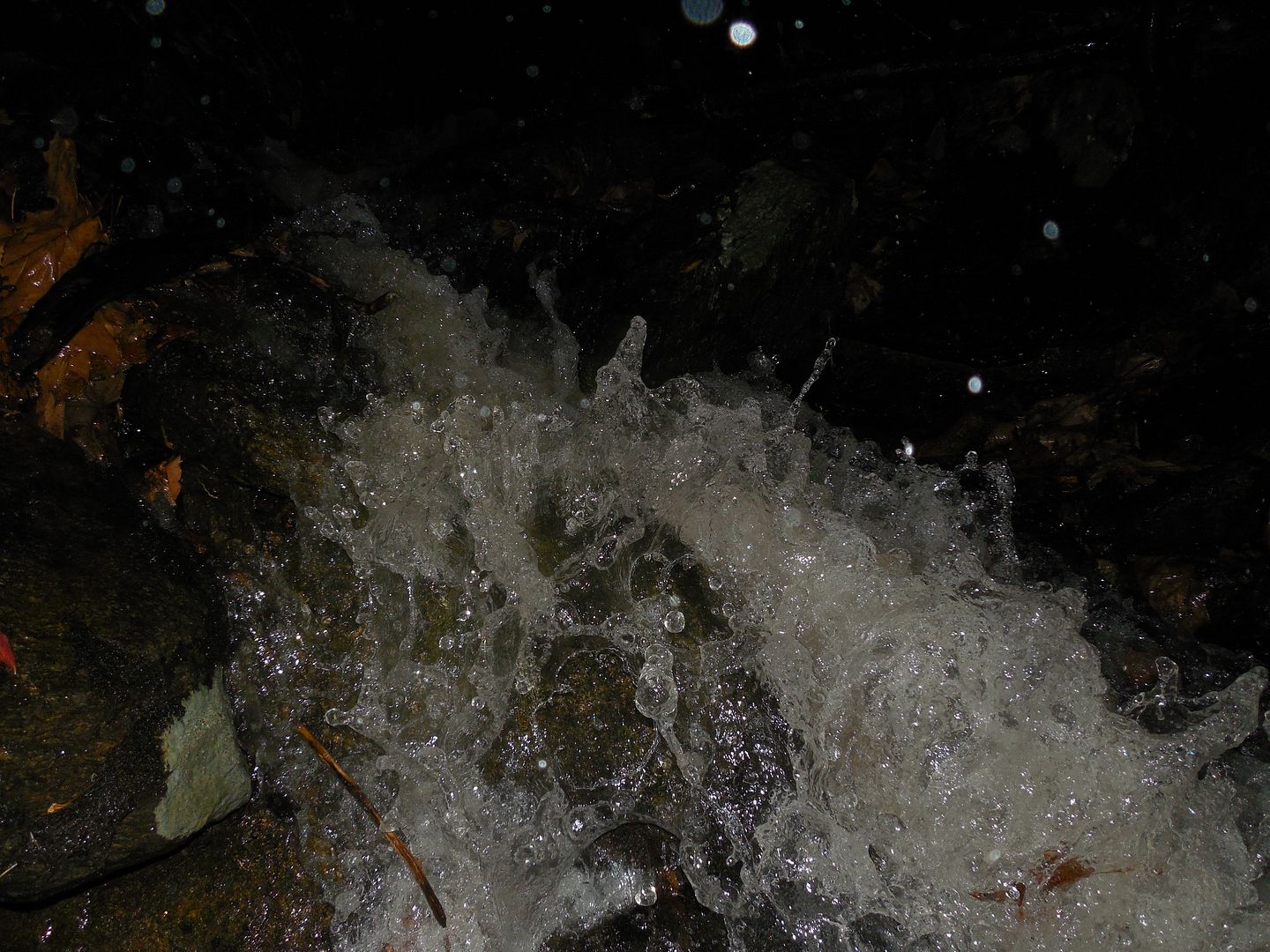 It seems no matter how bad the wind and rain there is always a spot someplace in the woods which is dry. Then again finding that spot if needed tends to be problematic. I didn't need it so here it was.
Lots of fallen branches. Some a little too big for comfort but that's to be expected during a wild night. Yes I am going to say the words "wild night" a few more times in this review. It can't be helped.
The jacket had a nice hood. The reversible nature meant there was a double layer with considerable gap between them. The net result was the rain didn't hit any fabric within direct contact with my head or much of the upper body. It seemed like being in a tent. I think the air space added a bit of insulation for that sleeping bag effect. On the down side the inner layer would glare off the headlamp. Visibility was only 20 feet at best even with a bright headlamp. Often snow, rain and condensation from breath will glare the light from a headlamp more than flashlight. More so on a wild night.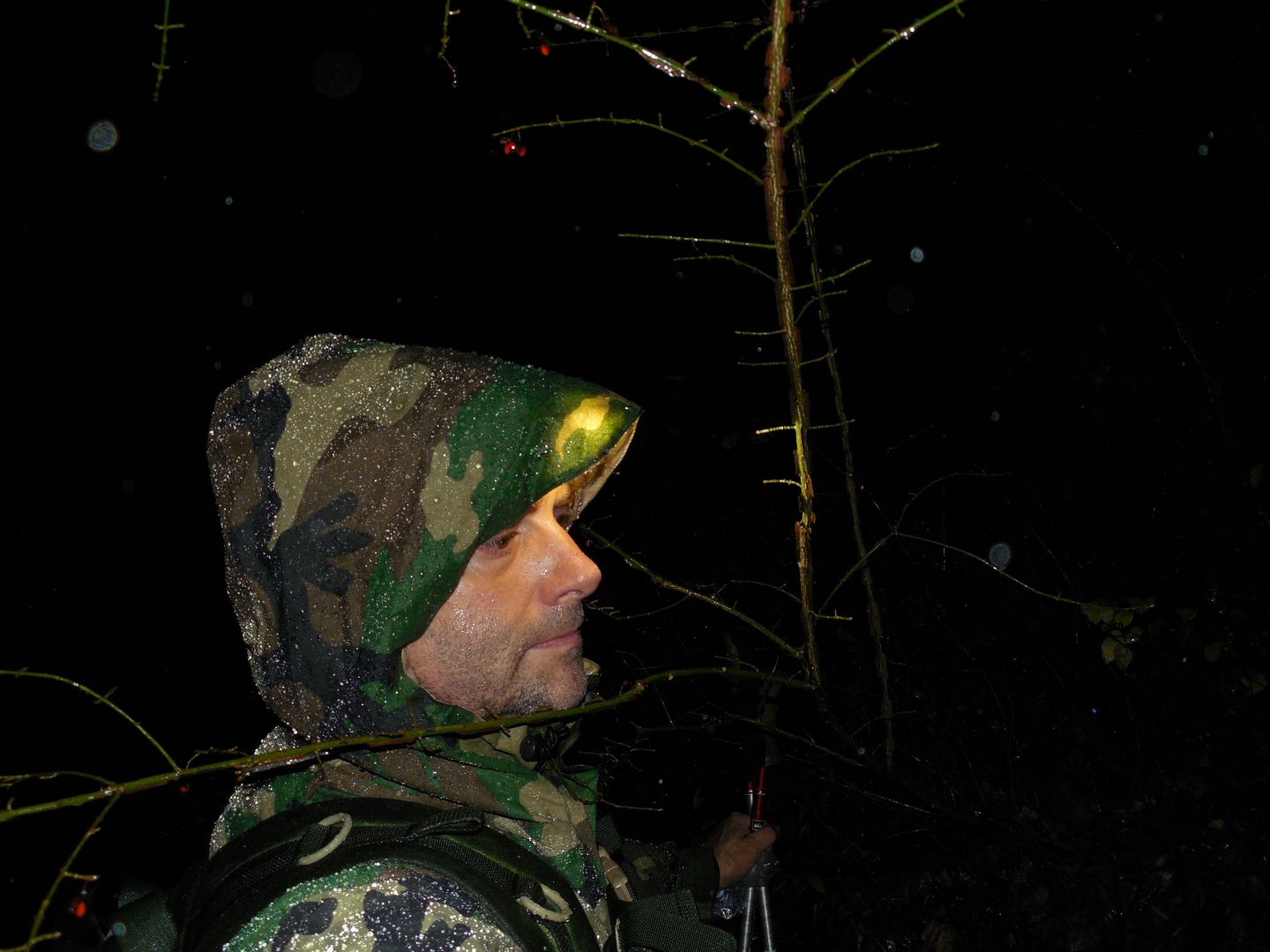 Water rushing over tree roots and at times over my shoes. They're waterproof but not if submerged. I should have worn boots.
Wide dirt road or narrow foot path. It didn't matter as both were flooded.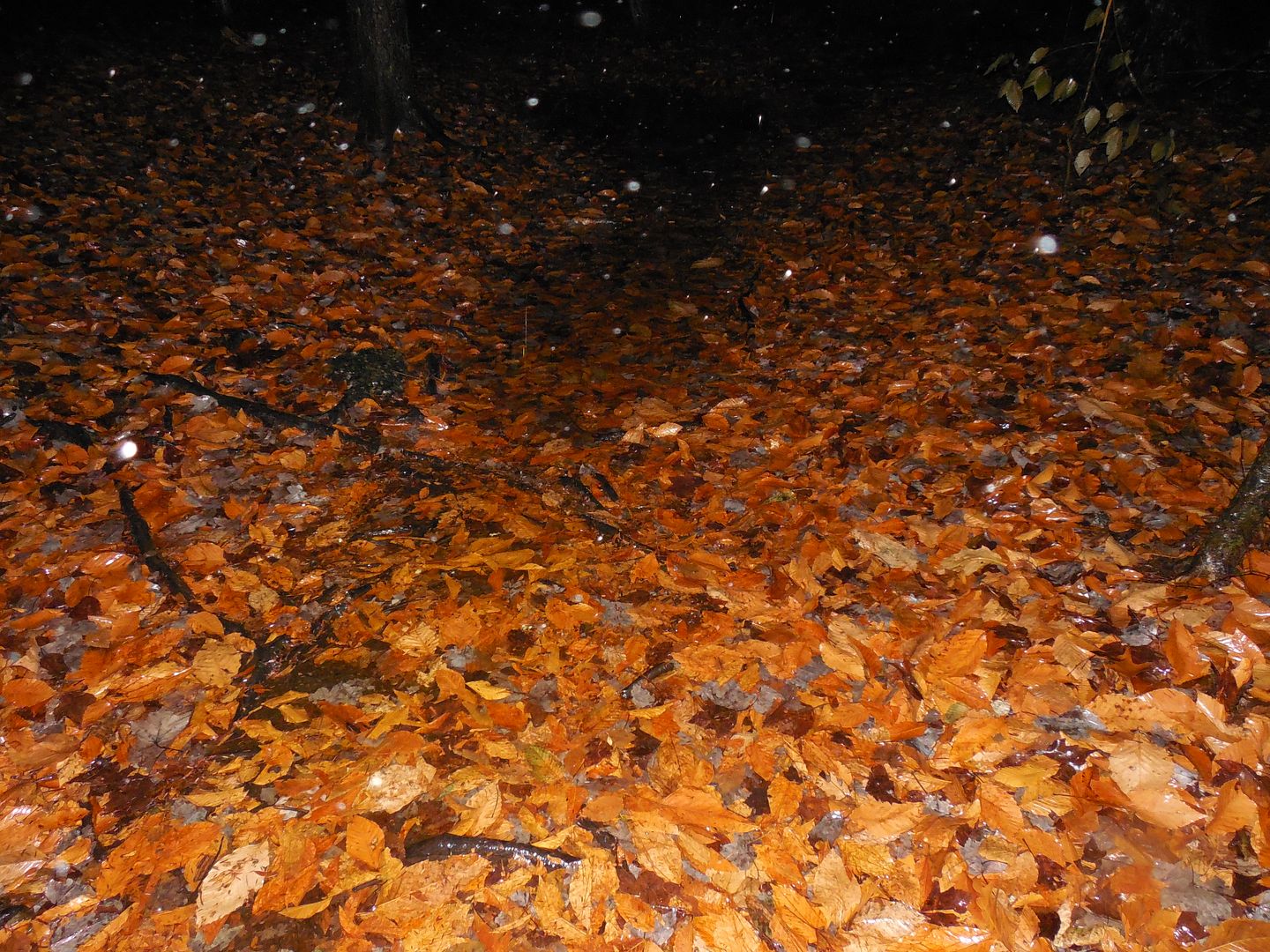 Speaking of narrow it was probably best not to fall off the long foot bridge.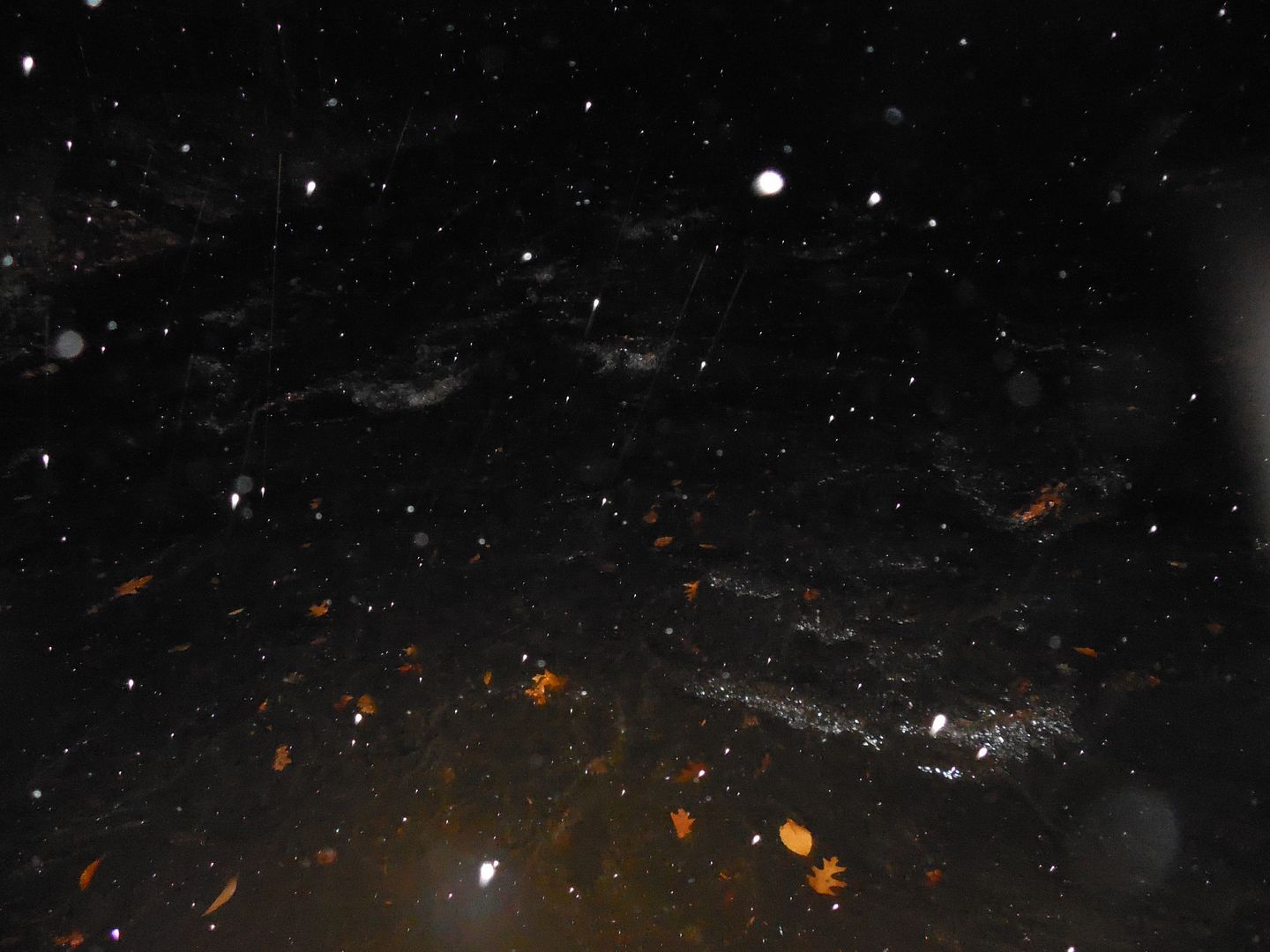 Branches and stuff rolling down the current.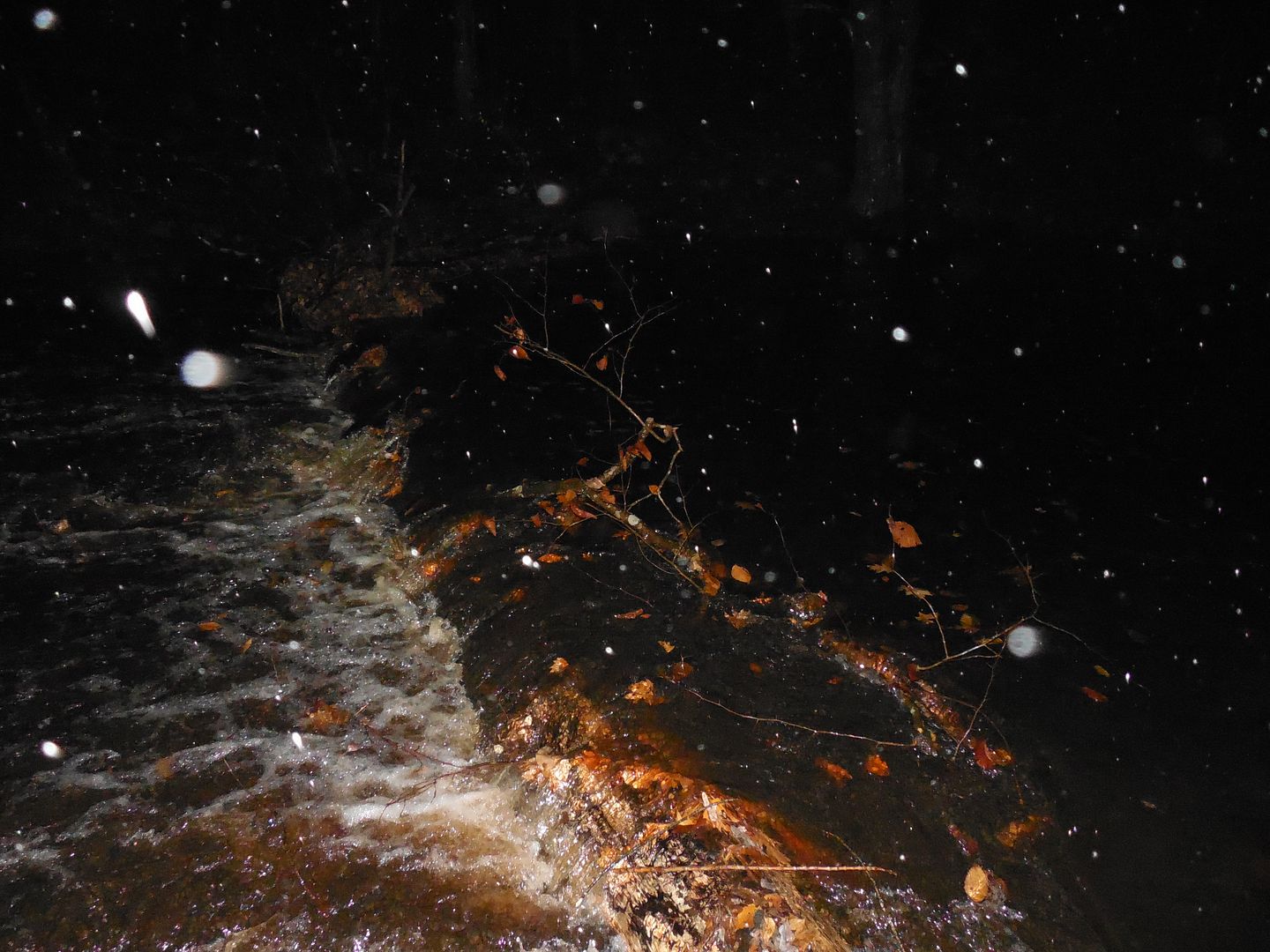 When it comes to rain jackets I tend to error on the the side of larger. Why? Water likes to wick up sleeves. You never want the garment under the rain jacket to have longer sleeves than the jacket itself. In some ways this is a bit like having a ground cloth larger than the shelter. It will bring water in. Not a problem here.
The same applies to the waist. I don't want any gaps etc. These issues become more apparent in really heavy rain or prolonged exposure. Again no problem here.
Back in the van feeling fairly dry. So the jacket past the field test and earned it's place in my pack. The headlamp also proved waterproof as my previous testing and outings indicated was the case.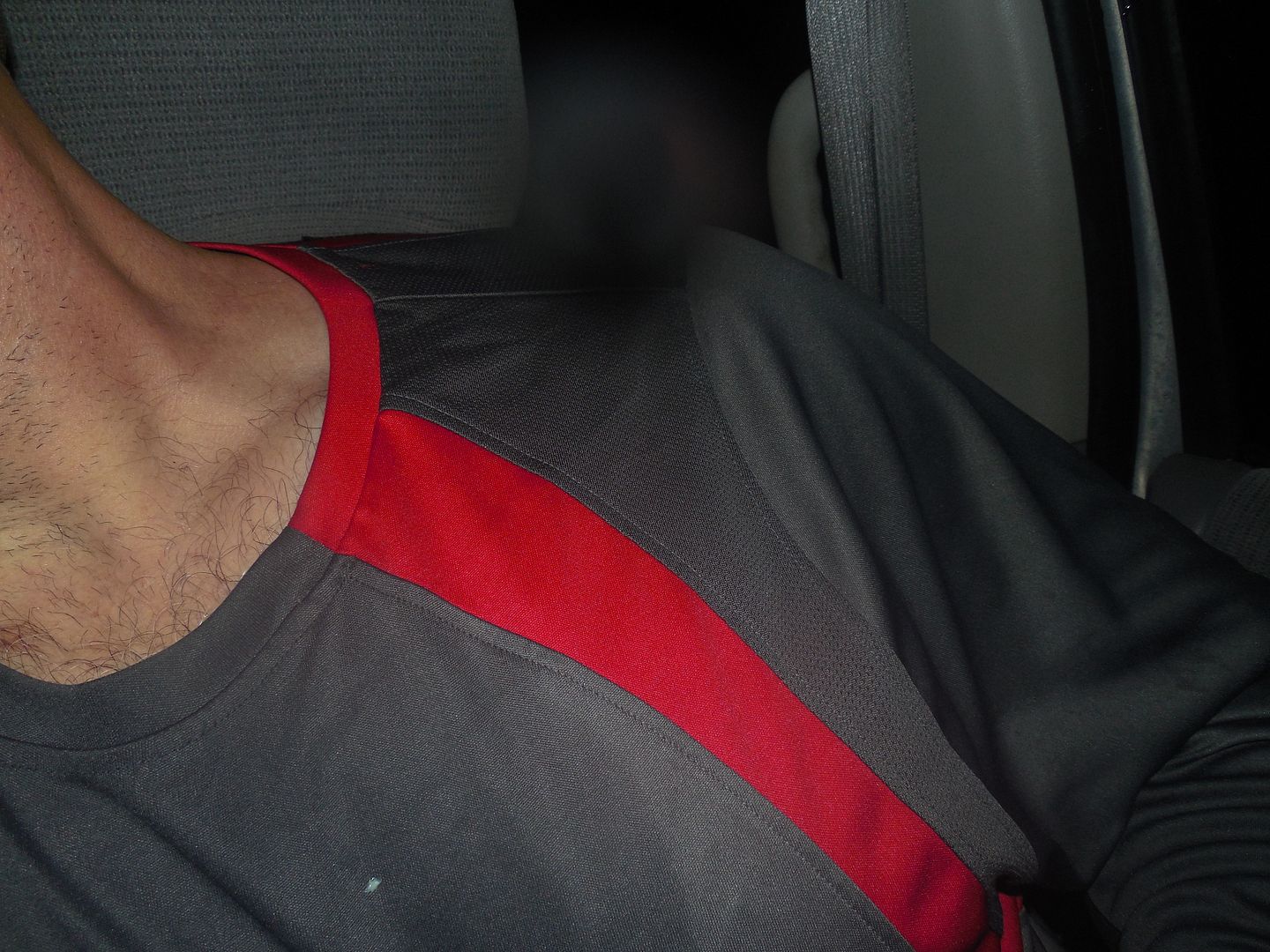 Taking a look at the jacket. It's really just a standard run of the mill well thought out Gore-tex jacket. Mine was brand new with tags made by Adventure Tech. This is the same company that made my Gore-tex woodland camo bivy tent.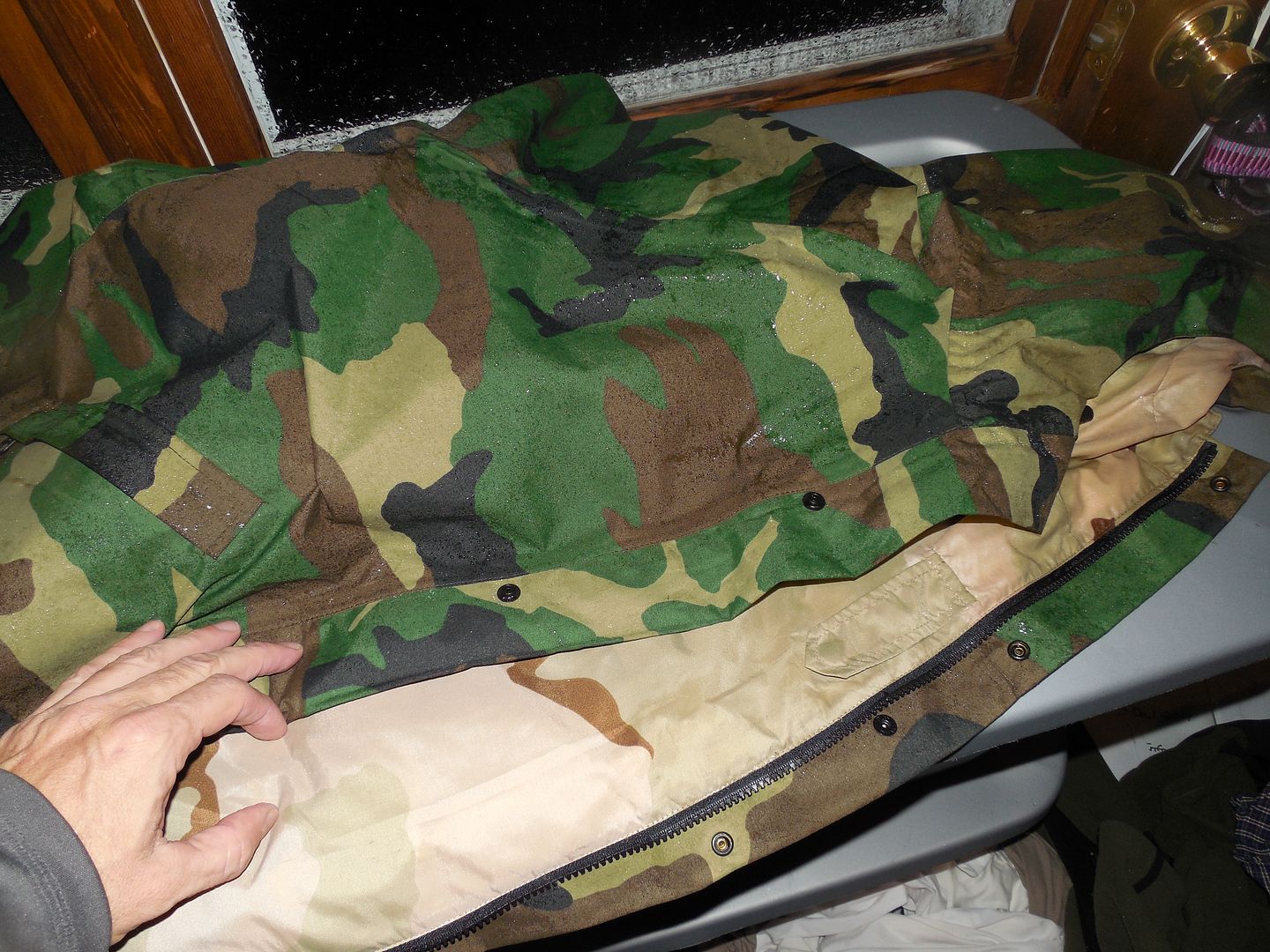 Yup there are pockets, zippers, shock cord things, velcro, snaps and flaps etc etc etc.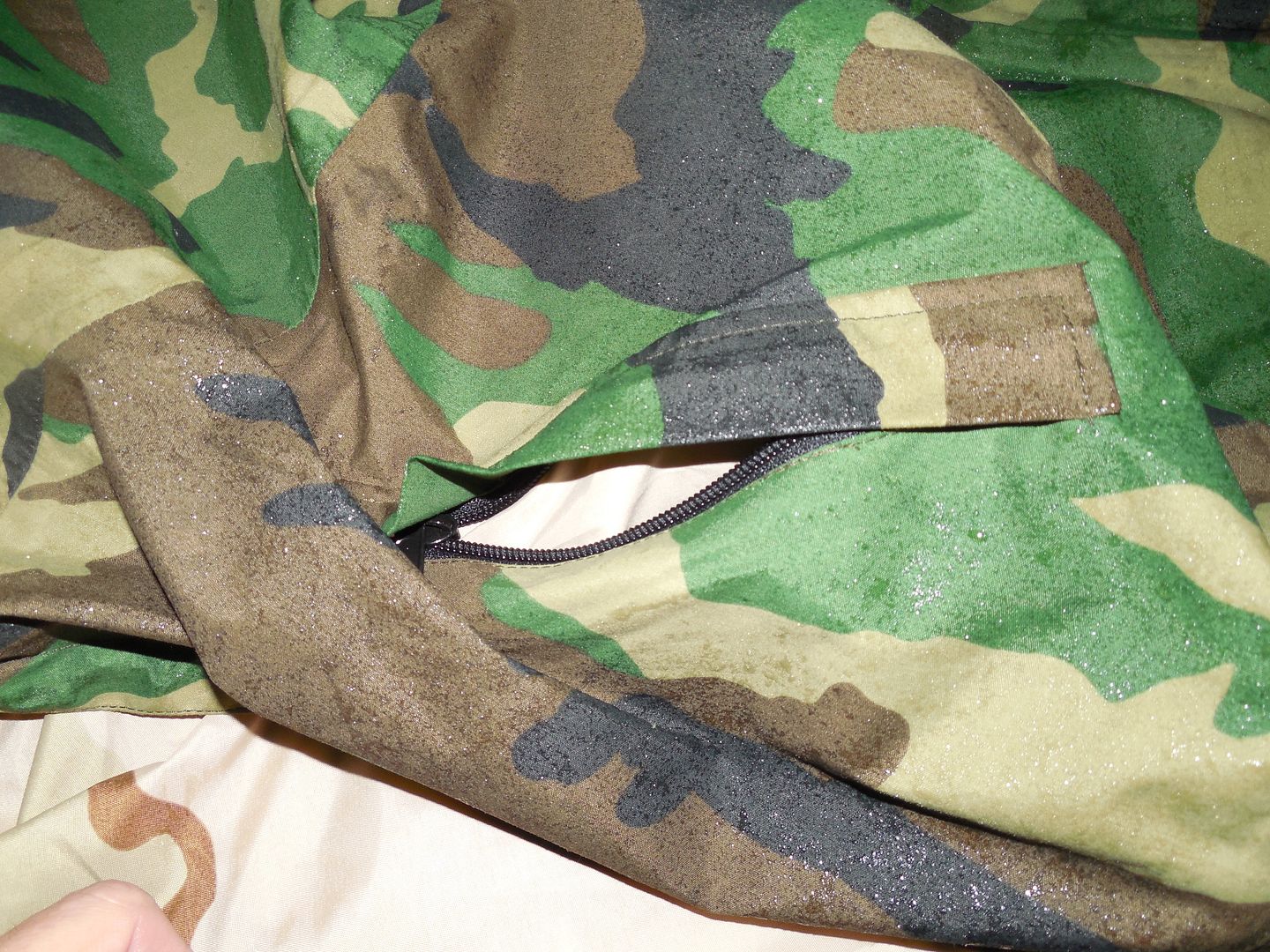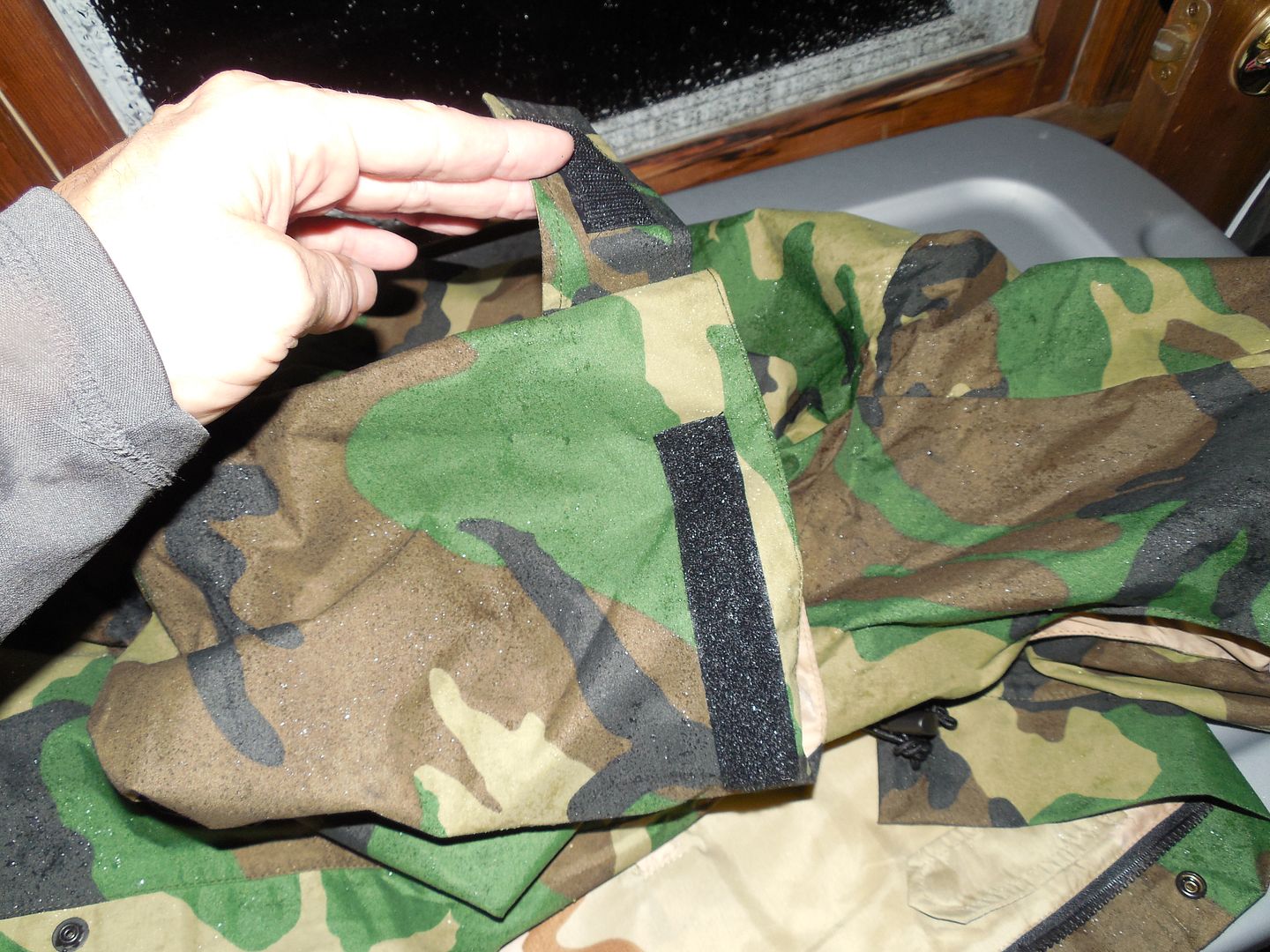 As previously stated I liked the double layer as it gave a feeling of insulation despite there not being any.
The shape of the hood defected rain from my face but unfortunately headlamp glare often forced me to pull the awning back. Then my nose would get wet. Not really the jacket's fault but an observation just the same.
When you forget to lower the storm windows on a wild night the rain gets in.
Conclusion:
There really isn't much to say. It's a rain jacket. It was cheap. It kept me dry. I found it to be far more packable and easier to wear than my standard weight ECWS Gore-tex jacket. Thanks for looking.