It's that time of the year again. Autumn reduced gear outing. Normally I hike with my kit foraging on the way then setup camp but this time going to try something different. I will drive my truck to a camping spot then forage for whatever is needed. If lucky enough to find something on the drive there and it's legal to do so will forage, say an empty can on the side of the road etc etc however can't spend any cash. Here is what I have for gear so far.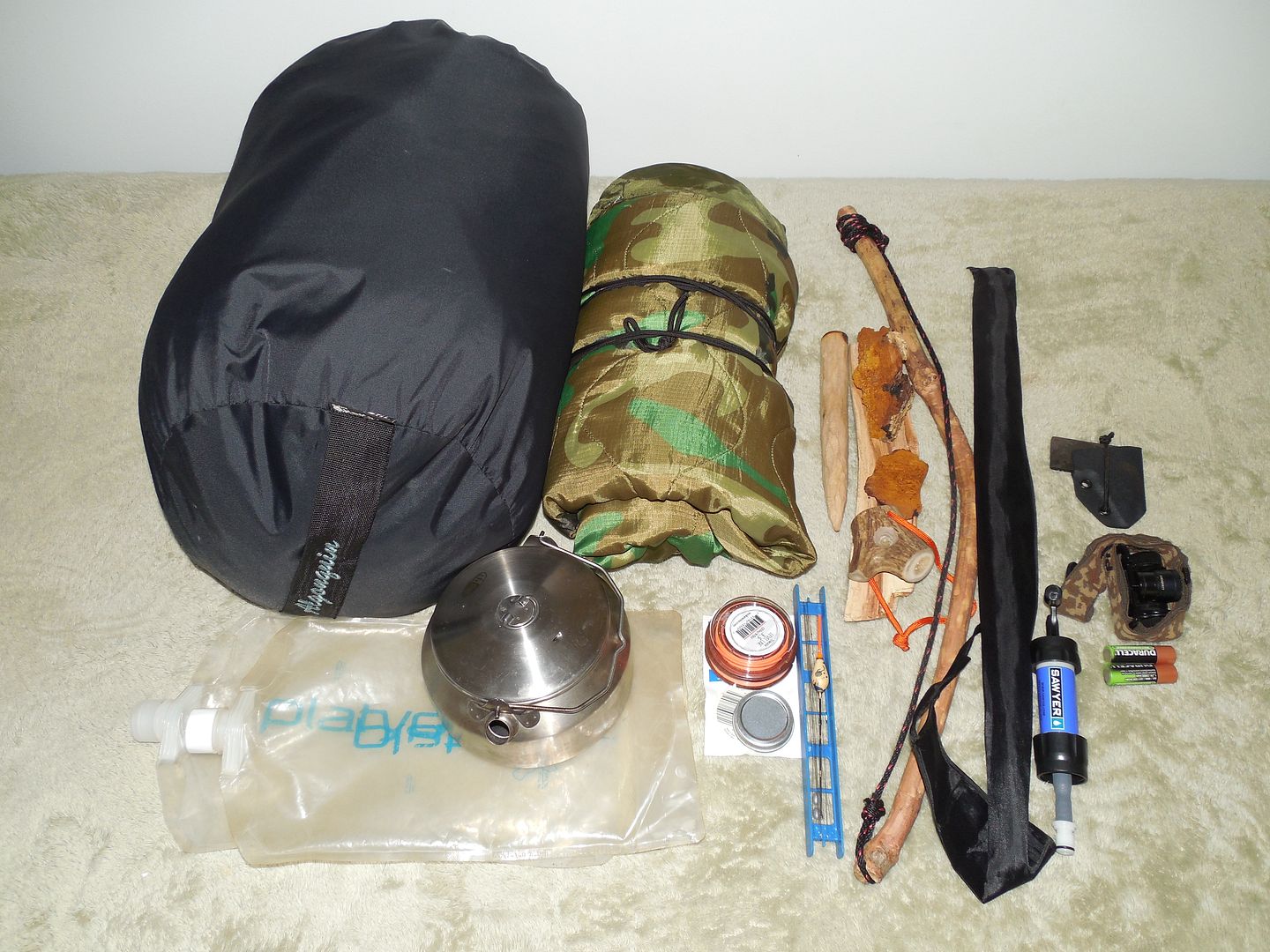 1. Hennessy Hammock Explorer DLX with undercover and standard rain fly.
2. USGI Poncho liner.
3. 2X empty Platy bags.
4. Tenkara fishing gear with 3 flies and mini bait setup.
5. Fenix Headlamp with 2 extra AA batteries.
6. Sawyer Mini filter.
7. WCF Sharpened Tomahawk striker with DIY Kydex sheath. Not officially a knife but sharp for sure.
8. GSI SS kettle.
9. Primitive firekit. Bowdrill set including chaga.
Going to add TP, toothbrush, Oasis canteen and maybe a bandanna. Goes without saying I will have everything in a pack. Might include the Core 4 stove because I wish to test it some more or maybe not depending on how much time there is.
I will be wearing seasonal clothing as leaving early Friday morning but elected not to include rain gear/poncho despite rain in the forecast for Saturday. Why? Well never actually intentionally done that. Temps are expected to be this: (66 | 51 °F) / (69 | 46 °F) so curious as to how that will work out. LOL! No my plan is to be back at camp before the night rain and predicted cooler temps. Also I will never be more than a mile or so from a road and of course my truck which will be dead to me till Sunday morning is still be there. Foraging will probably cover maybe 5 or more miles hiking which isn't so bad but my hurt foot started to swell again. Gotta take it slow however again this won't in the deep dark jungle by a long shot.
Things I will be looking for.
1. Blackberries, grapes, hickory nuts, black walnuts, wild carrots, naturalized apples, clover, wild scallions, partridge berries, blueberries, huckleberry, staghorn sumac etc etc etc.
2. There are several fishing opportunity within a few miles of camp but must pick the right one as can't do two in one day on foot. The river could be too high if the dam is open and the streams too low.
3. Quartz, cedar bark, pine tar, mullein, birch bark and anything else that will help my primitive firekit.
4. ------WATER------ ASAP.
5. Lower temps means less bugs at night but will still look for natural bug repellents.
6. Make some tent stakes, pot hook and with luck fish on a stick!
Alrighty then, unless something unexpected comes up will see yea all on Sunday.