Everyone knows the importance of water and many of us have multiple ways to carry it. Stainless steel bottles have enjoyed much popularity over the years and there are many good bottles available. The Nalgene Standard is a great bottle but they were unavailable for a long time and even now they are often quite pricey. Most other brands have some kind feature, or lack of, that limits their usefulness.
Since we were unable to find a stainless steel bottle that met our needs we decided to design one with the features we wanted in a bottle. After 8 months of design, production and shipping,
I'd like to introduce to you the Blackthorn Bottle.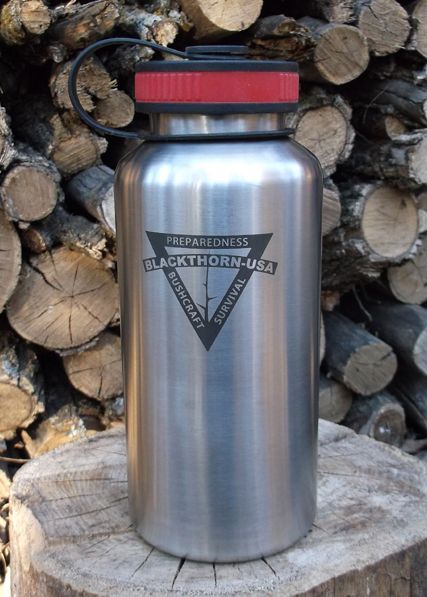 The Blackthorn Bottle features:
Made of 18/8 Food Grade Stainless Steel with a brushed finish.
Un-lined and BPA free. Will not retain tastes or odors.
Single wall construction. May be placed directly in fire for cooking or water purification.
Wide mouth for ease of cleaning, adding ice cubes, eating out of, etc.
32 ounce capacity. Works with water treatment tablets.
3.5"x8.75" will fit in standard carriers such as Maxpedition and Condor.
Weighs only 7 ounces.
Removable polypropylene cap with insert to ensure a leak free seal.
Re-usable, durable and eco friendly.
Dishwasher safe
What makes our Blackthorn Bottles better than the others?
Our bottles are 32oz and work with water treatment tablets. This saves you the annoying and perhaps dangerous task of figuring out how many tablets to cut up and add to your 20oz, 40oz, etc bottles.
Our bottles have standard 63mm threads. Any Nalgene style lid or accessory will fit our bottles. No need to hunt for hard to find or expensive replacement lids.
Our bottles will nest with Olicamp, GSI and similar cups. You don't need to purchase a special cup.
Our caps have an insert that fits into the bottle neck and prevents the silicone seal from rolling out and allowing the bottle leak.
No Allen wrench or other tool required to remove the cap.
As outdoorsmen and women ourselves, along with input from students of our school, we have designed what we believe to be the best stainless steel bottle available for serious outdoor use. Like all other stainless bottles, ours are made in China. They are however made to our specifications and allow us to price them competitively. We also offer a manufacturers defect warrantee. If you should find a defect in your Blackthorn Bottle simply return it for replacement.
We are genuinely interested in suggestions and feedback on our new bottles so please do comment on anything that comes to mind. Bottles may be found
here
or you can enter the Winter Bug Out contest and attempt to win one as we intend offer three as prizes.