I've been pouring over gear for the last few months looking for what works for me and these are some of the things I've learned from testing different types of stoves in my area. I'm pretty much looking to just boil water so it's all geared toward that.
Origionally it was all about as light as I could possibly get so I tried a titanium graham cracker stove using esbit tabs with a beer can pot. Super light and works buts it's kinda slow and after more reading I found the residue left on the pot is pretty toxic.
I then tried various self built alcohol stoves again worked fairly well, light weight but again slow and the fuel was kinda on the heavy side.
After a few weekends of day hiking and some over nighters my beer can pot was getting thrashed so I started using a protective sleeve for it... Kinda negated some of the weight saving over some of the lightest titanium pots I could find.
I even went a weekend stove less just to try it out and even though it's doable it's just not as enjoyable at times.
In an anticlimactic turn I pretty much went back to an ISO-butane stove with a titanium pot. Some things I learned along the way were the use of a silicone lip guard for the pot to use as my cup and that if you get a pot without a handle you can save about an ounce and then use a welder's mat (carbon felt) cut down and used as a windscreen/pot gripper. Just came down to the durability/convenience and weight being in the right ratios. My set-up is lighter after this excercise so that is bonus.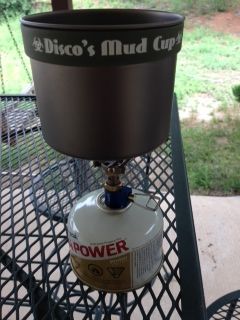 Olicamp burner, toaks 550ml handle less pot and silicone band. Stove and fuel canister fit in the pot, carbon felt windscreen/gripper (not shown) gets wrapped around the outside.