Just in time for Mother's Day, I received my new Wyoming Lost and Found Tarp Tipi, generously donated by Brian as a prize in the 2012 Fall Mock Bug-out Contest. Between a pregnancy, new born and being laid up from the past month or so with dental surgery, I haven't had a chance to field test it yet, but we took the first chance we had to put it up in the front yard this weekend.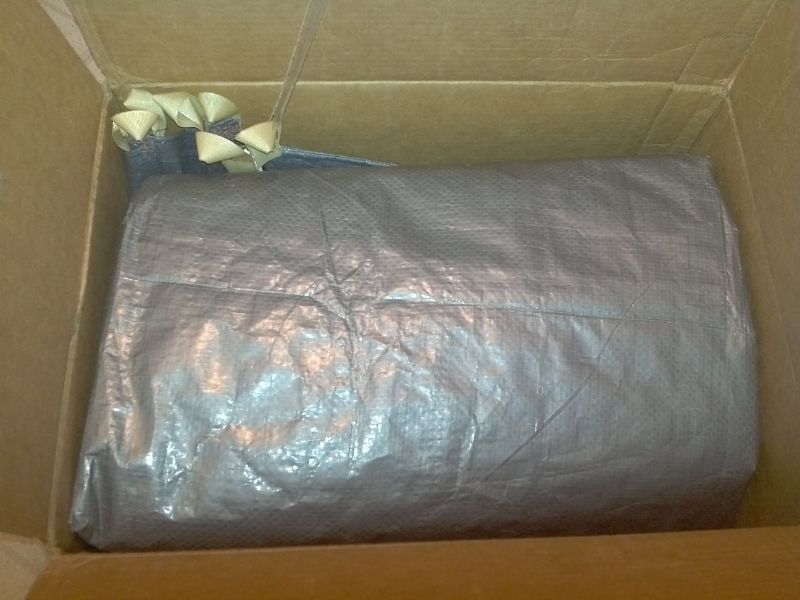 Sorry, scales are banned from our house, so I have no idea how much it weighs. (It does weigh less than my 12 pound 4 month old, if that helps at all.) Here's the manufacturer's specs:
Small 6 sided Tipi
Weight: (w/ stakes and pole) 3.5 lbs.
Diameter: 11 ft.
Center Height: 5 1/2 ft.
Here it is rolled up beside my BG knife for a size perspective. This is the most pack-friendly way we found to pack it, was rolled up with stakes and rope inside, secured with some spiffy ranger bands. It's a poly tarp, and folds up just as you'd expect one of those too. You just need to compensate for the pointy top and stove jack. We'll keep playing with it to try to find a better configuration:
Not apologizing for the knife, you BG/Gerber haters. It was a very thoughtful Mother's Day gift from my kids this year! (But they have all chimed in with ways to hide the BG insignia.)
Unrolled, and folded in half: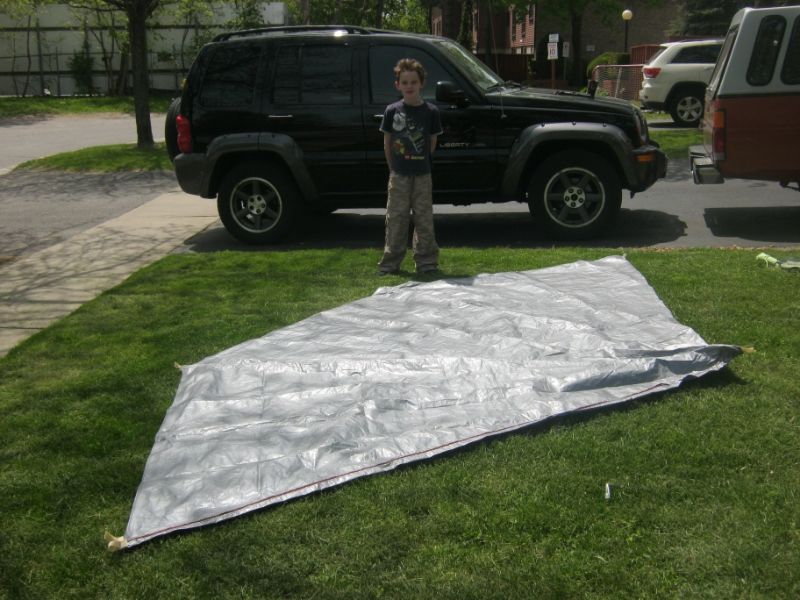 My young Cub Scout had a bit of trouble getting his line in the tree just right...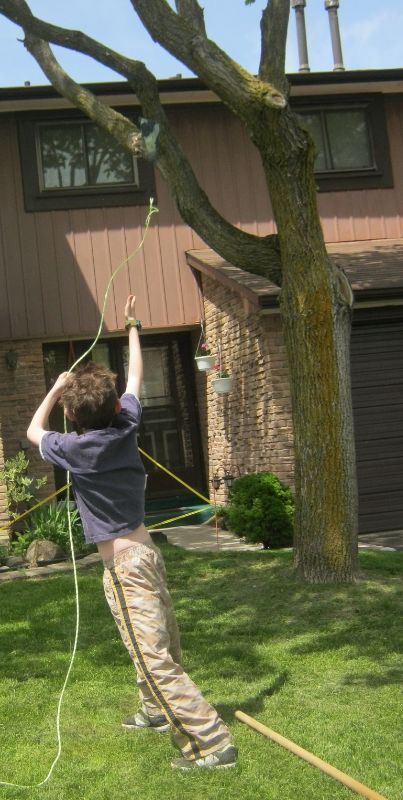 ...so we ended up with part of the tipi in the trunk, but it was good enough for our first look see. There is a tie-out on the top of the tipi, to use for suspending it from a tree or ridge pole/line. We connected to it by putting a carabiner on the end of our pitching rope with a bowline, and then tied the pitching rope off to the tree with a simple cow hitch-slip knot thingy* since we were playing with pitching heights. (*Knot patent pending. Excited nine year olds. Geesh!)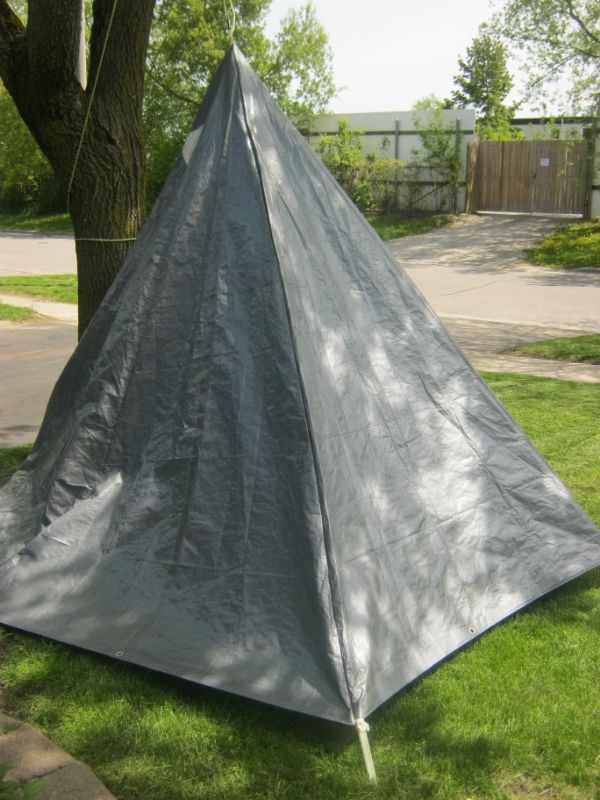 Bottom zipper open: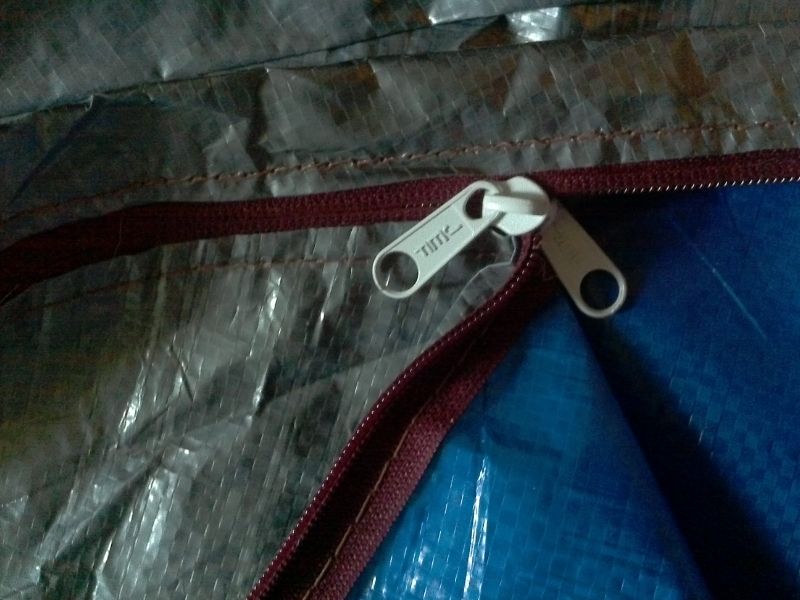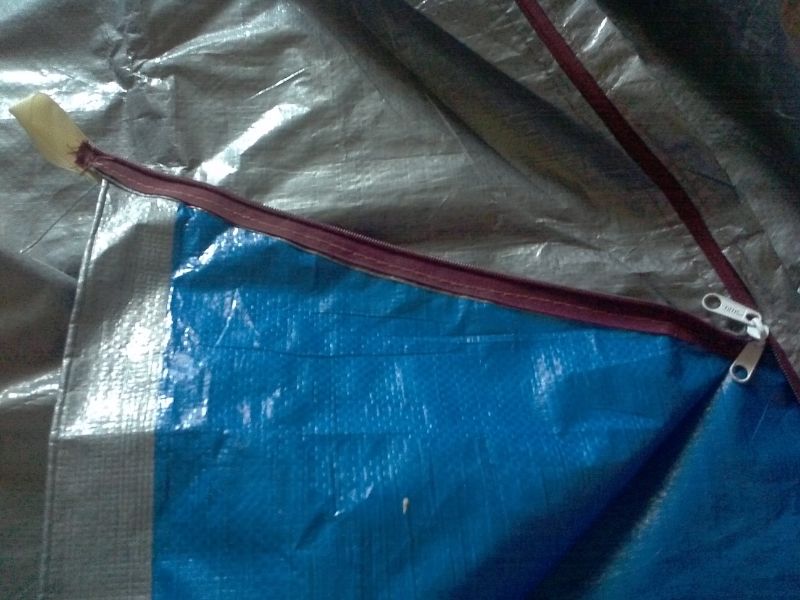 Zipper stitching and tie outs. There is a tie out on both sides of the door, so you can easily secure the doors open better more light or air flow: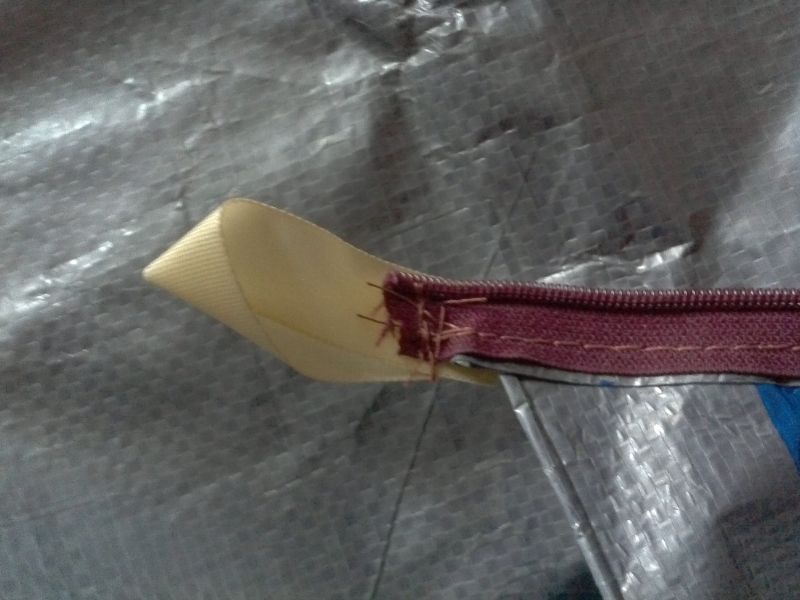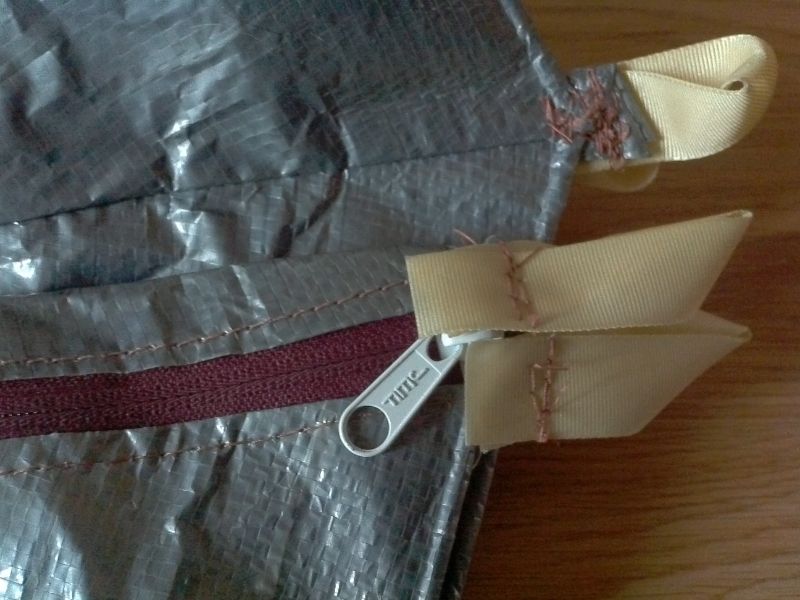 Here you can also see the outside seam where two pannels meet.
Double stitching between top of door and top of tipi: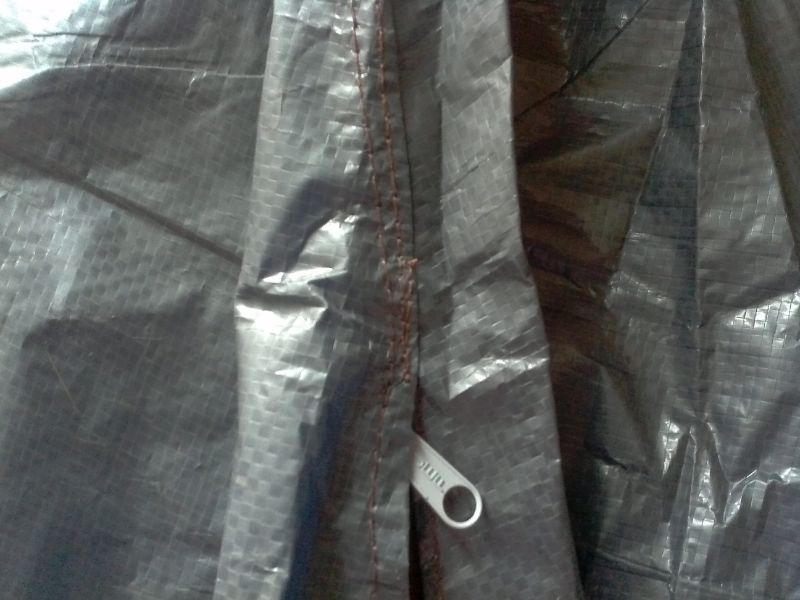 Stove Jack: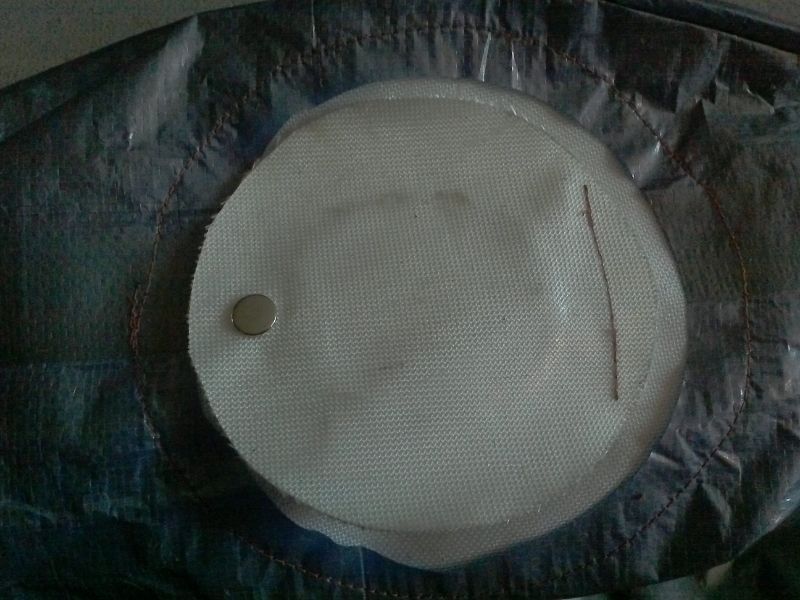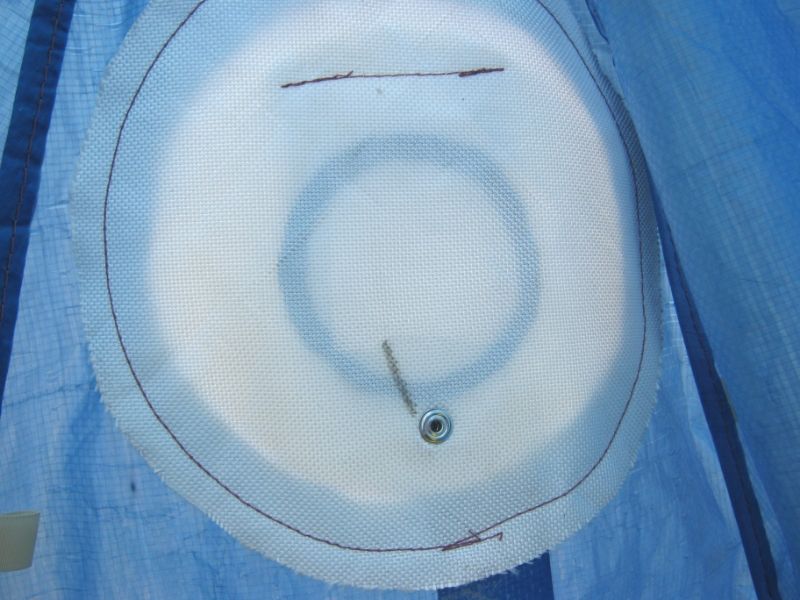 Note: On the inside shot, you can see one of the interior tie-outs. There are four - one on each of the non-door and non-stove jack pannels, I assume either for a gear loft or something to do with the stove chimney.
First impressions? This is a neat piece of gear and I'm very grateful to Brian for donating it. Thanks Brian! I can't wait to sleep under the stars with it. The kids have already claimed for their summer mock bug-out.
It's basically a silver and blue poly tarp, or probably a couple, that have been cut and sewn into a six-sided tipi. It has one door with a zipper, grommets like a regular tarp (didn't count/measure them, sorry, but it looks like there's one in the middle of every (6) panel. You can see them in the pic above, where the tip I is hanging) and seven tie-outs for stakes or guy lines at the corner of each panel. All closed up, it's pretty bright inside on a sunny day. Even only semi-pitched, it is plenty big enough for my son and I and our gear, and maybe one more adult, depending on how we pitch it.
Ours didn't come with a centre pole or stakes, so I can't comment on them but It's really easy to put up by hanging it from a tree, and I really like that it's adjustable that way. We raised it and got some nice air flow from the bottom, and lowered it, so my son could easily reach to the top of the door opening to pull down the zipper. I've got a 6 ft oak walking stick that I'm going to try to rig up as a centre poll, but I'm liking the tree hanging because it's just so simple. My nine year put it up by himself, no problem.
Not being a tent stove user, I can't comment on the stove jack. I have no idea about them at all. It does seem like it would do it's job and keep the rain out as it is though. With my camping track record, it should pour rain the first time we take it out and I'll come back with a review then.
Here's a link to the Tarp Tipi specs on the Wyoming Lost and Found wesbite:
http://wyominglostandfound.com/tipi.html
" onclick="window.open(this.href);return false;
Thanks again, Brian!