All these MBOs are giving me a serious itch to get out! I've been working on a new day hike kit and could really use your help.
I'm a mom with two kids (ages 9 years and 2 months), I'm a Scout leader, I'm a little bit OCD. We live in South Eastern Ontario, where it's still winter but with Spring on the horizon. This kit is intended for day hikes that might turn into impromptu overnighters. It's also going to function as my GHB and be the basis of my extended trip kit.
I used the Bag of Bags theory to build this kit. I find it makes it easier for me to find things in the field and to adjust at home. I can lighten the day hike load by removing items. There's a lot of light and fire in here right now. It's just as easy to ramp it up a little by strapping gear on using the adjustable straps on each side of the pack. (i.e. jacket, down vest, wool blanket) or by removing gear to put in another kit (i.e. Moving to a full sized pack with heavier duty poncho or tent, woobie, sleeping bag, thermarest, saw, axe, bigger cook it, more food, etc. for longer or more remote trips.)
(Pics or it didn't happen, right? These are clickable thumbnails.)
The pack as it sits right now: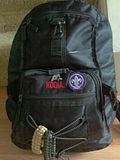 Top outside pocket: couple of emerg ponchos and my lanyard
Lanyard: Gerber Clutch, Fox 40 whistle, mini Bic, squeeze LED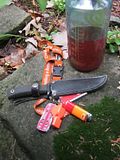 Middle outside pocket: fixed blade, fire kit lanyard and a pen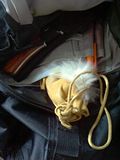 Contents of fire kit lanyard: ferro rod, mini folder, char cloth, tampon, jute twine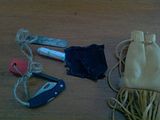 Bottom outside outside pocket: a couple of garbage bags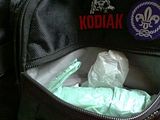 Side pockets: Clif and granola bars, extra water bottle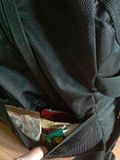 The bags within the main bag: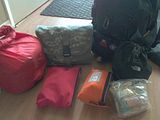 FAK: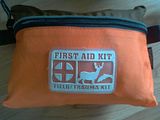 FAK contents: AMK Field Trauma Kit fortified with squeeze LED, maxi pads, extra latex gloves, condoms, blistex, duct tape, mylar blanket, triangular bandage, extra bandaids, extra alch prep pads, vaseline, moleskin, blister pads, extra gauze pads and resealable breast milk bags *no OTC meds at the moment because they're being replenished today. This kit usually has Tylenol, Advil, Aspirin, Immodium and Gravol and all in adult and child versions.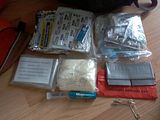 Tool Kit: LED glowstick, LED flashlight, frontier straw filter, H2O tabs, LED headlamp, spare batteries (in Plano Fly box) altoids tin (char cloth, tampon, jute twine, bic)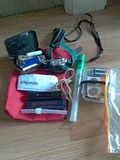 Cook Kit: (in black nylon stuff sack) bandana, adjustable flame lighter, match holder (SA matches and cotton balls), H2O tabs, hobo stove, penny stove, fuel, aluminum foil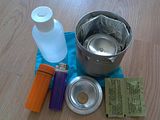 Extra Clothes: (in red light dry bag) hat, gloves, merino wool socks, merino blend ls shirt, lined wind pants, fleece jacket, silk sleeping bag liner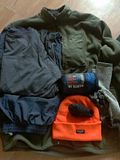 Shelter and Water Kit: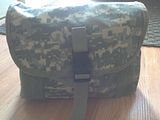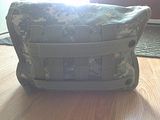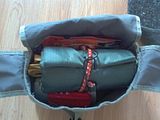 Contents of Shelter and Water Kit: shelter roll, canteen, canteen cup, canteen stove, heatsheets 2P, body warmers, bandana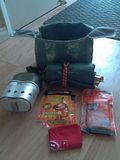 Shelter roll: poncho, bungee, paracord, nylon cord, ABS tent stakes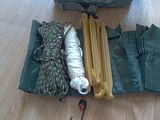 EDITS
The food in this kit varies. Right now it's got the Ziplock bag shown with StarbucksVIA, hot chocolate, tang and oatmeal.
I've omitted my map and compass kit. It's being adjusted right now but essentially has: waterproof map case, Silva compass, local maps and trail maps.
Any suggestions?