I have the double Defense O/U's more practical relative, the Outback. Its an OK shotgun. Fit and finish are good, not amazing. Mechanically it functions with thusfar 100% reliability. With its fixed blade sights, its proven quite capable of providing tight groups out to fifty with rifled slugs. (Tight for a shotgun, so we're talking just over 2 MOA). However the over under does not open much further than the sxs, meaning that unless the thing is physicaly held open it will not allow you to feed the bottom barrel. Thats sort've a big nono for a tactical arm, with strongside reloading and for my intended purpose its entirely GTG. I got mine as a camping companion and hunting gun, its not at all a tactical gun. I like mine plenty, its definitely a keeper!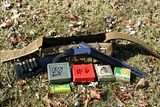 Heres a picture of mine, and yes it and all that shit fit in that bag. That said, its getting replaced by something semi auto for this season's less awesome adventures. Likely a CZ-712.
As for the little lady, a lot've 20g guns I've fired have recoiled as bad as or worse than a 12g. a lot've the 20g guns out there are much much lighter, and so the comparative felt recoil remains fairly similar between the calibers. I'd look at a single barrel 410 honestly, they're cheap enough that once she's got the idea you can transition to an auto loading 20 or 12.