As an introduction of sorts. I thought I would contribute something to the forums. Rather than take. I hope this helps some of you. If you have any questions. Please don't hesitate to ask. I'm a long term gun builder. But a short term Zombie Hunter.
This is my second post here. I've spent the last two days reading in the gear section. And only gotten four pages in! So much great information. This site is incredible. I'm planning a long bug out from Socal to WA. And my weapon of choice is the AK47:
This is a practical guide to building an AK47. Some of the instruction links are mine. Some are to other builders information that I have found irreplaceable. I have blogged about this subject for some time. And I've built several AK's in my home shop. Using not much more than common tools and a press. It doesn't take a great deal of skill to build a rifle that rivals the commercial models that are out there. Only a good grasp of hand tools and basic mechanics. Here's one of the first ones I built: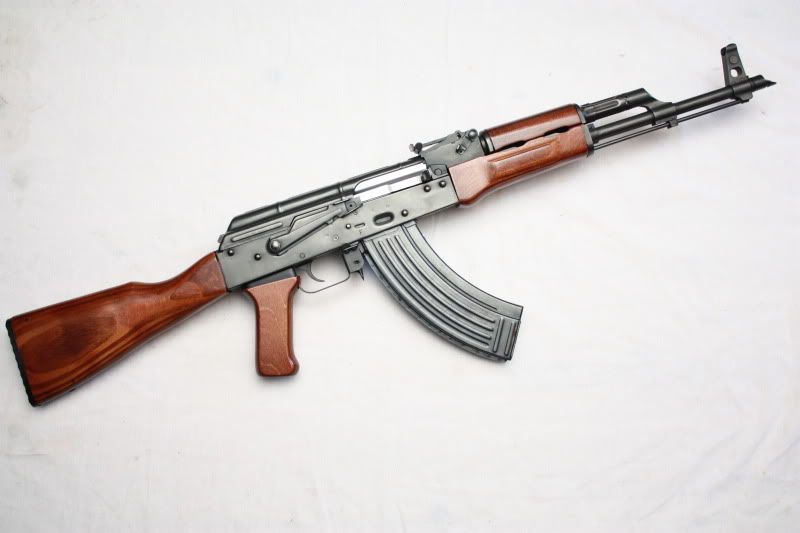 ****You can even build from the receiver up and not have it registered with anyone. Legally. Not only is this a great way to stock your own firearms collections - privately. It's a very useful trade skill should the shtf. ****
If you want to start building. This is how to start. I wish someone had pointed me in this direction when I started. So I've compiled every source of information and direction that will get you where you want to be - building AK's fast and the right way:
These are the only complete AK build instructions that are offered out there in a CD format. And could save every new builder (or even old ones) a TON of time and money. Anybody building AK's should have a set of both. They only cost like $18 a piece(?). And I have no connection to either of these guys. They are just simply the only and best building tutorials out there.
Contact
dixonboyles@hotmail.com
for his excellent Word and .pdf file tutorials. And
vetteenthusiast@gmail.com
(buildyourownak on youtube) for his incredible video build tutorials.
I would label these two volumes of AK building instructions as an almost must have for builders. Especially new builders. They will save you many hours trying to find the answer to so many questions on the internet or in forums. And nowhere on the net are there instructions this complete and exhaustive. And one is in easy to read .pdf or word format with pictures. The other is video instructions where you actually see each operation taking place while it's narrated by a very experienced builder.
I can't tell you how many times I see builders on other forums flying blind on their first builds. Destroying things they paid their hard earned money for. And becoming frustrated in the process. When they could have saved themselves all that heartache by simply spending a fraction of what they paid for their kits - on these tutorials. Not to mention gaining a clear understanding of all the tooling needed to build an AK.
These tutorials are a clear introduction to the world of building an AK. If I had only one piece of advice for someone that wanted to build. It would be to buy these.
There are also three main forums concerning AK building. The first is my favorite
http://www.weaponsguild.com
it's filled with information (use me as a reference if you join. my username is moab over there). But most importantly you'll find many many helpful builders that will literally give you the shirt off their back. Then there is
http://www.akfiles.com
and
http://www.theakfourm.net
both are a wealth of information on the subject of AK's and building.
You can also find further build information on my blog at
http://blog.legionarms.com/
These are all links to my blog that detail various aspects of an AK build. And corresponding link lists to information about each. (Mods - I can repost all the info directly here. But it's a lot of information.) It also includes various tutorials I've written on different building aspects and techniques. I hope you all find this useful. I spent a lot of time on it. And plan to continuously do so. Feel free to ask me any questions. I'd be more than happy to help anyone that wanted to start building:
Main Blog Page
http://blog.legionarms.com/
Introduction to building an AK47
http://blog.legionarms.com/2010/09/comp ... youve.html
Basic Components
http://blog.legionarms.com/2010/09/basi ... nents.html
Field Stripping
http://blog.legionarms.com/2010/09/fieldstripping.html
Building Instructions
http://blog.legionarms.com/2010/09/buil ... tions.html
Youtube Building Instructions
http://blog.legionarms.com/2010/09/buil ... tions.html
Dimensions & Plans
http://blog.legionarms.com/2010/09/dime ... plans.html
Metal Refinishing
http://blog.legionarms.com/2010/09/meta ... shing.html
Wood Refinishing
http://blog.legionarms.com/2010/09/wood ... shing.html
Black Oxide Finish
http://blog.legionarms.com/2010/09/blac ... inish.html
Yugo Milled Receiver Build
http://blog.legionarms.com/2010/09/orf- ... tions.html
1965 Romanian BFPU Build
http://blog.legionarms.com/2010/09/1965-bfpu-build.html
1970 Romanian Build
http://blog.legionarms.com/2010/09/1970 ... build.html
Some of the guns I've built in my garage workshop. With nothing more than a press, some jigs and some hand tools: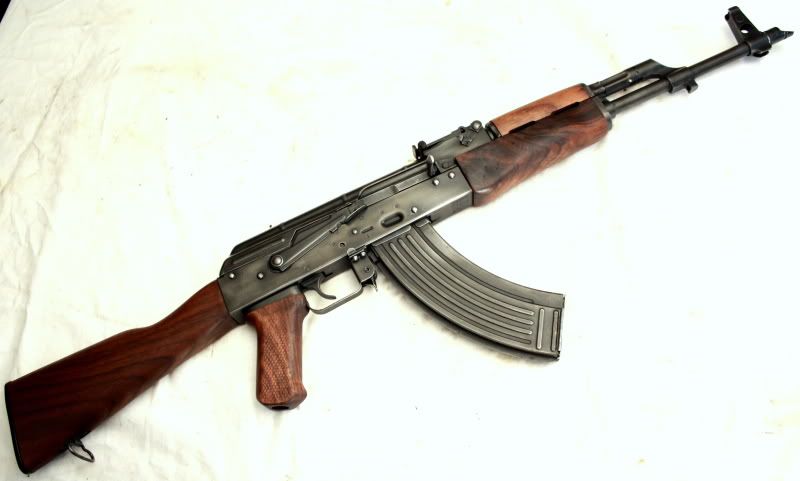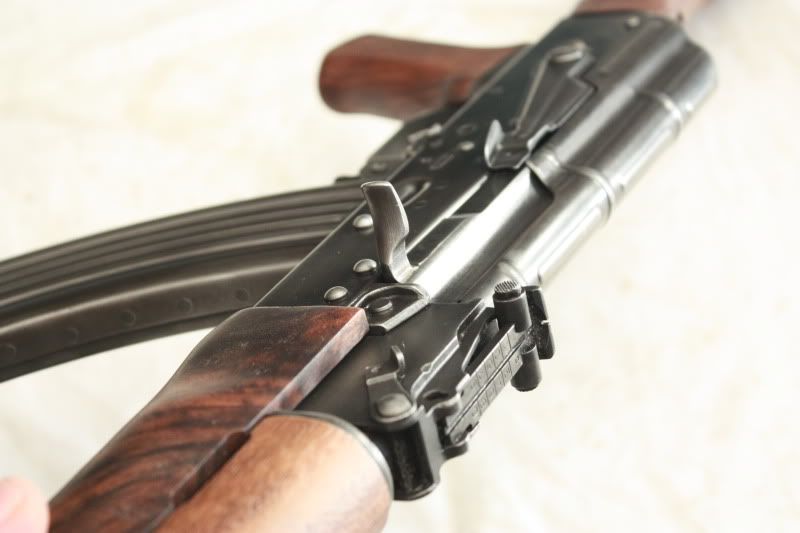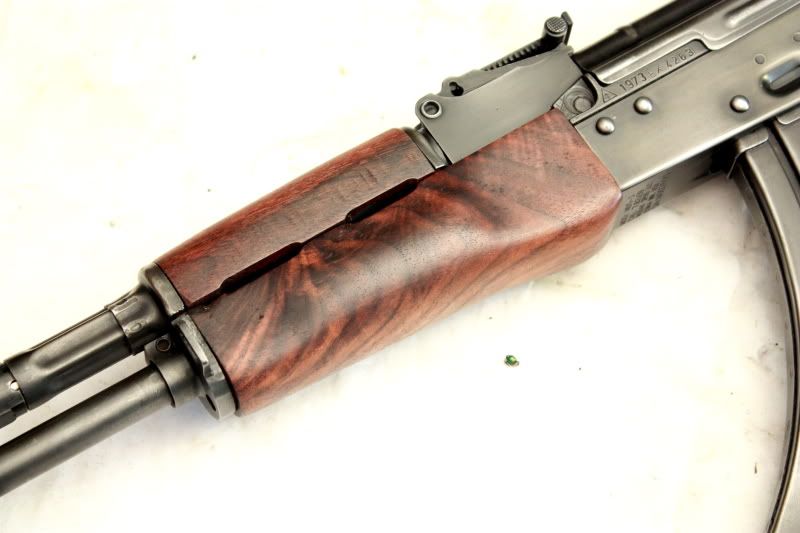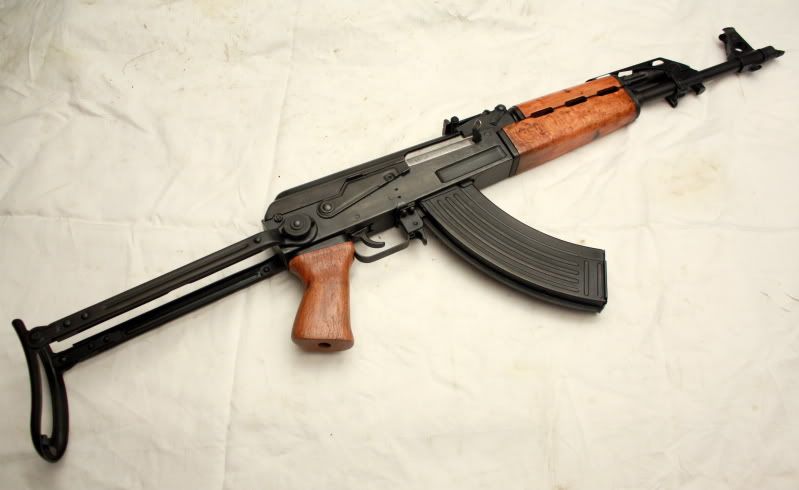 My next builds will be tactical. Up to this point I've mainly been interested in the historical significance of AK's. But now that I am planning my own long bug out from Socal to WA. I have a renewed interest in building more for the combat aspects of AK's.
Patrick