The idea of moly coating your own bullets has been around for almost 20 years, there are a few advantages to using moly, and several disadvantages, this will not work for everybody.
I moly coat bullets for two of my hunting rifles. The reasons that I do it are, A) easier cleaning, and B) reduced pressures. I noticed that Barnes bullets caused higher pressures over regular bullets in my 25/06, and I was looking for a solution to help that. I moly coated a batch of 115gr TSX bullets and after testing, had the same accuracy with no pressure signs on the primer. In my Sako 30/06, I have shot Moly Coated bullets out of it for almost a decade. I have noticed significant lower fouling, I clean the bore with two cloth patches after every range trip (the second patch is almost always clean), and I scrub it with a brush and completely clean it about every 250 rounds.
The one drawback to moly bullets is that you have to develop a moly coating in the bore before you will see any improvement. You will also see a loss of accuracy until this coating is developed. For my Sako, it takes about 15 rounds. For the Winchester in 25/06 it takes almost 30.
Two years ago I bought Lymans moly coating kit from Midway USA.
http://www.midwayusa.com/viewproduct/?p ... ber=432100
. It comes with everything you need to moly coat you bullets on your own tumbler. You simply remove your bowl and install the included bowls.
Here is how I do it:
Everything you need.
First, new clean bullets.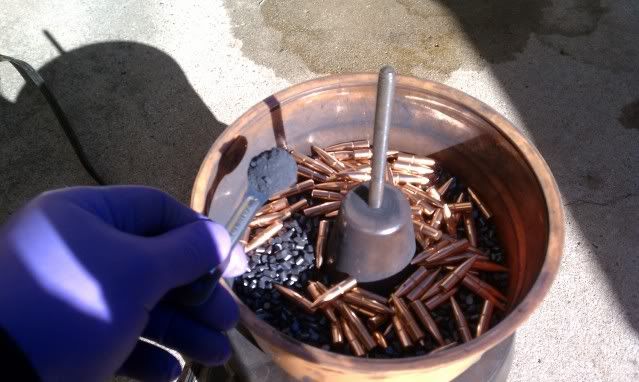 Add bullets to tumbler, with ceramic media and 1/4 to 1/2 teaspoon Moly.
Notice that my hands are gloved up. Moly is a bitch to wash off your hands, and if you get any oils on the bullets, the moly will not stick.
Cover and tumble for 3-4 hours.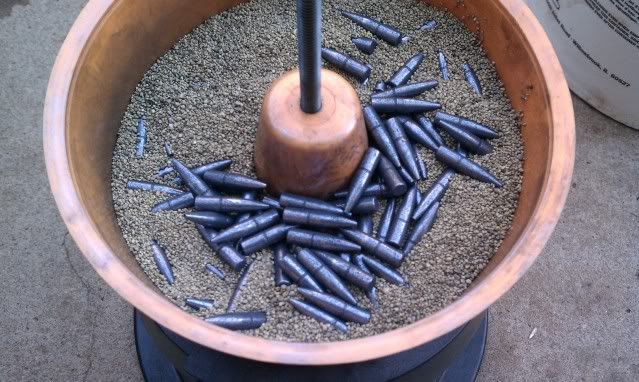 Remove the bullets from the ceramic media and add to clean corn cob media.
Tumble for 5 minutes.
No longer, you are simply trying to polish and remove excess moly. If you go longer you will remove too much and have to start over.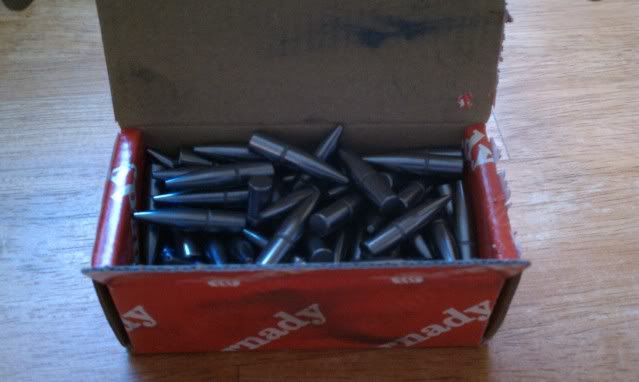 The finished product, note that the bullets are not black. A good coating will be smooth and silvery not dark or nearly black with a dimpled surface. Any of these will cause excessive caking, and other problems.